Good morning! On every Wednesday until February 3rd Jamba Juice is selling it's steel cut oatmeal for only $1! Take advantage – this stuff is usually much more $$.
My long run schedule was a bit off this weekend due to traveling, so I decided to take advantage of my day off of work (thanks MLK!) and run long on Monday. I woke up at the usual time and fueled with a cup 'o coffee and chopped apple, Fage greek yogurt, and a big spoonful of peanut butter.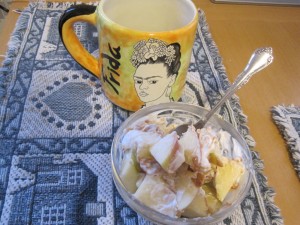 Plus a granola bar –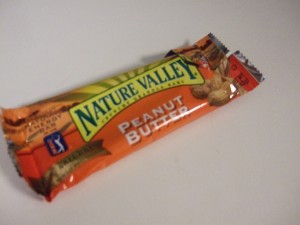 And then I headed out the door to start my run. The weather was beautiful! Sunny with temps in the 40's is such a treat for January. I ran an easy 12 miles in about 1 hour, 46 minutes (~8:50 pace). Felt good for the first 2-3 miles, but then my lower back started to hurt. The pain never really got worse – it felt like muscle spasms or something – so I continued with the run. The muscle spasms did, however, affect my intestinal track and I had to stop to use the bathroom around mile 8. That never happens to me! Weird. But besides the back pain, my legs and hips and everything else felt fine.
I actually went to the doc yesterday to get my back checked out and luckily he didn't seem too concerned. He seems to think the pain is coming from an increase in mileage + back muscle imbalance, so I have a few PT sessions on the agenda to build up back and core strength.
When I finished my run, my stomach was still feeling a little off, so I sipped on a ginger ale as I made lunch: a veggie burger topped with laughing cow cheese and hot sauce, pita chips with hummus, and roasted potatoes with ketchup. My fridge was a little bare – I had to get creative!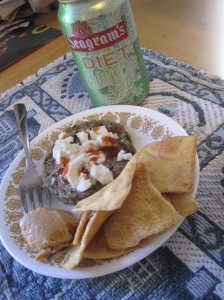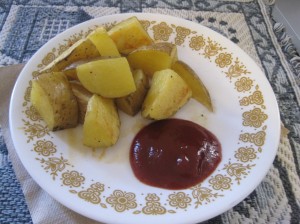 Later on in the afternoon I made a visit to somewhere I've been wanted to go for a while – Gimme! Coffee. According to many sources, this place serves the best coffee in NYC. Starbucks it isn't – I had to wait close to 10 minutes for my mocha latte, but it was worth it!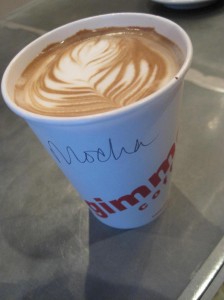 On my way to meet Agnes for yoga, I snacked on a Amazing Greens bar. I've tried really hard to like these (they're packed with greens and nutrients!), but I'm not going to buy them anymore. The taste makes me want to gag. Sorry, Amazing Greens.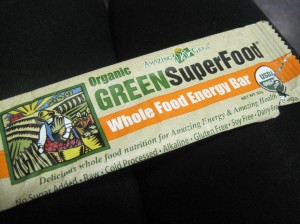 Anyway, I took it nice and easy during a 60 minute hot yoga class. It had been 2+ weeks since my last practice and my post-long run muscles really appreciated the heat and stretches. It was particularly hot and sweaty in the studio today!
As soon as I got back home I devoured a few (un-pictured) handfuls of almonds and then fixed myself a little snack to hold me over – Fage greek yogurt (yeah…I eat this A LOT) with dried cranberries and more almonds.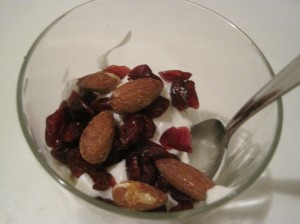 Dinner was inspired by a recipe in my Clean Food cookbook – Roasted Brussels Sprouts with Fennel and Shitake Mushrooms. The only change I made was substituting quartered potatoes for the mushrooms. I love roasted vegetables!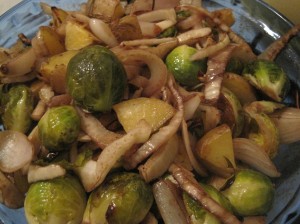 There might have been some mini chocolate chips for dessert. I think mini-sized things taste better 🙂
Who makes the healthiest snack in NYC? How about the best organic omelet? Check out Vital Juice's Guide to Healthy Eating in NYC!
Don't live in the Big Apple? Check out this list of 2010's best healthy foods that you can get almost anywhere!
What are your top 3 winter foods? Mine are roasted vegetables, oatmeal, and navel oranges!