I really need to start going to bed earlier. When my alarm beeped at 6:26am I was NOT ready to get up. But once I got my feet on the floor and some (1/2 decaf) coffee in my system, I was feeling a little more energetic. I made it to the gym in time for my favorite spinning class (today's instructor is tied with Friday's…). After 40 minutes of cycling, I hopped off the bike and headed straight over to the treadmill. My IT band had been bugging me after all the walking and running I did this weekend, so I wasn't sure how I was going to feel. I was very happy to have absolutely no pain and the faster pace felt easy. Hooray! Probably the best run I've had all year. If I could just figure out a way to make it feel like this ALL of the time! I really think that biking is helping to correct my muscle imbalances and I've been foam rolling up a storm, so I'm sure that's helping. Now, I just need to be good about not over-doing it on the mileage…
Run Stats: 3 miles in 24:17
mile 1 (warm up) – 9:13

mile 2 – 8:00

mile 3 – 7:04 (finished the last 400m at 6:44 pace !)
My subway train ended up going express and I had to get off at Times Square/42nd (least.favorite.place.in.nyc) and walk 10 blocks back uptown. But because I had such an awesome run, not even the overpriced chain restaurants and hordes of tourists could rile me up. I even snapped a photo of my commute!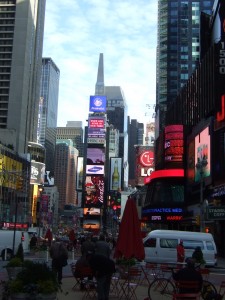 And then this hungry girl ATE BREAKFAST – sliced banana, chobani greek yogurt with PB2 mixed in (extra protein!), and a chocolate vita muffin top on the side.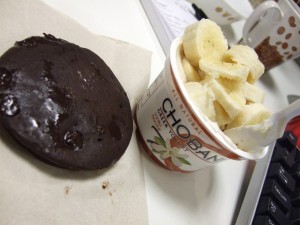 Mid-morning pick-me-ups: decaf cappuccino and a luna bar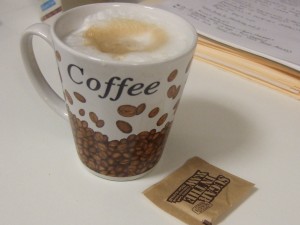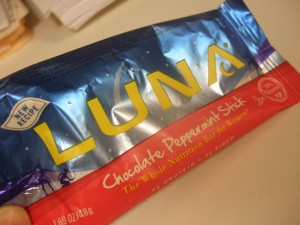 Lunch was a yummy combo that I prepared from pantry staples (trying to save $$ whenever I can…) – baked sweet potato topped with 1/2 cup black beans, hot sauce, and a melted Polly-O brand string cheese.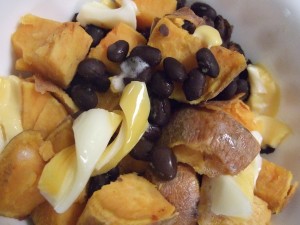 Followed up by 1/2 Cadbury fruit & nut chocolate bar. Mmm…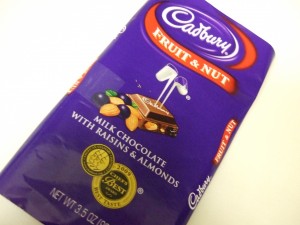 Cadbury Fruit & Nut bars are sooo good. It took tremendous self control not to devour the entire thing! But I have a fun vegetarian restaurant dinner planned tonight (details later!) and I didn't want to spoil my appetite.
Read more about this super nut that can prevent fatigue and sugar cravings.
I love yoga! Check out these 6 poses that can help runners increase range of motion and reduce injury risk.
'Tis the season for giving, but who really needs more stuff?  In lieu of receiving Christmas (or Birthday!) presents, Holly is raising money to build a water well in Cambodia because 2/3 of the region's people do not have access to clean water. Check out her Just Give donation page for more information on donating to the cause. Yay, Holly!
Question: Do you ever volunteer time or donate money to a charity? Childhood hunger is something that really upsets me, so I try to donate a little bit whenever I can. Feeding America is one of my favorite organizations!