Guys, I'm practically on a roll. This is my third blog post in three months! It's a summer miracle!

But anyway, we are now in the month of June and the Boston Marathon is beginning to feel like a distant memory. In fact, even though I SWORE that I was never going to do another marathon (as I always do when my quads are screaming in post-race pain), I started musing about Boston 2015…or maybe something sooner. I'm still thinking about it. I took 5 days of complete rest (no cross training, no yoga, nothing) after the race and then gradually eased back into a routine of 25-30 miles per week. Brian and I signed up for the Brooklyn half back in January so I helped him finish up his training. A move, a new job, and a rough winter were not ideal training conditions for a first half, but I'm
so proud of him for following through and crushing his goal of sub-2 hours.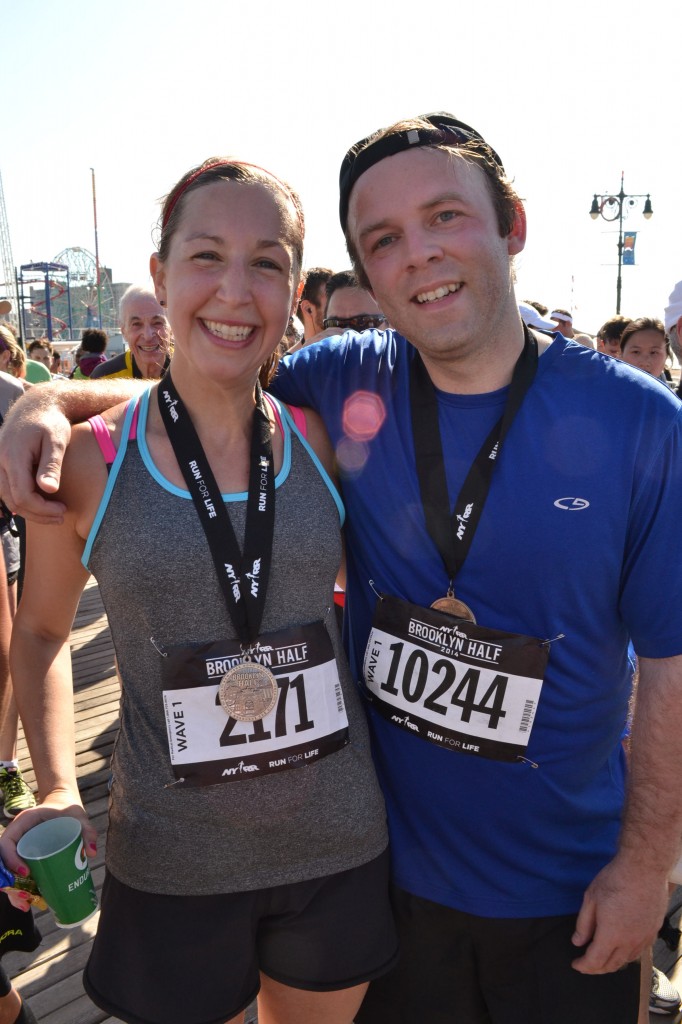 Sweaty! But Happy.
I knew I wasn't going to be in ideal shape to race the half so soon after Boston, so I paced Brian on the course, fetched water/gatorade, and offered moral support. The months of coaching him and the race itself were so much fun and I really hope to be able to coach more runners in the future. I'm signed up for a RRCA coaching certification class in July in Vermont and I'm looking forward to getting some "official" training. I've been a runner for 15 years and have done some informal coaching as captain of my high school and college cross-country teams, but there's so much more I'd love to learn. If you're interested in virtual coaching (training plans, etc), stay tuned! I hope to launch something later this summer.
Life lately
I was doing pretty well….maintaining fitness with 25-30 miles a week + strength training and then….out of nowhere….I was hit with some horrible stomach ailment. Terrible stabbing pains in my stomach area, but none of the classic stomach bug symptoms (i.e. vomiting). The pains intensified so much, that by Wednesday night, Brian had to drive me to the ER. I was convinced it was my appendix or maybe a kidney stone. After a multitude of tests and a few more doctor visits, they said it was most likely a ruptured ovarian cyst. FUN. Thankfully, things started to feel better over the weekend and I'm feeling *almost* back to normal. Anyway, this is the long way of saying, I didn't run very much last week and I'm still trying to get back to a normal running schedule. Through the summer, my plan is to run 4-6 miles, 5-6 days a week, and maybe race a few local 5ks.
It's been nearly 3 months since we moved upstate and in terms of the new apartment and neighborhood, we're finally starting to feel settled. I have a handful of go-to running routes and I no longer have to use GPS when I drive places. And even more exciting? I unpacked our last moving box about two weeks ago! If any of you are wondering what I'm doing with my days, you're in luck! I'll tell you everything. Well, mostly everything. I'm not going to get into the economics of it too much, but when we moved upstate for Brian's new job, our financial situation was such that I could take my time figuring out what I want to do. I feel very very very very lucky to have this opportunity and even though I'm not working a 40 hour week, I'm surprised at how busy I am (or think I am). This time of year is Brian's busy season, so he's clocking some serious hours. That means I'm in charge of wedding planning and all the day-to-day house and errand stuff. I've also started freelance writing for a few local newspapers (Saratoga TODAY and The Eagle) and am taking an Italian class at Skidmore College in the afternoons. For the most part, it's a great set-up, but at the same time….it's a little weird. For the past seven years (since college graduation), I've been completely financially independent and even though I know I'm contributing in other ways, it's odd not to be bringing home a regular paycheck. But I guess the thing about getting married is that it's no longer about what is "mine" and what is "yours". It's about what we can do as a team and the most important contributions aren't always in dollars. I'm sure every married (or soon to be married) person goes through this, but it's new territory for me, so I've decided to write it all out.
Wedding prep
Hooray, we're getting married. For the longest time, it seemed so far away, and now it's in less than 3 months. So far the planning has been manageable (and fun!), but I imagine this summer will get a little crazy as details start getting worked out. We are getting married upstate, so going to appointments and meetings will be approximately 1,000 times easier now. I have my first dress fitting at the end of the month (!) and most importantly…our wedding menu tasting. Cake! Cake! Cake! Speaking of cake, I was really lucky to have my friends and family host me two fabulous parties – a bachelorette party in Brooklyn and a bridal shower in Pennsylvania.
My sister has been the best maid of honor. Seriously, Rachel, when did you get so grown up and organized?! Rachel, my bridesmaids, and New York friends put together an awesome party with snacks, cake, games, and a night out at a bar called Lavender Lake.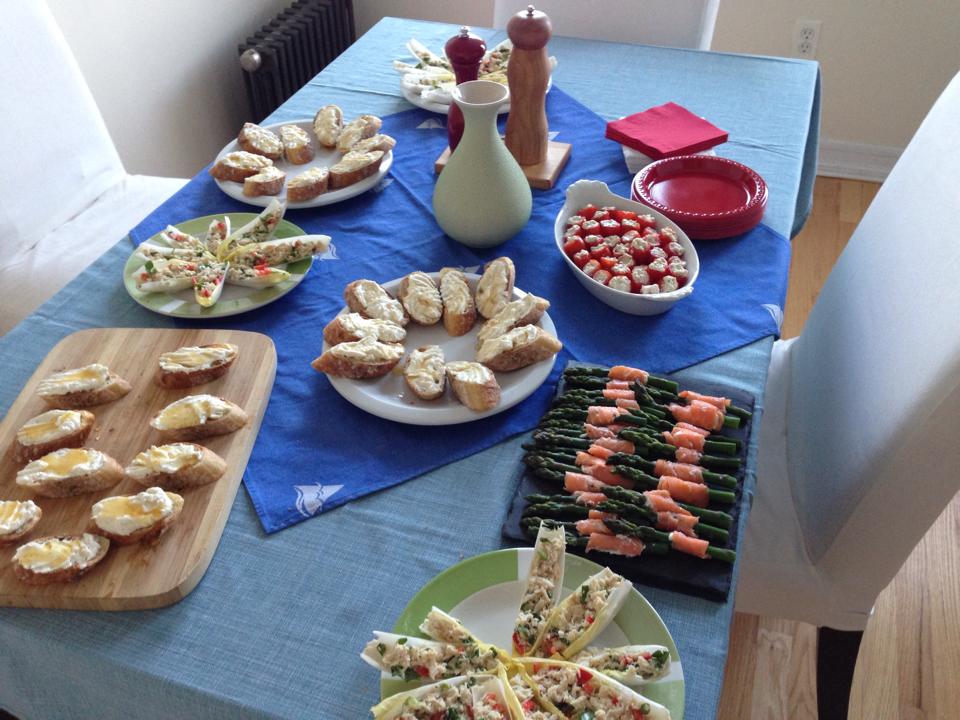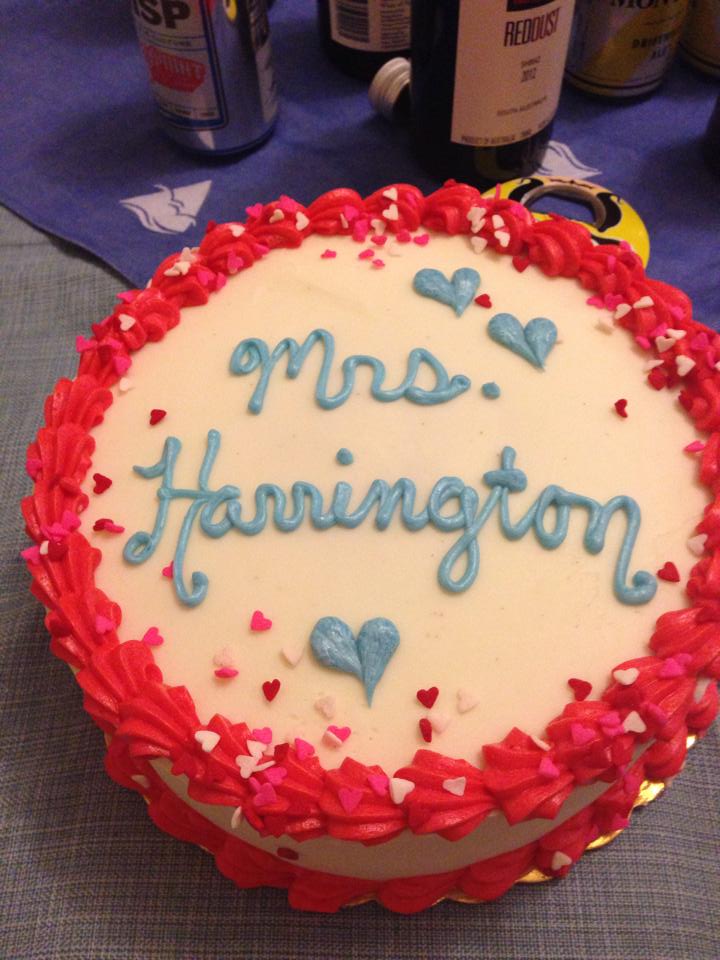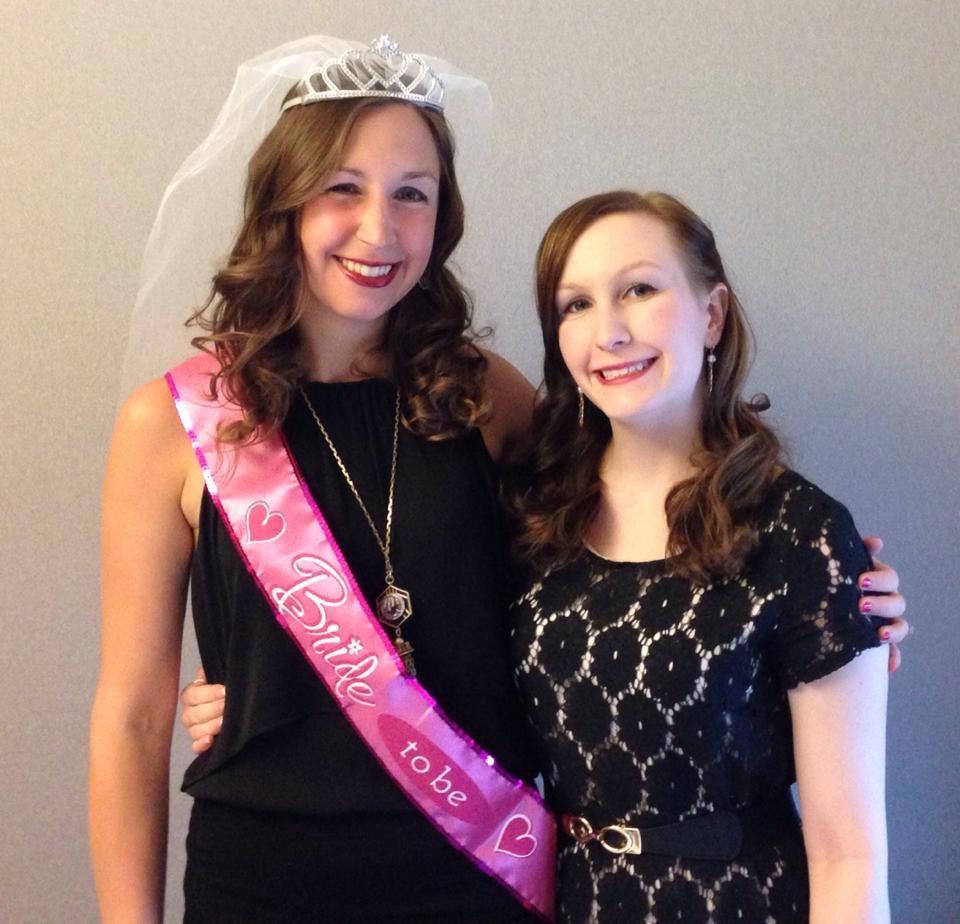 My mom and Rachel also hosted the sweetest bridal shower on June 1. It was held at a little Italian restaurant near where I grew up in Pennsylvania and it was so nice to see local family/friends as well as friends who travelled from NYC and my future in-laws who drove in from upstate New York (4 hours each way!). My only complaint was that the day was over too quickly. 🙁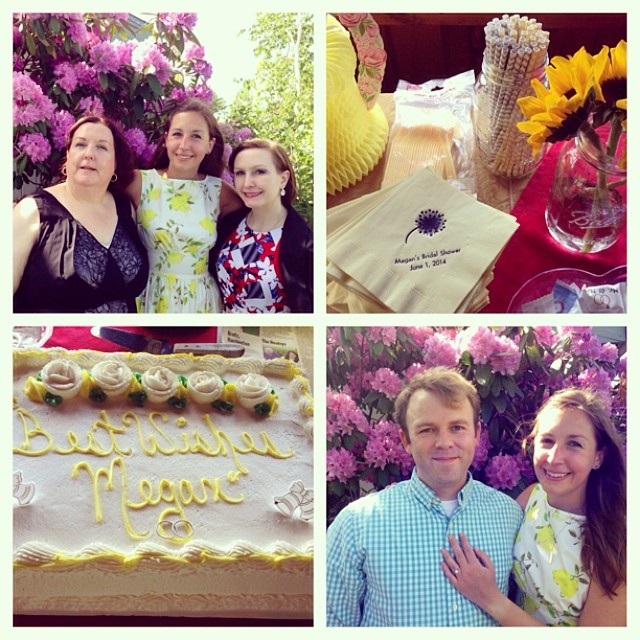 Recipe
In case anyone is here for the recipes, I've got a good one for you: Tortilla Espanola. At least once a week, I have to attend a 7pm Town or BOE meeting for the newspaper. I usually get home around 9pm which leaves zero time for dinner prep. My solution has been to make dinner in the afternoon (before my 3:45pm Italian class). That means I need to make things that will hold up and reheat well. One of my favorite dishes lately is a Tortilla Espanola, basically a potato and onion omelet. It's inexpensive, reasonably healthy (especially if you have a little salad alongside), and it's good cold, hot, or at room temp.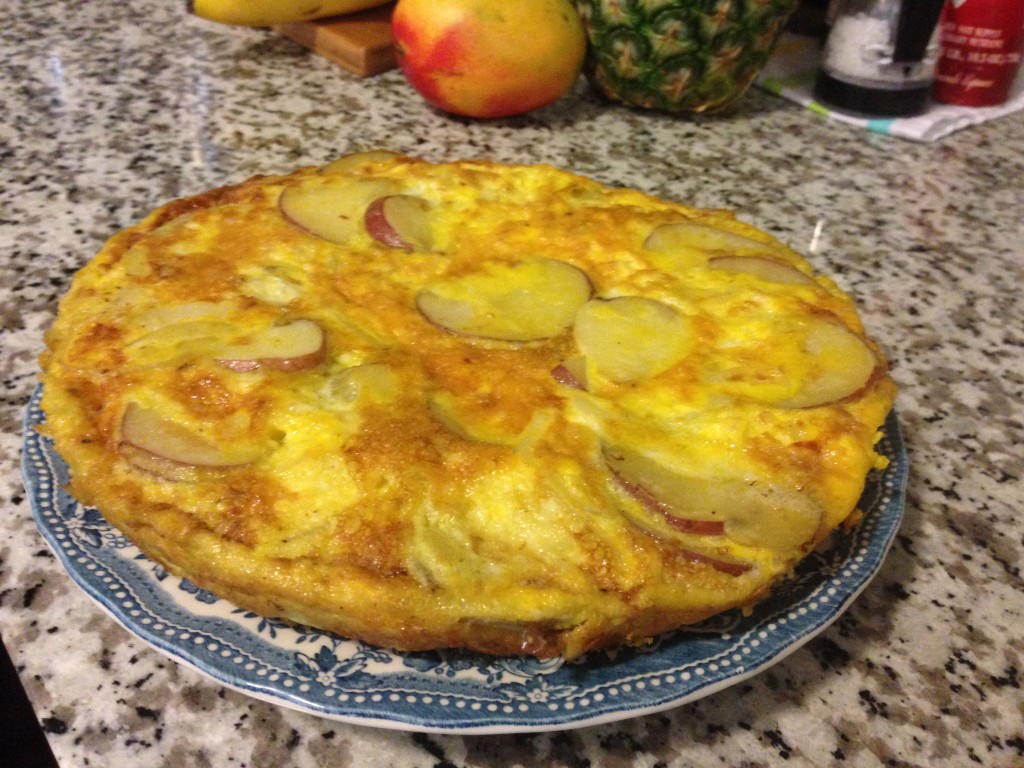 Tortilla Espanola,Serves 4
Ingredients:
1/4 cup plus 2 tablespoons extra-virgin olive oil
About 4 small red potatoes, sliced 1/8 inch thick
1 onion, thinly sliced
Salt and freshly ground pepper (sometimes I add garlic powder or crushed red pepper)
8 large eggs
Directions:
Preheat the broiler to high. Heat 1/4 cup of the olive oil in a cast-iron skillet or non-stick pan. Add the potato and onion slices, season with S&P, and cook over moderate heat, stirring often, until the potatoes and onion are soft but not browned. This usually takes me about 10 minutes.
In a large bowl, lightly beat the eggs and season with S&P. Scrape the potato mixture into the bowl and mix gently with the eggs.
Return the skillet to the heat and add the remaining 2 tablespoons of oil. Add the egg-potato-onion mixture, spreading it out in an even layer. Cover and cook over low heat until the egg is set around the edges, about 10-15 minutes. Transfer the skillet to the broiler and broil for 1-2 minutes, until the top is just beginning to brown. Set a large plate over the skillet and carefully invert the tortilla onto the plate. Let stand for 5 minutes. Cut into wedges and serve warm or at room temperature.
Buon Appetito!