If you live anywhere on the East Coast, you know that weather this weekend has just been plain awful. The wind and rain were so loud that they actually woke me up yesterday morning! Doing long runs on the treadmill aren't ideal, but I knew that's where I'd have to log my miles on Saturday. Fortunately, the time actually went by pretty quickly. I alternated between easy pace and half-marathon race pace, so that kept me from getting too bored. By the end of my run I was drenched in sweat, but I felt super accomplished. Big props to Lady Gaga for keepin' me company during those last few miles.
Miles 1-2 easy (8:49)
Miles 3-4 half-marathon pace (7:19)
Miles 5-6 easy (8:49)
Miles 7-8 half-marathon pace (7:19)
Miles 9-10 easy (8:40)
Mile 11 half-marathon pace (7:15)
Total: 11 miles in 1:29:30 (~8:08 average pace)
After a delicious lunch at Chipotle with my BFF Joe, I hightailed it home and did not venture outside for the rest of the day. I did, however, experiment with another raw recipe for dinner. Best thing about eating raw food meals? All the veggies!! Between my vegetarian salad at chipotle (extra guac, please!), afternoon snacks, and my veggie-licious dinner I must have consumed 10+ servings of produce. Yay, fruit & veg.
My raw "sloppy joes" were inspired by the lovely Fitnessista. Bon Appetit!
Raw Sloppy Joes (Makes 1 big serving or 2 small servings)
Ingredients:
1/4 cup walnuts, soaked
1 medium sweet onion
1 red bell pepper
1 carrot
1 large portabella mushroom cap
2 Tbs tomato paste
dash of soy sauce (use Nama Shoyu if you want to be 100% raw)
dash of apple cider vinegar
Tbs flaxseed oil
chili powder, cumin, sea salt, and pepper (to taste)
dash of hot sauce
Directions:
In a food processor, combine the onions, bell pepper, and carrot until finely diced
Chop the mushroom and add to veggie mixture
In a large bowl combine mushroom-veggie mixture with all other ingredients
Serve in romaine lettuce cups – enjoy!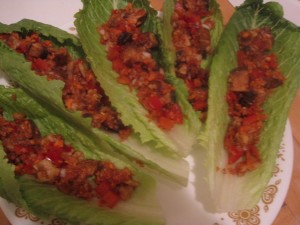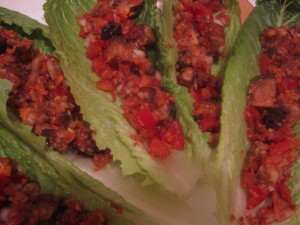 Don't forget to tell me your favorite recipe for a chance to win a Cuisinart food processor!
Question: What's the longest you've ever run on a treadmill?