C-r-a-n-k-y. That's what I was last night. In fact, that's how I've been feeling all  week. On Monday I headed straight home after work and climbed in bed with a jar of nutella and a book. It felt good to take a rest day, but it did nothing for my bad mood. I was feeling lethargic and blah yesterday…definitely not in the mood for a track workout. I've said it many times, but I'll say it again – I'm probably only motivated and excited to run about 50% of the time. The other half of the time I really have to convince and cajole myself. But you know what? It always makes me feel better. As Ke$ha would say: Running is my drug. It's a natural anti-depressant!
As I warmed up to the East River Track (about ~2 miles), I gave myself a little pep talk. I think at points I was actually talking to myself aloud. Luckily, I blended in with all the other crazy New Yorkers talking to themselves.
 When Coach described this interval workout, it sounded h-a-r-d. I'm not going to lie – just hearing about what we were in store for made me want to lie down in the grass and take a nap. Fortunately, I did not do that.
Yesterday's assignment was a ladder workout:
400m, 600m, 800m, 1000m @5k pace with 200m recovery (400m recovery after the 1000m)

800m, 600m, 400m @3K pace with 200m recovery
And here's how it went down –
Activity
Reps
Distance
Duration
Pace
Warm Up
1 x

2.14

mi

00:19:00

8:52 min/mi

Intervals
1 x

400 meters

00:01:34

6:18 min/mi

Intervals
1 x

600 meters

00:02:24

6:26 min/mi

Intervals
1 x

800 meters

00:03:09

6:20 min/mi

Intervals
1 x

1000 meters

00:03:55

6:18 min/mi

Intervals
1 x

800 meters

00:03:04

6:10 min/mi

Intervals
1 x

600 meters

00:02:17

6:07 min/mi

Intervals
1 x

400 meters

00:01:24

5:37 min/mi

Recovery Run
1 x

1 miles

00:12:00

12:00 min/mi

Cool Down
1 x

3 miles

00:25:00

8:20 min/mi
I was pretty pleased with this workout. I ended up leading my group for most of the intervals and that helped me to focus on the pace. I was also able to get faster for the second half of the workout – hooray! Afterwards I was so much happier – I practically skipped out of the track and on to my cool-down.
Even better than a successful track workout?? Ice cream with the team! We stopped at Lula's Sweet Apothacary on E. 6th St and since I didn't have a camera with my sweaty-self, please accept this stand in (from the last time I went):
Vegan Peanut Butter Fudge ice cream (made with cashew milk)!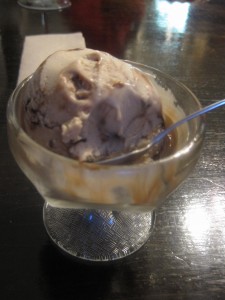 Ice cream is delicious, but of course I needed some additional fuel when I got home –
Wasa crackers topped with nutella and sliced banana and a bowl of strawberries with Greek yogurt.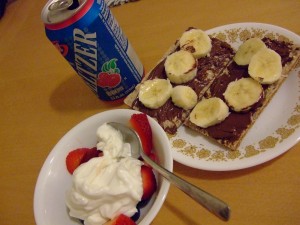 And then I attacked the peanut butter jar as I packed my breakfast and lunch for the next day. Ehhh, no veggies in sight. Good thing I had a salad for lunch!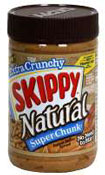 The latest from True/Slant – Pickles: Your new summer training buddy.
From the NY Times: Exercise and its role in burning body fat, regulating blood sugar, and controlling cholesterol levels.
Question: If you there was a pill you could take to stay trim and be healthy, would you still work out?