Happy Wednesday blog readers! I haven't posted since Sunday's Brooklyn 1/2 marathon race report, so I feel like I have some catching up to do! I took Sunday and Monday completely off from exercise: no running, no cross-training, just REST. The legs said "thank you"!
With my extra free time I managed to eat some pretty yummy things. On Sunday I snagged a dozen mini cupcakes from Magnolia Bakery. The best way to enjoy them? Outside in sunny Central Park, of course. Isn't the egg carton carrier adorable??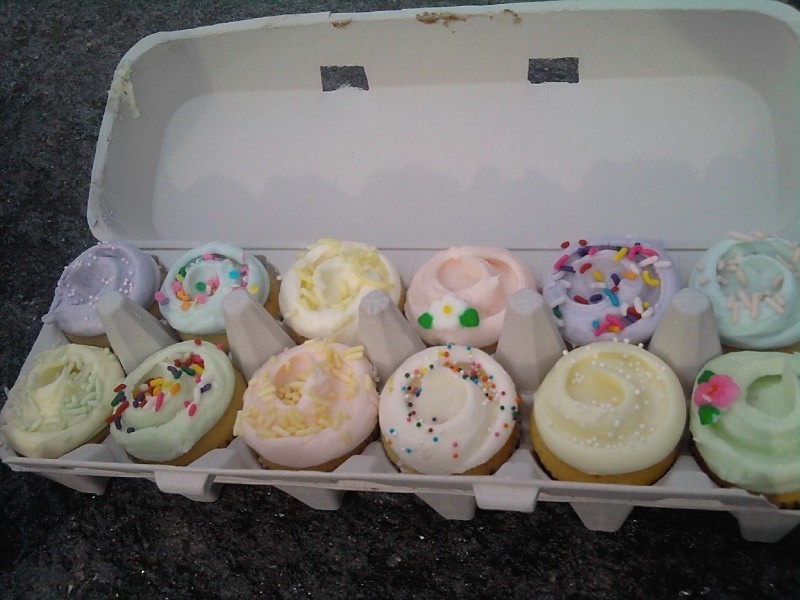 I also used up some over ripe bananas by whipping up a very healthy cookie recipe. They're vegan and gluten-free! These little goodies are like an oatmeal cookie-banana bread hybrid, very moist. I like to eat them crumbled over yogurt.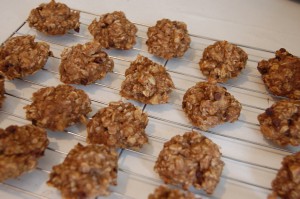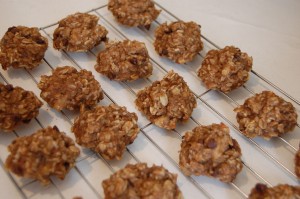 Coconut-Chocolate-Banana Bread Bites
Ingredients:
2 ripe bananas, mashed

3 Tbs canola oil

3 Tbs maple syrup

1/2 tsp vanilla extract

1 cup oats

2/3 cup teff flour (or other gluten-free flour)

1/2 cup unsweetened coconut

1/4 tsp baking soda

1/4 tsp sea salt

1/3 cup chocolate chips
Directions:
Preheat oven to 350 F degrees

Combine the banana, oil, maple syrup, and vanilla in a large bowl

In a medium bowl, combine all dry ingredients except chocolate chips

Add the dry ingredients to the wet ingredients in 2-3 increments, stirring just until combined (don't over mix!)

Stir in the chocolate chips

Drop heaping teaspoons of batter onto a parchment lined cookie sheet and bake for about 13-15 minutes, until lightly browned

Makes about 20 cookies
After a solid 72 hours of rest, I was ready to hit the roads again. I went for a 4.5 mile "shake-out" run on Tuesday morning to test my legs. Felt good! Good enough to contemplate an afternoon track workout, in fact.
Unfortunately my coach put the kibosh on me doing any intervals so soon after a 1/2 marathon (womp, womp). In retrospect, my legs probably weren't 100% ready for a tough speed workout. Instead, Jacqui and I ran from the track down to South Ferry and back, bringing me to about 7.5 miles total for the evening (12 miles for the day, yikes). Fortunately I'm feelin' fine after all those miles – no leggy pain!
My post-track workout tradition is to make a stop at the Whole Foods on Houston Street. I treated myself to an on tap Kombucha <3 and stocked up on groceries.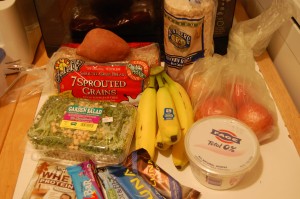 My loot included Ezekiel sprouted grain bread, sweet potato, bananas, brown rice cakes, apples, Fage greek yogurt, luna bars, protein powder, and sprouts. I'm really excited about that big box of sprouts – it includes clover, garbanzo, sunflower, etc. Why are sprouts good for you? Check out the article for more info!
Using a 1/2 empty tub of yogurt, I whipped up a quick and easy dinner – Fage greek yogurt, sliced strawberries, sunflower seed butter, and Nature's Path Heritage Grain cereal (my fav!).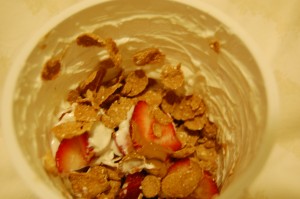 With Ezekiel toast, peanut butter, and chocolate chips for dessert. Yes, toast can be a dessert. Because I say so.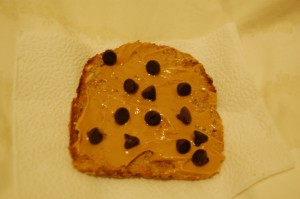 What are the 5 races you need to run this summer? Check out my latest True/Slant article for the deets!
Question: What are your top 3 grocery store essentials? I can't live without greek yogurt, peanut butter, and bananas!