Thursday morning started off with some homemade fruit salad. The best thing about fruit salad? You can change the produce depending on what's in season!
Winter Fruit Salad
Ingredients:
1 orange, peeled and sectioned
1 apple, cubed
1 banana, sliced
2 Tbs dried cranberries
1 Tbs honey
1 tsp lime juice
Directions:
Mix together the fruit in a medium bowl, sprinkle with lime juice (to prevent browning)
Drizzle honey over top
Enjoy! Makes about 3 servings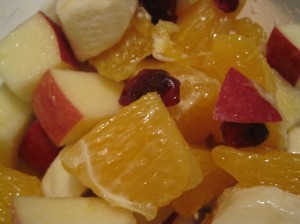 Followed by some protein and carbs in the form of scrambled egg whites with sriracha sauce and Eli Zabar's health bread topped with pb & j.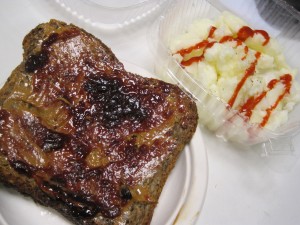 And a mid-morning decaf cappuccino 🙂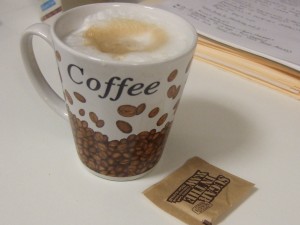 Lunch was a mix of leftover roasted vegetables and some goodies from the salad bar. In the mix:
1 cup roasted brussels sprouts, fennel, and potatoes

mixed greens

feta cheese, balsamic vinaigrette

Tastings of chickpea salad and udon noodle salad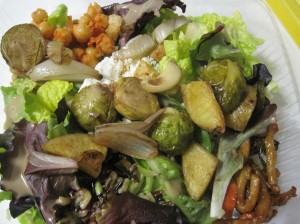 I had the afternoon off of work, so my snacks were on the go: Kashi TLC granola bar and Voskos Greek yogurt.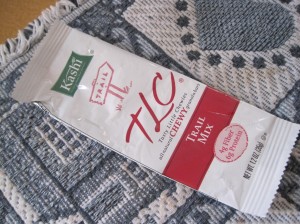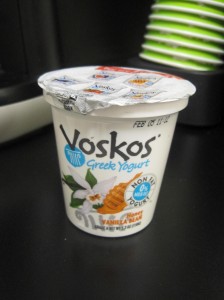 I had my first PT session today and learned that 1) I have very tight hip flexors and 2) I need to strengthen my gluteus medius. Stay tunes for strengthening exercise demos!
It was fun taking a day off from the gym, but by Thursday evening I was ready to get back in the swing of things. I ran an easy 3 miles (back felt pretty good!) and then elliptical-ed for 60 minutes while reading Born to Run. I'm really liking the book so far – it gives me hope for pain-free running 🙂 And the story reads more like a novel than non-fiction. I can't put it down! I finished up my gym session with some strength training:
3 x 10 curtsy lunges

3 x 10 squats

3 x 10 push-ups

foam-rolling!!
I was reallyyyy hungry when I left the gym and the only thing I had in my bag was Ghiradelli peppermint bark. Definitely not the best post-gym option, but at least I didn't spend $4 on an over-priced Clif bar!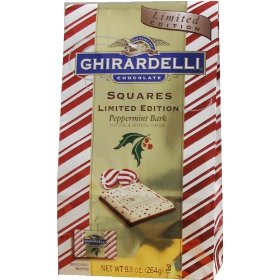 When I arrived back at my apartment, I wanted dinner and FAST. I toasted up two slices of Ezekiel Bran of Life bread and topped them with peanut butter, raspberry preserves, and sliced banana. Why are the slices in pieces, you ask? I got into a bit of a tussel with the toaster. The toaster won.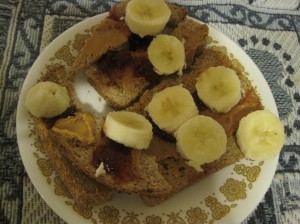 Dessert was a cup of milk + scoop of chocolate soy protein powder + ice +  mini chocolate chips. Served in a wine glass. I'm classy like that.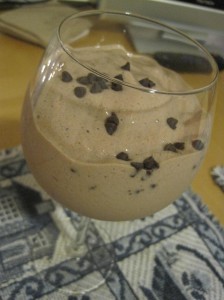 Feeling a little hungry? Check out these 8 healthy snacks (the list even includes ice cream!)