Hello! I'm back…with lots to say. I always have so much that I want to write about, but…never enough time. The days of new parenthood are all consuming and at the same time, so fleeting. I want to share my experiences (if only for my own record), but some days I barely have time to shower and feed the baby, let alone take time to write down coherent thoughts. Seriously, some days it's 4pm and it feels like all I've done is feed myself, Teddy, and the cat. But! You know what? It's getting better. So so so much better. Don't get me wrong – from the moment Teddy was born, I was thankful and delighted to be his mom. I was in awe of him – his smallness, his perfectness, and the fact that I grew him (!!). But those first 6 weeks were honestly the hardest of my life. Before having a baby, I thought, "My husband and I are smart people. We've accomplished a lot of hard things in our lives. How difficult could a newborn really be?" EL OH EL. The answer is really freaking hard. Now, not every minute was hard, but cumulatively, those weeks were a survival mode marathon. We were learning how to be parents (Is he hungry? Wet? Cold? Overtired? Why won't he stop crying??) and Teddy was learning how to be a human on the outside. There were many days that I cried out of sheer exhaustion. I would dream about a full night of sleep the way a starving man thinks about food. As someone who has always needed more sleep than the average person (8+ hours), the newborn stage was really tough. I think it was compounded by the fact that I'm a bit of a perfectionist, so even if Teddy took a good long nap during the day (and he often did), I didn't follow the advice to "sleep when the baby sleeps." Instead, I'd attempt a whirlwind of dishes, laundry, thank you notes, google searches ("is it normal for my baby to XYZ"), and whatnot. It was a terrible feeling to reach the end of the day, be in a fog of exhaustion, and know you weren't going to get a good night's sleep. It's also really difficult to transition from being an independent person who can exercise, shower, cook, work, etc. pretty much whenever they want to caring for a little person who is completely dependent on you. Oh, you want some coffee or breakfast or a run? Too bad, this little babe is hungry or needs soothing or a diaper change and they do NOT want to wait. (Although TBH, sometimessss I let Teddy cry for a few minutes so that I can quickly make a cup of coffee).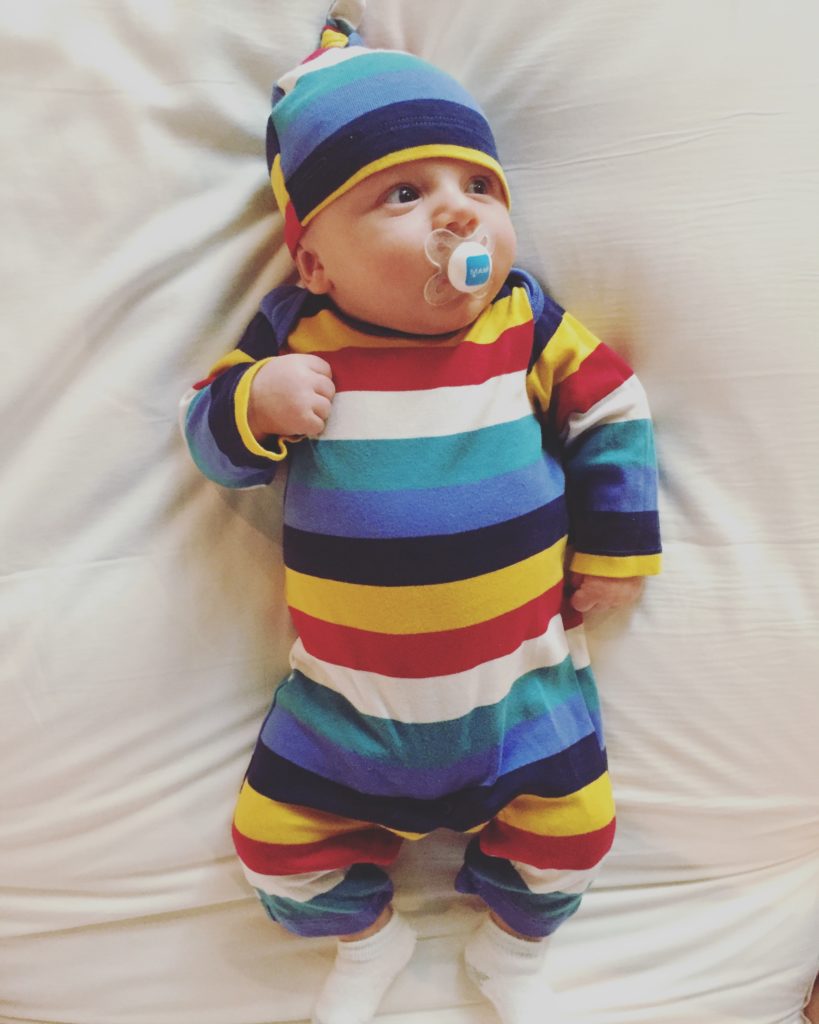 Anyway! I didn't intend to be a downer, the point of me writing all that down is that things change so quickly. I was convinced that I would never feel rested again, that parenting would always feel like hard work, but you know what? At almost 12 weeks, we are finally getting in to a good routine. It seemed like it happened almost overnight, but the changes were gradual, of course. At around 1 month old, Teddy gave us his first 5-hour stretch of sleep. I almost cried tears of joy! For the next month or so, we reliably got him to sleep 4-6 hours at a time during the night (one time he even slept 7 hours, but that seemed to be an anomaly). And when he was 2 months old, he truly slept through the night for the first time. On the night of Wednesday, August 24th Teddy slept for 8 hours and 45 glorious minutes! At a hotel in Toronto, after over 400 miles of driving. I guess the kid really likes traveling! We have some pretty routine sleep cues that we use (swaddle or Magic Merlin suit, white noise machine, paci, etc), but we honestly didn't do anything that crazy when it comes to getting him to sleep that long (although when he was about 2-4 weeks old I spent hours googling "how to get your baby to sleep longer" in desperation.) I'm a big believer in swaddling and white noise and making sure he eats enough during the day, but I also think we might just be lucky. I certainly feel like I've won the lotto after 8 hours of sleep!
This baby loves traveling. That's what he was trying to tell us by sleeping through the night for the first time in a hotel, right?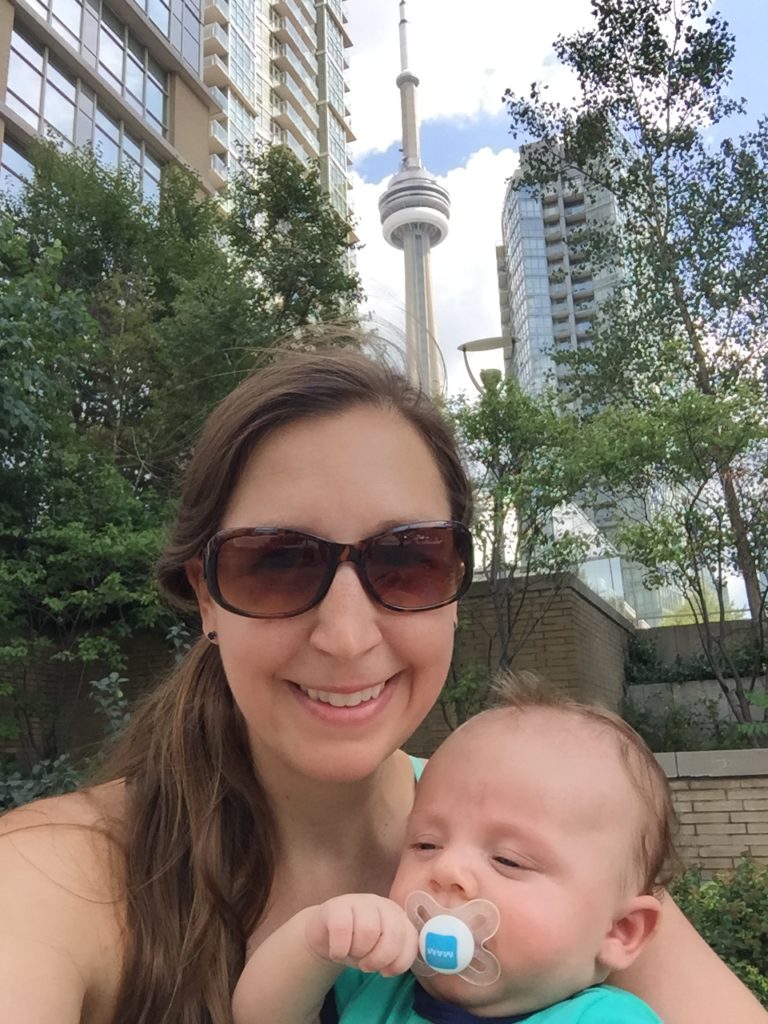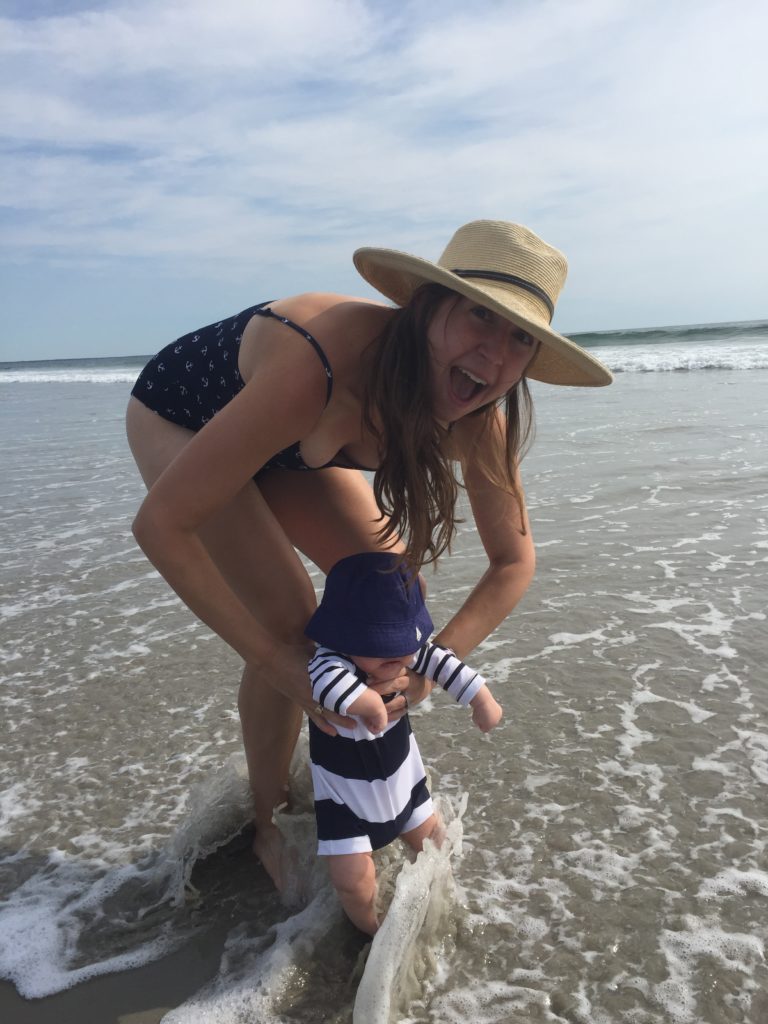 Anyway! At almost 3 months old, Teddy sleeps about ~10 hours (give or take an hour) at a time at night and I feel like a new woman. I can finally understand why people have multiple children, hah. If you're here for the running talk, you might be wondering why the heck I'm going on and on about my kid's sleep schedule. Well, as much as I enjoyed getting away for a few miles when Teddy was a 4-8 weeks old, it wasn't until recently that I physically felt like my old self when it comes to running. It's really freaking hard to get excited about running when you feel like you just pulled an all-nighter. So, now that I'm getting more sleep and I've got the blood pressure under control and my lady bits are more or less recovered from childbirth, running should be a piece of cake, right?? Sigh, if only. I'm trying to give myself grace, but I still have very limited time to run. Now that my Mother-in-law is back to work (she's a teacher), my main babysitter isn't really available. And my own mom lives 200 miles away. That leaves 1) early morning runs before Brian goes to work 2) treadmill runs while Teddy naps, or 3) evening runs after Brian gets home from work Now, I know these are mostly just excuses, but guys, it's tough. Morning runs are difficult because it means either waking up Teddy super early to eat (like an hour before he usually wake up) or pumping, which is a big pain. Gone are the days when I could just pop out of bed and hit the road. I shudder at the thought of running before feeding him/pumping – my boobs are bursting with milk in the morning and it is NOT comfortable. Treadmill runs are a bit easier to execute, but again, I have to make sure Teddy cooperates. More than once I was only able to get a mile or two in before he needed me. Evening runs have been the most successful so far, but they have their own issues. My energy levels aren't that great at 6pm and until this week it has been HOT in the late afternoon/early evening. Womp, womp.
Anyway, I did run my first postpartum race, which was fun (if by fun, you mean, I felt like I was dying).
The day was hot and humid AF and my 5k time might have been a personal worst (24:59), but I was 2nd female and won my age group. So, yay.
If you're wondering why I'm wearing the race t-shirt on race day (not usually something I do), it's because my boobs started leaking milk and I needed to do a quick wardrobe change. Motherhood, so glam! Also, we realized that Teddy's onesie no longer fit, hence the unsnapped bottom. We're both kind of a mess.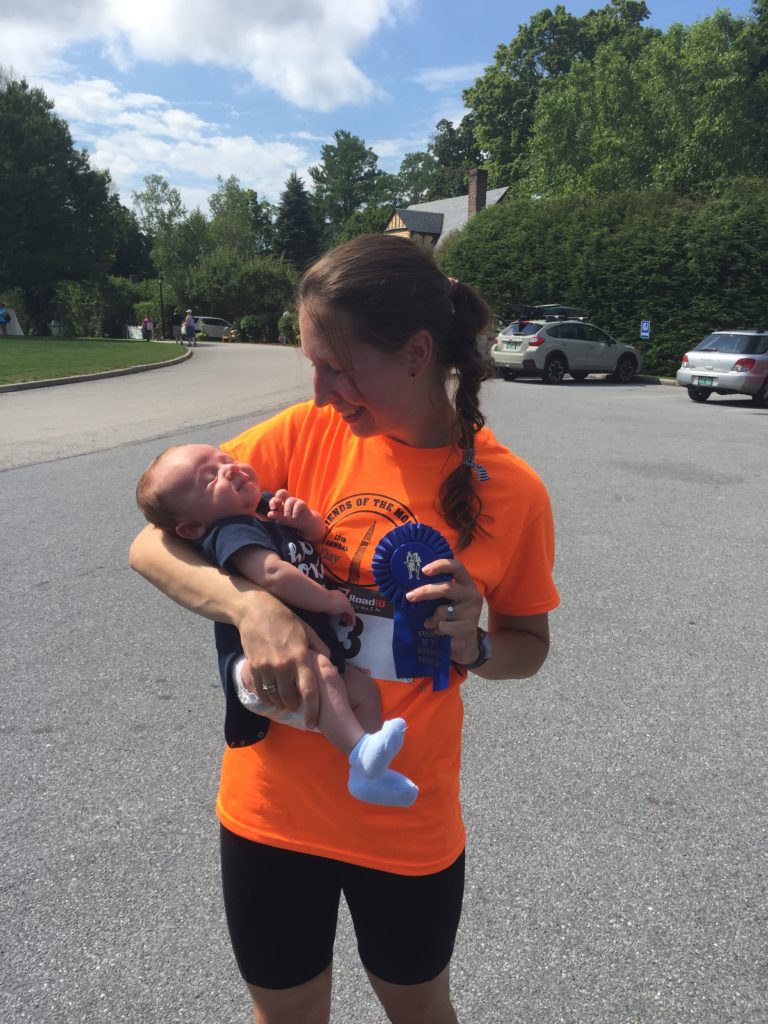 Anyway, as the days get cooler and Teddy becomes more predictable, I'm committed to figuring out a way to get in my runs. Running, even if it's only a few miles, makes me feel like myself and I think that's really important. Future running goals are still kind of TBD, especially when it comes to races. I was thinking about some early October races, but between all the recent traveling and a minor surgery, I had to miss some runs and I'm currently feeling pretty out of shape. My new plan is to enter the lottery for the NYC Half in March and if I get in, maybe that can be my goal race? Until then, I'm going to do my best to get in to a groove. Stay tuned.
In terms of general life stuff, most days I feel like we're getting back on track. We cook more days than not and we're mostly on top of laundry and dishes and all that jazz.
When it's too hot to cook, we make salad platters. Like this: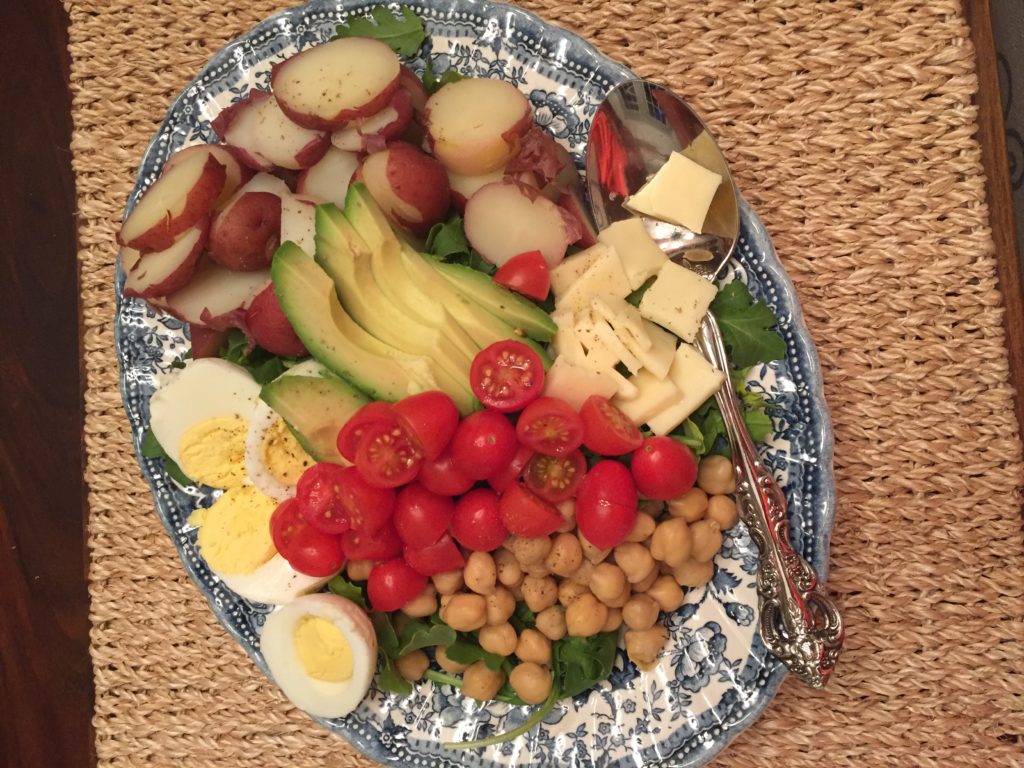 Of course, it all depends on the day! We traveled a bunch in recent weeks (Toronto, Western New York, Southern Maine) and have more travel coming up (Pennsylvania, Cape Cod), so more often than not, dinner = pizza. However, I always try to start the day off with something reasonably healthy and now that the weather is getting cooler (low of 50's at night!!), morning oatmeal is appealing again. Yesterday morning, before tackling the day's to-dos, I made a bowl of oatmeal and even though I had a baby sleeping on my chest and a cat sleeping on my lap while I ate it, it felt good to take a few minutes and enjoy a hot breakfast. The breastfeeding is still going really well and I attribute a lot of that to prioritizing nutrition. I really try to make breakfast healthy because sometimes things get crazy and lunch ends up being really late or a weird mishmash of things. I've still been digging wheat germ in smoothies, but as it gets cooler, I think it will be a great addition to oatmeal as well.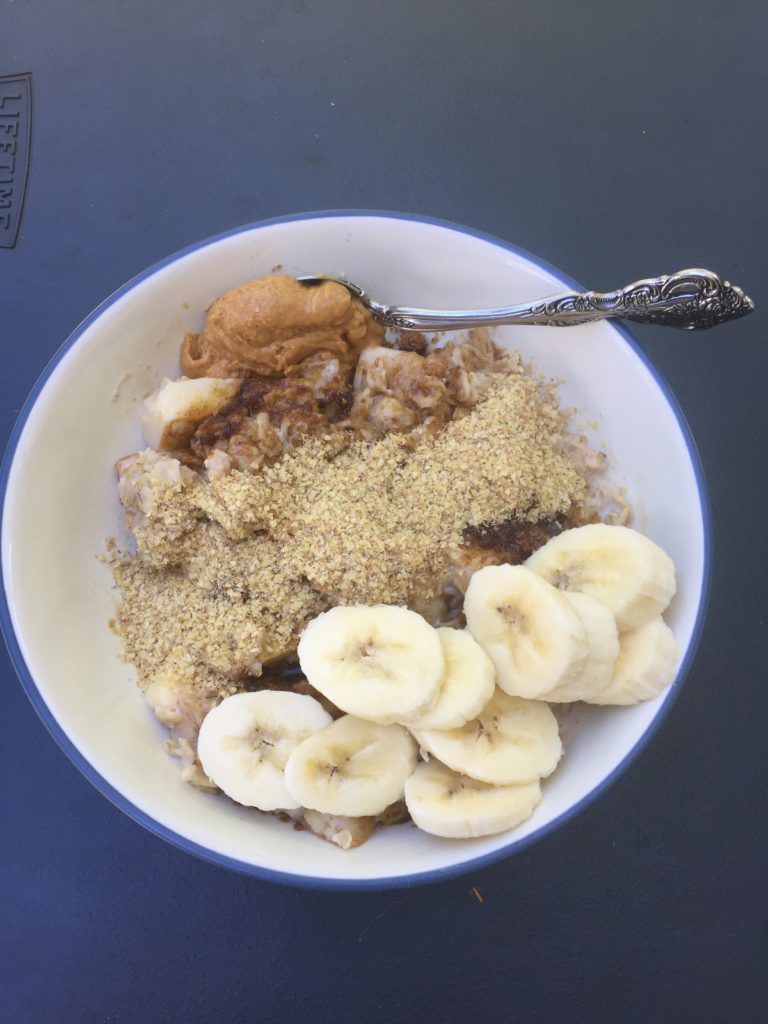 Yesterday I made a big bowl of steel cut oats, which are a little harder to cook, but worth the effort!
Here's my method:
Steel Cut Oats with Wheat Germ
Ingredients:
1 cup water
1/2 cup whole milk
dash of salt
1/2 cup steel cut oats
Add-ins: chopped pear, cinnamon, brown sugar, sliced banana, scoop of peanut butter, and 2Tbs Kretschmer wheat germ.
Directions:
Bring water, milk, and salt to a boil, add in the steel cut oats, and cook for about 20 minutes, stirring occasionally.
When the oats are creamy, remove from heat, and add in the pear and cinnamon. Allow to sit for a minute or two.
Scoop into a bowl and top with the remaining ingredients.
It kept me full for hours! And bonus, oatmeal is a galactagogue, which means it's good for milk production. It's a complex carbohydrate and whole grain, too, which makes it great fuel for running.
I know I need to be more on top of fueling between breakfast and dinner, especially if I want my runs to feel better, so I've been brainstorming healthy snacks to have on hand when a real lunch isn't happening. My friend Lisa recently included me in a round up of healthy snacks. Some of the other ideas were great and motivated me to have some grab and go options on hand.
I recently received a StrideBox full of running related products (disclaimer: they sent this to me for free). The monthly service sends runners a box of fueling and snack options as well as running gear. I'm not running a ton right now, but if I were marathon training, I think I would love trying out a variety of new-to-me products. In this box: protein chips, protein bars, raw honey packet, ginger chews, a running belt, and lightweight towels. Once I start doing long runs again, I'm going to test out that raw honey as mid-run fuel.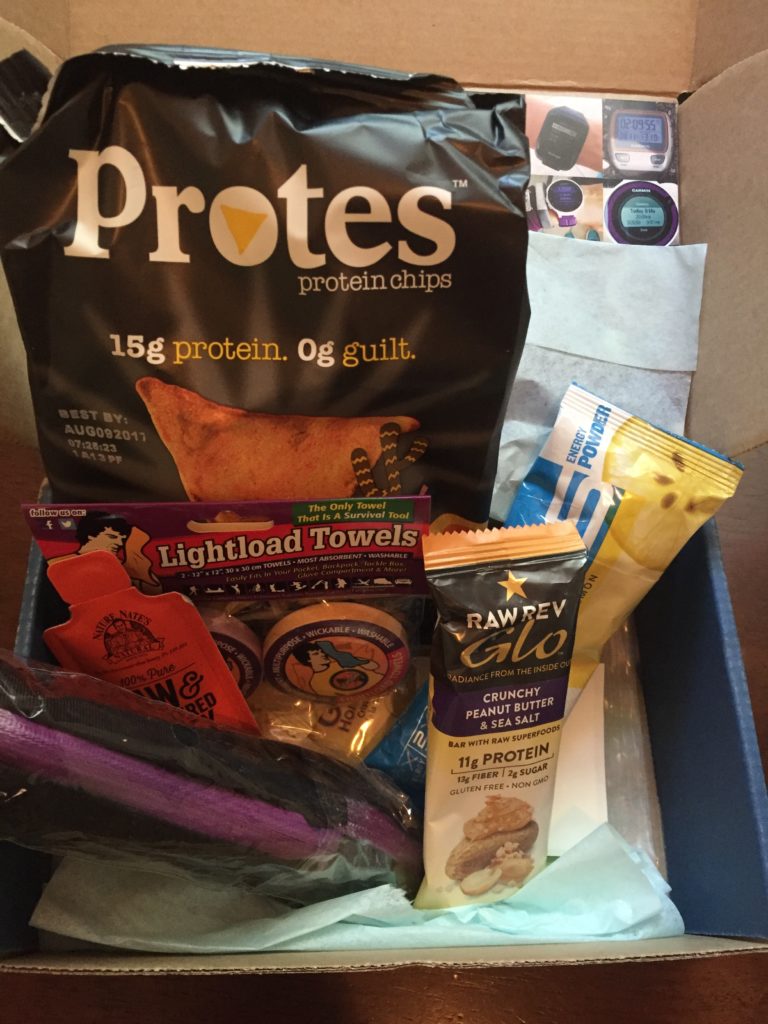 Finally, I just found out about the awesome website all about pregnancy (created by two MDs who run!). Whether you're single, trying to get pregnant, expecting, or raising kids, it has a ton of good info. I love that all of the articles are written by MDs. You never know who's writing some of the stuff you find on the internet, but at least I know this website is legit.
Now that I feel sort of motivated to blog more regularly, I just need more time….If you have any extra, please send my way. 🙂