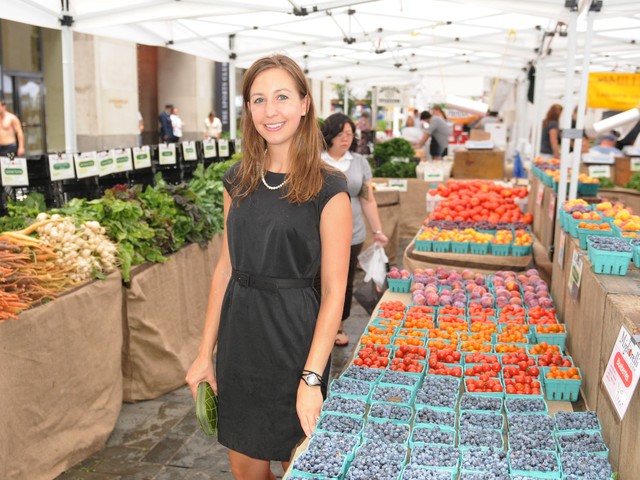 Welcome and thanks for reading my rambling/infrequent blog posts! I'm Megan and a recent transplant to Saratoga Springs in upstate New York. Previously, I lived in Manhattan and Brooklyn for the 7 years following college graduation. My husband and I are getting used to life outside NYC and while it's definitely different, we are enjoying the change. I do miss my running buddies and favorite take-out places, though! Career-wise, things have also changed. I left behind my job at a corporate law firm and recently became a RRCA certified running coach. I also write for two local newspapers as well as the occasional freelance assignment. When I'm not coaching or running, I enjoy traveling, cooking, baking, reading, and being active.
I began blogging as a way to document my two passions – running and experimenting in the kitchen.  At first I was posting everything on Facebook and then I figured focusing the content in a blog might be a better approach! That way the people who wanted to read about marathons could do so….and I wouldn't risk being "de-friended" by the less athletically inclined. In November of 2008 I finished my first marathon (NYC Marathon – 3 hours, 38 minutes, and 41 seconds). Fast enough to qualify me for Boston! I must have been delirious because the very next day (despite the fact that I could barely walk down stairs) I registered for the 2009 Boston Marathon. I recently ran my 3rd marathon (New York 2010, 3:18:17) and am now training with the Central Park Track Club, a post-collegiate competitive running club. My long term goals are kind of TBD, but I think my next big race will be the 2015 Boston Marathon. I am always hoping to break the elusive 1:30 barrier!
Running History (Check my race recap page for more details!)
PR's
Marathon 3:18:17 (NYC Marathon Nov 7, 2010)
1/2 Marathon 1:31:29 (Philly Rock 'n Roll 1/2 Marathon September 18, 2011)
10 miles 1:11:30 (Cherry Blossom 10-miler April 3, 2011)
15K 1:06:51 (Colon Cancer 15K March 28, 2010)
9 miles 1:06:16 (Run for the Diamonds 9-miler November 28, 2013)
10K 42:28 (Joe Kleinerman 10k December 5, 2010)
4 miles 26:57 (Autism Speaks 4-miler September 7, 2013)
Road 6K 24:57 (Jingle Bell Jog 6K December 10, 2011)
XC 6K 25:19 (NE Div III Regionals November 12, 2005)
Track 5K 18:52 (NESCAC Track Championships April 28, 2007)
XC 5K 20:51 (Open New Englands October 07, 2006)
Road 5K 19:55 (Founder's 5K in Prospect Park July 31, 2010)
3K 11:15:42 (Elmer Swanson Invite April 14, 2007)
Mile 5:52:28  (Cardinal II Invite February 10, 2007)
1500m 5:22:17 (Elmer Swanson Invite April 16, 2005)
My running life began when I joined my high school's track team in January of 2000. I had never run before and thought I might be shotput/discus/javelin thrower or jumper. After it became clear that I lacked any sense of coordination, my coach decided I should try sprinting. My first races were the 100m, 200m, and 400m sprints. Running fast and short was fun, but I soon realized I would be a much better long distance runner! I joined the cross-country team that fall and continued running and racing competitively throughout my high school and college years. Being a member of the cross-country and track teams while at Wesleyan University was one of the best experiences of my life. Upon graduating in 2007, I was sad to say goodbye to team athletics. After a year or so of running on my own, I decided to join a local competitive team – the Central Park track club.
Outdoor Track Meet @ Wesleyan – April 2007
After a 3000m race at the Armory – January 2009
NYRR Mini 10k – June 2010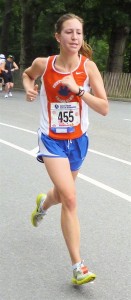 Cooking/Nutrition Background
I wasn't always the healthiest eater. I grew up on very traditional "meat and potatoes" food. I think I ate Wendy's and Burger King nearly ever day during my senior year of high school! As a freshman at Wesleyan University I was exposed to foods that I had never even heard of before – tofu! hummus! quinoa! During my sophomore year of college I began to focus more on my running and placed a greater emphasis on the food I was using for fuel. Slowly, my tastes and preferences have changed. On a spring break trip (March 2005) with the track team we were given a food allowance of about $100.  My teammates and I decided to pool our resources and cook for each other all week. During that time, I learned how to make the basics – pasta, steamed veggies, chicken, mac n' cheese, etc. The next spring, while I was studying abroad in Italy (spring 2006), I enrolled in a series of cooking classes. I immersed myself in the Italian way of eating which emphasizes fresh vegetables, olive oil, yummy artisanal cheeses, and small portions of pasta, meat, etc . I still miss my host dad's ragu sauce and fresh caprese salad! When I moved to my own apartment after college graduation, I really stepped up my culinary game – there was no more dining hall to serve me dinner at the end of a long day. I usually prepare simple dishes during the week, but I love experimenting with more complex projects. I've made my own bread and pizza dough, cured pickles, canned jam, whipped up homemade mayonaise, baked layer cakes, rolled out pies,  etc.  My tiny Manhattan upstate apartment is overflowing with kitchen appliances! My curiousity continues – In the fall of 2008 I took an "American Culinary History" course at the New School and learned a lot about our nation's food culture.  I am keeping my cooking game sharp by attending local courses and lectures at the Whole Foods Bowery Culinary Center and by reading foodie magazines and cookbooks. I hope to use this blog as a way to document how a healthy (and hungry) runner fuels for long distance running.
My usual lunch-time salad:
There's always room for Ice cream with friends!