Hello! Are you here for the running talk? Good! Because that's what I've got on tap for today. I always have so many ideas for blog posts, but then I feel like starting a post is overwhelming, so I don't do it…maybe the answer is shorter, less edited posts?
Last time I checked in, running was going so-so. I was able to start up fairly quickly postpartum (after about 4 weeks) and while I didn't feel great (it was July/August and hot AF), I didn't feel terrible either. I was pleasantly surprised with an 8:00 pace 5k just 7 weeks after labor/delivery. As August marched on, I was able to build up to 7 miles and I thought maybe I could be in the double digits by early fall and maybeeee run a half-marathon. I knew it wouldn't be a PR, but I thought training for a longer race might be a good goal (plus I had a automatic entry in to a local half that I deferred from last year). Ah well, that didn't happen.
I had to have some minor surgery which necessitated a bit over a week off, smack dab in the middle of September (when I was supposed to be doing those double digit runs I talked about…) and then we had a bunch of travel which was fun, but meant I really only had time for 3-ish miles most days. Also, once Teddy was about 3-months old, I started working more. I'm only working part-time (15 hours a week-ish), but I only have babysitting help a few hours a week, so between taking care of the babe, working a few hours a day, and trying to keep the house in semi-presentable shape (hah), it doesn't leave much time for serious training. If I really, really wanted to, could I wake up extra early and run 6 miles instead of 3 or 4? Probably. But I also really need sleep! Teddy is a little over 4-months old and while he's a pretty good sleeper, some days are better than others! These days he's sleeping from about 7/8pm until 5/6am, with a few (unpredictable) naps throughout the day.
Most weeks I kind of just go with the flow when it comes to running. I've been aiming for 5 days of running per week and 1 strength training workout (even if it's only 15-20 minutes…or just raking leaves). Some weeks I fit it all in, some weeks I don't. Most weekdays I can manage a 3-mile run, but much more than that is kinda tough. And on the weekends I've been trying to do a longer run (5-7 miles). I haven't been doing much in terms of speed work, but I did run a timed mile on the local high school track. Just barely sub-7:00! That was about a month ago, so I should probably try this again soon.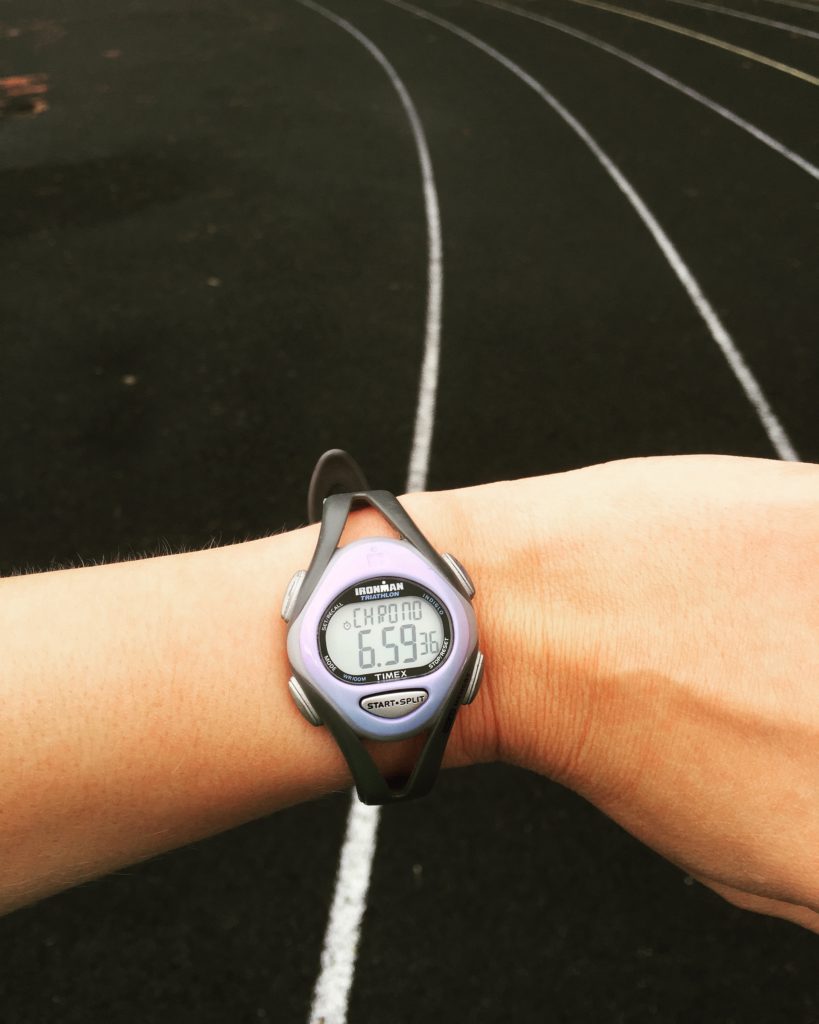 I've run a few races in the past month, which has been fun and kind of surprising. After a very erratic running schedule for the month of September, I wasn't sure what to expect for a 5k time. I lined up at a local race on Saturday, October 8th and surprised myself with a 22:15 finish (7:10 pace, I think). It's been a long time since I posted anything close to that fast (especially for 3 miles in a row), so I was pretty pumped. The next weekend, I ran a 10k in 48:06 (7:44 pace), which was also pretty surprising as I hadn't run over 4 miles in over a month. And then this past weekend, I ran a 5k in 21:57 (7:04), which was maybe only a minute slower than I had been racing 5ks pre-baby. I'm pretty pleased with these times although to be honest, I'm not sure I quite deserve them, if that makes sense. Maybe it's postpartum hormones or something? I thought I read something once that likened pregnancy to blood-doping? Anyway, the plan moving forward is just to keep doing what I can and hopefully run a half-marathon in the spring. When or where that race will be is TBD.
Things I'm loving lately
Lisa recently wrote a post about the Privilege of Being a Stay at Home Mom and it really spoke to me. I feel like sometimes I'm in this weird middle ground, privileged to be able to stay home with Teddy, but still figuring out a way to work part-time from home. With his inconsistent nap schedules, it is not easy! More than once in the past few weeks I've had conference calls that have been interrupted by a crying babe. I'm not really sure what the future holds, but for now this set-up is working for our family.
I have been loving podcasts lately! My favorites are all the usual NPR shows (Planet Money, Hidden Brain, Invisibilia), plus the shows produced by New Mommy Media. I have been listening to the shows since I found out I was pregnant (starting with Preggie Pals) and did some work for them back in the spring. Right now I'm loving their Boob Group episodes, a podcast for breastfeeding/pumping moms. I also really like Lindsey Hein's podcast, I'll Have Another. It's nice for a walk, run, folding laundry, etc.
Kale ice cubes. I had some kale from the farmers market that needed to be used up, so I blended it with a cup or so of water in the vitamix and made ice cubes. I figure these will be good for smoothies when we don't have fresh greens on hand.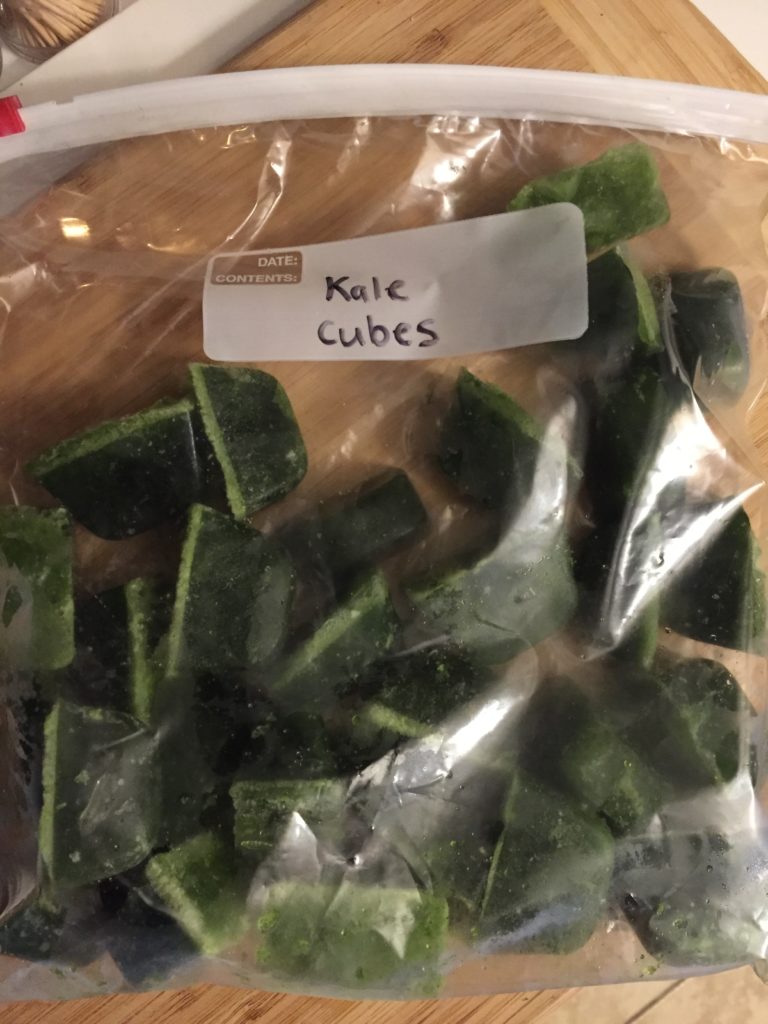 The whole wheat voonder bread from Earth Sky Time Community Farm. This is a local farm/bakery/commune?? (unsure about that last one…) that makes the best bread I have ever eaten. I realize this is pointless unless you live near Manchester, VT but if you're ever in the area, GET SOME. And then make a grilled cheese.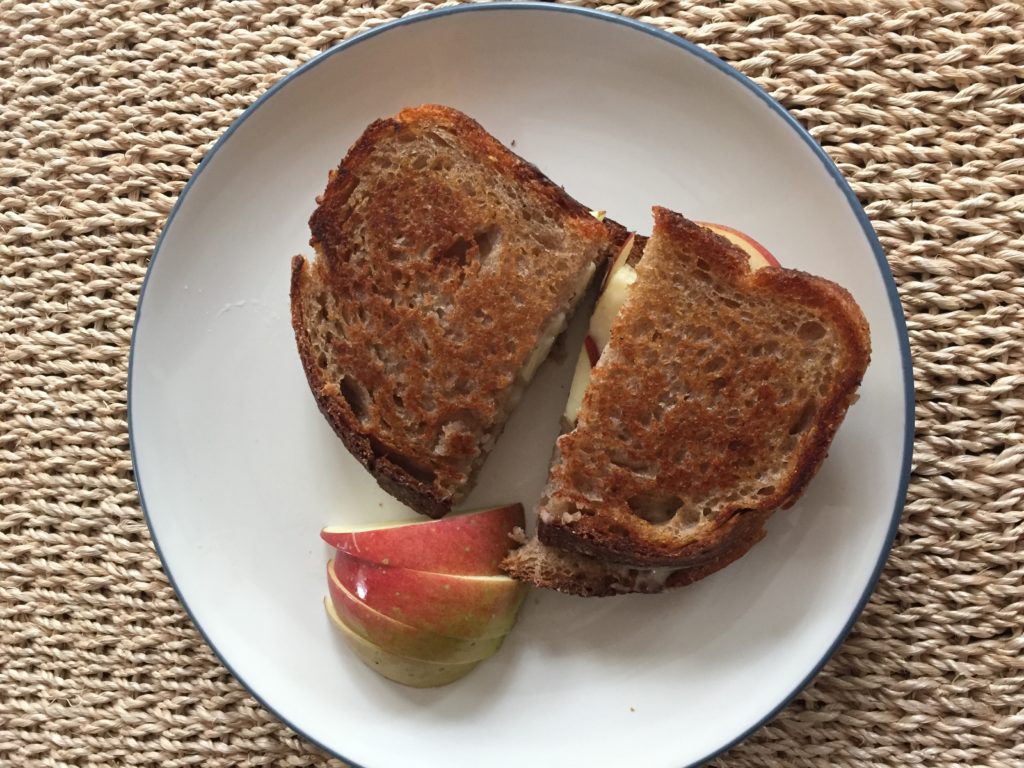 Question for fellow running mamas….do you have a running stroller? And if so, do you think it's worth it? I am contemplating asking Santa (Brian) for a dedicated running stroller for Christmas, but they are awfully $$$ and I want to make sure I use it enough. We already have the UppaBaby Vista for every day use, so that will likely remain our primary stroller.