Hello! I'm here again, surfacing from the fog that is new parenthood. Teddy is 7 weeks old and I am simultaneously in awe and denial. First of all, the kid is a TANK. He was just about 7lbs, 7oz when he was born (6lbs 14 oz when we left the hospital)…and now he's 12lbs. I suppose breastmilk is agreeing with him. Speaking of nursing, I have some thoughts on it (lots and lots of thoughts), but I'm going save that for another day. I wanted to talk about it today, but I think it deserves a post of its own.
Anyway, we are almost 2 months in and…figuring things out. Some days are amazingly good – I sleep enough to feel human, I manage a run (and maybe even a shower!), the baby naps well, the sink isn't overflowing with dishes, etc etc. On days like this, I think I've got this mom thing kind of/sort of under control. And then, just as I begin to pat myself on the back….every thing gets turned upside down and Brian has to come home from work early because the baby and I are both having meltdowns. Guys, newborns are h-a-r-d work. I'm sure this isn't news to many people (anyone?), but I feel like every day is both wonderful and so so challenging. I think, for me, the most difficult thing is the sleep deprivation. I've always been one who needed more sleep than most (preferably 8-9 hours), so surviving on little chunks of sleep is new territory. Although it's not yet very predicable, Teddy has started giving us some longer stretches of sleep. Most nights we get something in the neighborhood of a 4-5 hour stretch (a few times we even got 6-7 hour stretches), however just when I come to expect it….he decides to wake up every 2-3 hours (and resists going back to sleep). Ahh, the adventure that is new parenthood! But as much as I complain about being tired, I truly am in love with him. Sometimes, even after he falls asleep, and I know I should be jumping in to bed myself….I can't help but stare at his perfect, beautiful little face. And that makes waking up at 3am worth it. Andddd, I'm sure I'm the only one (besides his Dad) that cares about this, but he's started giving us some smiles, which is really FUN! Positive feedback makes a big difference.
The First Run Back!
Moving on! I think I mentioned previously that I was still dealing with high blood pressure stuff postpartum. Bummer. But the good news is, I think it's finally under control. I started taking some medicine that really made a difference in the numbers and now that it's stabilized, we're going to try and decrease the dose gradually. Fingers crossed this resolves itself! As a result of the high blood pressure, I've been seeing my doctor every week (vs. just the standard 6 week postpartum appointment). After about 4 weeks, I was feeling more or less back to normal physically (bleeding had stopped, no more pain, no incontinence, etc) and I asked if it would be okay if I tried running. Since I ran right up until 39 weeks, I got the thumbs up to start back very gradually. My first run postpartum was a single mile, very slowly, around 11 minute pace. And it felt…awkward! My hips kind of hurt and my stride felt weird and my lungs burned, but I got through it. I took a few days off, and then tried a 2 mile run, which felt a little better. From there, I began running 2-4 miles, a few times a week. All of the runs have been slow and I've been trying to avoid running on consecutive days. I've also been working on doing kegels and some core strength training a few times a week, too.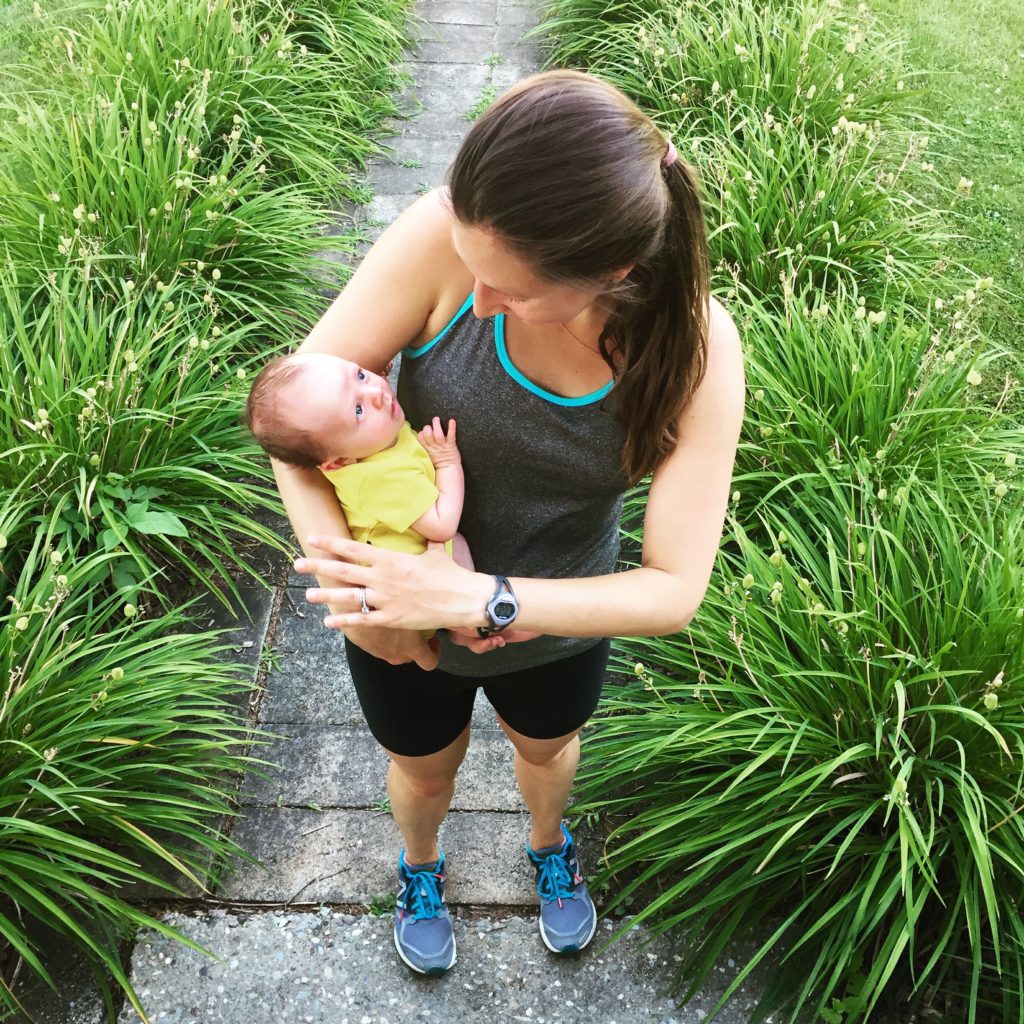 Like I mentioned in my last post, I was lucky to drop the baby weight pretty quickly and I'm back in regular clothes (as long as they allow easy access to my boobs, hah) howeverrrr, my stomach definitely doesn't look the same as it did pre-baby. Actually, I'm not even sure I remember what it looked like pre-baby. Anyway, the thing is…I'm not really sure what to do about it. Is it extra skin? Excess fat? A postpartum pooch that's here to stay? It's not a priority, but hopefully with some increased running and strength training, things will return to what they once were. I'd like to feel more confident running in just a sports bra and wearing a two-piece bathing suit…hopefully by next summer! Although since it's been hot AF, (90 degrees and like 900% humidity), yesterday I spent the whole day in just a sports bra and shorts. Sorry neighbors. In the meantime, I'm going to keep taking the running slow and try to focus on core work when I can. I have a goal for fall running (!), so stay tuned and maybe if I have time, I can write about it. Ahhh, time! I just need some more of that in my day. Speaking of time, most of my runs are at odd times, depending on when the baby decides to take a nap and I can hop on the treadmill or when my Mother-in-Law can watch him. Nothing makes you feel outta shape like a noon-time run in August. Full sun overhead, humidity high. Fall, I'm ready for you!!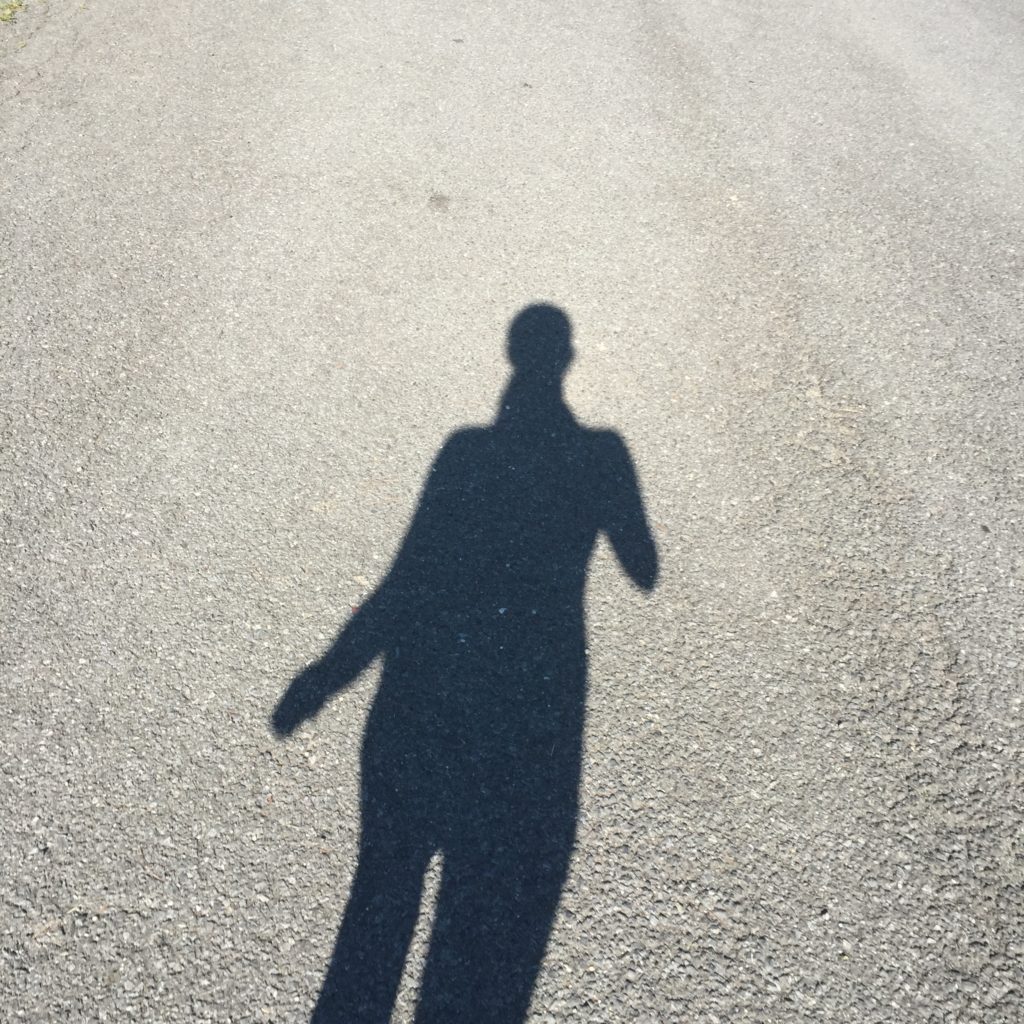 Late Summer Recipes (with wheat germ!)
I've been able to cobble together some meals that aren't smoothies or sandwiches (yay!), but I'm still leaning towards easy to prepare and easy to eat recipes. Since I've now added running to my routine, I'm more cautious than ever about eating enough of the right things to fuel breastfeeding. This means lots of summer produce, whole grains, protein, and nutritious extras like wheat germ, chia seeds, olive oil, etc. I'm really trying to make an effort to fuel myself with the best possible things, although I have not been able to resist the siren call of pie and ice cream. Every.night.
Anyway, Teddy is quite a few years away from needing back-to-school breakfasts and snacks, but once he's ready, I think the following two recipes would work out great. The ingredient lists for the peanut butter-banana popsicles and chocolate zucchini bread are nutritious and they're fun to eat. I don't think any kid (or adult) would turn down a popsicle or chocolate for breakfast…especially during these hot August mornings. Here's what I've been eating recently…
Peanut Butter-Banana Popsicles (makes 4-6, depending on size of popsicle molds)

Ingredients:
1 cup milk (I used whole milk, but you could also use almond milk if you want to go dairy-free)
2-3 very ripe bananas
2 heaping Tablespoons peanut butter
2 heaping Tablespoons Kretschmer wheat germ
Directions:
These are so easy, I hesitate to even call this a recipe. Blend everything together (I used my vitamix), pour into popsicle molds, and pop in the freezer for a few hours. If you make these the night before, they'll be ready for breakfast the next morning.
Chocolate Zucchini Bread
Our garden is overflowing with zucchini, so every time I see a recipe that uses some up, I am on it. I like regular zucchini bread just fine, but the addition of two kinds of chocolate makes this even better. The ingredient list is pretty wholesome, so I think you could get away with eating this for breakfast. It makes a nice light dessert as well! I followed this King Arthur recipe to a T; the only changes I made were 1) I omitted the espresso powder and 2) I added 2 heaping Tablespoons of wheat germ. You could definitely add more, but if so, I'd maybe decrease the flour a bit to prevent it from getting too dry.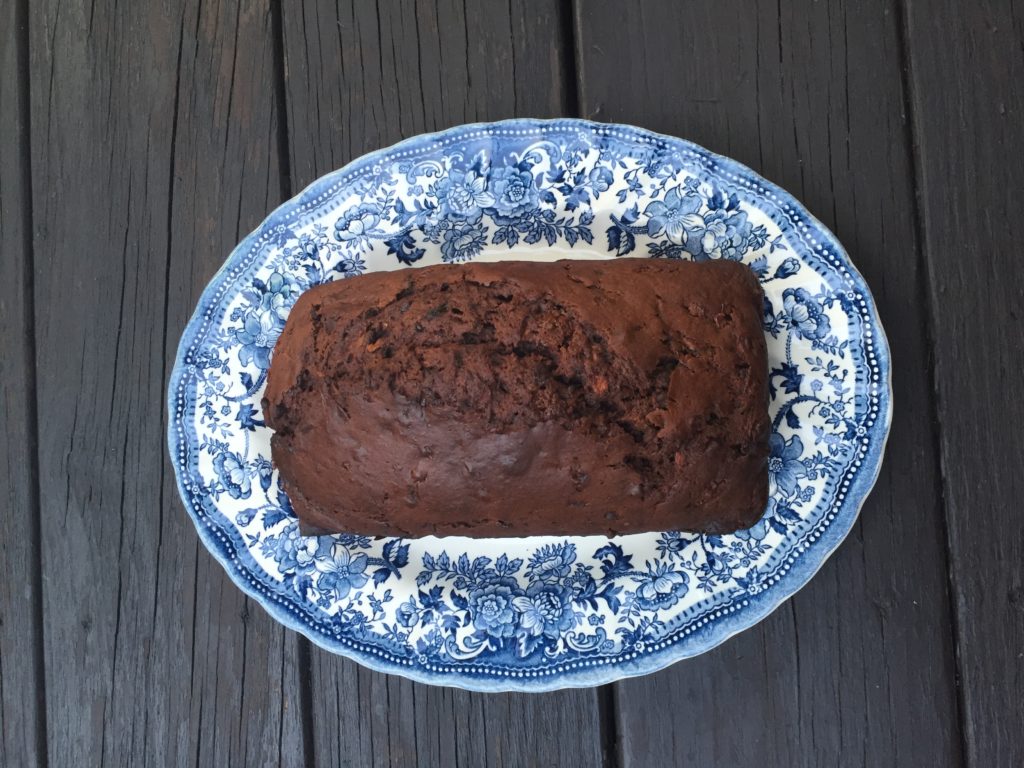 **Kretschmer sent me free product and compensated me for my review. However all thoughts and opinions are my own.
Finally, Olympic Track & Field events started today (!!). I have a lot of thoughts about the women's 10k…on one hand, a world record, yay! But on the other hand…the cloud of performance enhancing drugs is making me question the race. Anyway, I love these events and am in awe of the athletes. The website AllModern recently sent me an infographic on Olympic runners and I thought it was cool (this isn't sponsored or anything, just wanted to share!). Kinda cool that long distance runners get better with age.
If you have experience with postpartum running, does it get easier? If so, when?! I don't know if it's the lack of sleep, the heat, the breastfeeding, or something else, but even just easy 3-milers are leaving me feeling pretty exhausted!