Hellooo from the other sideeeeee…I'm 3 weeks postpartum and feeling pretty good. However, it's been quite the ride!
Part 1: What I'm eating these days
Since it takes up the majority of my day (and night), I want to chat a bit about nutrition and breastfeeding. Things aren't perfect, but we're figuring it out. I suppose practicing 10x day is helping both of us get better at it! But between feeding the baby and myself, it's pretty much nonstop and since I'm so tired, not much cooking is happening these days. We've been extremely fortunate to have friends and family bring us food these last few weeks, so that means dinner is often taken care of. Lunch most of the time is a panini made with deli meat, cheese, and veggies and breakfasts are usually smoothies (except for yesterday…when it was a doughnut, oops). I snack throughout the day and try to make healthy choices – fruit, yogurt, Lara bars, trail mix, etc. Things I can eat one-handed are essential! I didn't really notice an increase in hunger while I was pregnant, but nursing has made me hungrier than I have ever been in my life.
I've had this blog for nearly 8 years (whoa), but obviously the last few years things have changed in regards to how often and what I post. In the last few months, I've finally felt like I had something to say again, hence the increase in posts. Anyway, it's been a long time since I've done a partnership with a brand, so when Kretschmer wheat germ contacted me about their product, I almost declined, but the more I learned about wheat germ (and the hungrier nursing made me!), the more I thought it would be a good fit.
Since I'm nursing, it's really important to pay attention to eating well and wheat germ is a powerhouse in that department. The germ is the healthiest part of the wheat kernel – the vitamin and mineral rich part that sprouts a new plant. With ~50 calories per 2-tablespoon serving, wheat germ delivers protein and vital nutrients like Vitamin E, Folic Acid, Iron, Magnesium, and Fiber. All super essential for everyone, but especially pregnant and breastfeeding women. And since I'm *still* battling postpartum hypertension, a lot of these minerals and vitamins are important because they're good for blood pressure.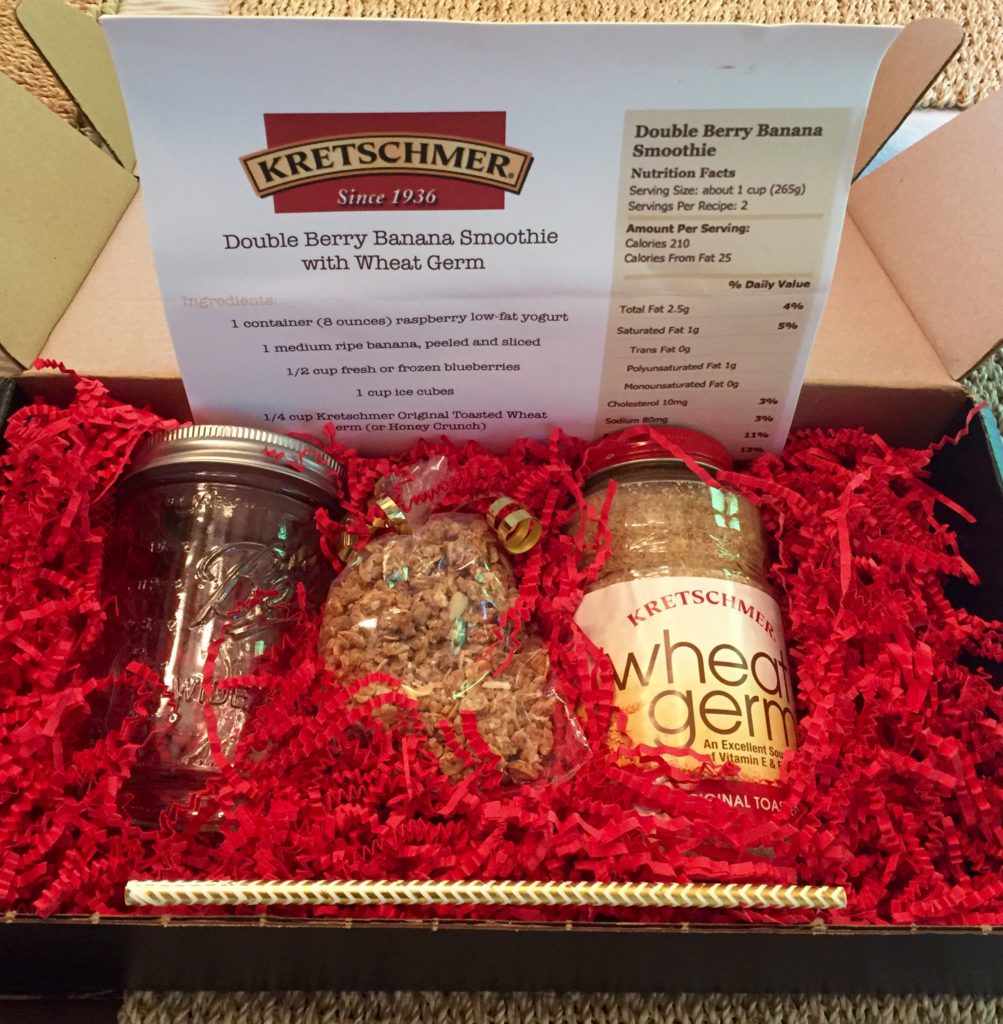 Kretschmer sent me a lovely box with recipes, wheat germ, granola, etc. and I've been using the goods every morning in my smoothies. Smoothies are just so great for the new mama- you can easily down a bunch of fruits, veggies, fiber, vitamins, etc. and it only takes one hand to hold the cup (nobody got time for a spoon or fork these days). Plus it's been so hot this July that I don't want my usual eggs or oatmeal- I want things that are cool and refreshing.
This morning, I made a variation of this recipe: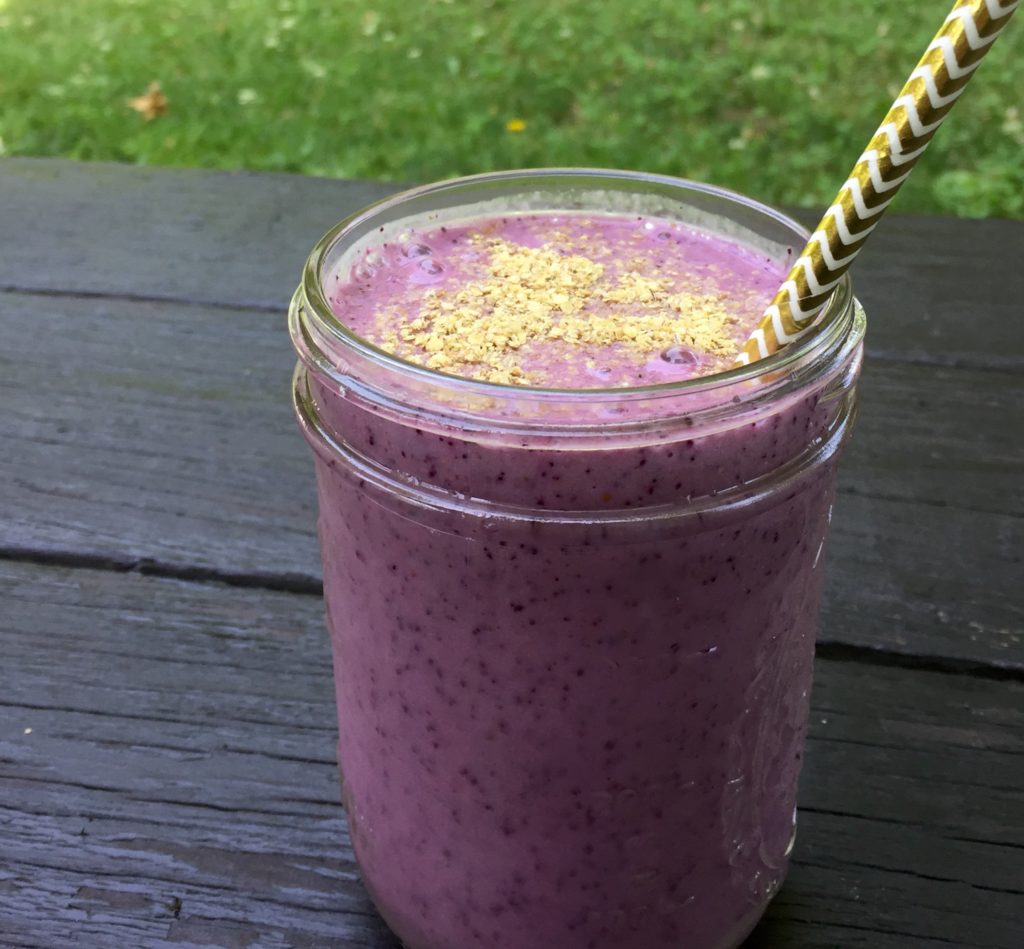 Double Berry-Banana Smoothie
Ingredients:
6 oz plain non fat (or 2%) Greek yogurt
1 frozen banana, sliced or in chunks
1/2 cup frozen blueberries and strawberries
1/2 cup orange juice
1/4 cup wheat germ
Big handful of spinach (optional)
(Approximately 400 calories, 24 grams protein, 6 grams fiber)
Method:
Place all ingredients in blender (I used my vitamix) and begin blending on low for a minute. Turn speed up to high for a minute or until combined. Pour into a big glass, sprinkle with additional wheat germ, and enjoy!
One hand for holding the smoothie; the other hand for pushing the stroller (a sure way to get him to sleep!).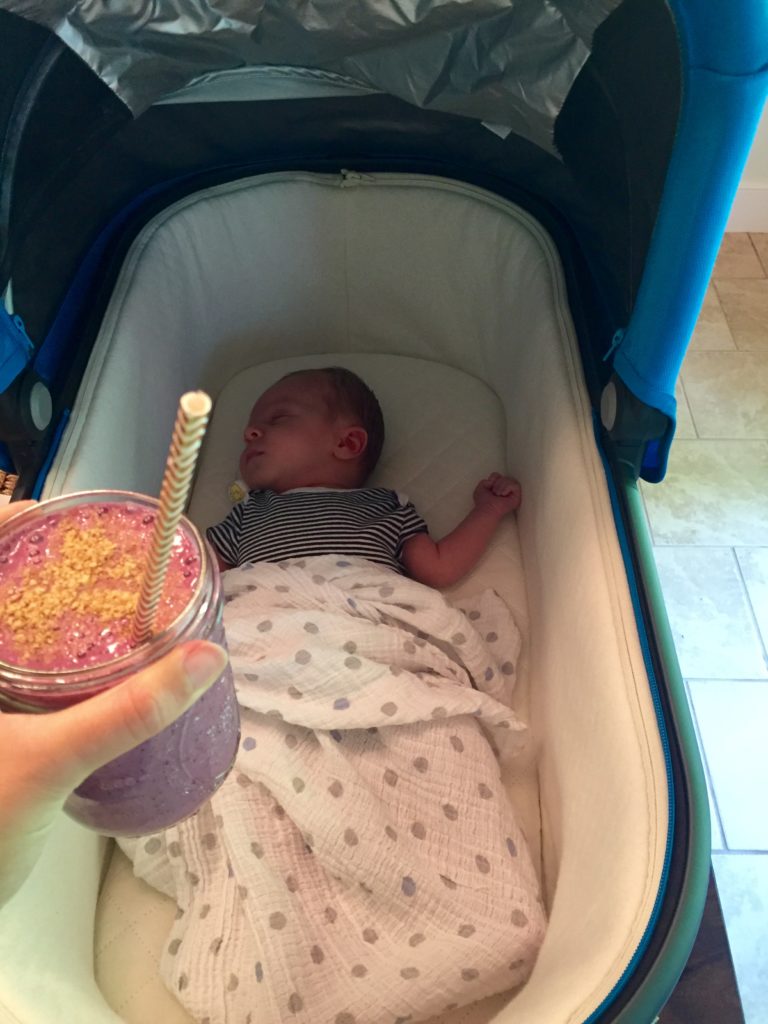 Part 2: Physical Recovery
Physically, I'm feeling more and more normal although dang my body has been through the ringer these past few weeks. It's like nothing I've ever experienced before, but if I had to compare it to something, the days after birth felt like a combination of 1) post-marathon soreness/fatigue, 2) like I hadn't slept in days (because, well, I hadn't…), and 3) Holy crap (!!) levels of being overwhelmed. Because another human's life was now at stake…
I had done a lot of research on labor and delivery, so not much surprised me during that process, but the aftermath was a bit of a rude awakening. In the day after birth, I was humbled by how difficult things were – walking, going to the bathroom, even sleeping! Everything just felt so tough. I think sleep deprivation and the on-going blood pressure issue exacerbated things, but I also imagine what I felt was pretty normal for a new mama. My low point (well, one of them) was sobbing to the nurse on our second night in hospital, saying, "I just know it…I'll never sleep again…!!" Luckily Nurse Linda assured me that was *not* the case. And then she helped me with the baby's breastfeeding latch. Phew.
There were some other really low points the first few days (getting a catheter because I couldn't empty my bladder! Bleeding nipples from a bad breastfeeding latch!), but every day we're figuring things out and I'm feeling more like myself AND more like a mom. (Childbirth is so glam and fun, right?!?) Luckily Teddy is pretty dang cute – that makes it all easier.
One thing that surprised me about postpartum is how quickly my body returned to some semblance of normal. I gained somewhere between 20-25 lbs during the pregnancy and by a week postpartum, I was back to my pre-pregnancy weight. Howeverrrr, things certainly look different than they did in October. My boobs are large and in charge (breastfeeding!) and my stomach is a bit soft, but I'm pretty much wearing all of my normal clothes. I know that sounds pretty obnoxious and obviously everyone's body and experience is difference, but it was something that I didn't expect at all. I bought a ton of extra large size underwear, night gowns, etc to wear in the postpartum time and haven't used them at all. El oh el.
Here's the thing though…is it nice to fit in to my jeans again? Sure! But I honestly haven't given too much thought (let alone effort) to my body. I'm much more worried about trying to sleep and eat enough to keep up my milk supply. And trying to get my blood pressure issue sorted out.
As for running…there hasn't been any…and there won't be for a while. I know the risks of doing too much too soon – uterine prolapse (Google it for a good scare!), incontinence, etc. and I just don't want to rush it. Perhaps if I'm feeling really good by the 4 week mark, I'll consider an easy test run, but maybe not. I've been going to weekly Doctor appointments for my high blood pressure issue, so I might see what their thoughts are. I know the usual recommendation for resuming high impact activity is 6-weeks, but I imagine every situation is unique. And maybe since I ran right up until delivery, I'll have a quicker comeback? For now, I've just been taking easy 30-45 minute walks with my husband and the babe and doing some pelvic floor exercises. Plus lifting 8lbs 9+lbs (just weighed him!!) of newborn has to count for some strength training, right?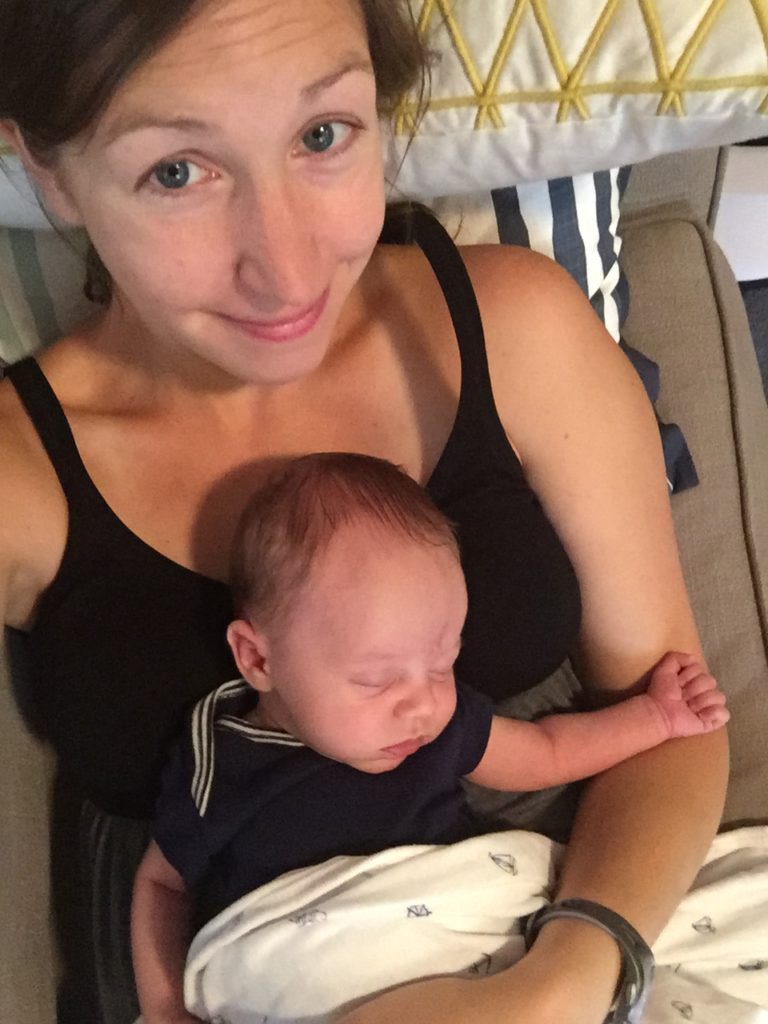 As soon as I'm ready to run again, I'll report back. In the meantime, I'll be on the couch with this dude. If you have a fav smoothie recipe, I'd love to hear it!
**Kretschmer sent me free product and compensated me for my review. However all thoughts and opinions are my own. I truly like the product!