So, I guess four months was kind of a long time between blog posts, huh? I feel like I'm at a crossroads when it comes to blogging. Running and leading a healthy lifestyle are still very central parts of my life, but after nearly 5 years in the blog-o-sphere, sometimes I wonder if I have anything left to say. And even if I do have content for blog posts…is it relevant? Is it helpful? Enjoyable? I think it's difficult to answer those questions and I'm honestly not sure what direction I'm going to take, but I do know that I miss writing about running and cooking. This blog isn't fancy (some of the blog designs I see are in a completely different league), but it IS an outlet for me. And even if no one reads what I'm writing, the important thing is that I'm getting something out of it. That being said, I struggle with knowing how much to share with the internet. In the past, I shared everything – names and photos of boyfriends, exactly what I ate for breakfast, photos of vacations. I was sharing it all with the world. These days, I feel the need to be a little more private. My boyfriend and I moved in together back in January and it's been wonderful, but it's also something that I wand to keep private, just between us. Hopefully I can find a way to write about my running, my kitchen, and my life without putting everything out there.
So…the last 4 months. I ran the NYC Half on March 17, 2013 and eventhough sub:1:30 eluded me, the race was better than I expected. I wasn't quite sure what my fitness level was like, mainly because I did nearly all of my workouts alone, at 7am, on the treadmill. I'm still a member of CPTC, but after a few weeks of trial and error, I just knew I wasn't going to be able to motivate myself to do a workout after a long day of work (the team meets at 7pm in Central Park, which means a longggg and sweaty commute back to Brooklyn). So, even though it wasn't ideal, I started doing my speed sessions in the morning before work. My bread and butter workouts were either mile repeats @ 5k pace with 400m recovery or 5-6 mile tempo runs at half marathon goal pace. They were tough, but when you don't have any one to push you or compare yourself against….toeing the starting line of a race can feel like a shot in the dark. Anyway, I put in the miles and the workouts and while it wasn't the perfect training season, I think it was effective. I ran the NYC Half in 1:31:39, which is just 10 seconds slower than my PR (I ran 1:31:29 at the Philly Rock 'n Roll Half in September 2011). The day of the race was one of those once in a blue moon times when everything comes together. My first mile was around 7:19 and the initial plan was to stick to 7:15's or so until the second half of the race. However, the following few miles were faster and luckily I still felt good. I held back a bit until I got to the West Side Highway (second half of the race) and then I just tried run evenly. My final pace was 7:00 flat, according to the race results. And since I don't wear a Garmin during races (I believe very strongly that the only mile markers that matter…are the ones on the race course, not your watch), I'm not really sure what my individual mile splits were. However, I do have 5k splits thanks to chip timing:
1st 5k: 21:54 (7:03 pace)
2nd 5k: 22:04 (7:06 pace)
3rd 5k: 21:35 (6:56 pace)
4th 5k: 21:30 (6:55 pace)
What do you know! If you start conservatively, you'll feel good-ish in the final miles. I know this is the truth, but it is so much easier said than done. Anyway, I was happy with the race and now I'm taking it pretty easy through the early part of the summer. I'm running the Broad Street 10-miler on May 5, but after that I don't have any races scheduled until August. Team Vodka Heist will be back for a 3rd relay this summer – the 100 on 100 in Vermont. And I could not be more excited. After the relay, I have a few fall half-marathons in the works, but no full marathons this year. The plan was for Boston 2014 to be my next attempt at 26.2. I would be remiss not to mention the horrific events that occurred on Monday, but honestly…I don't even know what to say. The attack on the finish line feels personal and I am sad to the bottom of my heart. That being said, I still plan on running Boston next year. Honestly, the thought does make me a little uneasy, but I don't want to live (or run) in fear.
In terms of training, I'm sort of in a holding pattern. Since I just finished a goal race, I don't want to push too much on mileage or workouts. Feeling burnt out is the worst. But at the same time…I know I feel better when I'm running a decent amount. I'm shooting for 35-40 miles over the next couple of weeks and then when I head to Buenos Aires at the end of May, I'm planning on being REALLY flexible. During that week, I'd like to manage a few 30-45 minute runs, but if I don't, that's fine too. This is going to be my first international trip in over four years – I don't want to spend a single minute stressing about mileage or time in the gym!
Besides running talk, I've also missed writing (and photographing) things I've cooked. I'm not a professional and most of my photos are taken with my iphone, but still…I really like sharing what I've made. I get most of my cooking inspiration from the interwebs, so it only seems fair that I contribute back a little bit. Below are some of the best things that have come out of my kitchen in 2013.
I made my first roast chicken back in January. I seasoned it with salt, pepper, and lots of lemon juice and stuffed 2 whole lemons in the body. After an initial 15-minutes in the oven, I flipped the bird and let it cook for about 2 1/2 hour more hours at 350 F. This chicken weighed about 8lbs, so that's 15-20 minutes per pound plus the initial 15 minutes. Carving this sucker was a bit of a challenge (bones! skin!), but it's satisfying to know I can roast a whole chicken. Next stop: Thanksgiving turkey.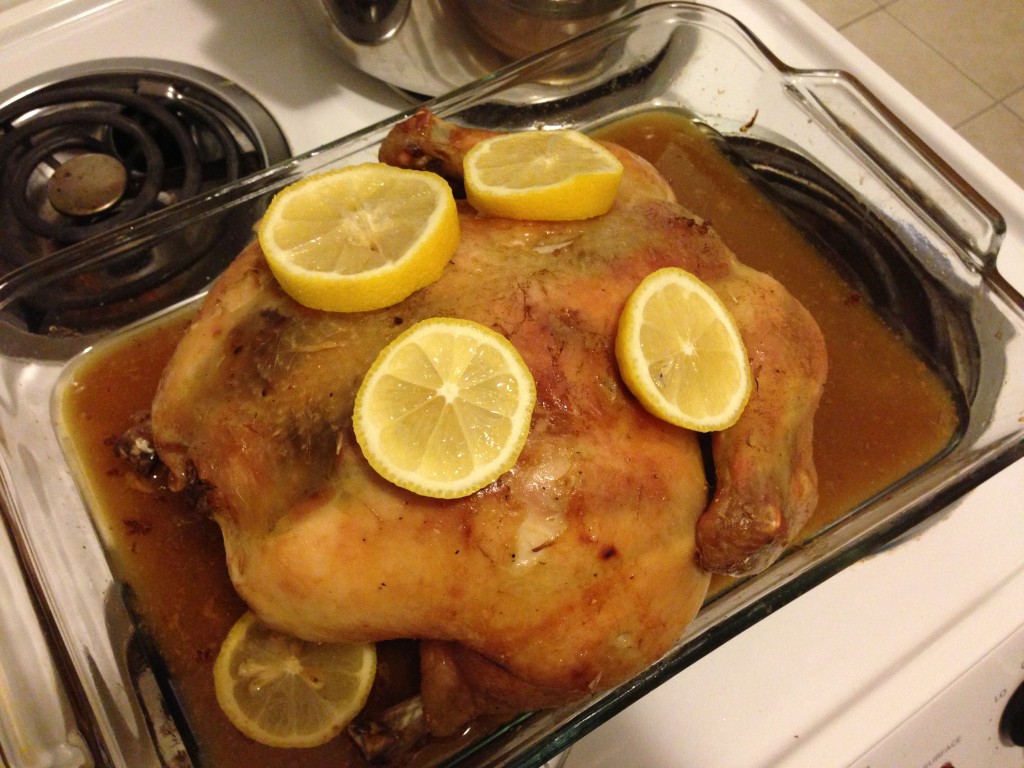 With mashed potatoes and pan gravy. Mmm.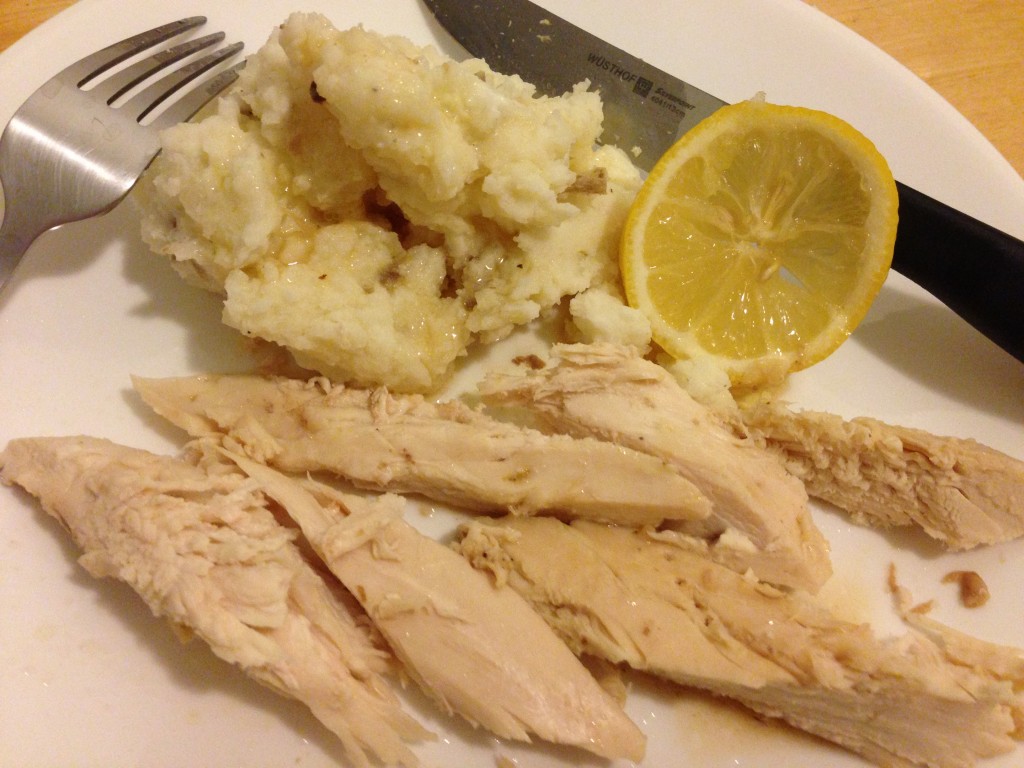 I also experimented with phyllo dough for the first time while making baklava. Not easy to handle, but the results were worth it. Especially since we had a week's worth of dessert once we were finished.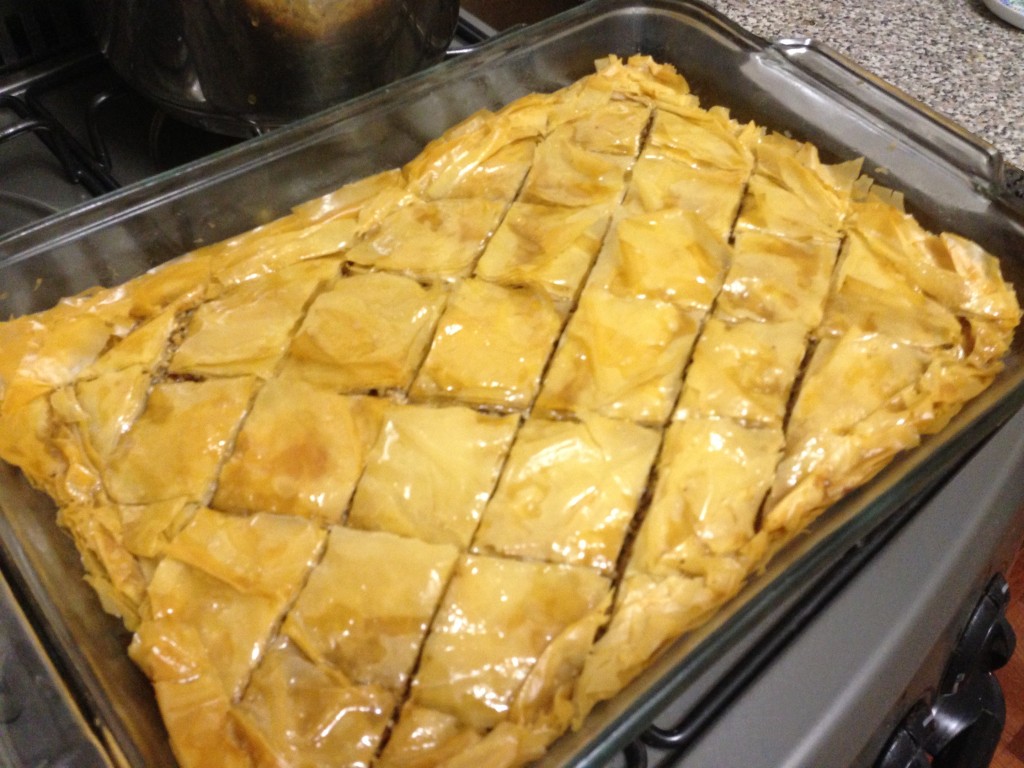 This next item didn't come out of my kitchen, but…it still ended up in my stomach. In mid February, we barely escaped winter storm Nemo (seriously, our flight was one of the last to leave La Guardia) and spent some time in San Francisco. After a few days of Napa Valley wine, sunshine, and bi-rite creamery soft serve, I almost didn't come back to New York. Both of those ice creams were mine.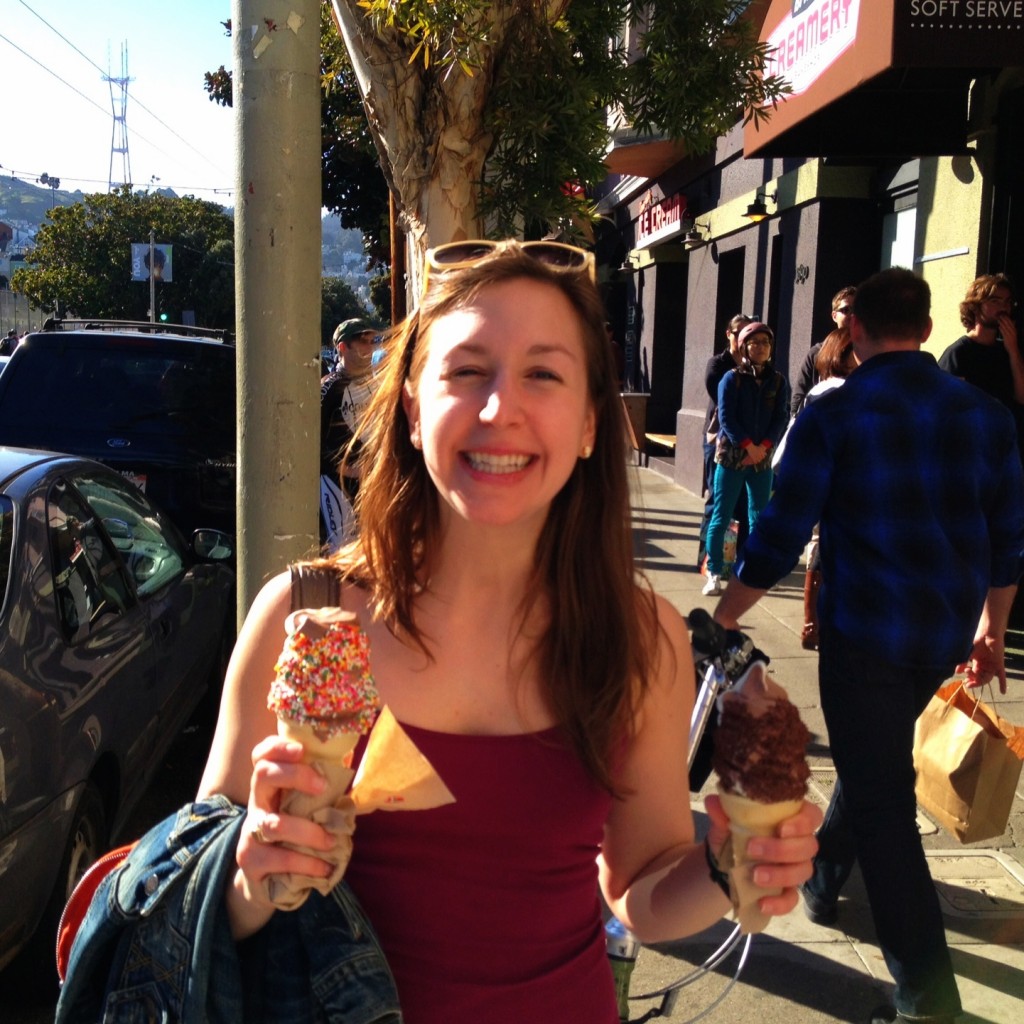 It might be hard to believe, but I really don't subsist on dessert alone. During the week, I try to cook a healthy dinner most nights. I found this recipe for chicken stirfry in Runner's World and it was two thumbs up. I really liked using ground chicken as opposed to whole chicken breast. Much easier to handle and cook!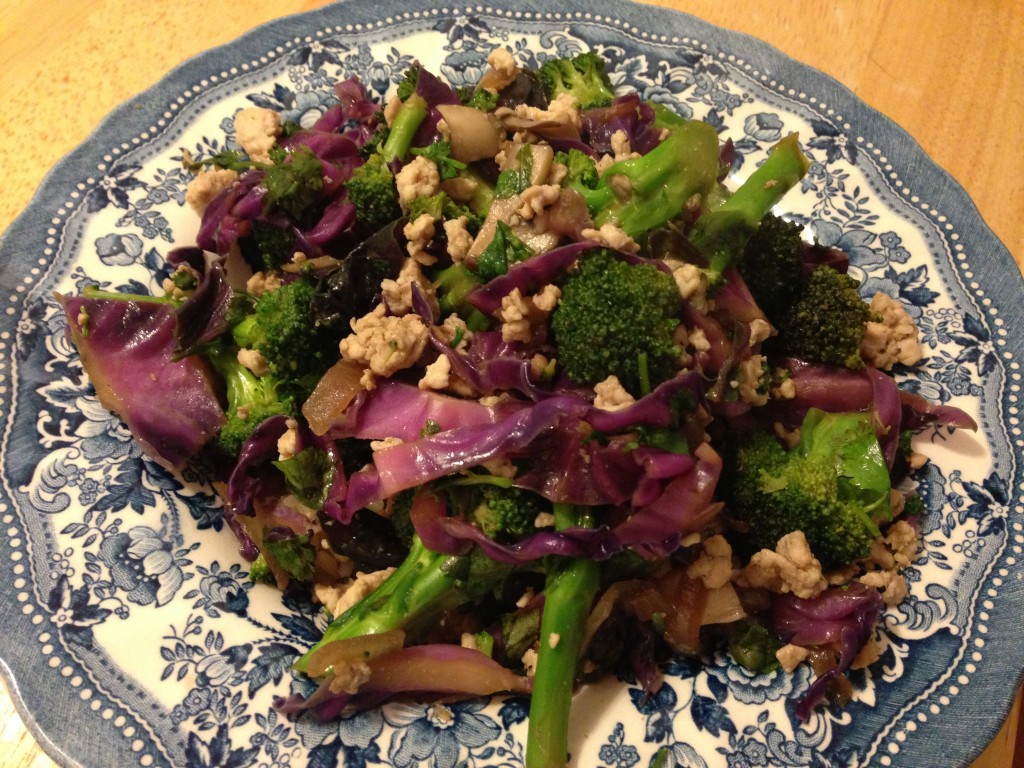 I made some babka in early March and it was tasty, but super time intensive.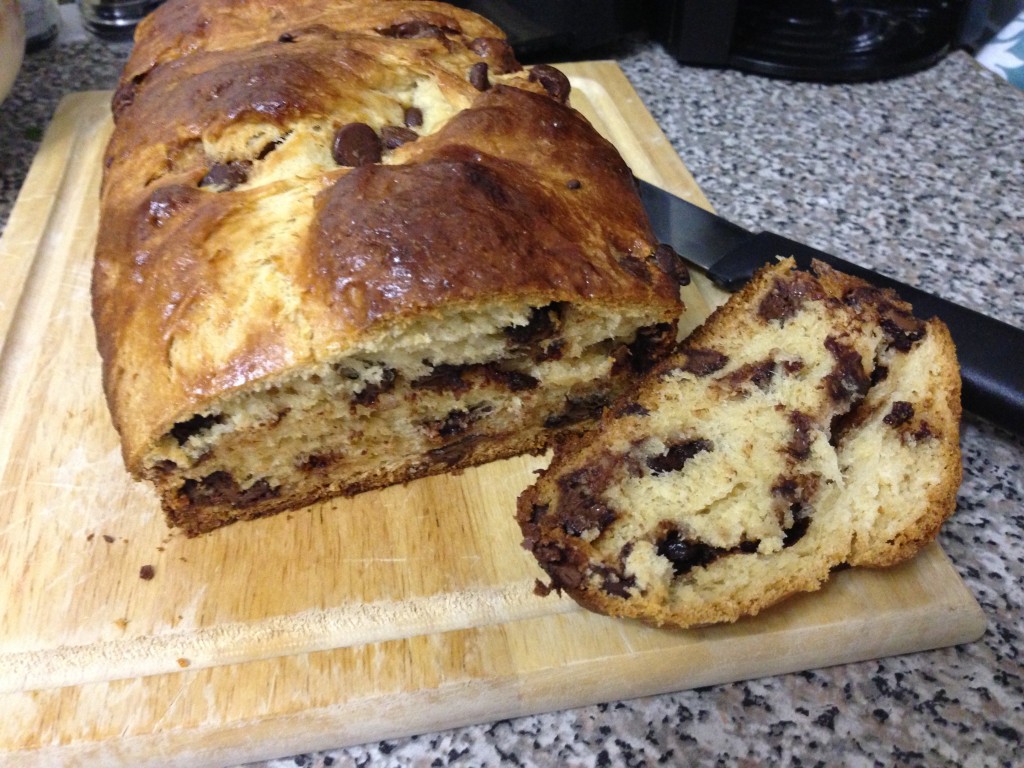 And then a green velvet cake for St. Patrick's Day! It tasted just like red velvet cake…except it was green. Fun fact: March 17th was my grandma's 75th birthday, sooooo I pretty much had to bake (and eat) a cake.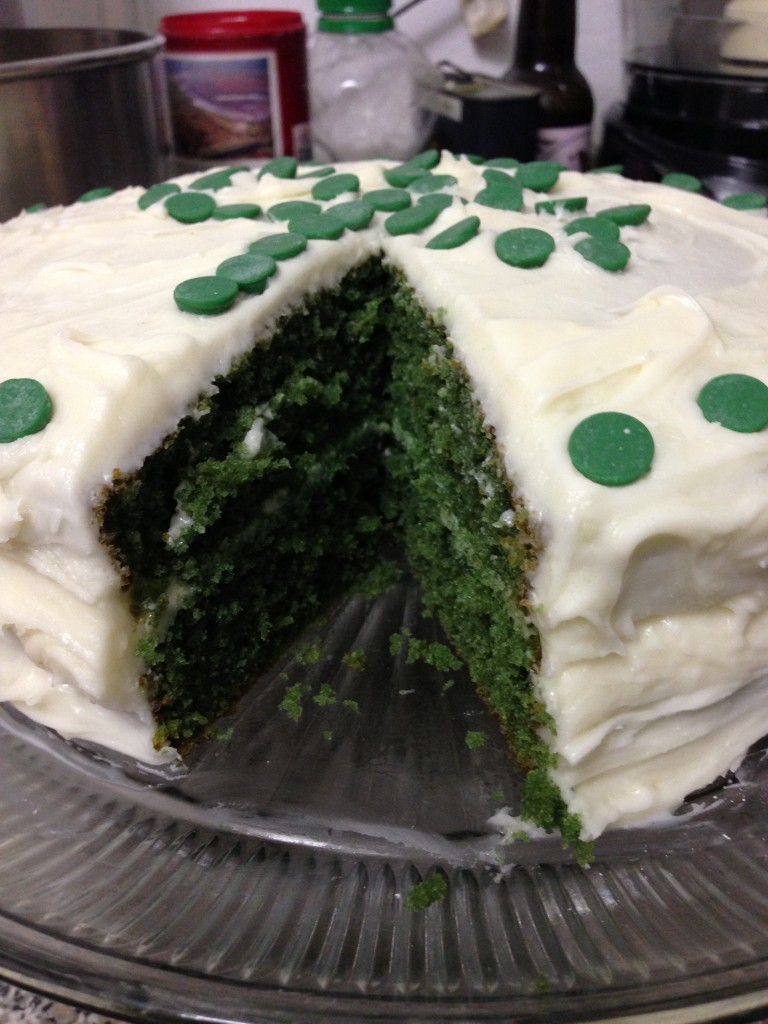 Last weekend, we took a cooking class that focused on how to master brunch dishes. It was one of the most useful classes I've ever attended in NYC and we've already made three of the recipes we learned about in class.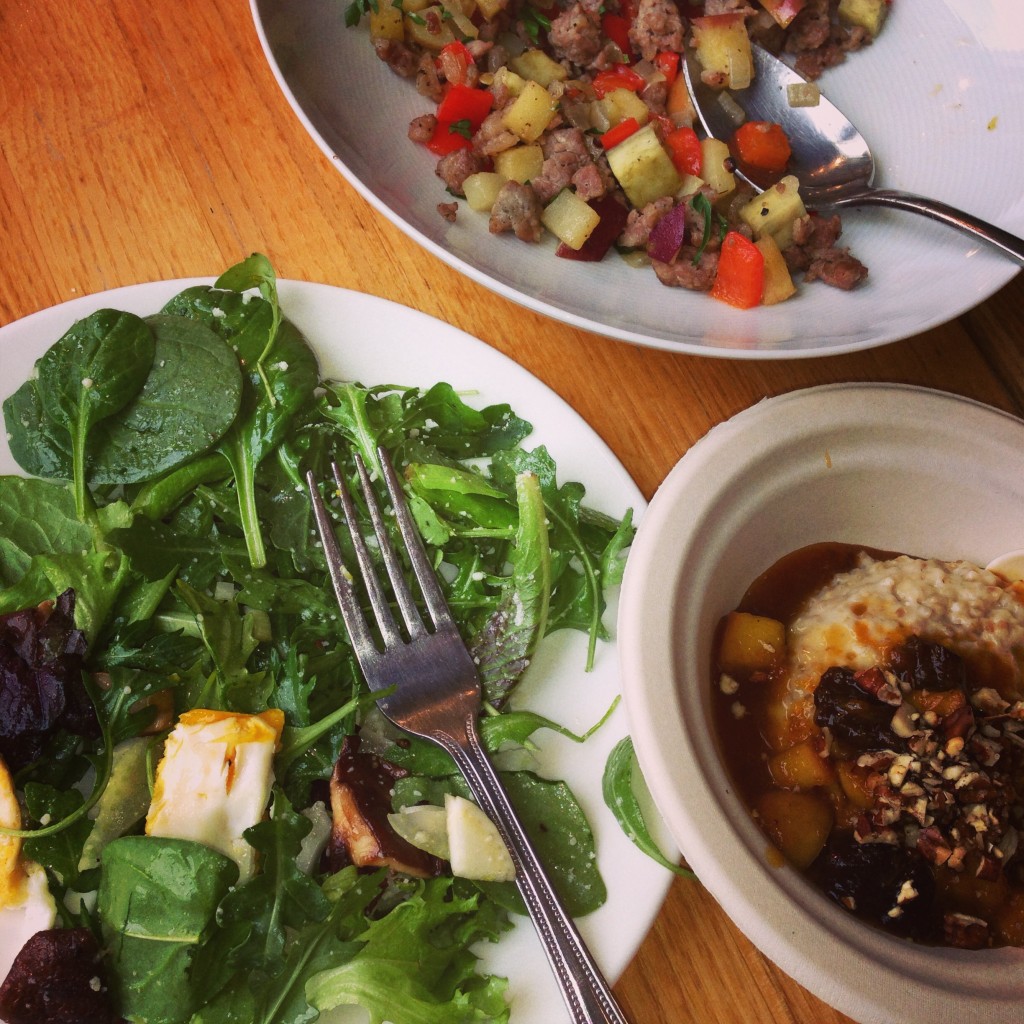 For example, last weekend we stayed at home for brunch and dined on OJ, billionaire's bacon, and a poached egg on toast. Cost: A lot less than a restaurant. And I got to wear my pajamas.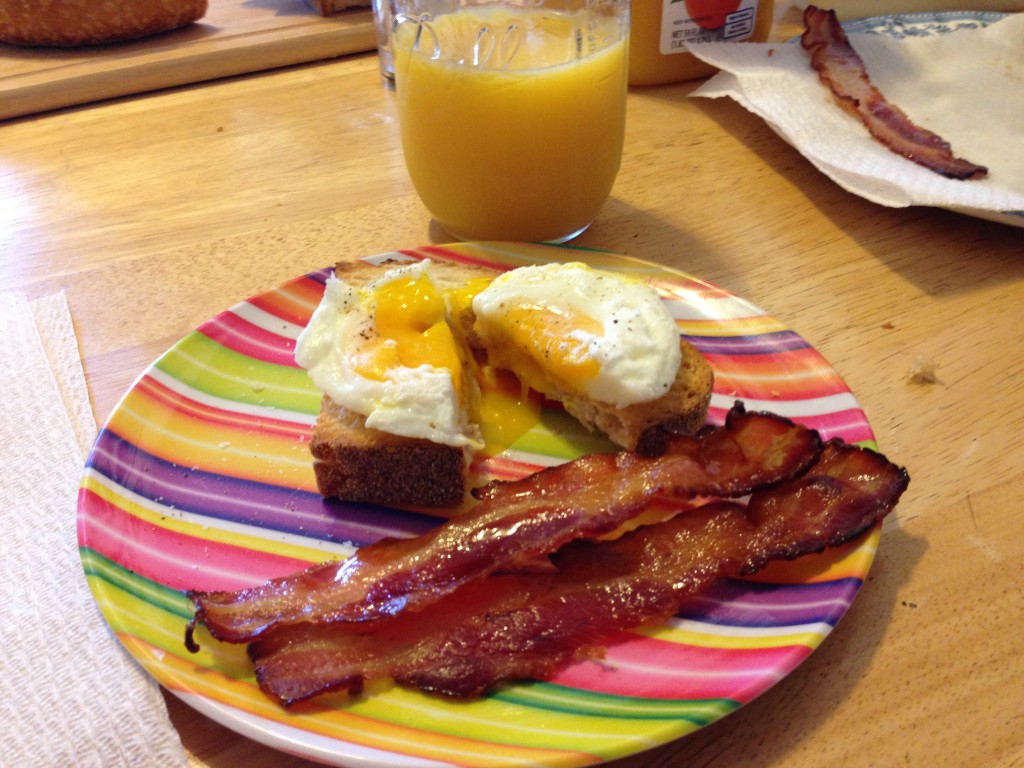 Until next time, which will hopefully be sooner than 4 months from now….