Well, hello out there. I really meant to post another time before the year ended, but I never got around to it. The good news: no boring re-caps of my life in 2012. As Jay-Z would say, "On to the next one!" After a nice month of running whenever I felt like it, for however long I felt like, I decided it was time to get back on the bandwagon. I was accepted in to the NYC Half, so I'm happy to report that will be my next big goal race. And surprise! It's like 2 months away. Cue panic attack.  I hate winter. And I really don't enjoy running in the cold and dark, so you can imagine training for a March race can be a little challenging. That being said, I'm going to make these early, cold, and dark runs and workouts worth it. The goal for this half-marathon is to run 1:29:xx. That is what I'm working toward, what I'll try to do on March 17. Can I do it? I'm not sure, honestly. I wish I had a little more time to train (t-minus 71 days, AHH), but I figure – I'll give it my best shot on race day and if I end up running 1:30-1:32, I can always try again during the Brooklyn Half or the Philly Distance Run in September or the Philly Half in November. My point is, I want to run this time. I want it more than any racing goal I've had in a very, very long time. It didn't happen in 2011 or 2012, but I think I'm close. And the good news is – I'm motivated and healthy (knock on wood) enough to make it happen this year.  I don't really make New Years Resolutions, but if I did, this would be it: run 1:29:xx, automatically qualify for the NYC Marathon, and finally chase down the PR that's been just out of reach for so long.
I've made myself a little training schedule which you can access via google docs. It's a very rough outline of what I'll probably end up doing – I will make adjustments based on my schedule, how I'm feeling, etc. How did I come up with this plan? Keep in mind I'm not a coach or sports physiologist – I more or less just used what has worked in the past. High-ish mileage (peaking at 65 mpw), tempo runs on Thursdays, the occasional interval workout, and a long run that gets longer every week. I've been trying to be more diligent about adding in some form of core/strength training as well. I've been to a few core fusion classes and I have weight lifting and a yoga class scheduled over the next week. 1:29 (6:52 pace) for a half-marathon is going to be a big stretch for me, so I can't keep doing what I've always done – I have to do more. I have the mileage figured out, so if I can remain consistent with workouts and strengthen my core, I might be okay. Speaking of workouts, I've done two so far. Considering my official schedule doesn't start until next week, I think I'm in an okay place.  I'm aiming to hit 40 miles this week with a 10+ mile long run, so my base is where it should be. The one thing I need to work on is allowing myself more time for warm-up miles. Morning workouts are hard enough as it is, running them before your muscles are warm and awake is even worse.
Workout #1, December 27
1 mile warm-up
2 miles @ half-marathon pace (7:02)
1/2 mile recovery
1k @ 5k pace (6:38 pace)
1/3 mile recovery
2 miles @ 10k pace (6:52)
Total (including w-up) 6.5 miles in 49:30
Obviously, my half-marathon pace needs to drop down 10 seconds and my 10k pace should decrease as well, but not a bad starting point. I felt strong during this run.
Workout #2, January 3
 1 mile warm-up
3 miles @ marathon pace (7:40)
3 miles @ 25 seconds quicker (7:16)
Total (including w-up) 7 miles in 53:55 
I struggled a bit with this week's workout. It was early and I don't think I allowed enough time to warm-up and unlike last week, there were no recovery jogs. This was just a grinding 6 mile tempo run that pushed me mentally as well as physically. During runs like this, I wage a constant battle against my mind. "Just run half the workout. Okay, you can stop after mile 4. Mile 5…." You get the picture. But I finished the thing and hopefully my heart and lungs and muscles are just a teensy bit more conditioned because of it.
The rest of my workouts will be TBD. If I can make it to the Thursday night CPTC practice, great. If not, I'll run some variation of the workout on my own. Stay tuned!
And now for a real treat: lots and lots of numbers. Most of you probably won't care how many miles I ran last year (or last Tuesday), but one of the nice things about having a blog is that you have a record of what you've done, or in this case – what you've run. In the spirit of the new year and reflection and all that stuff, here's what I tallied:
2010: 2,077 miles run
2011: 2,086 miles run
2012: 2,156 miles run
Pretty consistent, I'd say. This year I ran about 70 more miles than last year, but I also trained for two marathons, so it's not too surprising.
Anyway, hopefully I will be able to find this post next January because adding up three years of mileage was kind of a pain.
In non-running related news, I had a good holiday season. I spent time with my family on Christmas.
I spent time with my friends on New Year's Eve.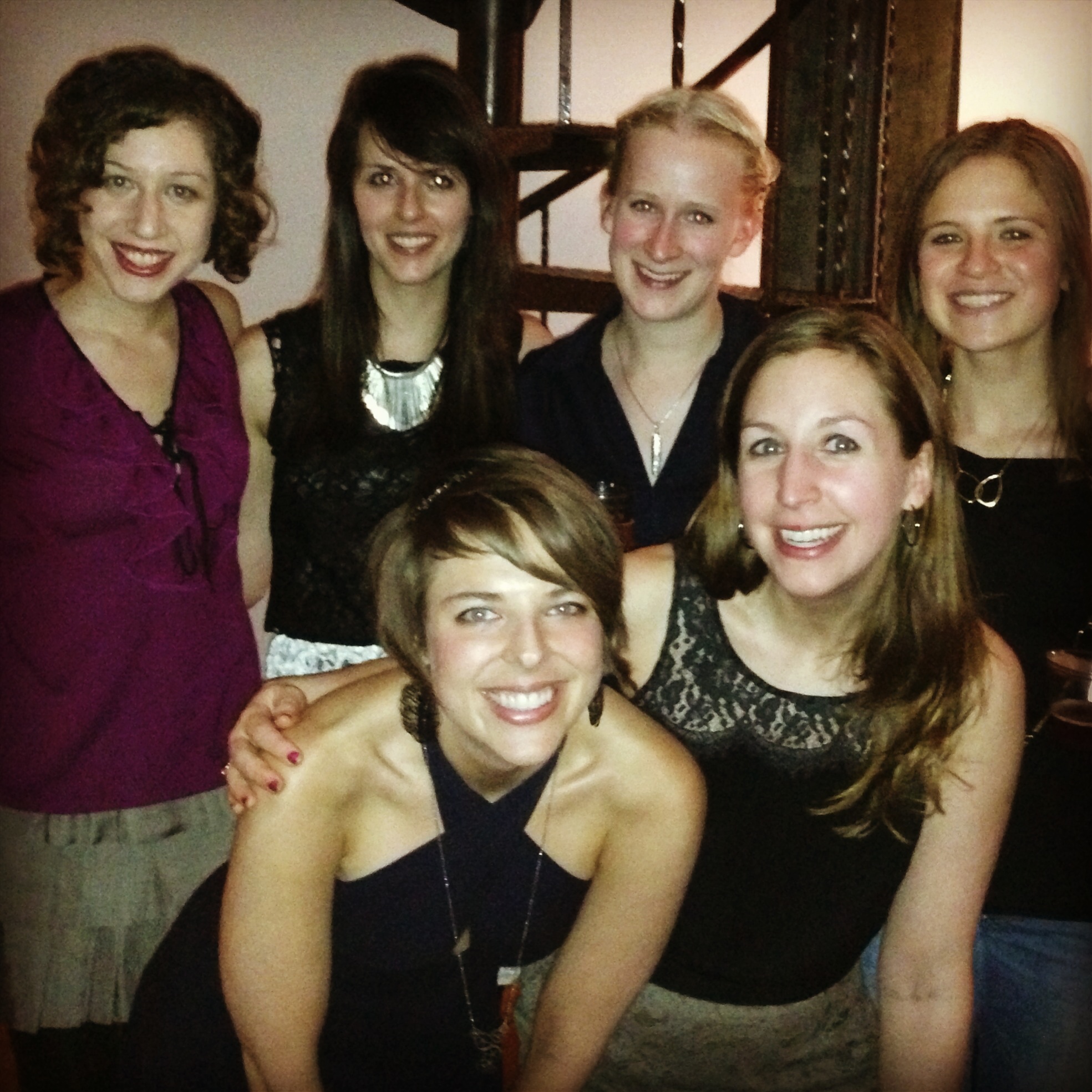 I ate a lot of cookies and pies and cake and ham and turkey. And it was all delicious.
I'm glad I was able to get some quality time in with my friends and family because the next couple of months are going to be a little crazy. Besides training for the half and settling in to my still-sorta-new job, I have a pretty big life event on the horizon. In about two weeks, I'm getting a roommate. The kind of roommate that sleeps in your bed and you hope sticks around for a long time. You get my drift? Anyway, it's exciting and I'm really pumped, but there's also a lot of packing, reorganizing, and planning to be done, so this might be the last blog post until things get settled. After the move-in, I've got a few trips coming up (San Francisco in February and Buenos Aires in May), so it looks like the first half of the year will be busy, but the good kind of busy.
When it comes to life, I don't have everything figured out and I'm not doing it all perfectly, but I'm constantly trying to be better. One positive change that I've noticed, is that my daily routine these days is quite different from my daily routine last January. Last winter, it was common for me to run after work and then head out to meet friends. This meant a later bedtime, a later wake-up, and probably more beer and bar food than was good for me. Things are a little more settled now and a little less spontaneous, but even though typing this feels kind of lame, I think my life is more balanced. I'm getting 7-8 hours of sleep every night,  eating real dinners vs. protein bars/microwaved veggie burgers/bar popcorn, and while I still enjoy a glass of wine or beer most days of the week (if not every day), it's not affecting my training or life in a negative way. As much as I was loathe to admit, staying out until 4am when the bars close makes for a shitty run the next day. Do it once and it might not affect anything. Do it most weekends and it will slow you down, for sure. I'm not saying that kind of thing will never happen again, but in the meantime, I don't really miss it. Okay, I'll get off my soap box now.
Before I head out, I've got a recipe that I want to share. Inspired by my friend Sofia (if you still had a blog, I'd link to you), this dish used up some pantry ingredients, came together quickly, and was pretty healthy. I didn't follow a recipe exactly, but here's the gist:
Wash and slice a butternut squash down the middle. Roast in pan at 375 F for 45 minutes or until tender. Peel and cut into cubes. Saute a few pieces of bacon in a pan until crispy, add a clove of chopped garlic and some torn sage leaves. Saute one more minute and remove from heat. Cook a box of whole wheat penne until al dente and then mix the bacon, squash, and penne together in a big pot. Add salt, pepper, and red pepper flakes to taste. Finish off with a bunch of parmigiano-reggiano cheese. Ta-da! Go make this. It was really good.
Anyway, Happy 2013! I hope it's off to a good start for all of you. Anything exciting planned for the first half of 2013?