Whenever I'm not training for anything specific, I struggle with writing blog posts. I feel like I just don't have anything that interesting to say, but in the end I suppose it holds me accountable for whenever I DO resume training. So here I am! Post-marathon recovery has been good – the week after the race was mostly rest (and Thanksgiving, yay). I took 5 days off from any type of exercise and on the other 2 days, went for short (15-20 min) jogs. The following week, I ran 20 miles. And I've run about 25 miles each of the past two weeks. There hasn't been anything too remarkable about these miles – mostly just easy,relaxed runs, but I did line up for a 10k last weekend. I figured that after a month of easy running, a 10k race would be a good re-introduction to speedwork. I didn't set too many expectations for this race/hard effort/tempo run, whatever you want to call it. I hadn't run more than 6 miles since the marathon, so I knew I wasn't going to be in top form, but I did have one goal: beat my time from the NYRR mini 10k race in June. Given the better weather and flatter course this time around, I figured it shouldn't be too difficult. The race was on Roosevelt Island and I got there pretty easily (yay, F train). I warmed up for about 1/2 mile and then got ready to do my thing. My splits were pretty even: 7:00 for the first mile, 7:15 for the next two, and then 7:10 pace for the second half of the race. I finished in 44:31 (7:11 pace) and was the 10th female over all, so that was pretty cool! My legs felt pretty good throughout the 6.2 miles, but my lungs sure were burning. There was a headwind on the Western side of the island and some concrete barriers that made things a little dicey, but overall I liked the course. As for now, I'm keeping it pretty chill until January. I'm entered in the lottery for the NYC Half, so a lot of my Spring training will depend on if I get in or not. If I'm accepted, the ramp-up will probably have to happen fairly quickly as I'll only have 10 weeks to train. If I don't get in….I have my eye on a few other half-marathons in March/April. I'm definitely not running any full marathons this Spring though and I'm 50-50 for Fall 2013.
One bonus of reducing mileage is that it allows me time to focus on some other things. You know, like online shopping and sleeping in on the weekends. When I'm not trolling Jcrew.com for sales, I've been trying to mix things up a bit when it comes to working out. Being active is such a part of my routine that I know I'll feel better if I keep moving, even if that means less running. In the past couple of weeks, I've tried two new classes: Core Fusion Barre and a cycling class at Revolve Fitness. There are probably a hundred reviews of these type of classes, but in case you're interested in what I thought:
Core Fusion Barre – I got a sweet deal from Gilt City and was able to get three Core Fusion classes for the price of one. I've taken two of the classes so far and have been in a whole lotta (good?) pain afterwards. I can run miles and marathons without too much trouble, but my core (especially abs and glutes) is weak and this class proves it. This class is intense and I'm not sure I could go more than twice per week max, but working on my core makes me feel like it'll make me a better runner. Hopefully it will! After my 3rd class, I might try to seek out a similar class at my gym, at least until I can get another good deal (or win the lottery).
Real Ride at Revolve Fitness – I've done my fair share of indoor cycling in the past, mostly at my former gym, Equinox, and my current gym, Crunch. A few years ago I even took a Soul Cycle class. I really like cycling, but non-running cardio is usually the first to go when I'm training for a race. Anyway, Revolve is fairly new and I thought the studio and the staff were great. A staff member gave me a mini tour when I walked in and spent a good 5 minutes helping me adjust my bike. And even more importantly, I loved the class instructor (Kristen K.). She was energetic and encouraging without being too peppy or annoying (this can be a tough thing at 7am). It was honestly the first cycling class that I felt ended too early. Usually I am counting down the minutes, but I wish my class had been an hour instead of 45 minutes! I think this studio is trying to lure in current Soul Cycle and Flywheel fans, so their prices are very competitive (about $4 cheaper that SC and FW if you buy an individual class). It's sort of silly for me to pay for extra classes when I already have a gym membership, but I'll probably be back!
I'm hoping to try a few other things in the coming weeks, if they're worth writing about, I'll share my thoughts.
In other news, these are some things that I have been wearing/eating/loving lately:
Mizuno wildwood tights – Even though it was unseasonably warm outside this morning, my apartment feels like an ice box, so I overdressed and wore these. Luckily, I had a tank top on so I didn't get too overheated. If you're looking for a basic pair of running spandex, these are it. They're comfortable (no sagging!!!!), have a zip pocket for keys on the butt, and have zippers on the legs to make getting in and out of them easy. Also, I don't know what is up with this mirror angle, but it's sort of funhouse-esque. The tights look normal in real life, promise.
Erica Sara Designs Say it, Do it bracelet – After Philly, I took a few days to think about my goals for the upcoming year and more than anything, I want to run sub-1:30 for the half. I came thisclose last year during the Philly Half – my time would have been 1:30:45 or so if I hadn't missed the finish line – so I think it's within the realm of possibility. I just need to find the right course and buckle down on the training. Anyway, I bought myself this bracelet with 1:29:59 engraved on it – hopefully it will motivate me to put in some quality workouts and long runs when the time comes!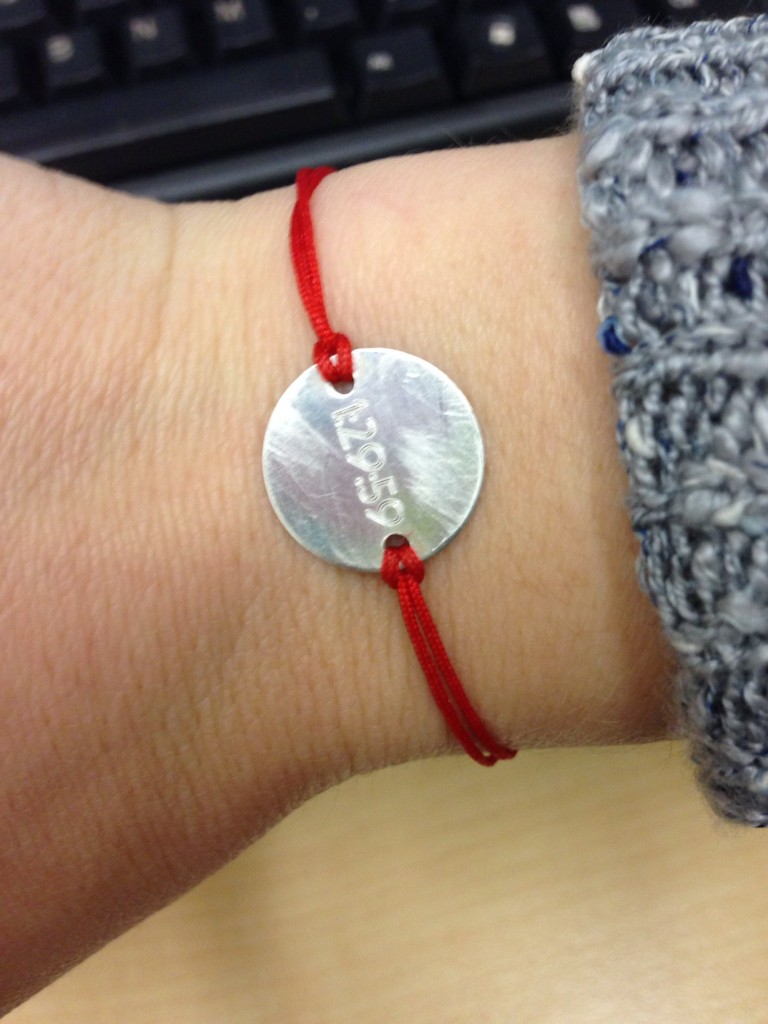 New Balance WindBlocker jacket – I've only had this for about 24 hours, but I can already tell that it's going to make winter running a lot less painful. It's no secret that cold, sleet, and ice are not my friends, but I almost wouldn't mind running in the elements if I had this on. The outside is wind/water/snow-repellent, but the inside is lined with a cozy fabric. I liked the attached wrist warmer glove thingies and the big pockets: my iphone fits in there nicely and there's a hole for the headphone wire.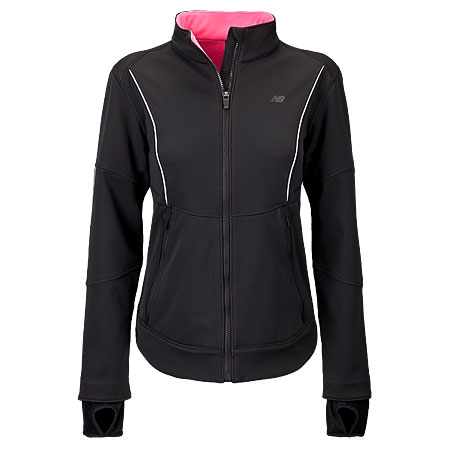 I can't decide what I like better, new clothes or delicious food. Just kidding, it's food.
Roasted apples and pork chops: Since the weather has turned colder, I've been craving warm, hearty dishes. Last weekend I made something that was 1) hearty 2) tasty and 3) healthy. I sliced up a few apples, tossed them in a bit of brown sugar and cinnamon and put them in a baking dish. Then I seared two pork chops (2 minutes on each side) and placed them on top of the apples. I covered the dish with foil and baked for 45 minutes at 350 F. So easy!
Bacon and egg frittata: A pretty basic frittata recipe: just saute bacon, onion, and spinach in a skillet, pour in 2 eggs (whisked), 1/2 cup egg whites, and some pepper jack cheese. Cook over medium heat until the bottom begins to set and then place skillet in the oven (350 F) for 25-30 minutes.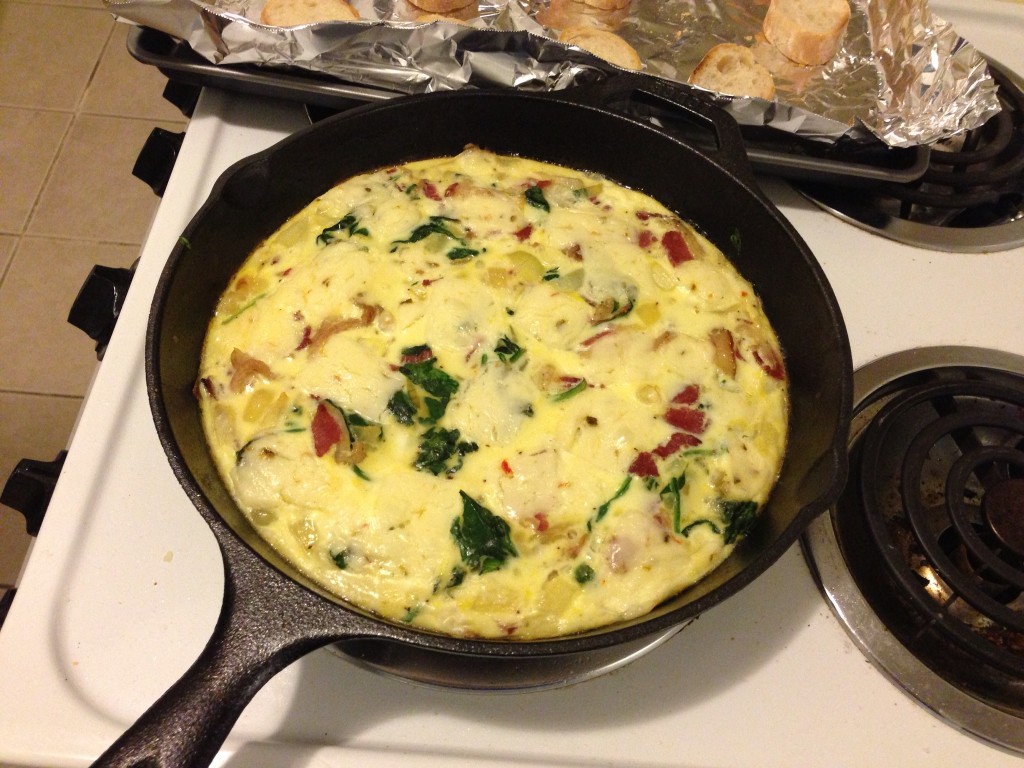 Ham with red eye gravy, buttermilk biscuits, and fruit salad. Follow these recipes, they won't steer you wrong.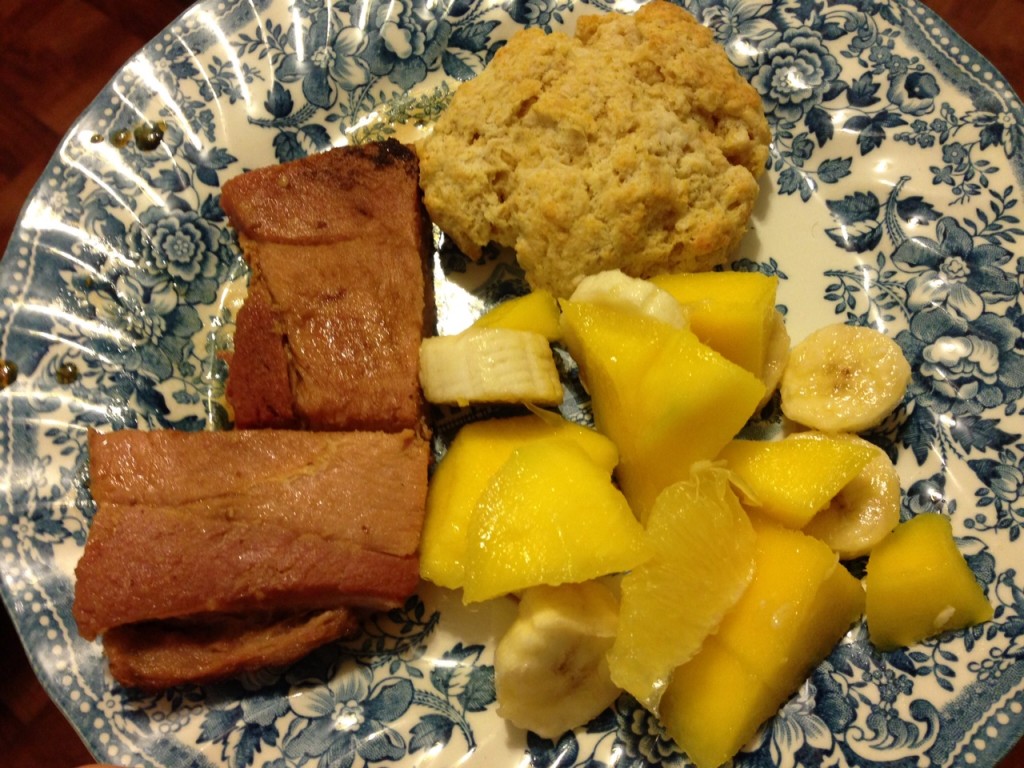 And then, I made peanut butter cheesecake brownies. They're the love child of these chewy brownies and this peanut butter cheesecake swirl. Quite tasty. And good for you too!
(Just kidding…not healthy at all)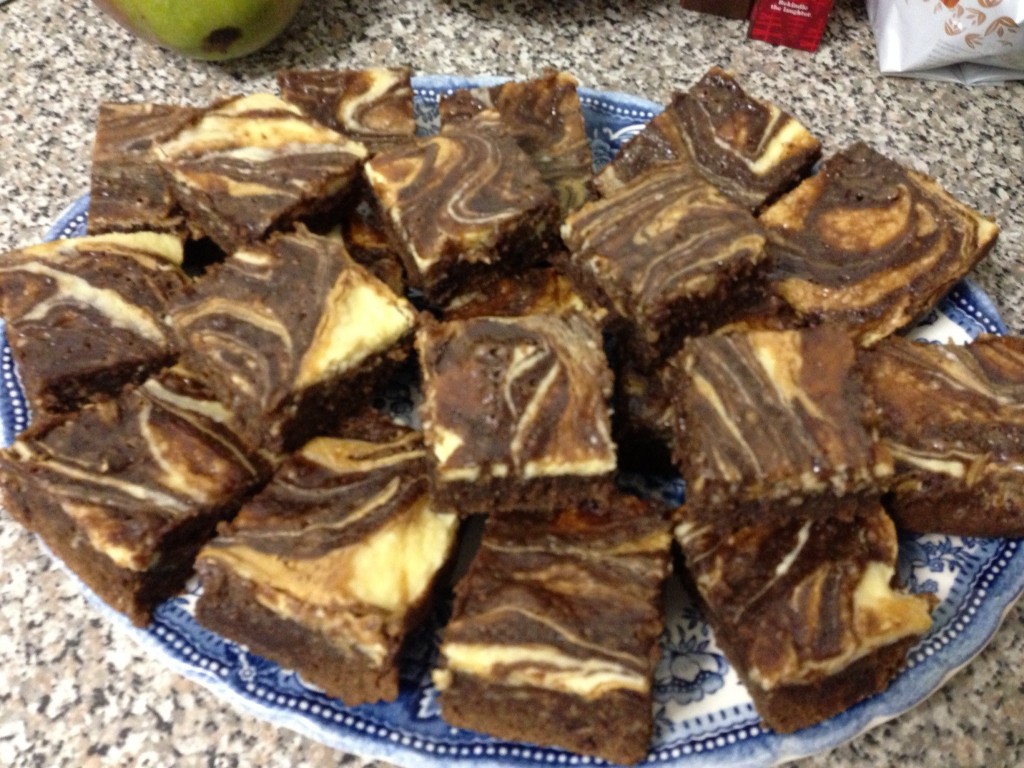 The final cooking project of late? Homemade truffles! Get ready family, I'm bringing home a few dozen. I modified a Fannie Farmer candy recipe (butter instead of margarine, candy melts instead of paraffin wax) and also used a tried and true oreo truffle recipe. MADE WITH LOVE.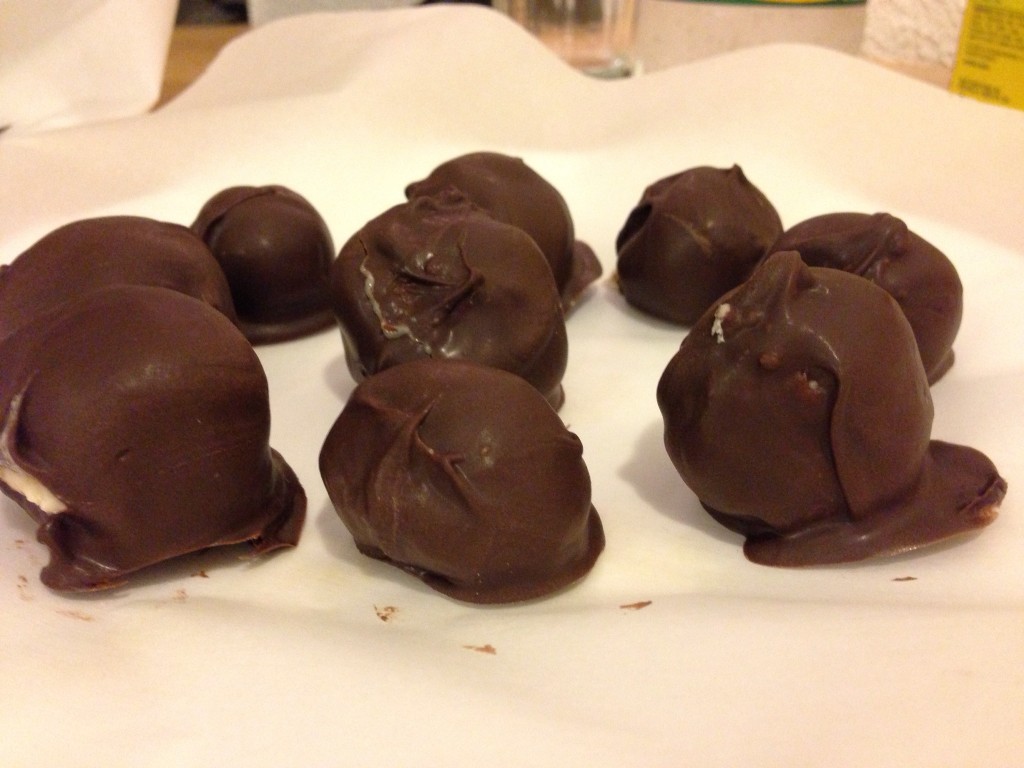 Fact: I had my very first cavity filled last week. How odd.
And finally, I'm not the hugest stair fan (I'm never ever ever ever ever ever doing the Empire State Building run-up), but there's a stair race this Spring for a good cause and I thought I'd mention it. If you're taking a break from half and full marathons, this could be something new!
 M.S. Society Top of the Rock Climb
Date: March 3, 2013
Start/Finish: 30 Rockefeller Center
That's all I've got. Happy Holidays! If you're making something delicious, I'd like to know about it. Also, will you share?