It's been a crazy couple of weeks here in New York City. A hurricane, power outages, flooding, a nor'easter, and less importantly (but still notable) marathon controversy. I'm not going to remark much on the ins and outs of the race's cancellation…plenty of other people have done that already. I will say this: Yes, I was disappointed, but in the end…I'm glad they cancelled the marathon. There's the obvious fact that the city is still reeling from Sandy (I don't think many of us knew how bad it was going to be or how bad it actually was), but then there's also the issue of the divisiveness that the event caused. I run because it's a positive experience…physically, mentally, and socially. As soon as it turns in to something that makes people upset or potentially causes harm…it's not something that is enjoyable. I think that when you run a marathon, you have to be all in and if you're distracted or feeling guilty or worried….it's probably not going to be a good race. And let me just say, I know how lucky I am. All of my friends and family are safe, my apartment is unharmed, and I went without power for less than a day. I'm very thankful. But, this is a blog about running and cooking, so that's what I'm going to write about. I know there are a lot of issues and problems in New York and New Jersey right now, but I can't address them all. I've donated to the Red Cross and am hoping to volunteer my time soon, but in the meantime, I've just got to keep on running.
Speaking of running, last week was a roller coaster of emotion. The marathon was on, then it was off. I was upset by storm damage, not eating the right kind of foods (halloween candy!), and running the ~7 miles to work each day because the subways weren't running from Brooklyn. Not exactly great taper behavior, you know? When the marathon was officially cancelled, I had a lot of thoughts speeding through my mind. In terms of running, I was trying to wrap my head around a back-up plan. Was there a way to still pull off a Fall marathon?  Last year's Philly Half-Marathon was disastrous (I missed the finish line…), Boston Marathon 2012 was 90 degrees, and then…the New York City Marathon was cancelled. It hasn't been a good year for me re: racing and I really want to try and turn all of these negative experiences around. I'm out of town for a wedding this coming weekend, so Richmond and Harrisburg are out. The next option was to look at out of town races for early December or January. I researched some options, but then I thought…if I'm going to spend hundreds of dollars on a plane ticket to travel to a race (i.e. Dallas or Vegas or Phoenix), maybe I should just register for a Philly Marathon charity team and donate that money instead. So that is what I'm going to do. I was lucky enough to get a spot with Alex's Lemonade Stand – a charity that raises money for childhood cancer. I remember seeing this story on the local news when I was in high school (the charity's namesake, Alex, lived not far from me) and being saddened, yet inspired by what this little girl tried to do. She passed away at age 8, but in the 4 preceding years, she sold lemonade to raise money for cancer research. I know there are a lot of worthy organizations out there, especially considering the devastation from Sandy, so I am not going to hound anyone for donations. I am fully prepared to donate the fundraising minimum myself (better than spending that $ on plane tickets!), but if you would like to check out the organization and consider a donation, I created a fundraising page.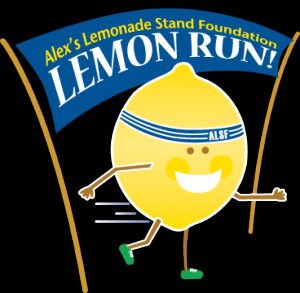 Alright, so now I've got a plan. And I'm excited about it. The Philly Marathon was not what I thought I'd be running this fall, but life (and running) rarely work out exactly how you want them too. In terms of training? I really don't know what I'm doing. After my peak week (81 miles including track workout and 22-miler w/ 8 @ MP), I dropped down to 54 miles (including 16 miler w/ 6 @ MP), and then 41 miles (including 12x400m, 5 mile tempo, and 10 miler). The plan for marathon week was to run about 20 miles before race day, but here's what actually happened:
Monday, Oct 29 – Rest day
Tuesday, Oct 30 – Rest day
Wednesday, Oct 31 – 8 miles
Thursday, Nov 1 – 7 miles
Friday, Nov 2 – 7 miles
Saturday, Nov 3 – 4 miles
Sunday, Nov 4 – 14 miles
Total: 40 miles
Not bad, but not ideal considering I have two more weeks until the marathon. I'm trying to strike the right balance between 1) running enough miles and workouts to maintain fitness 2) while still allowing my legs to rest and recovery. I probably should be running more than 50 miles this week, but honestly…I'm feeling a little shot mentally and physically. I've been very very lucky in terms of storm damage and power, but these last couple of weeks have still been pretty intense.
The plan for this week is:
Monday, Nov 5 – 7 miles
Tuesday, Nov 6 – 8.25 miles
Wednesday, Nov 7 – 6.75 miles (including 5 mile tempo run in ~36:30 or ~7:18 pace)
Thursday, Nov 8 – 6 miles
Friday, Nov 9 – 7 miles
Saturday, Nov 10 – 12 miles
Sunday, Nov 11 – 5 miles
Total: 52 miles
And the week before Philly? I guess I'll shoot for ~25 miles with a few Marathon Pace miles early in the week and a rest day on Saturday. In terms of a time goal, of course I'd love to PR ( faster than 3:18:17), but I'm not sure that's in the cards considering the hiccup in my training these past few weeks. Philly is a fairly fast course and as long as I feel okay on race morning and the weather is decent, I should be able to pull off a BQ (3:34:59 or faster) with out too much difficulty. When I was thinking about Plan B race plans, I seriously considered dropping down to a half (particularly the Philly Half). But then I thought…what will that get me? I can say with near certainty that I'd run somewhere between 1:31 and 1:34 – which would be a good time, but 1) I've run those times before – it wouldn't be a PR, 2) I don't think I'd be able to pull off 1:29:xx, which is what I need for guaranteed entry for New York, and 3) Even a half PR of 1:29 or 1:30 wouldn't qualify me for Boston. It's unlikely that I'll run a full marathon in 2013, so if I want to even consider Boston in 2014, I need to get a qualifying time now. And that's why the new goal is to BQ. I think I can run faster than that (maybe a lot faster), but I'm not going to put the pressure on just yet.
The good news is, during all this craziness, I've still been able to spend some time in the kitchen (very little gets in the way of Megan + food). The recipes are a mix of my old favorites and some new experiments.
First up was a batch of homemade turkey meatballs that I broiled and then combined with a jar of marinara and a hefty sprinkling of mozzarella cheese. Heat in the oven until warm and melty and then serve with crusty bread (and maybe a salad). Thanks for the inspiration, Real Simple!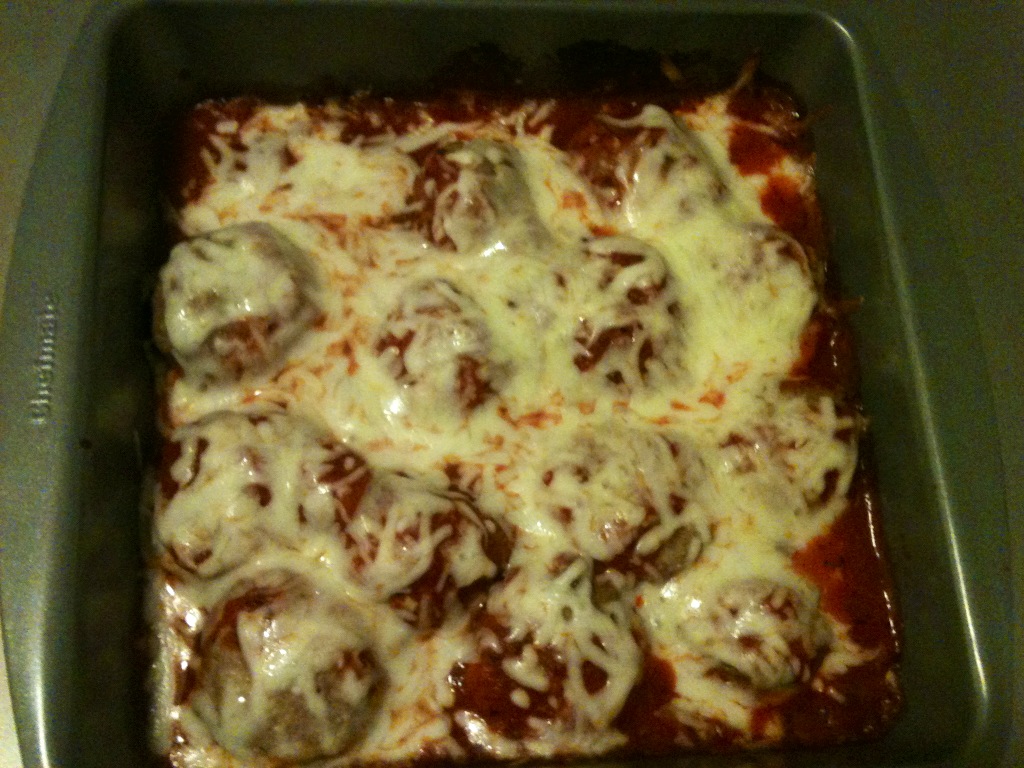 I dug up an old favorite from 2009/2010 and made a big pot of coconut cauliflower and sweet potato curry for dinner. And it's even vegan! If that's your thing.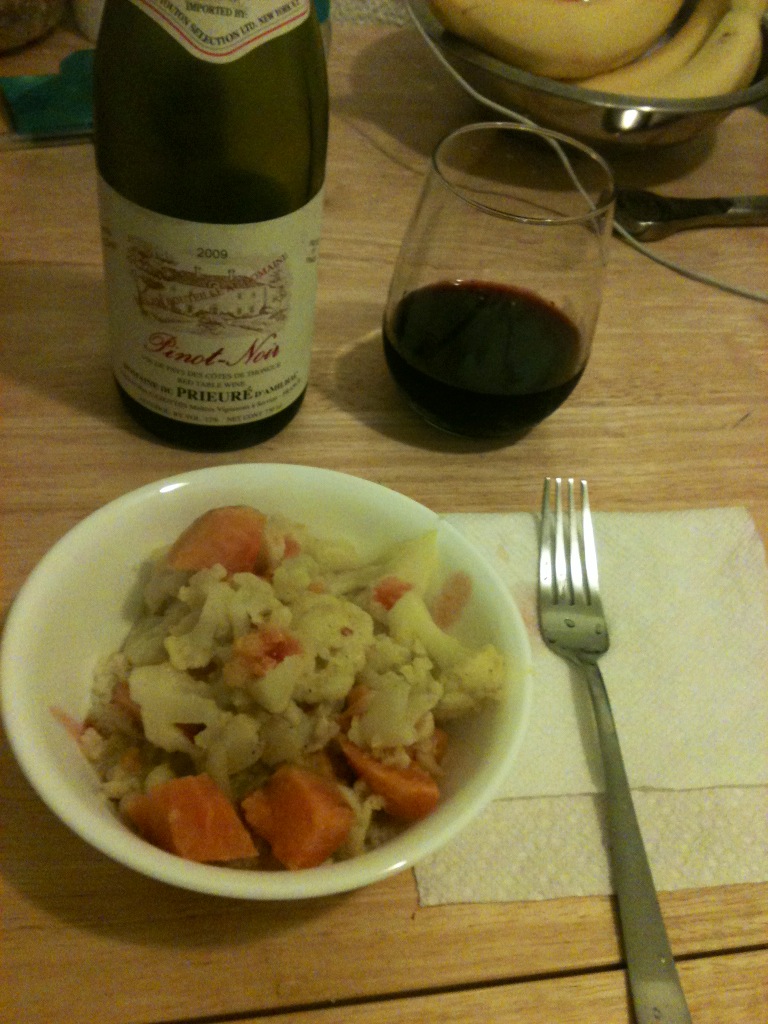 Don't all grown women own penguin pajamas? Anyway, the point of this photo is the mini jar of peanut butter I'm holding. It contains just two ingredients: peanuts and a tsp of canola oil. I recently received a food processor as a present and I've been experimenting with homemade nut butters.  The peanut butter was good, but the hazelnut butter is my favorite (1.5 cups toasted and peeled hazelnuts + Tbs canola oil, Tbs maple syrup and process until smooth).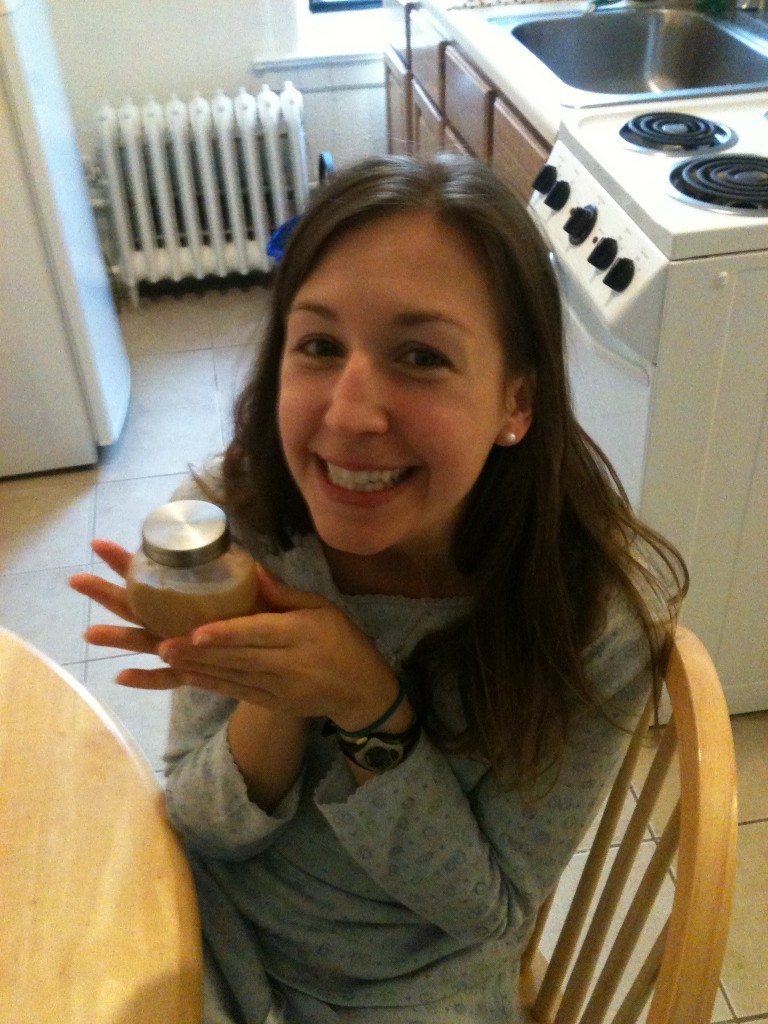 And then last Friday, I found a great recipe for beef stew in a slow cooker that's perfect for a cold winter night. The sauce includes coffee which you don't really notice, but I think makes it taste extra delicious. And yes, it has red meat, but we used a very lean cut (brisket) and piled in plenty of veggies.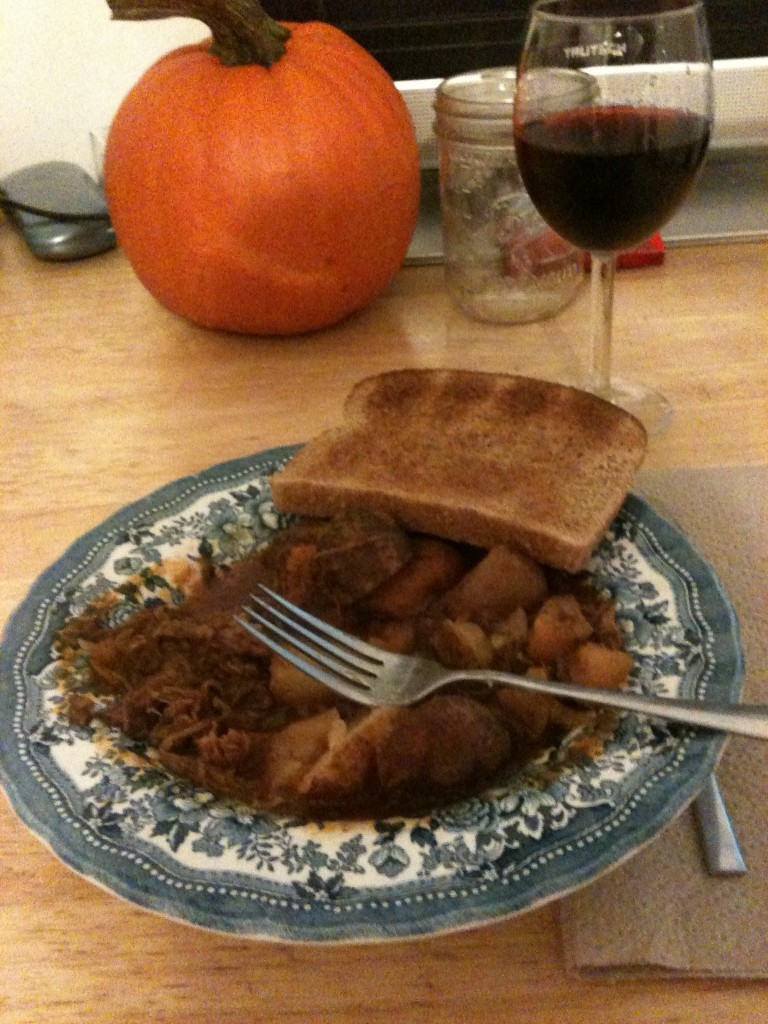 Have you ever had your race plans change at the last minute? Anyone else racing Philly?!
Bonus! I promise this will make you smile.