There's something a little overwhelming about writing a marathon recap. My thoughts on the race seem to change every day and I wanted to give myself a little time to process before I commented. To start off, I'll say that I'm very thankful that I was even able to run a marathon at all this fall (Thanks for nothing, Hurricane Sandy). And even better? I was able to raise $550 for Alex's Lemonade Stand/Childhood Cancer in less than 3 weeks, so if you donated -THANK YOU! I had some serious anxiety leading up to this race, probably abnormal levels of anxiety. I'm not sure if it was the extended taper or…if 26.2 miles just scares the shit out of me. Probably the latter. Unlike 5ks, 10ks, and half-marathons, I still don't feel like I have the distance mastered. There are so many unknowns that can surprise you two or three hours into the race (dehydration, low blood sugar, "the wall", muscle cramps, oh my). Nervous and unsure what to expect, I decided to lower my expectations. Instead of gunning for a PR (3:18:xx), I thought it best to focus on qualifying for Boston in 2014 and running a smart race. In retrospect…I wish I had some more confidence in myself. I ended up running 3:22:24 without too much difficulty, but I wonder how much faster I could have run if I had been in a better state of mind. But…all things considered, I'm pretty proud of the time. For comparison sake….in 2010 when I ran my marathon PR of 3:18:17, I raced a July 5k in 19:55. This year, I ran that same 5k….in 21:57. Let's just say that summer 2012 featured a lot more fun…and a lot less running. I needed the break after Boston, so I don't regret it, but I definitely was behind in my training. I did a pretty good job ramping up mileage, but it felt sort of rushed. I went from barely cracking 40 miles at the end of July to 80 miles in mid-October (just 10 weeks later). I worked with the time I had, but in retrospect, I wish I had more of a base-building period. I think this just underscores the fact that, for me, one marathon a year is more than enough. With two marathons (Boston in April and Philly in November) it's tough to balance all the different components of training – base building, speedwork, peak mileage, tapering, resting…and then doing it all over again. Anyway, it's a learning process right? Every time I train for a race, I learn something that will hopefully help me to become a better runner next time. Ok, ready for the actual race-recap?!
Pre-race: My hotel was less than a mile from the start, so it was one of the easiest pre-marathon mornings that I've ever had. I woke up around 4:45am, drank some coffee, and then dined on a buffet of bagels. I didn't intend on having 3 bagels, but the first one that I picked up was spinach and not whole wheat like I thought. Since I had already put it in the bag, I decided to get an egg bagel as well. These bagels didn't seem super fresh, so after dinner I also got a multi-grain bagel from Dunkin Donuts. I ended up nibbling about 1/2 of each bagel with a few small spoonfuls of nutella. In total I probably ate about 2 complete bagels and a Tablespoon of nutella for roughly ~700-800 calories in carbohydrates. Even though I didn't have an appetite that early in the morning, I'm really glad that I ate this amount. My blood sugar levels were steady throughout the whole morning and I never felt like I hit the wall during the race. I'm not a registered dietician or a medical professional, but in my own personal experience, more carbs = better on marathon morning. There's a good Runner's World article about pre-race breakfast that I found to be helpful. After breakfast, I got dressed, applied my pace tat, sipped some water, and headed out the door. I expected the porta potty lines to be pretty crazy, so I made sure to use the facilities before I left the hotel. My plan was to stay in the (warm!) hotel for as long as possible and get to the corral about 20 minutes before the start. I definitely preferred this method over waiting outside for 3 hours in a start village…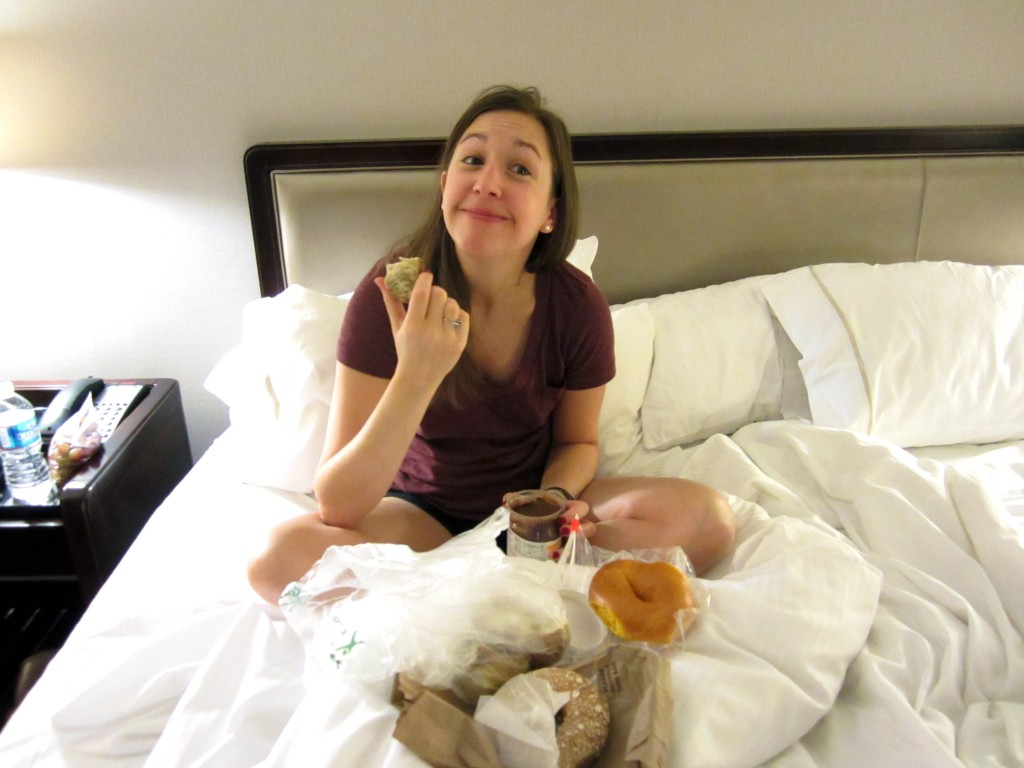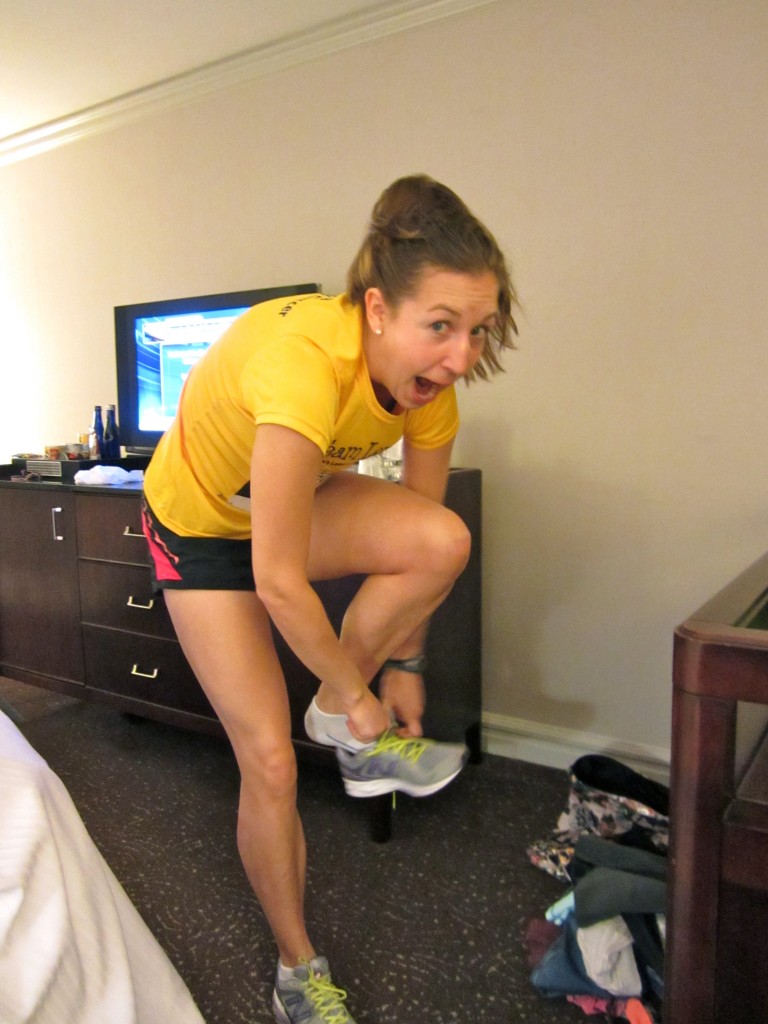 Miles 1-6: The race started right on time (7am) and I had minimal problems with crowding. The first few miles felt easy and relaxed, however…the mile 2 sign/clock were not in the right spot. I freaked out a little bit when I thought I had run an 8:10 mile, so I picked it up. It wasn't until mile 3 that I realized the previous mile marker was in the wrong spot. This was really my only gripe with the marathon – isn't this the 19th or 20th time that you've run this race? Shouldn't there be a very specific spot for mile markers, especially in center city? And it wasn't just off by a little bit…it was  probably close to 200m farther along the course than it should have been. That's a lot!  I went through the 10k in 46:51 (7:32 pace) which still felt easy, but was about 30 seconds ahead of where I wanted to be that early in the race.
Thanks to Erica Sara for snapping some awesome race photos! She took this one at the 10k mark and some great finish line shots. See that 3:15 pace group just behind me? Oops. Someone went out too fast…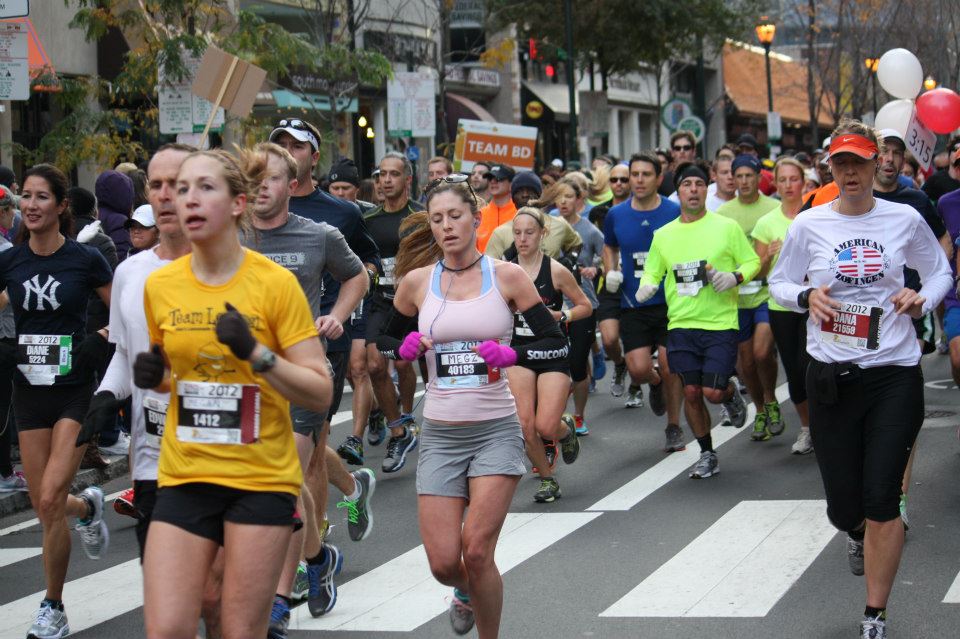 Miles 7-10: After the 10k mark, the crowds thin out a bit and the course hits some hills. Nothing too crazy, but at this point you've been running for over an hour, so the incline is noticeable. I started feeling a little tired around mile 9 and so this is when I took my first Gu (I had also been drinking a small cup of Gatorade every 3 miles). If I had been following the 10-10-10 plan (first 10 miles slower than goal pace, second 10 miles faster than goal pace, last 10k with whatever you have left), now would be the time to pick it up. At mile 10, my running buddy told me she was going to speed up, but I decided I wasn't going to try for it. Going out too fast in the early miles made me a little more tired than I should have been at this point in the race and I was very afraid of a crash and burn. I'll never forget my 2009 Boston marathon experience. I (stupidly) ran the first half of the race was way too fast for my fitness level and by mile 16, I was toast. Nausea, dry heaving, dizziness, dead legs, walking breaks…arguably one of the worst experiences of my life. So, instead of picking it up at mile 10 in Philly, I just tried to maintain 3:20 pace (about 7:38/mile).
Miles 11-14: The miles leading up to the half-way point were okay. I still had that little voice in my head saying "You have to do this for TWO MORE HOURS! You're tired. You won't make it", but I tried to ignore it and just run evenly. I went through 13.1 miles in 1:40:04 (7:38 pace) which was right on pace. Side note: I paid special attention to the half-marathon/marathon split and while I didn't have any issues this year…I STILL don't think it's super clear. Sure, there are signs…but it's not like the half-marathon finish line is close to the split. You still have to run down the parkway a bit. If you haven't run the race before and are running with a pack of marathoners (ahem, my 2011 race), I still think it's fairly easy to miss veering to the right. And that is all I will say about that!
Miles 15-20: By mile 15, I was feeling less anxious and got into a good groove. I took my second Gu around mile 17 and continued taking Gatorade ever 3 miles or so. My pace was a bit slower than I would have liked (I went through the 30k mark in 2:23:06/7:41 pace), but I felt strong, in control, and was more or less enjoying the race. There are even some smiley race photos to prove it! These miles were run along fairly flat Kelly Drive, with a turn around in the town of Manyunk. At times the course was a little lonely – especially miles  21-24, but I had plenty of other runners around me, so I was fine.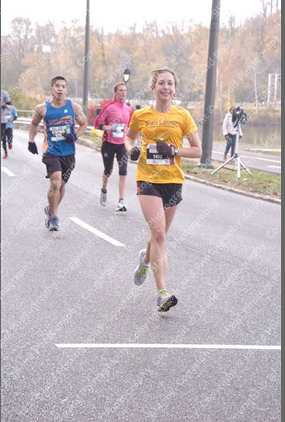 Miles 20-24: By mile 20, my butt, hamstrings, and feet were starting to ache, but it wasn't as bad as I had feared. (I had been having some serious pre-race anxiety…). Still, I was tired and so I started playing some mental games with myself. By mile 20, I knew I had less than an hour of running left. I also knew that I would see some friends for the 4th and final time at mile 24. So…I started telling myself: "Only 4 miles until you see them, only 3 miles…, only 2 miles…". At this point in the race, I was really looking forward to finishing and I thought doing something a little silly might make those final miles a little more fun. When I spotted the person I'm dating, I veered over to the left side of the road, threw him my gloves, and gave him a quick kiss. A super serious way to act at mile 24 of a marathon? No, not really, but it made me happy and it distracted me from how tired I was at that point in the race. And in retrospect, I doubt the kiss took any longer than grabbing a cup of Gatorade.
Miles 24-26.2: The last couple miles of a marathon are never easy, but I felt strong and in control this time around. I made an effort to pick it up during the last mile, but I really have no idea what kind of splits I was running since I didn't wear my Garmin. I crossed the finish line in 3:22:24 (7:43 pace), which is 4 minutes off my PR, but still my second fastest marathon. Am I happy with this marathon performance? Yes, mostly. Am I second-guessing myself, wondering if I could have, should have gone faster, especially during those middle miles? Of course. Marathon-ing is such tricky business…the difference between a smart, strong race (and an enjoyable experience) and hitting the wall/cramping up/crawling to the finish can be a matter of a few seconds per mile  (or a few cups of Gatorade). It's not always easy to know if you're making the right decisions. In retrospect, I wish I had been gutsier, wish I had more confidence in myself. But at the same time, I enjoyed myself during this race. That doesn't mean it wasn't hard, but for the most part, running those 26+ miles, smiling at the crowds, and giving someone a quick kiss mid-race made me happy. And in the end…if something isn't making your life a little better, a little more fun, why are you doing it?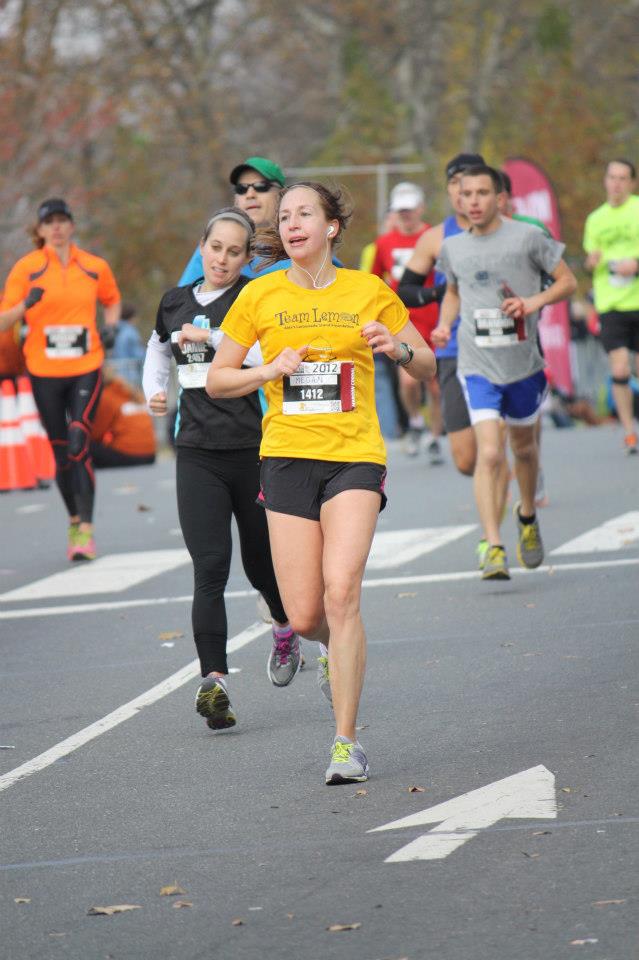 Thanks to Erica for another great pic!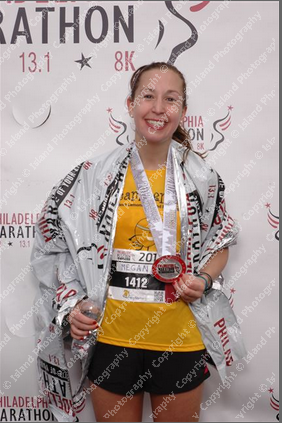 And Island Photo…please don't sue me.
Post-race: For all my talk of feeling "strong" and "in control" throughout the race, I still felt like death after I crossed the finish line. Pretty sure I felt worse AFTER the race than I did DURING. I sipped on some Gatorade and walked down the shoot collecting my foil blanket, medal, etc. I thought that a cup of chicken broth (electrolytes!) would be a good thing to sip…but the smell made me nauseous, so that was quickly disposed of. Luckily, I started to feel a little better after about 15-20 minutes of sipping water and walking around.
After a hot shower…those 26 miles were rewarded with THIS! A Philly Cheesesteak from a little pizza and hoagie shop near my hotel. Almost made me want to do it all over again…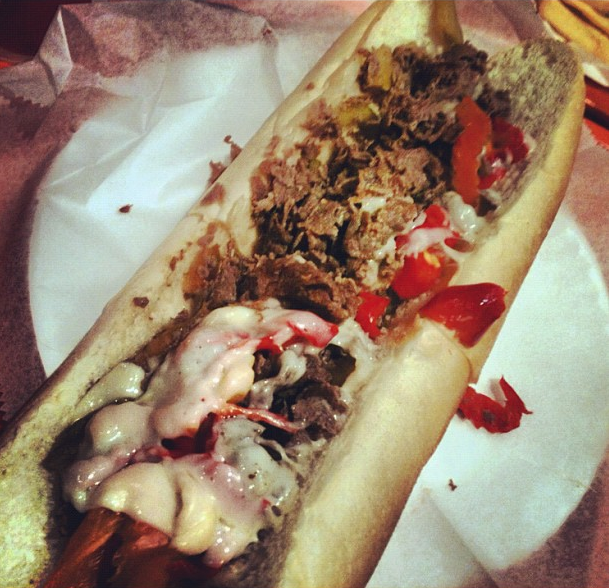 Was I sore post-race? Yes, definitely. Marathon-sore is like nothing else I've ever experienced, but I think this time around it wasn't so bad. Or maybe I'm just getting used to it? In any case, last week was a pretty good week. I ate whatever I wanted (which let's be honest…I do all the time anyway), slept for 8-10 hours every night, and my only exercise in the past 8 days was two short jogs on Thursday and Friday. I have some running plans for 2013, but am still figuring them out while I enjoy my rest. In the meantime…what are your racing goals for next year? Any race recommendations? 
p.s. Thank you for all the cheering – both on the course and via twitter/text message.