Hellooo! Things have been a little crazy over these past two weeks. I finished up at my old job, started a brand new one, and am in the middle of peak marathon mileage. I'm not going to divulge a lot of details on the new gig, but I will say that I'm enjoying it so far and that the work-life balance (and salary) are a big improvement. Here's hoping things continue to go well!
🙂
Before I recap the past few weeks of training and share some recipes, I want to talk about something that's been on my mind lately: running miles at goal pace. When people ask me "What do you think is most important for marathon training?", the first thing that comes to mind is tempo runs at goal half-marathon and marathon pace. I'm sure there's a ton of scientific research detailing the aerobic and muscular benefits of this type of workout, but I can tell you from first hand experience that they work. Sure, long runs and easy runs and track workouts and cross training and rest are important, but there's something about these long, grinding workouts that prepare you physically and mentally to tackle long races. The only problem is…these type of workouts scare the shit out of me. Every week, I have to coerce and cajole myself into going to the Thursday night CPTC tempo run. It's never quite as bad as I expect, but these type of workouts can be just as mentally trying as they are physically. Without fail, I start to think…"If 4 miles or 6 miles or 8 miles at half marathon or marathon pace feels hard, how am I supposed to run THREE TIMES that amount of race day?" If you're having a good day, these workouts can be a big confidence booster, but if you're tired or just having an off night…panic can begin to set in. Every time that happens (and believe me, it happens in almost every workout) I just try to accept the fact that although I think marathon pace should feel like a piece of cake, it probably won't. I've been running a lot of workouts and miles, so it seems safe to assume that with a generous taper, my legs will have a little more pep in them. Plus, magical things can happen on race day. You always seem to find that extra something that isn't there during regular training runs and workouts.
Anyway! Generally,  my training has been going well. I ran 67 miles for the final week of September and 70 miles last week. I've been logging at least one workout a week and I've completed 2 x 20-milers so far (a 22-miler is on tap for this weekend!). If all goes well, I'm hoping to top out at 80 miles this week and start the taper on Monday. Ahh. Can't believe there's only 25 days until the marathon. These next 10 days are going to be molto importante. I'm really proud of last week's training and I'm hoping for similar results this week. This marathon training cycle got off to a slow start, but I think things are falling into place.
Last week:
Monday, Oct 1 – 7 miles
Tuesday, Oct 2 – 10.5 miles incl. 6 x 800m w/ 200m recovery (3:15, 3:12, 3:12, 3:10, 3:10, 3:11)
Wednesday, Oct 3 – 11 miles
Thursday, Oct 4 – 15 miles incl. 9 mile tempo with 3 mi @ MP, 3 mi @ HMP, 3 mi @MP (7:38, 7:30, 7:25, 7:11, 7:07, 7:11, 7:42, 7:28, 7:30)
Friday, Oct 5 – 6.5 miles
Saturday, Oct 6 – 20 miles
Sunday, Oct 7 – REST DAY
Total: 70 miles
The plan for this week:
Monday, Oct 8 – 8 miles
Tuesday, Oct 9 – 12 miles incl. 8x600m @5k pace w/ 200m recovery (actual splits were: 2:27, 2:25, 2:26, 2:25, 2:25, 2:24, 2:25, 2:24)
Wednesday, Oct 10 – 11 miles
Thursday, Oct 13 – 11 miles incl. 4 x 800's @ 10k pace w/ 400m recovery
Friday, Oct 14 – 11 miles
Saturday, Oct 15 – 5 miles
Sunday, Oct 16 – 22 miles with ~8 miles at MP (7:35 pace)
Total: 80 miles
After the 22-miler, I'm going to gradually start scaling back on volume (but not necessarily on workouts). You can see my constantly evolving training plan on google docs.
Some things I've been cooking:
Baked chicken nuggets with buffalo sauce 
Our nuggets were inspired by my friend Megan M. and based on this recipe, although I ended up using Japanese panko instead of Italian breadcrumbs and I omitted many of the spices. Overall, they were pretty delicious with a nice crispy exterior and a good nutritional profile. Plus anything dipped in a mixture of butter + Frank's Red Hot is bound to taste good.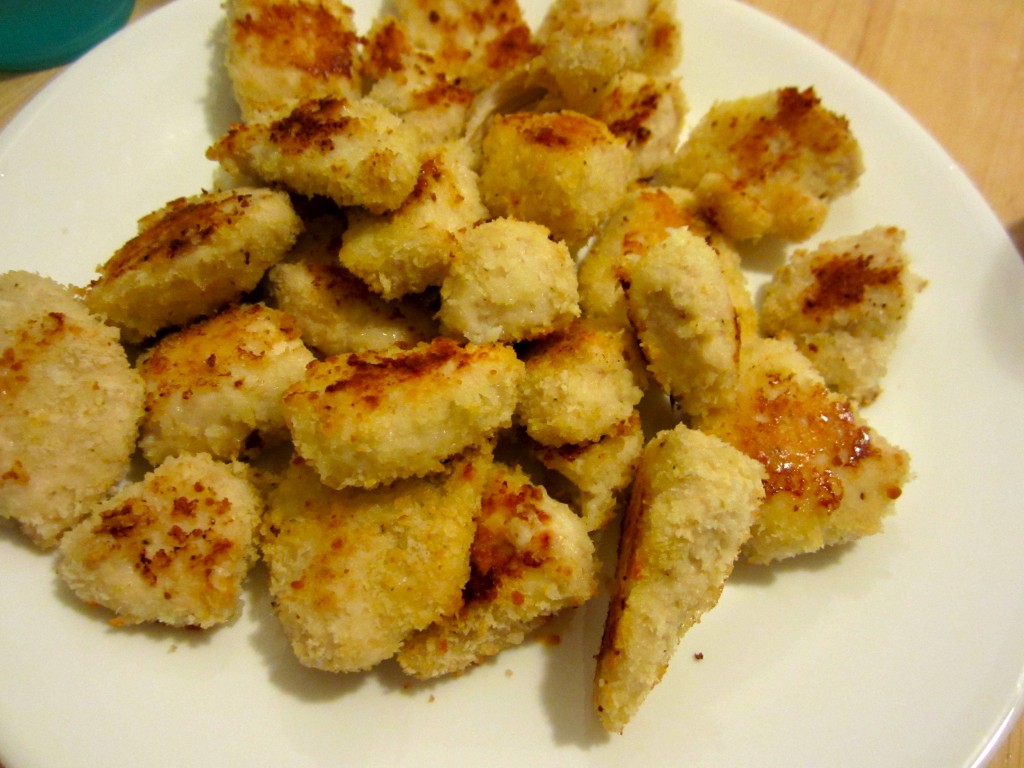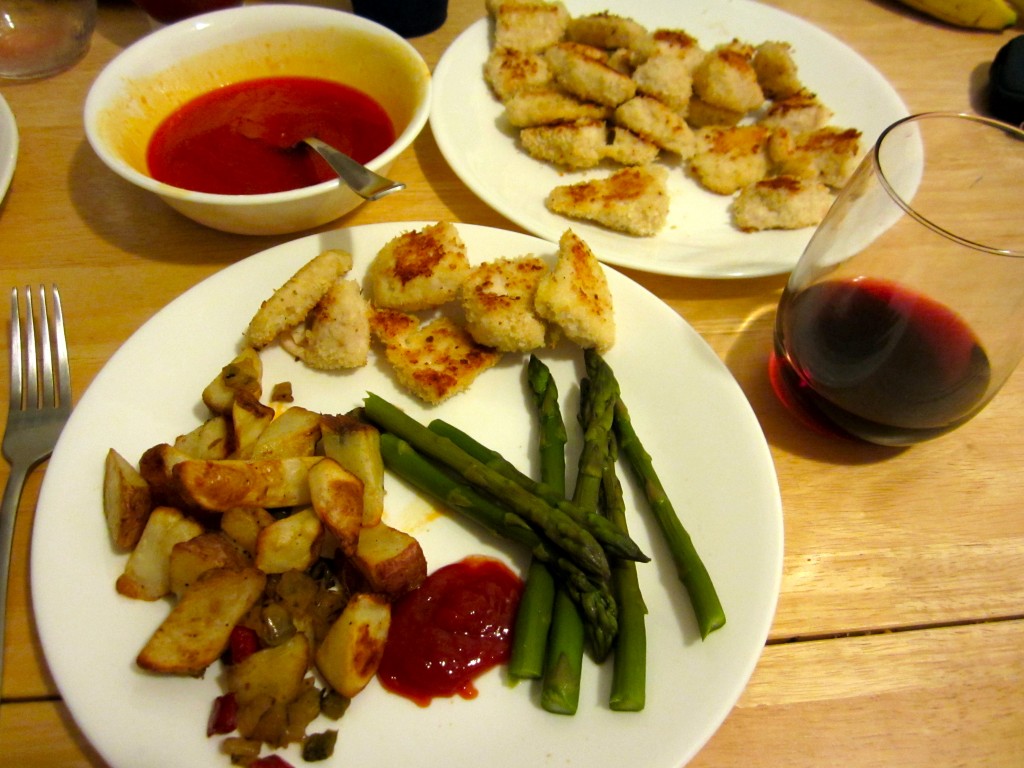 Mini frittata
I love frittatas (basically baked omelets) because they're so healthy and adaptable. For my most recent experiment, I mixed together some eggs, egg whites, sauteed onion, kale, tomato, and cheddar and baked in my mini heart pans for about 20-25 mins at 350 F. Perfect for quick breakfasts.
Pulled pork
Oh my goodness. This recipe was…interesting. I've been wanting to make pulled pork in my slow-cooker for awhile, so I found a Martha Stewart recipe and tried it out. The result was delicious and the process wasn't all that difficult, but the initial preparation was a little…unusual. The recipe called for a 3lb pork shoulder which unfortunately my grocery store did not have. They DID have an 8lb pork shoulder…with the bone in and the skin attached. Not looking to back down from a challenge, I decided to skin (fyi – pig skin is rather bristle-y) and de-bone the meat myself. It was messy and reminded me why I was a temporary vegetarian for awhile….But the good news is – I got it done and ended up with some delicious pulled pork sandwiches, roasted fingerling potatoes, and homemade coleslaw. If you make this, be prepared for a lot of leftovers. This recipe served dinner + a night of leftovers for two people PLUS a large tupperware that I put in the freezer.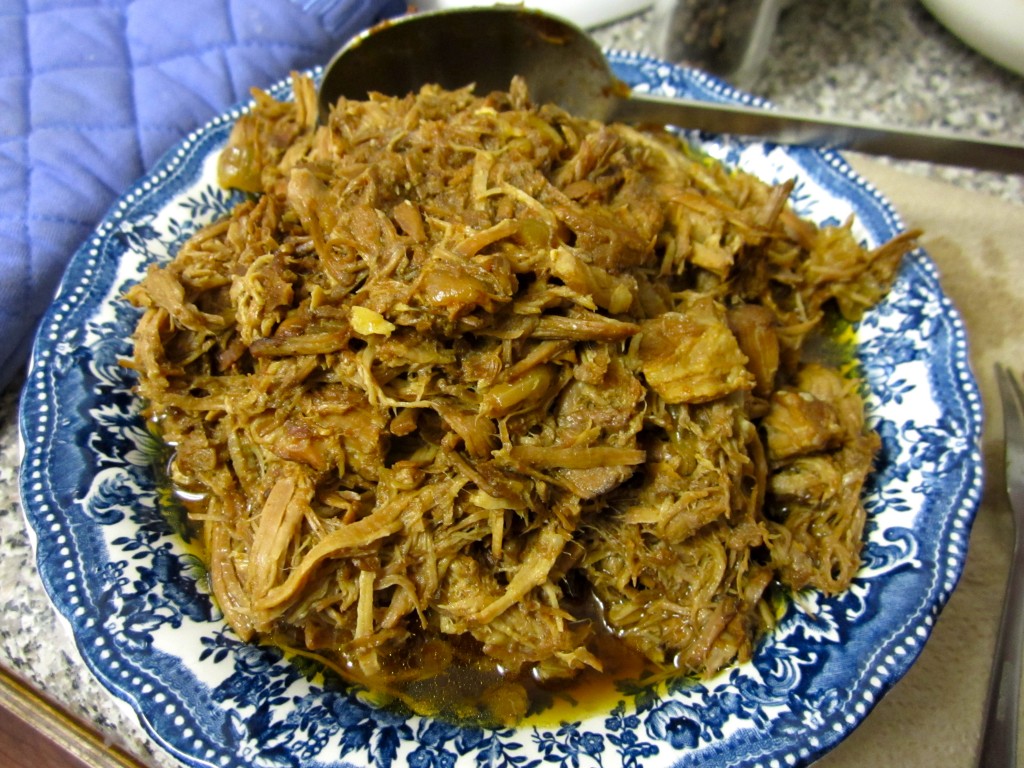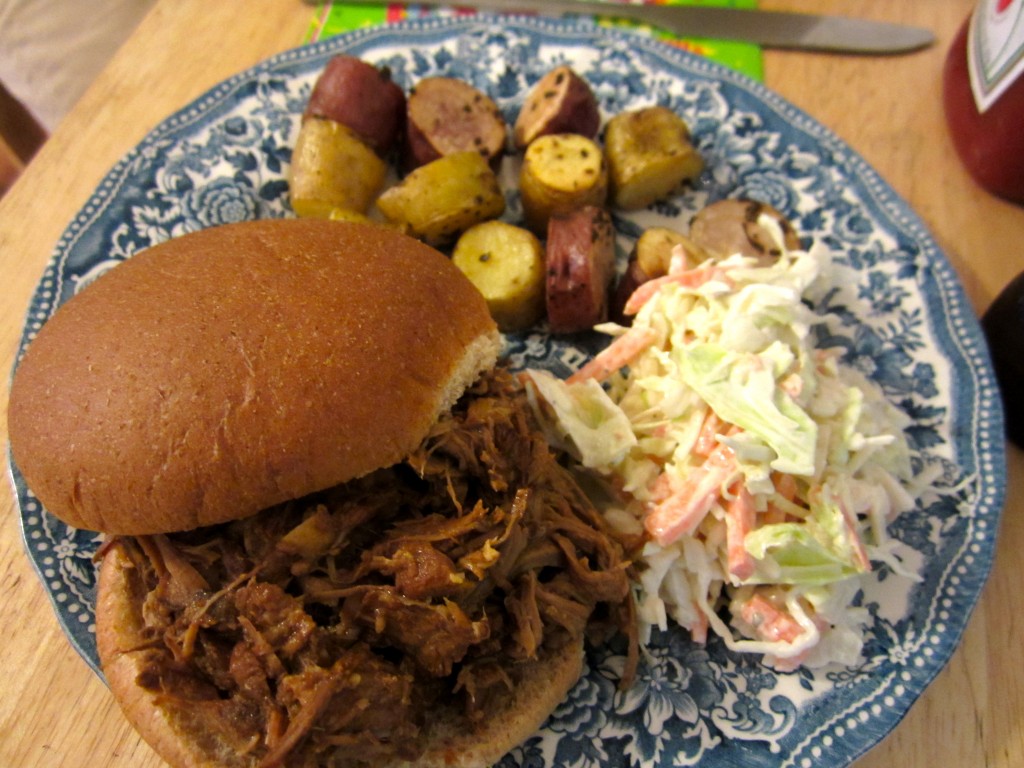 Some things that don't appear on the blog:
Countless bottles of pumpkin ale, 13 empty Ben & Jerry's pints, economy size Nutella, and a partridge in a pear tree.
Alright, I'm out. I probably have to go run, shower, sleep, or eat which is pretty much all I do these days (or so it feels like it). Tell me – peak marathon training: love it or hate it? (I complain, but I secretly kind of love it).