If you're looking for advice or inspiration on core work or cutting sugar/alcohol/caffeine out of your diet, well, you've come to the wrong place. Sorry about that. But if you've ever thought "I would like to figure out how to run more miles!", maybe I can help.
First, figure out your intentions. If you just want to run a lot of miles because you think that's what you need to do to be a "real runner" or because it sounds impressive, that's not a very good reason. Please re-evaluate and come see me again in a few months. I don't run a lot of miles in marathon training just for kicks – there's a whole lot of science that indicates higher mileage = faster race times. The amount of miles you run are not the finish line in themselves, rather they are the means to an end (hopefully a PR!). So I think it's important to remember…if running more causes  you to become injured or burnt out, well then, it's kind of pointless, right?
Okay, now that we've established you're here for the right reasons, let's begin:
1) You can probably handle a lot more miles than you think. In my personal (non-professional) opinion, competitive marathoners should be running 50 miles a week MINIMUM. If your goal is to just finish the thing, I suppose you can get by on a little less, but marathon training is supposed to be difficult. If you're only running 35-45 miles max, a huge chunk of that is going to be your weekend long run which leaves room for very little actual training during the week. That being said, let's not be stupid about it. If you've never run more than 20 miles in one week, now is not the time to suddenly try and double or triple that. You know a good way to get hurt? Run a lot of miles, run all of your miles fast, and/or don't get enough sleep. I think you can probably do ONE of those things, but not all three. If you're going to up your mileage, you better make sure the majority of those miles are slow and that you're taking care of yourself (sleeping enough, eating well, etc).
"How long will this take?" you ask. Well, it could take years, but you're planning on doing this for awhile anyway, right? In my early 20's, I never ran more than 45 miles/week (and that was when I was part of a college team). As I was training for my first marathon in 2008, I reached 55-60 miles and it was a huge deal. A few more years went by and I decided to try 70 miles and then last year, I gave 80+ miles a shot. "That's a lot of miles, Megan! I don't know how my legs will handle it!" If you introduce something slowly enough, over time, your body WILL adapt. I promise.
2) Next step: actually running these miles. Some things that have helped me are as follows –
Make a schedule! If I see a 10-miler on the calendar for the day, I am much more likely to run that amount compared to "seeing how I feel when it's time to run". No. If I wait to see how I feel, I will likely feel lying on the couch with a bowl of popcorn. Training for something isn't easy and if you allow yourself an out, it only gets harder. Unless you're limping or running a fever, your daily mileage is not optional.
Make plans with friends. It's 6am and raining (or 7pm and you're hungry or your favorite Lifetime movie just came on TV or you'd rather go to happy hour) – how likely are you to motivate yourself out the door? If you're someone who pops out of bed at dawn raring to go, well more power to you (also, are you a robot?). I, on the other hand, have some trouble. Knowing that I'm meeting a friend for a run makes me 150% more likely to actually run. I need the peer pressure.
Be creative with your runs. Have you tried the run-commute to or from work? The lunchtime run? The errand run? The post-dinner run 10pm? The destination run? If you're going to run a lot of miles, you better keep it interesting. Another thing that helps: running doubles. If you're pushing 65-70 miles a week, it's probably a good idea to run twice a day at least once a week. I usually run a few shake-out miles the morning before track workouts or tempo runs. Otherwise, you're going to have to run like 10 miles a day, every day, all at once and that can be a little tough to accomplish. But don't get TOO crazy with doubles – you can't split up your long run. That doesn't count. Try starting out with an easy 2-3 mile jog in the morning (if you do speed work at night) or in the evening (if you do speed work in the morning). Try to allow at least 6 hours in between runs, if you can. And if you only shower after one of those runs…I won't tell.
3) It gets easier. The more you do something, the easier it gets. Even if you don't reach your mileage goal this training cycle, you'll be that much closer next time around.  I remember when 50 miles/week was a big deal, but after a few years, it became the new norm.
I hope that was at least a little helpful! Now I'm going to talk about my own training, because really…who doesn't love to talk about themselves?
Marathon Training, Week 10:
My peak week of training went really well. I ran a track workout on Tuesday 10/9  (8x600m @5k pace w/ 200m recovery), a few 800's on Thursday 10/11, and a 22-miler on Sunday 10/14 with 8 miles at goal Marathon Pace (actual pace for the MP miles was a little quicker – 7:23 average). I ended up with 81 miles total for the week and while it was not super easy, it was definitely do-able. My legs seemed to handle the miles better than past peak weeks (remember what I said about it getting easier??).
Marathon Training, Week 11:
This week was the first week of taper and so far it's been going okay. I'm going to net out with about 53-54 miles which is a bit lower than I would have liked, but I think it will be fine. Most coaches suggest that you run 70-75% of peak mileage during the first week of taper and 54 miles will only be 66% of last week's peak mileage, but in the end…does that little bit matter? I don't think so. I'm running the Runner's World Half Marathon tomorrow, but NOT RACING. The plan is to start off easy and run a TBD amount of marathon pace miles. I'm going to see how I feel, but I'm hoping at least the last 6 or so are at MP (~7:35). After tomorrow's medium-hard effort, I only have a few more workouts planned before race day: a tempo run this coming Thursday (10/25) and some MP miles the Tuesday (10/30) before the big day. I'm continually questioning whether I've done enough, what kind of shape I'm in, if I'm ready…but there's not much more to be done now. You all know the phrase: The hay is in the barn.
Okay, enough running talk! Let's me tell you about what I'm eating during the taper.
1) Birthday cake. This counts as carbo-loading, right? I followed Smitten Kitchen's recipe for the yellow cake and the Savory Sweet Life's recipe for chocolate butter cream. No substitutions. Birthday cake is not a time to mess around with apple sauce and yogurt. Use real butter and sugar.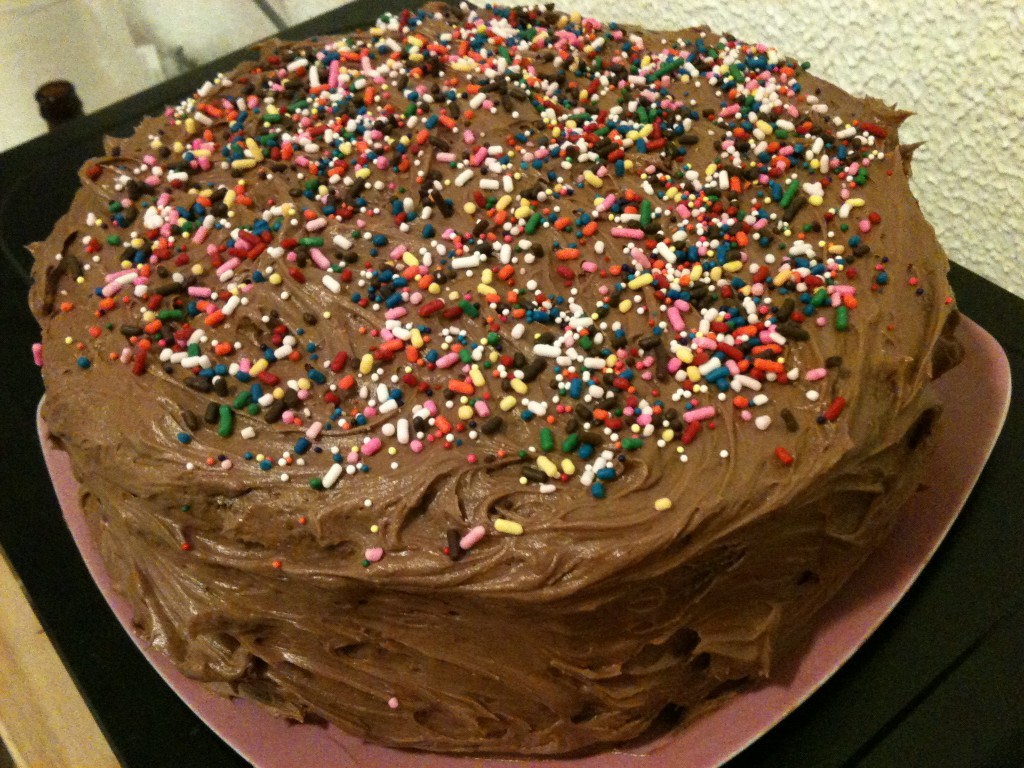 2) Homemade pizza and baked shells. Nothing fancy about this recipes, just a good mix of carbohydrates (pasta/pizza dough), healthy fats (olive oil), veggies (spinach, marinara sauce, peppers and onions), and protein (chicken sausage, low-fat ricotta cheese, fresh mozzarella cheese). The baked shells were based on a recipe from the Kraft website, but slightly modified to include more veggies (yay, spinach, onion, and garlic) and I had to use fat-free ricotta cheese because that's all Trader Joe's had. However, there was so much other delicious cheese in the recipe that I didn't really notice the difference.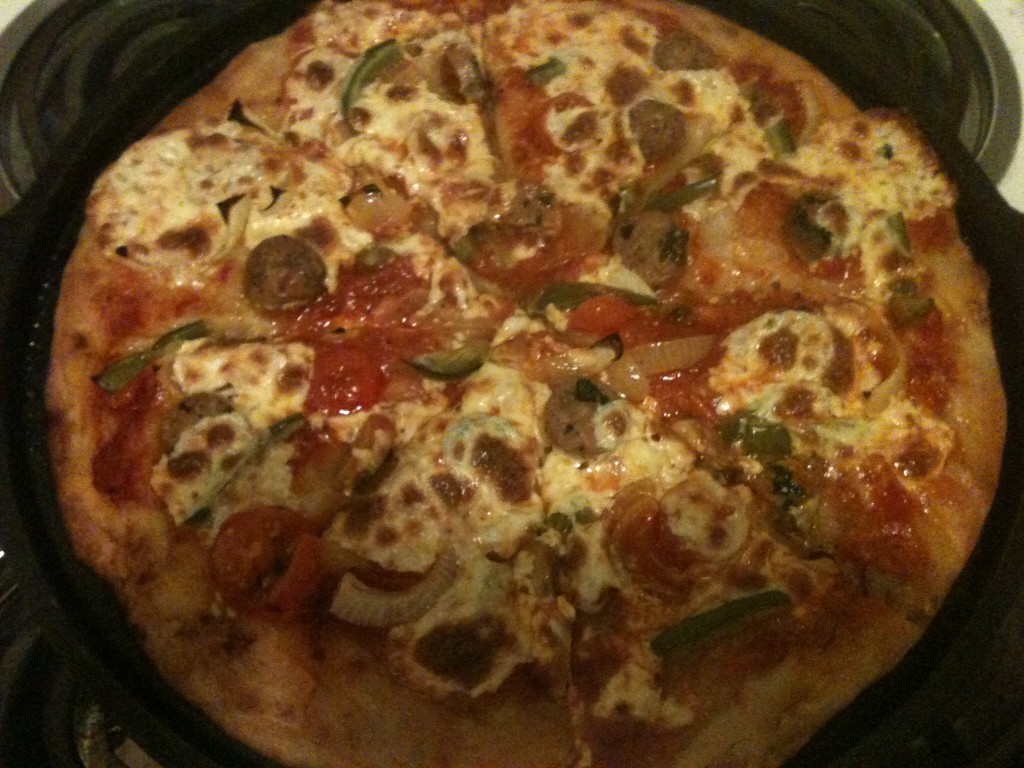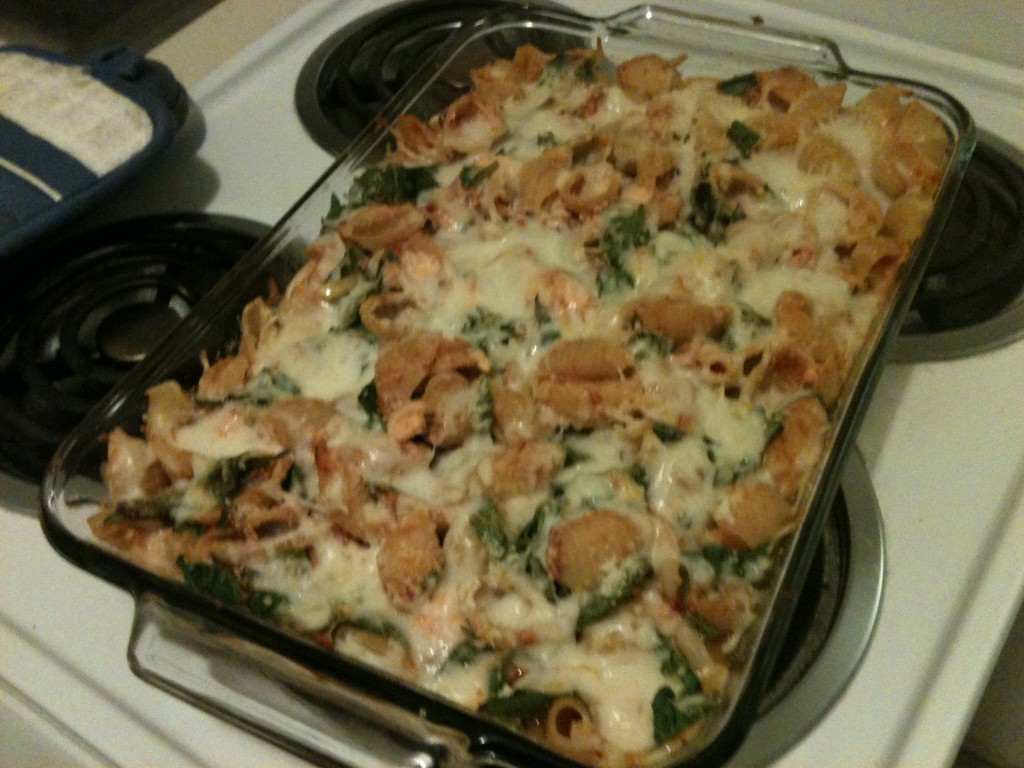 3) Beets and beet juice. I've been getting beets any way I can – bottled beet juice from Whole Foods, beet salad, fresh beet juice from the local health food store. As described by this Runner's World article: "It's one of the very, very few such ergogenic aids that is backed by real science and has been verified in well-designed, ecologically valid performance tests." Good enough for me.
4) Yogurt. I have been craving this like crazy, eating at least 2-3 servings a day. I've always loved Fage (try it with a spoonful of nutella mixed in!), but my latest love is the maple cream top greek yogurt by Brown Cow. Yes, it's full fat, and it is DELICIOUS. I think I might choose it over ice cream occasionally….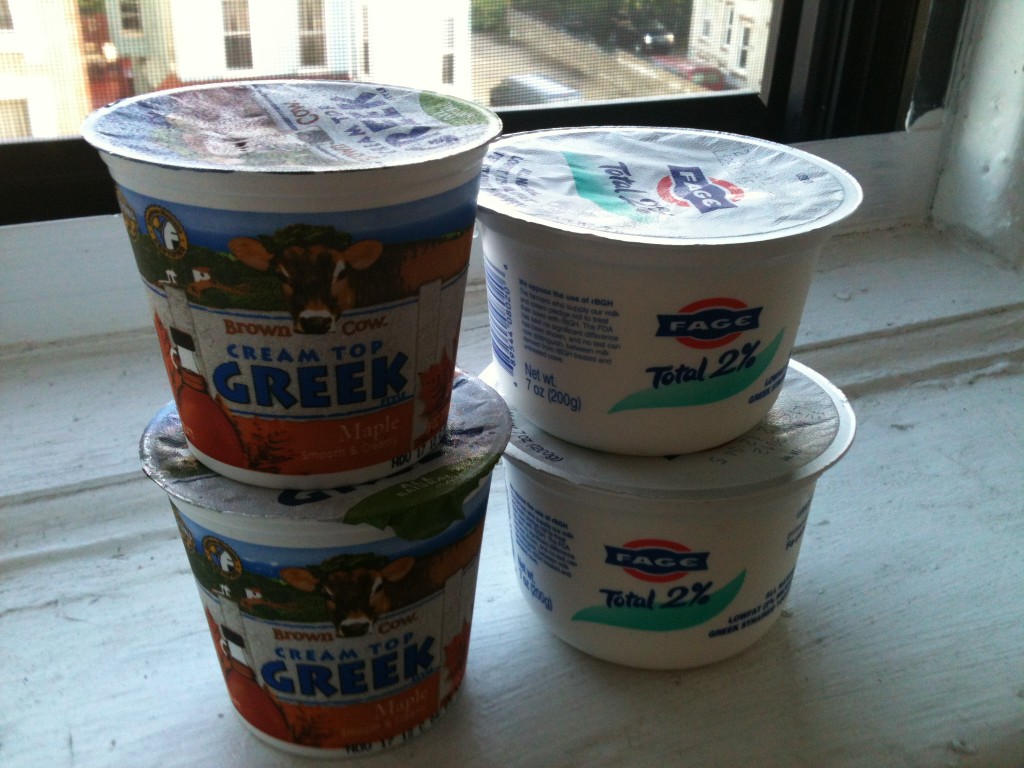 5) Wine. Because it has antioxidants and stuff.  Don't argue with me on this one.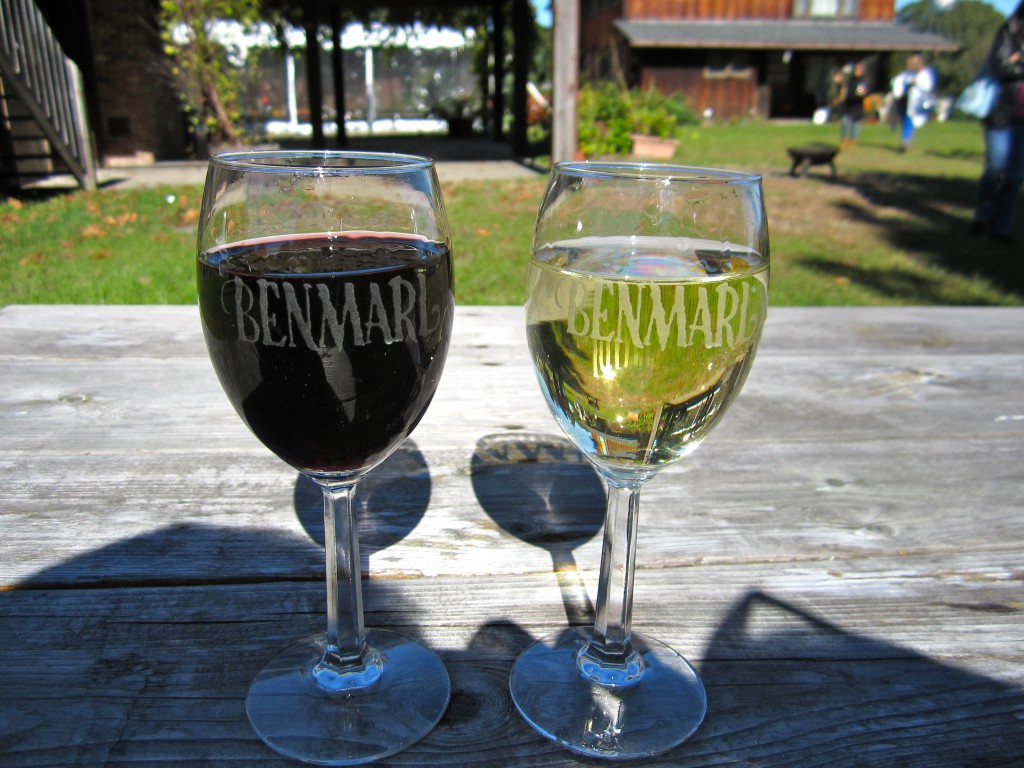 What's your usual race preparation plan? Extra sleep? Beet juice? Visualization? Potatoes, pasta, and bread?