When I'm running this much, I pretty much eat whatever I want. I'm generally a pretty healthy eater, but I definitely won't say no to to a steak sandwich, a burger, or some Ben & Jerry's. That being said, sometimes I recognize the need to eat a little cleaner. This past weekend, I had a little veggie burger dinner party at my apartment. My guest doesn't normally eat veggie burgers, so I wasn't sure how successful dinner was going to be, but Lightlife's garden veggie patties passed the test! The final verdict from the non-vegetarian: "I would definitely eat the rest of the box." Do they taste exactly like a hamburger? Well, no, but I respect that. When I eat a veggie burger…I want it to taste like vegetables and grains, not meat. I really liked that these patties were a little bigger than what I expected from a veggie burger. When I have a 20-miler planned for the next day, the last thing I want is to finish dinner and still be hungry.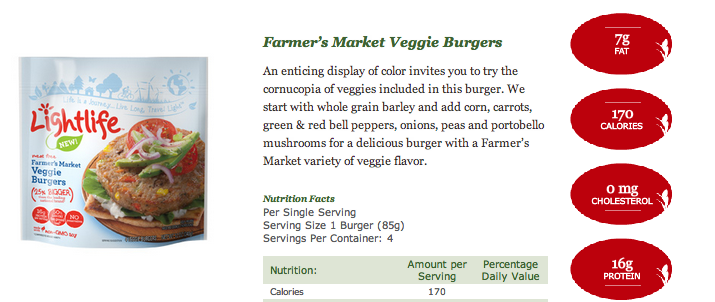 On the menu: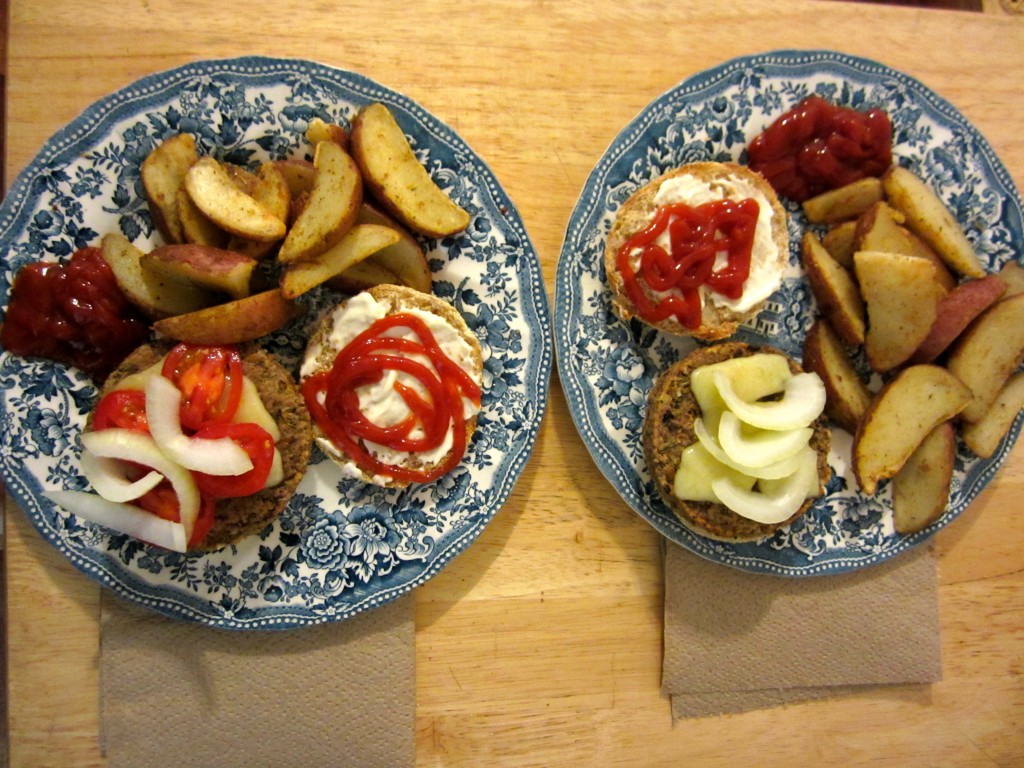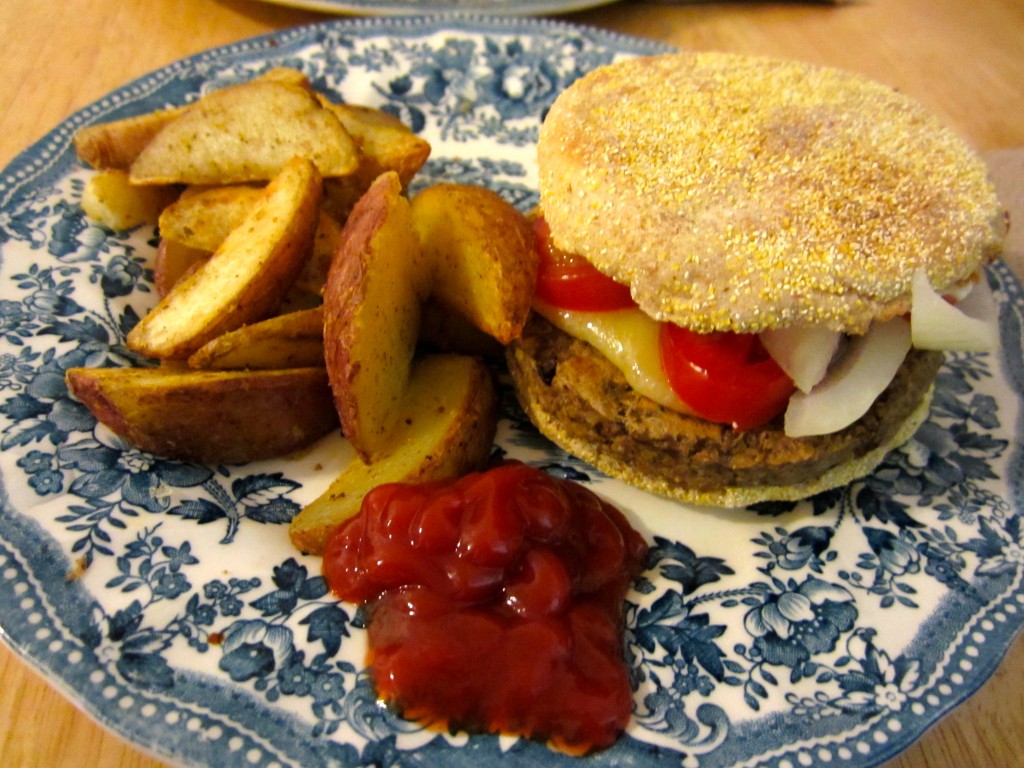 I tried to make this dinner as sustainable as possible by using real dishes (no paper plates) and earth-friendly paper napkins (maybe next time I'll try cloth). Even the music was "recycled" – we listened to the 1970's Motown Dance Party playlist while we ate. I liked this dinner a lot. But let's be honest…I love anything that's a vehicle for ketchup and mayonnaise.
In other news, I ran the Philly Rock 'n Roll half with mixed results. It was no PR, but the time was about what I expected. I trained through the race (no taper), so my legs weren't exactly fresh. Walking around Philly + burger and beer for dinner might not have been the best race prep, but while running is important to me…it's not the only thing that's important to me. I try to keep that in mind as I go through every training cycle. I know what needs to get done: long runs, workouts, getting enough sleep, but I also want to make sure that I'm still enjoying life and spending time with the people I care about. Sometimes that means a few less miles or a less than ideal pre-race dinner, but I'm 100% okay with that. I don't have anything too remarkable to say about Philly…I started out conservatively, picked it up after 5 miles, and pretty much held on from there. I would have loved to finish up with some sub-7:00 miles, but that just wasn't in the cards. I think this was a result of few different factors: my head wasn't completely in the game for this race, my legs were fatigued from the miles I've been putting in, and from a fitness perspective…I'm a bit behind where I was last year. I was feeling a bit disappointed in this year's time, but I have to remember that I've really only been training for 6 weeks or so. I was running 35 miles a week by the end of July (with no workouts)…I've doubled my mileage and stepped up my workout game since then, but fitness gains take time. Hopefully I'll see a noticeable difference 6 weeks from now, you know, on marathon day (!).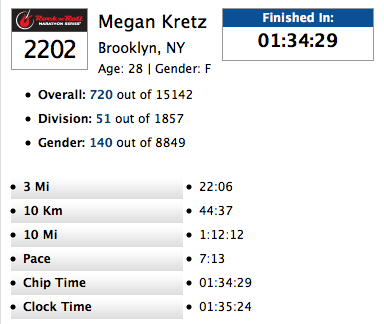 The best parts of the Philly weekend? 1) I did not miss the finish line and 2) I had a Dairy Queen blizzard (there are no NYC locations, fyi).
Do you think this photo is copyrighted or something? Heh.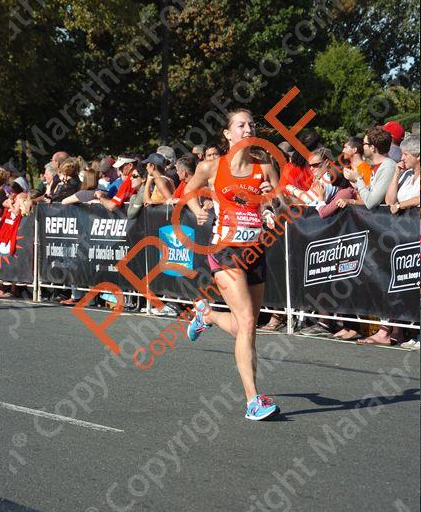 Besides the race, it's been a pretty solid 2 weeks of training. Last week I hit 70 miles for the first time since March and managed to finish a tempo and a 20-miler. I'm not going to say my legs feel fresh, but I think they're absorbing the mileage better than they were just a few weeks ago. I'm really glad I was able to do a 20-miler without too much struggle. I intended on running my first 20 a few weeks ago, but I felt TERRIBLE and ended up only running 17. Meh. The plan is to hover around 70 mpw for a bit, max out around 80 miles, and then finish up with a 3 week taper. You can see my training schedule on google docs (note: it's constantly being revised depending on how I feel, my schedule, etc).
Monday, Sept 17 – 7 miles
Tuesday, Sept 18 – 7 miles
Wednesday, Sept 19 – 10.5 miles
Thursday, Sept 20 – 6 miles a.m., 8.5 miles p.m. including 10k tempo in 44:50.
Friday, Sept 21 – 6 miles
Saturday, Sept 22 – 5 miles
Sunday, Sept 23 – 20 miles
Total: 70 miles
Also, surprise! Tomorrow (Tuesday) is my last day of work. I'm starting a new job on October 1. Ahhh. Apparently 2012 is the year of changes. Needless to say, this last month has been a little nuts.
This has nothing to do with running, but….I'd like to know – what do you think is the best use for ketchup or mayonnaise?
This series is brought to you in partnership with Lightlife, Live long. Travel light. To learn more, click here http://www.lightlife.com.