Remember when I said that I'd blog every Monday? Well…it's Tuesday, but better late than never, right? I'm feeling pretty positive about where my running is headed. Last week I ran 50+ miles for the first time since late March (!) and I felt good. My long run was ridiculously humid, but it didn't feel terrible and I even picked up the pace for the last 3 or so miles.
Last week's recap:
Mon, 8/6 – 4 miles
Tues, 8/7 – 11.5 miles (6 miles in the a.m. w/ 4 miles @MP, 5.5 miles in the p.m.)
Wed, 8/8 – 6.25 miles
Thurs, 8/9 – 5.25 miles (4 x 1k @5-10k pace w/ 400m recovery)
Fri, 8/10 – 6 miles
Sat, 8/11 – 14.5 miles
Sun, 8/12 – 7 miles
Total: 54.5 miles
I hope to keep this week pretty similar – mileage in the low 50's, a tempo run on Thursday, long run on Saturday, and a planned rest day for Sunday. I take fewer rest days than some runners, but I've found that taking one complete day off (no exercise at all) every ~2 weeks or so works better for me than cross-training once a week. You gotta figure out what works, you know?
Anddd I finally figured out my NYCM training plan. You can access the google doc by clicking here.
I think the act of plotting out my mileage and long runs really helped to get me in the training zone. Believe me, it's taken awhile to get here. As training ramps up, I'm trying to pay special attention to getting enough sleep and eating well, but I really struggle with balancing things I want to do (time with friends, happy hours, dinner at fun restaurants) with the things I need to do (sleep, eat well, etc).
I've been trying to do some cooking on Sunday nights to get a jump start on the week. This week I made a variation of something I've made quite a few times before. Usually I make turkey pumpkin chili, but this time I upped the veggies and left out the turkey. I'm not a vegetarian (I just ate a delicious lamb burger last night!), but I try to keep a good balance of non-meat options in my diet. Anyway, you could add whatever vegetables you have laying around to this dish and it would be just as good.
Pumpkin Chili (4 servings)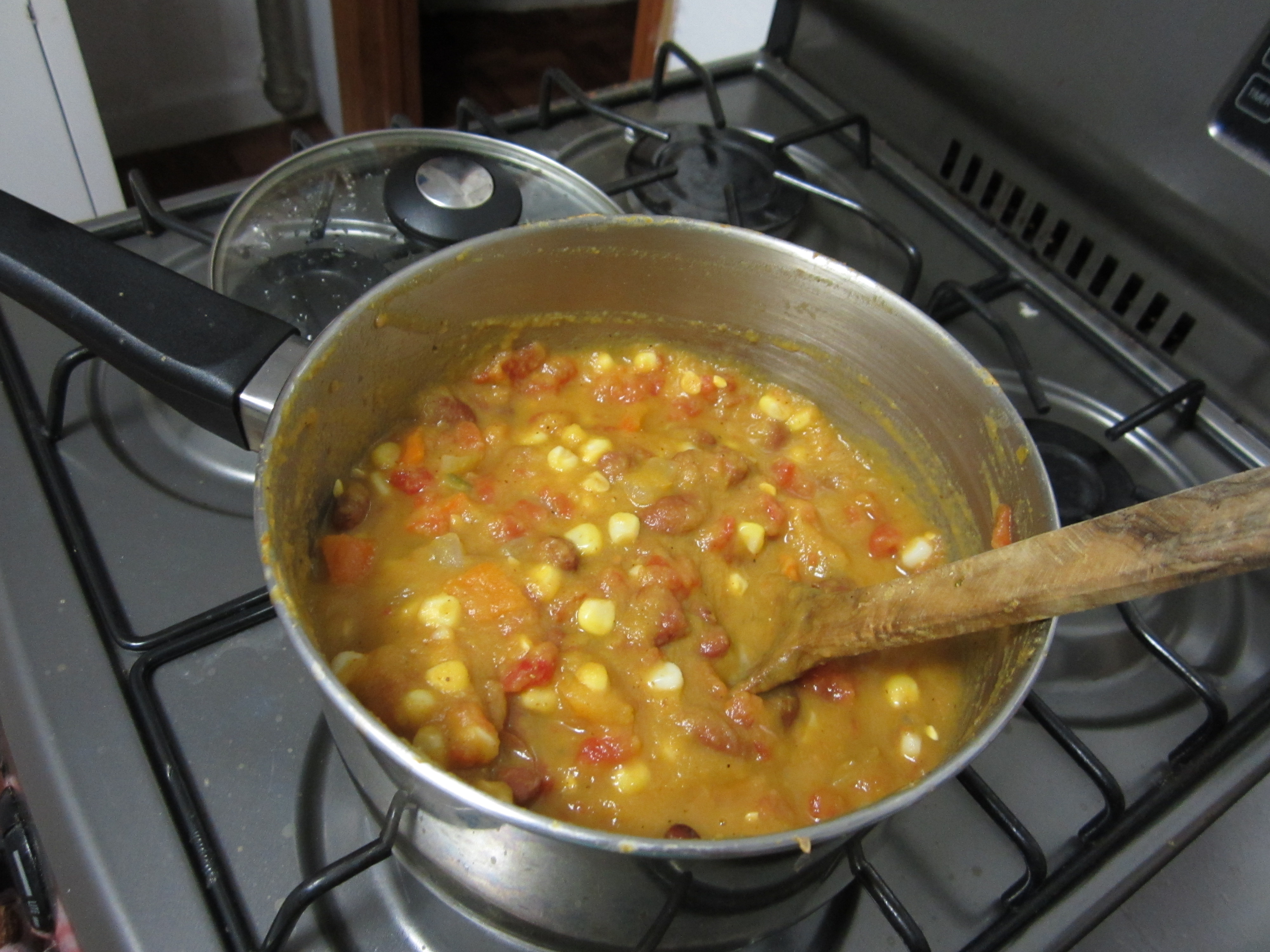 Ingredients:
1 Tbs canola oil
1 onion, chopped
1 bell pepper, chopped
14 oz diced tomatoes
15 oz canned pumpkin
15 oz can of kidney beans, rinsed and drained
1 cup kernels from corn on the cob
1 cup water
1 tsp cumin
1 tsp chili powder
salt and pepper, to taste
Directions:
Heat oil in a medium-large saucepan and sauté the onion and pepper until soft, about 5 minutes.
Add the pumpkin, tomatoes, kidney beans, corn, water, and spices to the pot and bring everything to a simmer. Cover and cook on low-medium heat for about 30 minutes. Don't allow the mixture to boil – you want to make sure it stays at a simmer for the most part.
Serve over cooked rice/pasta or top with shredded cheese and crumbled tortilla chips.
A common problem I have is buying milk and then not drinking it. On Sunday night I had 3 cups of milk that needed to be used ASAP. I thought about making smoothie popsicles, but in the end I thought rice pudding would make a sweet, but wholesome afternoon snack for work. I was a little worried because I've never made this before, but despite a lot of stirring, it was pretty easy.
Homemade Rice Pudding (4 servings)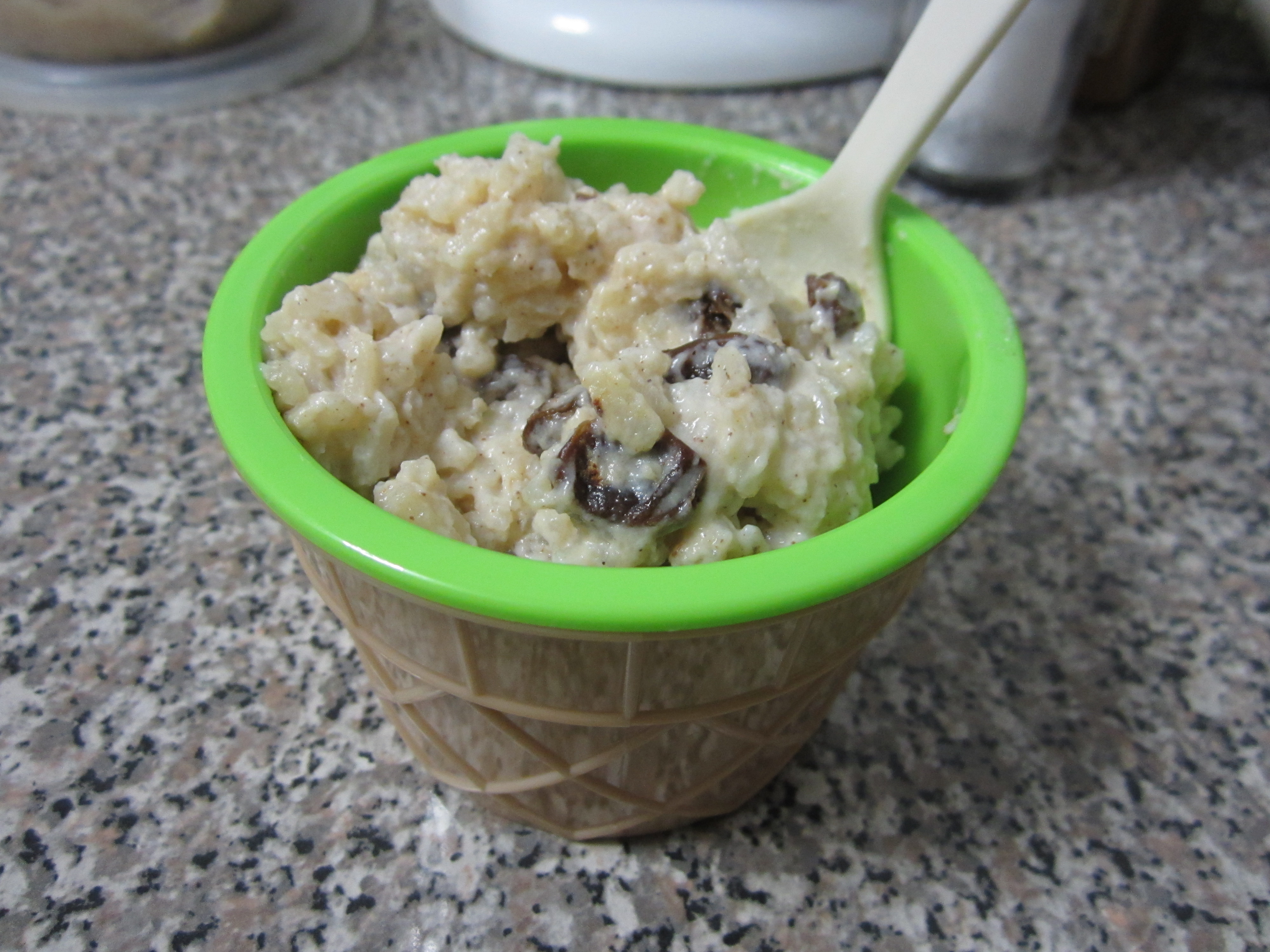 Ingredients:
1 cup water
1/2 cup white rice
dash of salt
2 1/2 cups of whole milk
1/2 cup raisins
1/2 tsp each of cinnamon and vanilla
Directions:
In a medium saucepan, bring water and salt to a boil. Add rice, cover and cook for 15-20 minutes or until water is absorbed. Stir once or twice to make sure the rice doesn't stick to the bottom of the pot.
Keep saucepan over medium heat and add milk and sugar. Allow mixture to simmer for about 30-40 minutes, or until thickened. Make sure to stir often! When the rice mixture reaches your desired consistency, turn off the heat and add cinnamon, vanilla, and raisins.
Serve warm or chilled. Ta-da!
I hate wasting food, but I live alone and I don't have a ton of time to cook. What are your favorite tips for using up ingredients during the week? Any go-to recipes?