Oh hey…summer is ending. And it's still kind of dark when I wake up. But on the bright side – cooler temps and lower humidity!!! It makes running at least 48x more pleasant.
Assuming things go as planned, this will be by third week at 60+ miles and I'm feelin' good. I still don't know exactly what kind of shape I'm in, but I'm certainly in a better spot than I was a month ago. However, when I realized there is just over 2 weeks until the Philly Rock 'n Roll Half-Marathon..I panicked. Running 7:00-7:10 pace for ONE mile does not feel comfortable to me and the thought of doing that for 13.1 miles is really overwhelming. I'm trying to chill out and do the best I can in the remaining 17 days. I have a decent mileage base, so I just need to be really diligent about workouts. Speaking of which…I've had two encouraging workouts in the past week.
I feel like these workouts would work really well for both half-marathon and full-marathon training, so if you're looking for some new ideas, try 'em out! Note: I usually do 1-2 miles of each warm-up and cool-down depending on how I feel and time constraints.
Progression Tempo Run
I left work a little late and missed the team workout, so I did this one on my own, on the treadmill. Not ideal conditions, but it helped me practice maintaining mental focus. I liked breaking it down into 1.5 mile chunks because, as I mentioned before, sometimes a big workout can seem daunting at first.
The workout was 6 miles of continuous running, but I dropped the pace every 1.5 miles. Here's what I did:
1.5 miles @ ~7:40/mile (approximately marathon pace)
1.5 miles @ ~7:30/mile
1.5 miles @ ~7:18/mile
1.5 miles @ ~7:08/mile (approximately half-marathon pace)
Total: 6 miles in 44:20 (~7:24 pace)
Ladder Track Workout
Repeats were to start out at 5k pace and then get faster on the way down the ladder. 400m recovery for all repeats except for the first 400m (200m recovery).
400m – 93 seconds
800m – 3:14
1200m – 4:55
1200m – 4:50
800m – 3:06 (I *think* this is right, but it might have ben a second or two slower)
400m – 89 seconds
I wasn't breaking any world records or anything, but this was a solid workout for me, especially considering how much I didn't want to do it at the start. After a long day at work, I just felt so sluggish and tired, running fast was the last thing I wanted to do. I told myself that I had to go and do at least half and if I felt bad, I could stop. But that's the thing about running – starting is the hardest part. Once you get out there, finishing it isn't so difficult. For me, it's all about breaking runs and workouts down into bite size pieces and not overwhelming myself with expectations.
In mostly unrelated news, I've been eating a lot of meat lately. I've never been completely vegetarian, but for the past 6 years or so, I really only ate meat 1-2x a week. Well, last weekend very much deviated from the norm. A burger with fried egg (!) on Friday, a post-long run BLT on Saturday, a French Dip sandwich on Saturday night, and Short Ribs eggs benedict on Sunday morning. Give me all that protein and iron, please! There wasn't really a point to this paragraph other than to say…it was all delicious. And don't worry vegetables, I still love you.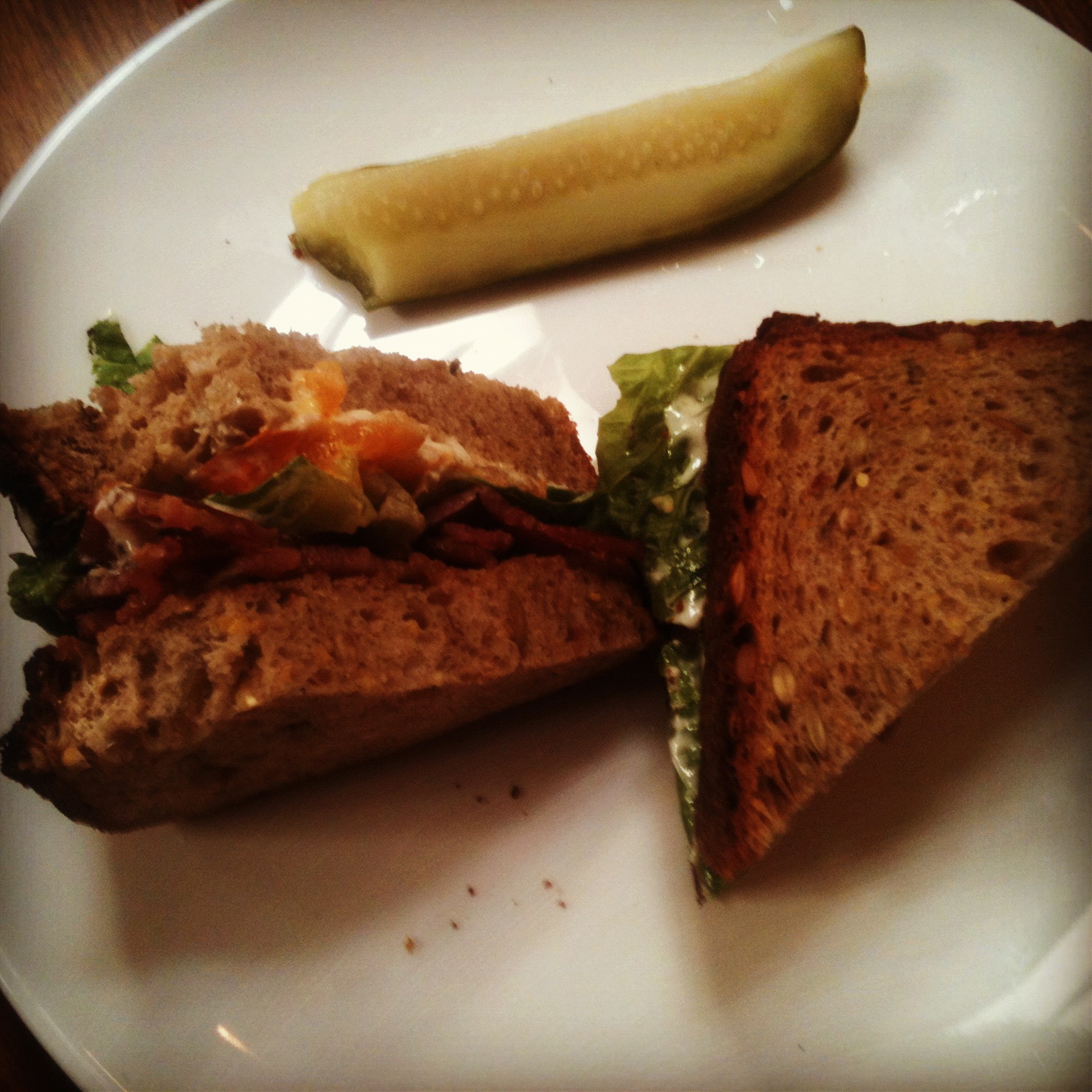 For accountability's sake, here's last week's recap:
Monday, Aug 20 – 8.25 miles
Tuesday, Aug 21 – 6.25 miles
Wednesday, Aug 22 – 10 miles
Thursday, Aug 23 – 4.25 miles a.m. and 9.25 miles in the p.m. including a 6 mile tempo.
Friday, Aug 24 – Rest Day. The best thing ever.
Saturday, Aug 25 – 18 miles at 9:00 pace, felt slow and longggg.
Sunday, Aug 26 – 4 miles and my legs were TIRED.
Total: 60 miles
And then this week (so far):
Monday, Aug 27 – 4 miles
Tuesday, Aug 28 – 6 miles a.m., 8.25 miles p.m. including track workout
Wednesday, Aug 29 – 9.25 miles
Thursday, Aug 30 – 8 miles
Friday, Aug 31- 6 miles
Saturday, Sept 1 – 10.5 miles including a 10k race. Because even though I LOATHE 10ks, it will make me better.
Sunday, Sept 2 – 10 miles [Planned]
Total: 62 miles
In other news….the blog quietly turned 4 years old on Monday, August 27. I can't believe I've been doing this for that long! Unfortunately I accidentally deleted the file that held all the photos from 2008, soooo sorry about that, but you can still read my first post. Man, I really hope I've improved since then…
And if you're interested, you can read some of my all-time favorite posts. They're kind of entertaining and you can pretty much stalk the previous four years of my life. Yeah, you're welcome.
Year 1
Training for the Boston Marathon – Spring 2009
Summer 2009
Year 2
Returning from injury – Fall & Winter 2009/2010
Half-marathon training – Spring 2010
Summer Marathon training 2010
Year 3
 A lot of things happened this year, but I'm going to highlight the two most important:
Year 4
You know that sweet one-shoulder sports bra that I have? The company that sells it is a having a workout shorts giveaway on their FB page. The shorts are even featured on the cover of this month's Fitness Magazine! The giveaway is open to US residents only and it will end on September 13, 2012. Everyone could use another pair of workout booty shorts.
And before I go….What was the best thing (only one!!) that has happened to you in the past four years? If you tell me it was eating ice cream for breakfast this morning, that's acceptable.