I'm back! It's only in the past month or so that I've felt like my running has finally become semi-interesting to talk about. To recap: On April 16, I ran the Boston marathon. It was very hot. I ran about 20 minutes slower than I would have liked. I took a week off of exercise completely and then ran a relay around lake Seneca with Team Vodka Heist. From there….no scheduled training of any kind until July 1. I ran two races in early June, but I wasn't in training mode yet. Now I am. A few weeks ago I decided it was time to get my act together and bump up the mileage. Here's how it's gone down:
July 2-July 8: 31 mi
July 9-July 15: 37 mi
July 16-July 22: 44 miles
July 23-July 29: 37 miles
July 30-August 5: 42 miles
I'm shooting for somewhere between 45-50 miles this week, with this tentative schedule:
Monday: 4 miles
Tuesday: 6.75 miles a.m. (including 4 miles at marathon pace), 5.25 miles p.m.
Wednesday: 7 miles
Thursday: 7 miles (including some track work at E. 6th street)
Friday: 6 miles
Saturday: 14 miles
Sunday: Rest Day or 4-5 easy miles, depending on how I feel
I've been having a tough time getting myself to team track workouts and tempo runs and I'd like to be able to blame it on work, but in reality I just haven't made it a priority. The weather hasn't been ideal, so drinking margaritas or watching Mad Men in my air conditioned bedroom have been a lot more interesting. I've always been pretty good about mileage, but workouts…not so much. Anyway, for the past two weeks I've run a race on Saturday morning – a 5k on July 28 and 5-miler on August 4. It was hot, I was slow, and I felt pretty terrible, BUT signing up for a race and paying $$ ensured that I got a tough workout, so it was worth it.
As you may have noticed I've been more than a little MIA from this blog and running in general. It's tough not to feel discouraged when I compare my current fitness with my 2010 workout and race performances (hint: I was running faster two years ago). However, I'm trying to look at the big picture. Two years ago, I worked 10-15 hours less per week, I wasn't dating anyone, and training for the marathon was probably my number one focus. Things are different now and there are some things that I'm not willing to compromise on. It's taken me a long time to realize that a race or workout performance is not necessarily a reflection of my self-worth. 90% of how fast I run or how well I race is simply a culmination of how many miles and workouts I've completed. Sometimes I'm able to do more, sometimes I'm able to do less.  My training is far from perfect, but that means there's always something to strive for, and I'm trying. This was basically a drawn out way of saying…I still feel out of shape, but…I'm getting there and I'm going to do the best I can to get to the NYCM starting line on Nov 4 without losing my job, my friends, or my sanity. T-minus 12 weeks! I hope to have a rough draft of my training schedule hammered out and posted on the blog soon. Stay tuned.
Summer 2012 has treated me pretty well so far. I wouldn't consider myself a particularly uptight or type-A person, but I love to plan things. And what this usually means is…I schedule myself down to the minute. Work events, running, classes at the gym, happy hours with friends, dinners out…sometimes I feel like I don't give myself enough time to put away my laundry. Or, you know…sleep. Anyway, I'm trying to be better about saying no to things that I don't 110% want to do. This is really difficult for me because I hate disappointing anyone, but it has to happen. Anyway, it's no secret that the best plans allow me to multi task. Happy hour is fine, but a run or a pilates class with a friend serves two purposes – exercise AND social time. Win-win. A few weeks ago, I was able to combine friend-time and oft-neglected strength training by participating in a pilates class taught by my friend and Purely Elizabeth ambassador, Dani. Pilates and core work don't often make their way into my schedule, but I had a really great time at this event. More please!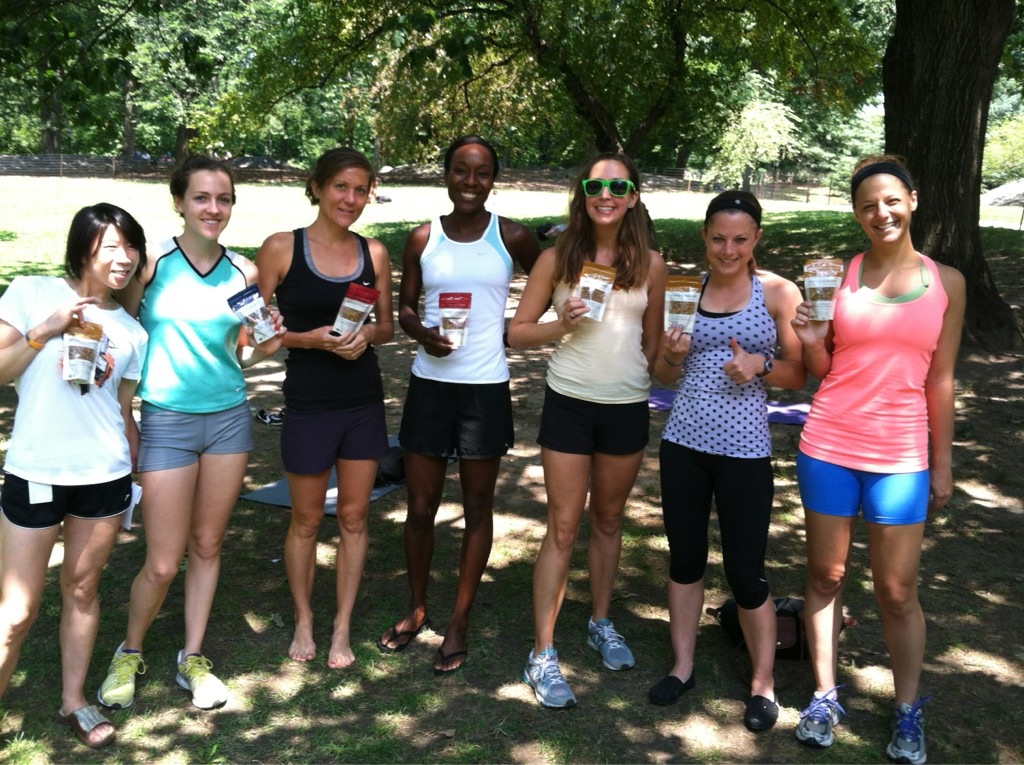 Also, I didn't realize how goofy I look in my sunglasses until I saw this photo. That doesn't mean I'm going to stop wearing them though.
Usually my race photos are pretty terrible (gravity does NO favors to runners…unless maybe you're an elite), but I actually kind of like the photo that NYRR snapped at this past weekend's race. I look like I'm running a lot more intensely than 7:20 pace, which let's be honest felt 10x more difficult than it should have. Someday soon I want to run a race that will actually be worthy of such an intense look. I'm signed up for the Rock 'n Roll Philly Half Marathon in September, so hopefully I can pull things together by then.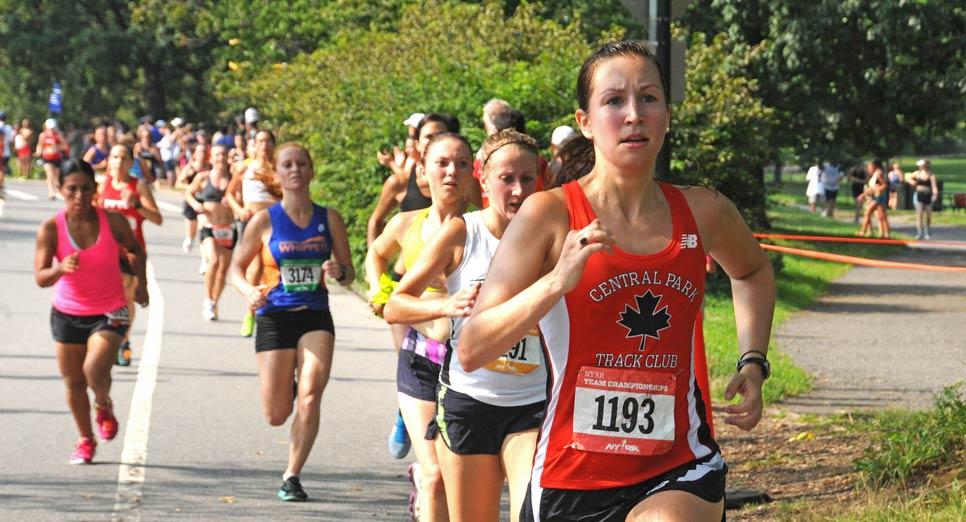 Despite the sauna-like conditions of my top floor apartment, I've been trying to cook a bit. Although 9 times out of 10, it's more assembly than cooking: grilled cheese, salads, scrambled eggs, tomato sandwiches, nothing too fancy. Every once in awhile though, I step up my game.
I had some leftover cream cheese that made its way into these brownies. They were delicious. Make them.
Red Velvet Cheesecake Brownies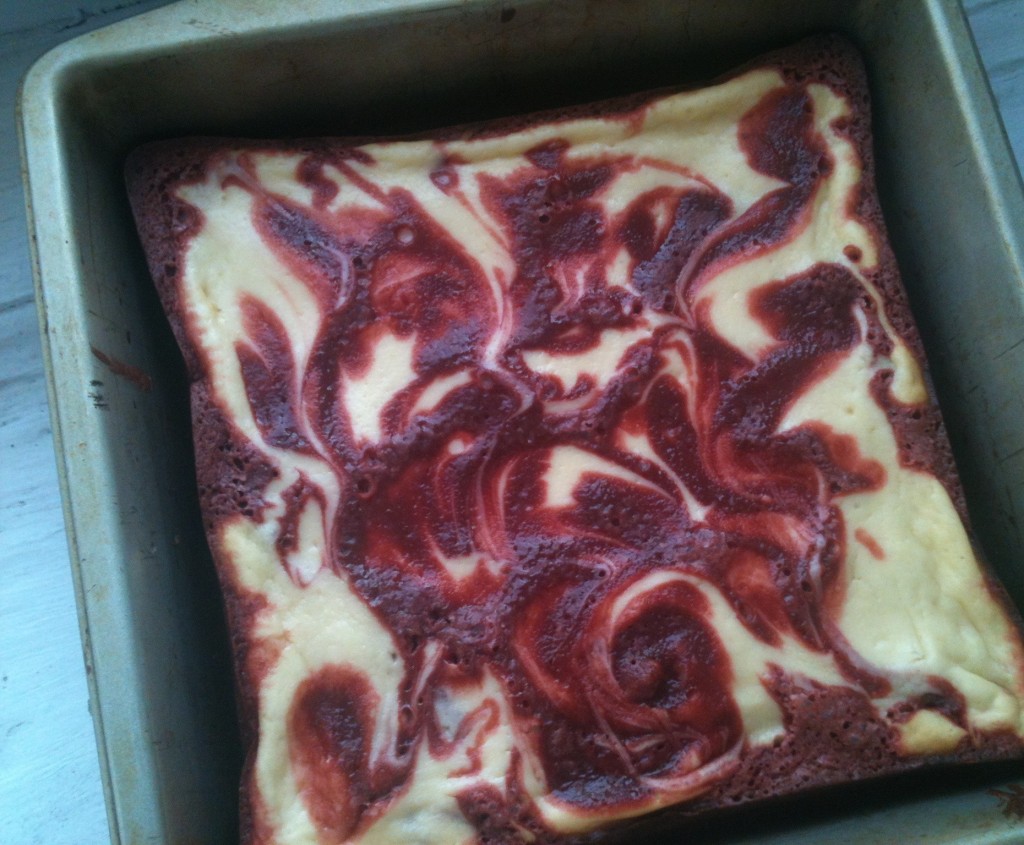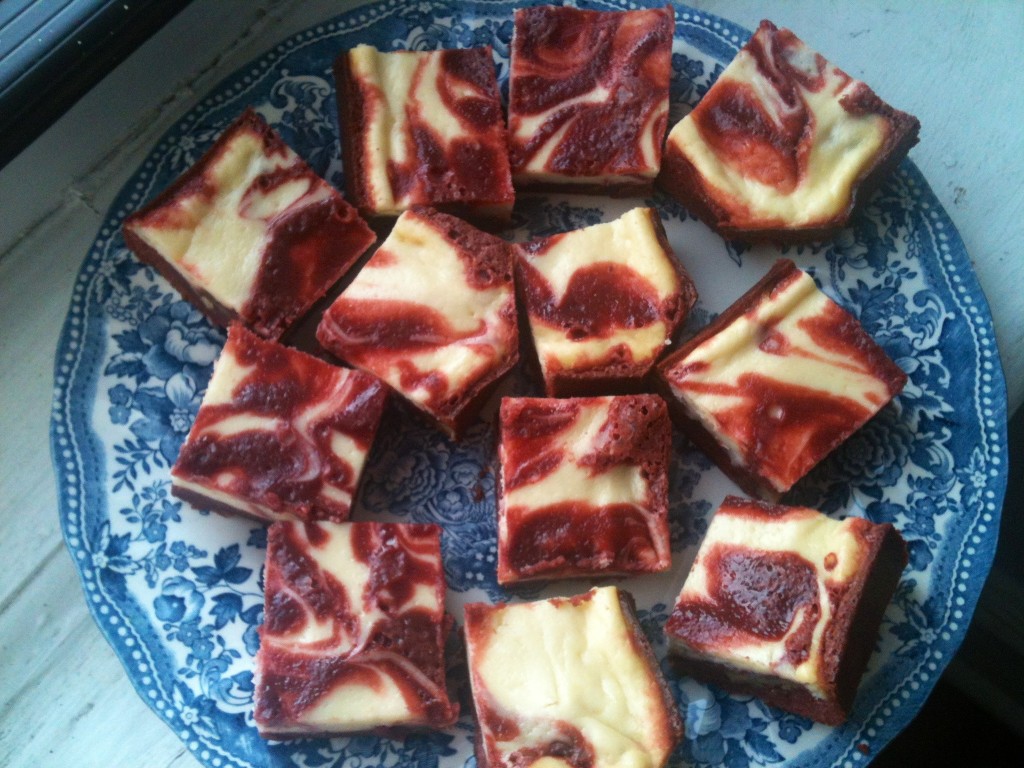 Ingredients:
For brownie layer:
1 stick butter (I used salted)
1 cup sugar
1 teaspoon vanilla extract
1/3 cup cocoa powder
1 tablespoon red food coloring
1 teaspoon white vinegar
2 eggs
3/4 cup whole wheat flour
1/3 cup walnuts, chopped
For cream cheese layer:
8 ounces softened cream cheese
1/4 cup sugar
1 egg
splash of vanilla extract
Directions:
Preheat the oven to 350 degrees F and spray a 8″x8″ pan with cooking spray.
Brownie layer: In a large microwave safe bowl, melt the butter (about a minute on high). Add the sugar, vanilla, cocoa powder, salt, food coloring, and vinegar to the melted butter, stirring after each addition. Crack the eggs into a small bowl, whisk lightly, and then add to cocoa mixture. Use a wooden spoon to gently fold in the flour until just combined. Stir in the walnuts and reserve about 1/2 cup of the batter for later. Pour the remaining batter in the pan.
Cream cheese layer: Blend together the cream cheese, sugar, egg, and vanilla in a medium bowl.  Dollop cream cheese layer as evenly as you can over the brownie layer and then pour the remaining brownie batter over the cream cheese layer. Use a butter knife to create swirls (make sure the knife goes all the way to the bottom of the pan). Bake the brownies for 30 minutes and then allow to cool completely. I popped my brownies in the freezer for a few minutes to firm them up and make them easier to cut.
Sometimes it's too hot to cook…so dinner = wine and a cheese plate. As long as there's fruit, it's healthy. Right?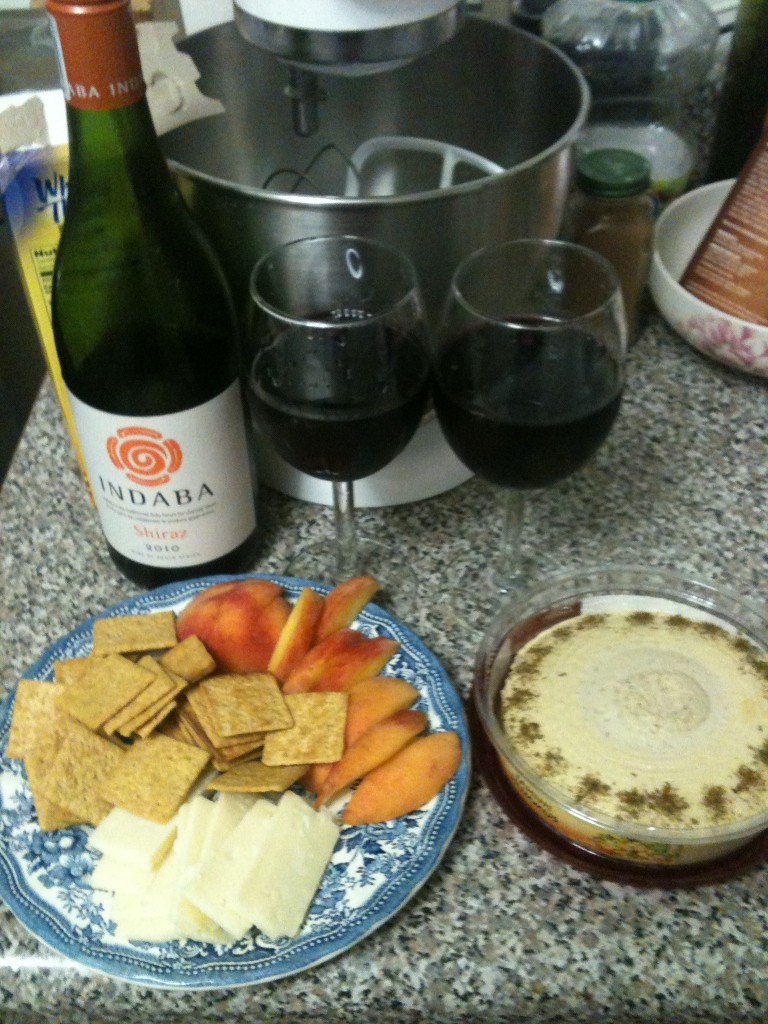 Speaking of healthy, baked goods with vegetables are 100% appropriate for breakfast. I mean, this chocolate chip zucchini bread included a giant shredded zucchini, dark chocolate, whole wheat flour, and organic eggs. What more could you want?? It was based on this Brown Eyed Baker recipe although I used whole wheat flour and used 1/4 cup canola oil and 1/4 cup greek yogurt instead of 1/2 cup oil. Usually, I make recipes as-is (mmm, butter), but I've found that quick breads hold up very well to healthy substitutions and since I was eating this for breakfast anyway….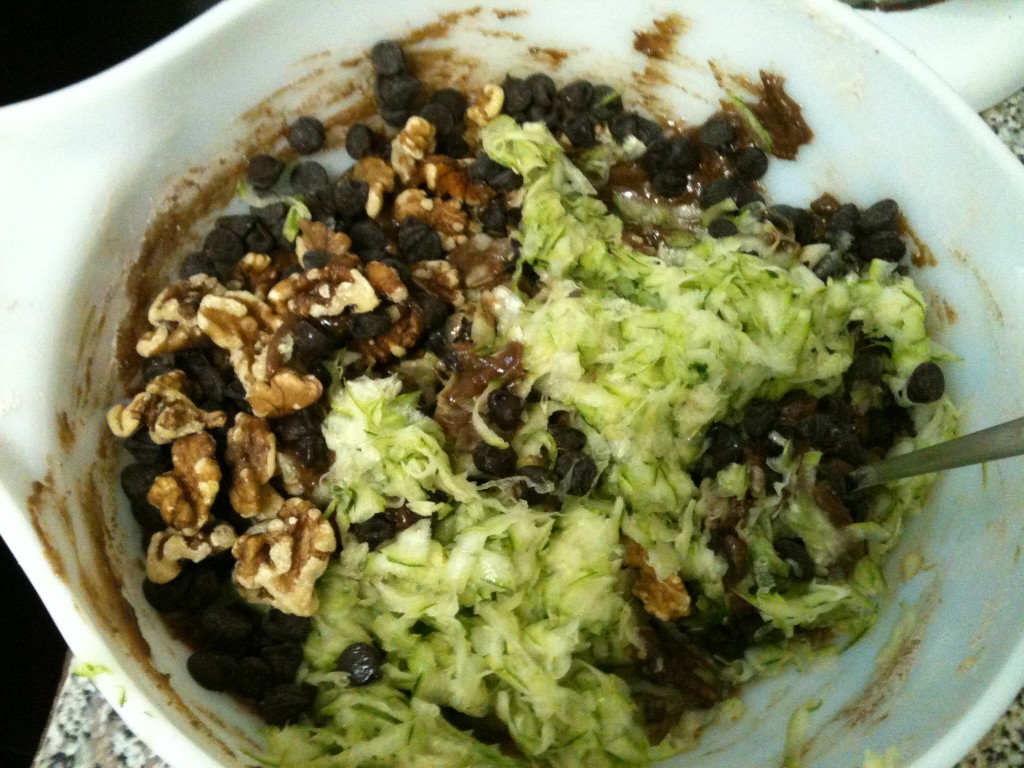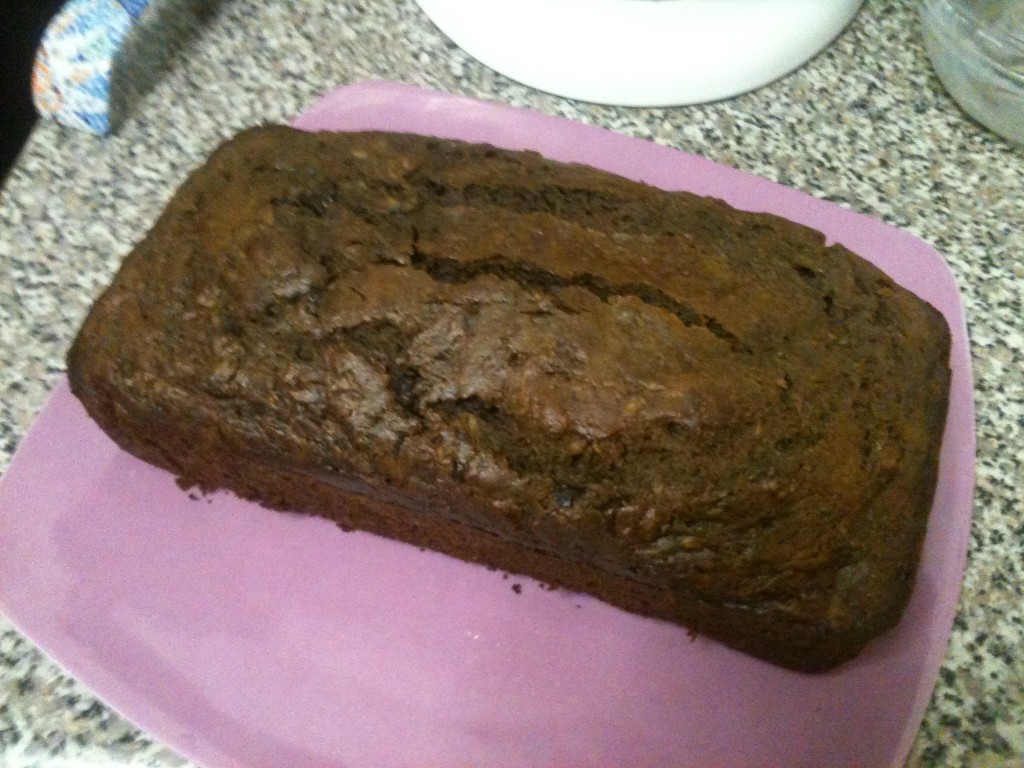 And I guess when I said I've been cooking…I mostly mean baking. Yesterday I got the sudden urge to bake a pie from scratch. In hindsight, baking a pie at 400 F for over an hour in August may have been a questionable decision. I took it out of the oven pretty late and haven't tasted it yet, but I have high hopes.
Peach and Tart Cherry Pie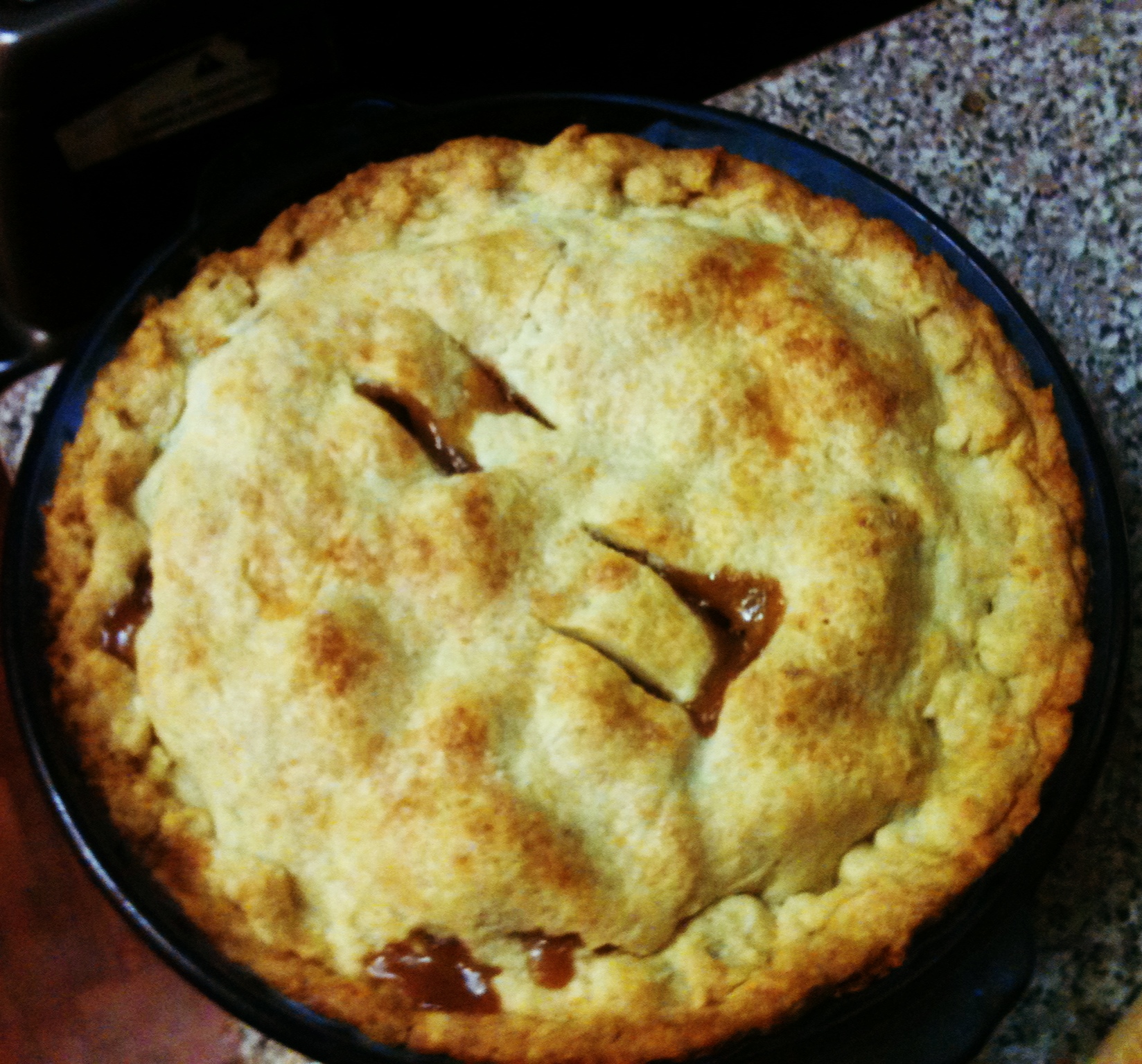 Ingredients:
For crust:
2 1/2 cups all-purpose flour
1.5 Tbs sugar
1/2 tsp salt
1 stick butter (I used salted), chilled and cut into 1″ pieces
2/3 cup vegetable shortening (Spectrum makes a no trans-fat version)
1/2 cup (or more) ice water
For filling:
5 large peaches, peeled and sliced
2/3 cup dried tart cherries
1/4 cup all-purpose flour
1/2 cup granulated sugar
1/4 unpacked brown sugar
tsp cinnamon
milk (or cream) and extra sugar for sprinkling on top
Directions:
Preheat oven to 400 F. Combine flour, sugar, and salt for pie crust in a bowl. Use a pastry blender, two forks, or your fingers (my preferred method) to cut in the butter and shortening until pea-size crumbs form. Pour the ice water over the flour mixture and work it in until dough comes together. Divide in to two disks, wrap in plastic, and refrigerate for at least 30 minutes.
Combine peaches, cherries, flour, sugar, and cinnamon in a large bowl. Toss lightly. When dough is ready, roll out two 9″ circles, about 1/2″ thickness. Carefully place one circle on the bottom of pie pie plate and smooth up the sides. Add in peach mixture, mounding slightly in the middle. Carefully add top crust and crimp the edges together. Brush lightly with milk or cream and sprinkle on additional sugar. Cut four slits in the top crust to allow heat to escape. Bake for 45 minutes and then add a foil collar around the crust to prevent over-browning. Bake for another 25-30 minutes, until pie filling bubbles thickly and top crust is golden brown. Cool for at least one hour and top with vanilla ice cream. Yay, summer.
In a final piece of news, I'm participating in the Oikos Frozen Greek Yogurt Decathlon. Through midnight tonight (August 6), head on over and vote for my flavor (Peach Mango) and you'll receive a $1 off coupon plus the chance to win some other sweet prizes.
Alright, that's enough for now, but here's what I promise – from now until NYCM I'm going to blog every Monday. I need to do it to keep me accountable, to figure out what works (and what doesn't), and also…because I miss rambling on about running and recipes. Sound good?
So tell me….what are you training for? And how are you surviving the summer heat?