After 8 years of cross country and track races, I made the move to road racing. Five years later, it's still my favorite terrain. I love the smooth, flat pavement under my feet – no roots or mud or grass to contend with, but every once in awhile I take it off road. I know the softer surface is good for my bones and joints (at least until the next scientific study claims otherwise) and the uneven trail terrain challenges my muscles in a way that the roads don't. So for the second year in a row, I found myself on the starting line of the Clinch River 5.5k in St. Paul, VA. My dad lives about 30 minutes away, so I timed my visit to coincide with the race. Family time + race = multi-tasking!
I always have a good challenge when I run in this area. Most places are at 2,000 feet elevation (4k in the mountains) and even though that's not much, I can definitely notice the difference. I'm pretty sure I was sucking wind during every mile that I ran.
It's beautiful though!

Anyway, back to the start of the race – it's small, but very well-organized (hi Joyce!) and we really lucked out with the weather this year. It was sunny and in the high 60's at the 5pm start. However, I've made it no secret that I'm not in very good shape right now and I've been complaining to anyone who will listen. It's not really a big deal…I needed the post-marathon break, but I also don't want to embarrass myself, you know?
The gun went off and many runners started off quickly. I knew that most of them would fall back after a bit, so I tried to stay relaxed. The race starts off with a small downhill and then enters the trail. The trail is a technical single-track for the first mile….and then straight up the side of the mountain. I was the first female until about mile 1 when I was passed by another woman. She gapped me by about 20 seconds in the second mile, but I was able to take the lead again shortly after mile 3. Time and pace are sort of irrelevant on the trails, so it was nice to actually race someone. It reminded me that I have a competitive side! I finished in 28:36 which is more than a minute faster than last year's 29:55. The time wasn't that fast, but considering the terrain, I felt like it was a good effort. And I got a sweet trophy and a prize for being the first female!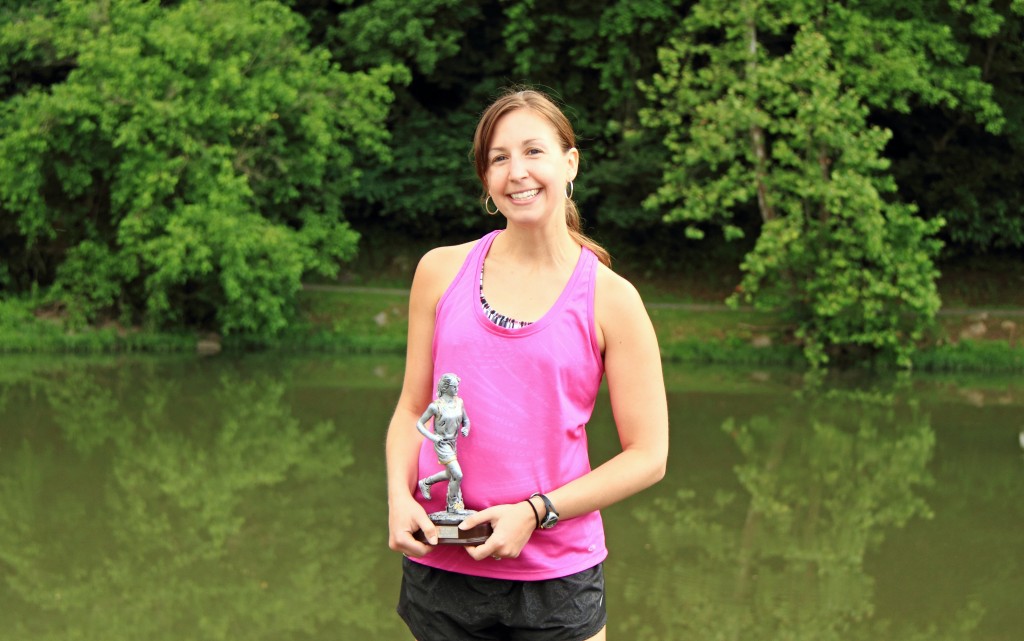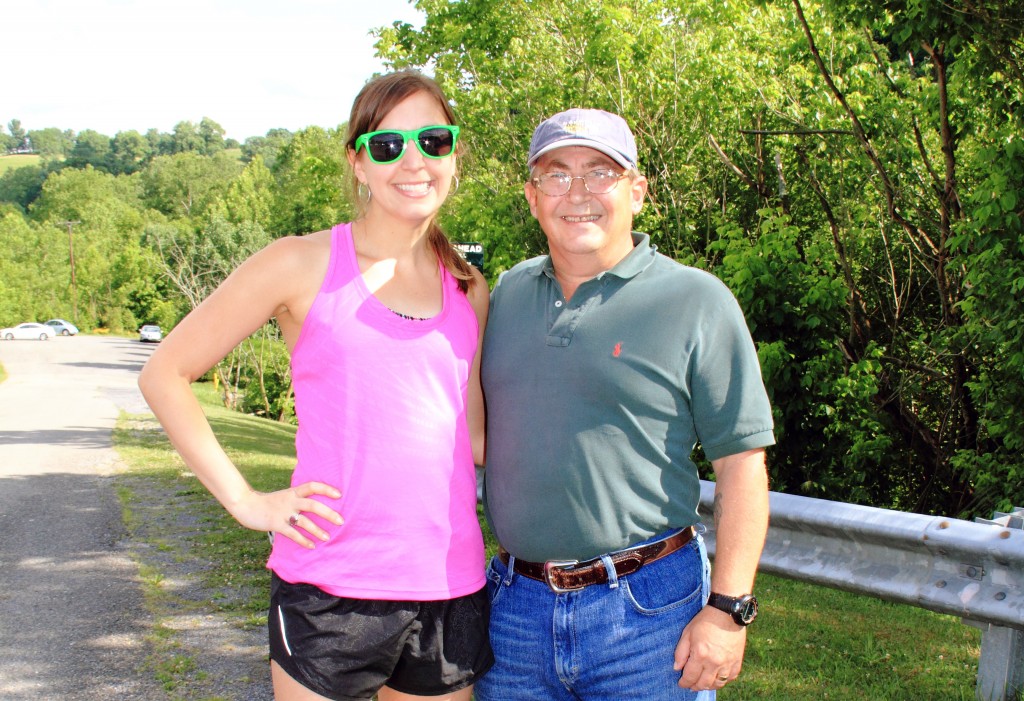 Once I returned to NYC, I had to start thinking about my next race- the mini 10k. I've only run 6+ miles a few times since Boston and besides the trail race, no hard efforts. I went back and forth on my decision to run the NYRR mini 10k…on one hand it would be a good workout, but on the other hand….would racing at this point really do me any good? I came up with a bunch of excuses…I have to do work, I don't want to wake up early, my knee hurts…but in the end I decided to just suck it up and get on the starting line. Was I slow? Yes. Did it hurt? Absolutely. Did it make me realize how much fitness I've lost? Yes, again. I ran hard, but I just don't have the endurance or speed to run a good 10k right now. I finished in 45:26 (7:18 pace), which is a bit demoralizing, but the only way from here is up, right? Sometimes I think you need something to shock your system and get you motivated again. My two month break was fun, but now it's time to start eating a little better, cut back on the happy hours, and start building up mileage in preparation for the fall. I'd like to be running 40 mpw a month from now and 50 mpw by mid to late August. I don't know if I mentioned it, but I'm registered for the NYC marathon in November. I don't usually like to run two marathons in a year, but it's only getting harder to enter this race, so this might be my last chance.
In the 2 weeks since the mini, I've made a concerted effort to step up my running game. Last week, I hit 30 miles for the first time since early April, so I was pumped about that. I also hit the track for a speed workout. That was…interesting. It was already 81 degrees at 5:30am, so I knew it wasn't going to be pretty, but what doesn't kill you, makes you stronger, right? After a 3 mile warm-up to the McCarren Park track, I met up with my running buddy Marie for some intervals. I was SLOW and I had to modify the workout a bit, but at least I got out there.
3 mi warm-up
3 x 400m at goal 5k pace (6:20) w/ 200m recovery
800m at goal 5k pace (was supposed to be a mile, hah!)
3 x 300m at goal 5k pace w/ 200m recovery
1/2 mile cool-down
My legs were toast after this workout and as I was taking the L train into Union Square (I showered at my gym and then headed to the office), I thought I was going to throw up/pass out. Running is so fun. I hope next time hurts less.
The goal for the next few weeks is to hover around 30-35 mpw and add in some fast stuff 1-2x week. Hopefully, I'll have a more concrete marathon training plan by August.
In the kitchen, it's been a little boring…I just haven't had time to cook (or blog…sorry!). However, I did make two things recently that I'm pretty proud of-
1) Asian peanut noodles – this is a tried and true recipe for the summer months. My CSA season has begun, so it's a good way to use veggies. I followed my usual recipe and added sautéed bok choy, sugar snap peas, scallions, and cilantro to the mix.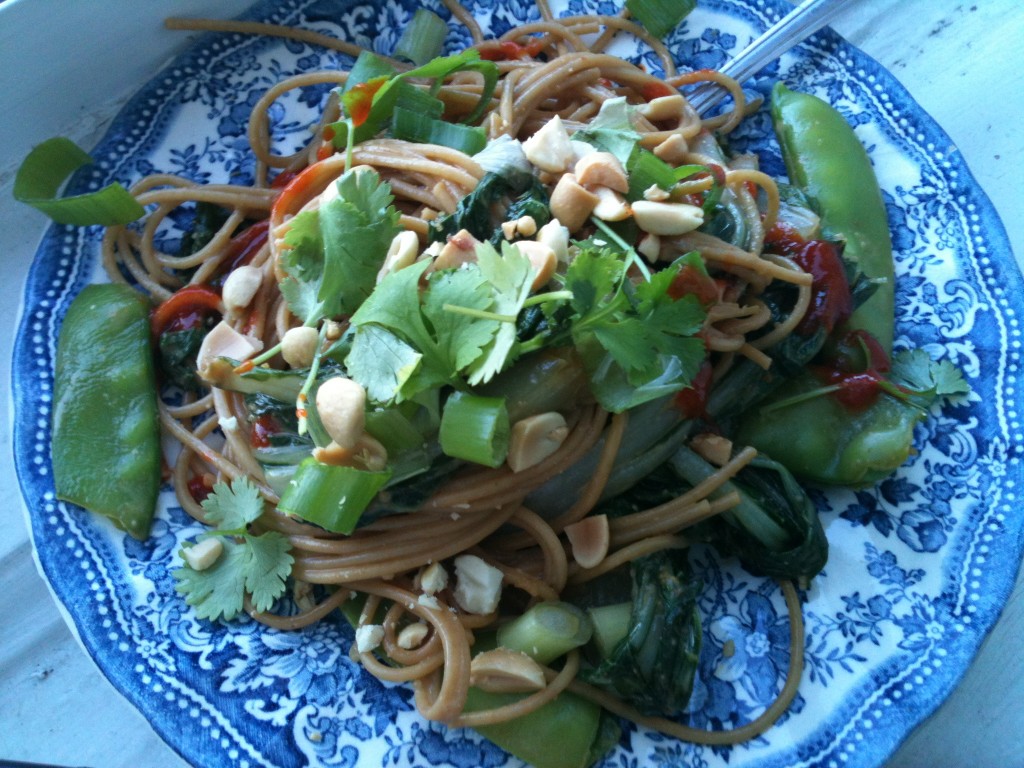 2) Open-faced pesto chicken melt – I needed to use up some garlic scrapes and arugula, so I made pesto.
3 roasted garlic scapes
1 bunch of arugula
1/4 cup grated parmigiano-reggiano
Handful of walnuts
2-4 Tbs warm water
2-4 Tbs EVOO (use your judgement, depending on desired texture)
Salt and pepper to taste
I just put everything in my blender (a food processor would be better…) and let it run until combined.
Then I mixed a few Tbs of the pesto with some shredded chicken breast, added some shredded carrots, chopped scallions, and mozzarella cheese and put it in the toaster oven until warm.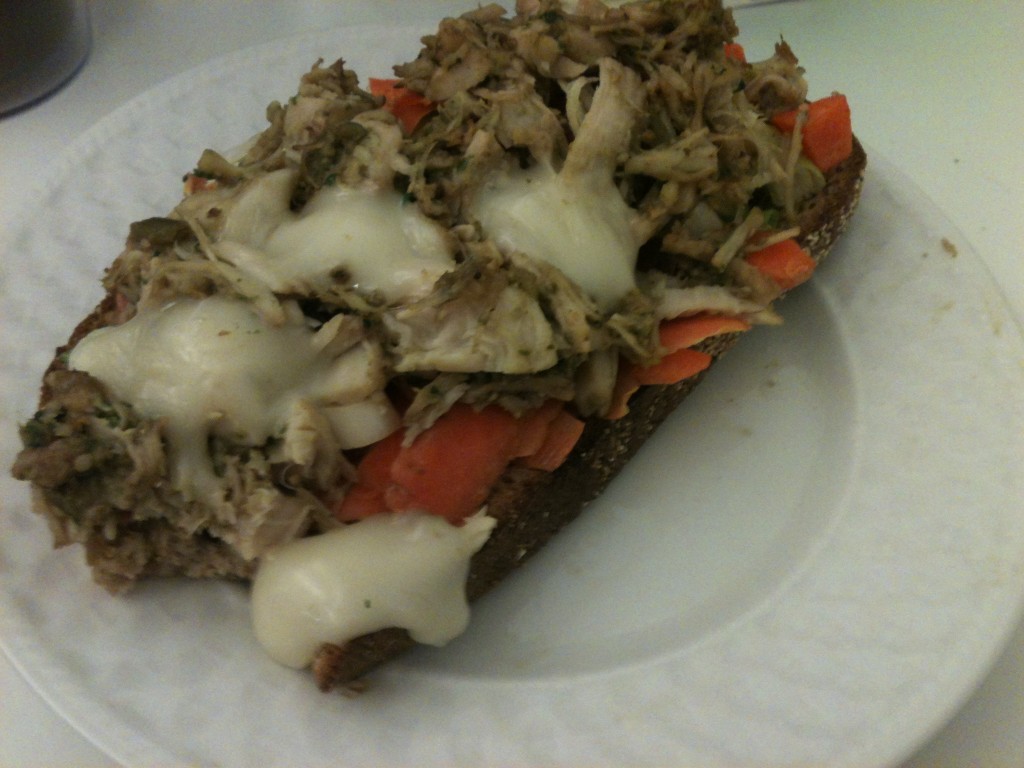 Ta-da! It was quite tasty.
I'm still not sure what kind of blogging schedule I can maintain, but I'll probably be back sooner rather than later. Until then..