If you haven't unfollowed me on twitter by now (I can go a little overboard with the tweets…) you probably already know that the Seneca 7 relay with Team Vodka Heist was a success. 3 of us had just run marathons and the other 4 ladies were pretty banged up (IT Band, plantar fasciitis, etc), so we weren't expecting a record breaking time, just fun! Well, we ended up pulling off a pretty impressive time and narrowly missed the first place women's team award by 3 minutes. The 77.7 mile race (about a mile shy of 3 marathons) circled the entirety of Seneca Lake. There were hills and vineyards and beautiful views of the water – such a great place to run! We finished the race in 8 hours, 56 minutes which is about 6:53 pace. Each of us ran 3 legs (2-5 miles each) in the span of 6 hours and it was…interesting. I've run plenty of doubles, but never a triple. And I always allow 6+ hours between runs when I double. The recovery from the relay legs was short and we didn't always have time to cool down. After my 2nd leg I think I catapulted myself in the van within 60 seconds of finishing. We had to hustle to the next exchange point! But you know what? That sense of urgency made it feel like a race! It was fun.
My stats:
9:30am Leg 1: 3.3 miles 22:59 (6:57 pace)
12:30pm Leg 2: 2.5 miles 17:10 (6:52 pace)
3:30pm Leg 3: 4.8 miles 34:00 (7:05 pace)
Considering my final leg had a lot of downhill, I wish I was able to run faster, but my legs were toast by that point. I was also running blind (my Garmin died after leg #2) and there were no mile markers. Ah well! I still felt pretty speedy and most importantly- had so much fun.
2nd place Women's Team, but with our rowdy cheers and fist pumps, I think we get 1st place for enthusiasm.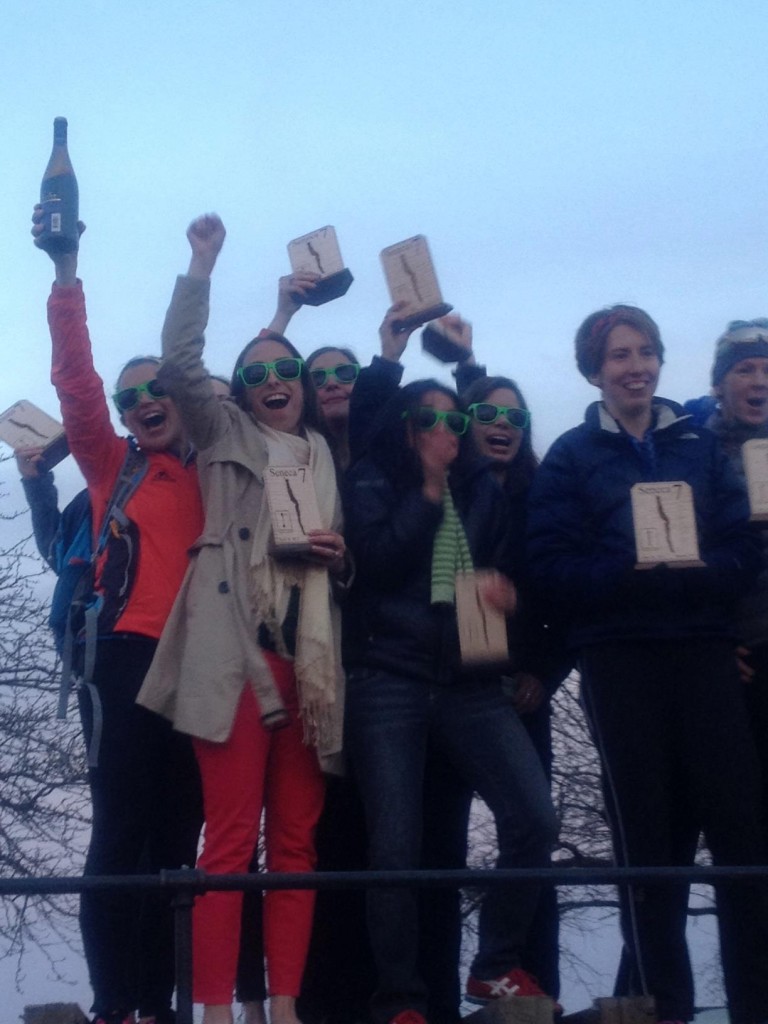 This was my second relay and I think I'm smitten. AR, Sarah, Celia, Molly, Nicole, Kristan and I parted ways already plotting Vodka Heist 3. Anyway, if you haven't done a relay, you should consider it. And here's why:
1) You get to explore new places! Tired of your usual running route/park/path? Running a relay ensures you'll get to see new things.
Our cottage was literally ON Seneca Lake. A wooden dock was all that separated us from the water. So pretty! Instagram makes it look even prettier.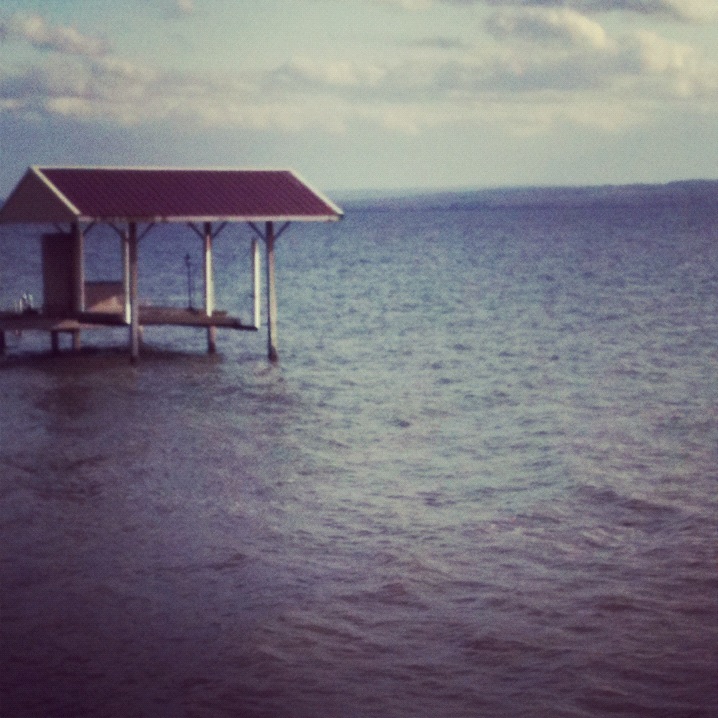 One word: Vineyards. You know what they make at vineyards? WINE.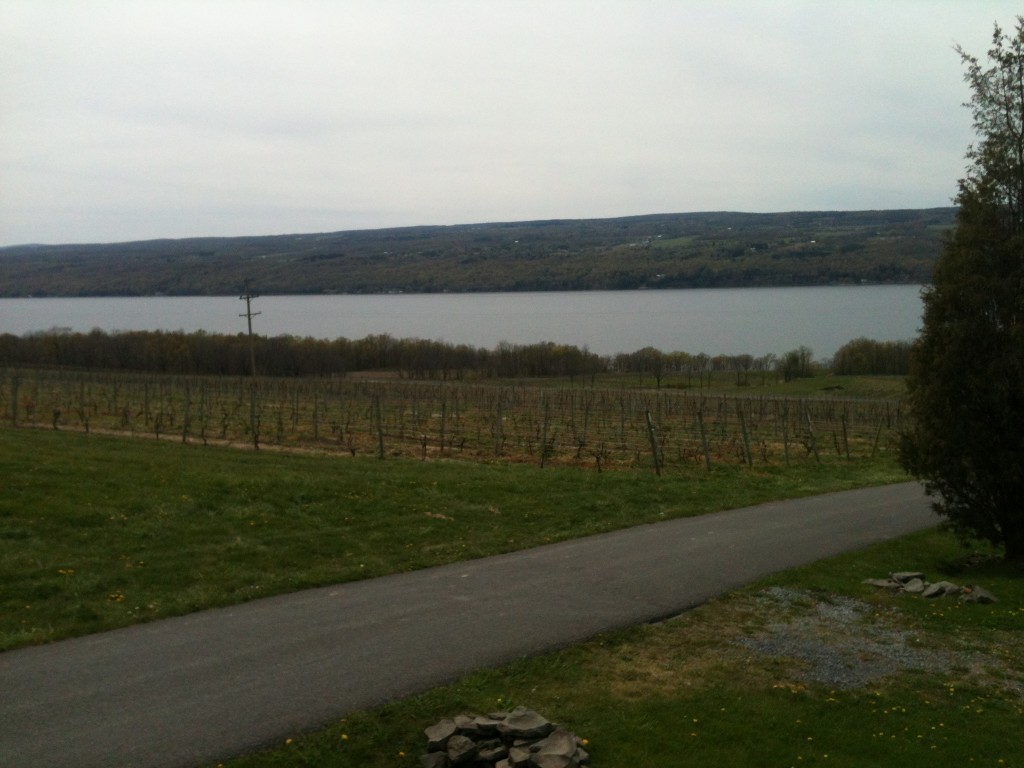 2) You get to experiment with the local cuisine.
Such as cheese curds!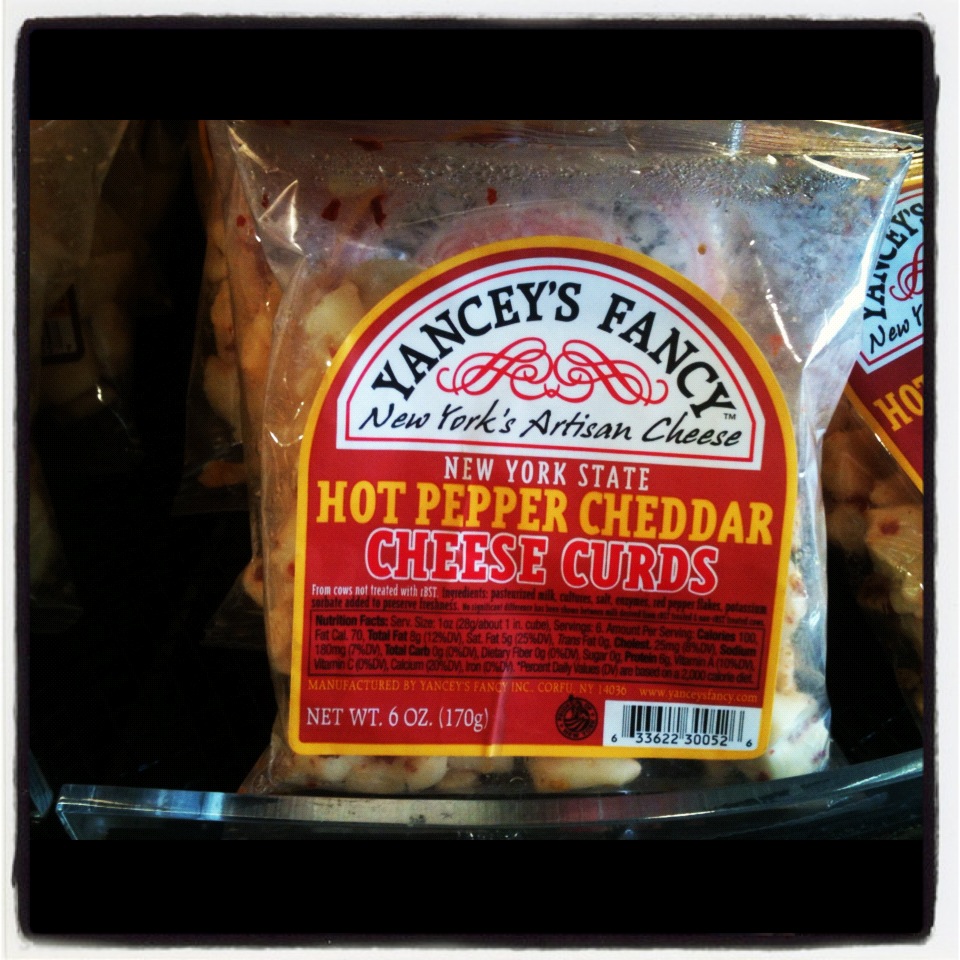 Gummies are not empty calories, they are FUEL. Well, when you're running 3 x in 6 hours they are.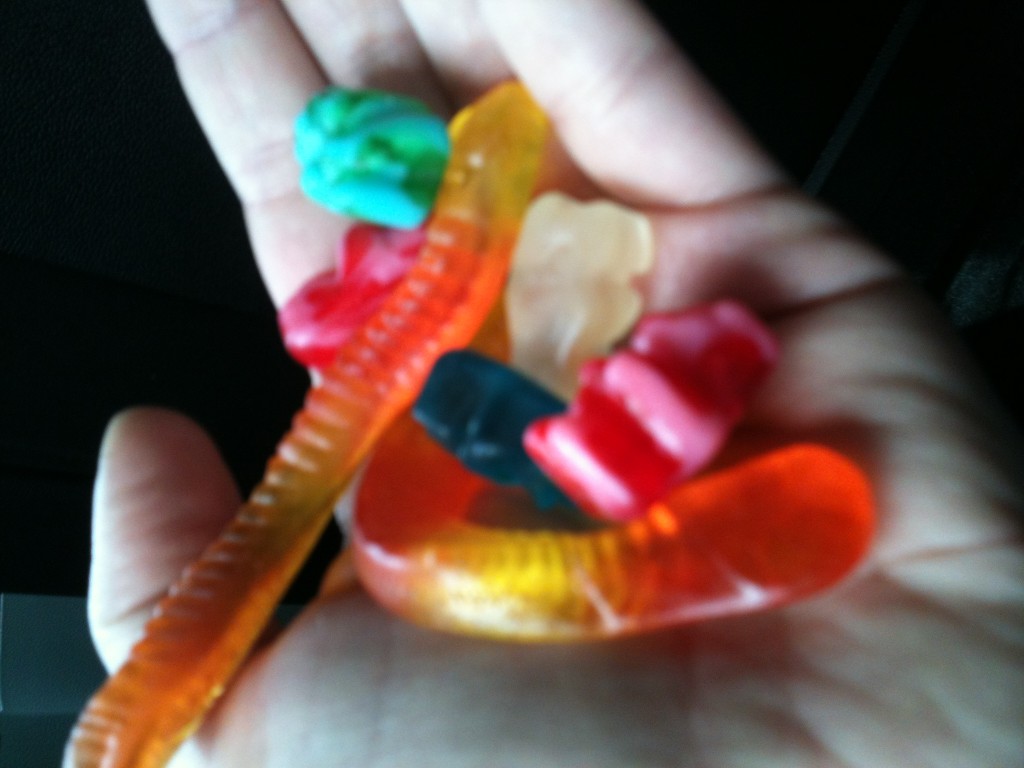 Sometimes we ate healthy things – like apples and Chobani! The race also put on a sweet post-race party with a bonfire, chili (vegetarian and grass-fed beef options), cornbread, and homemade cookies. Running a lot = eating a lot.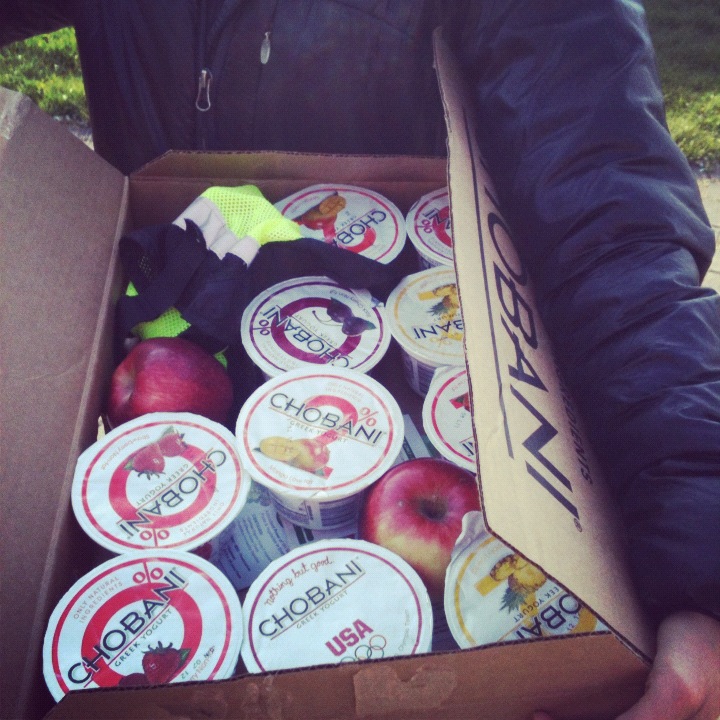 3) I think my favorite reason to do a relay is the team aspect. You're not just running for yourself, to beat your own PR. There's a bigger purpose. Running can be a pretty solitary sport, but doing a relay really connects you to other runners. So much <3 for Team Vodka Heist.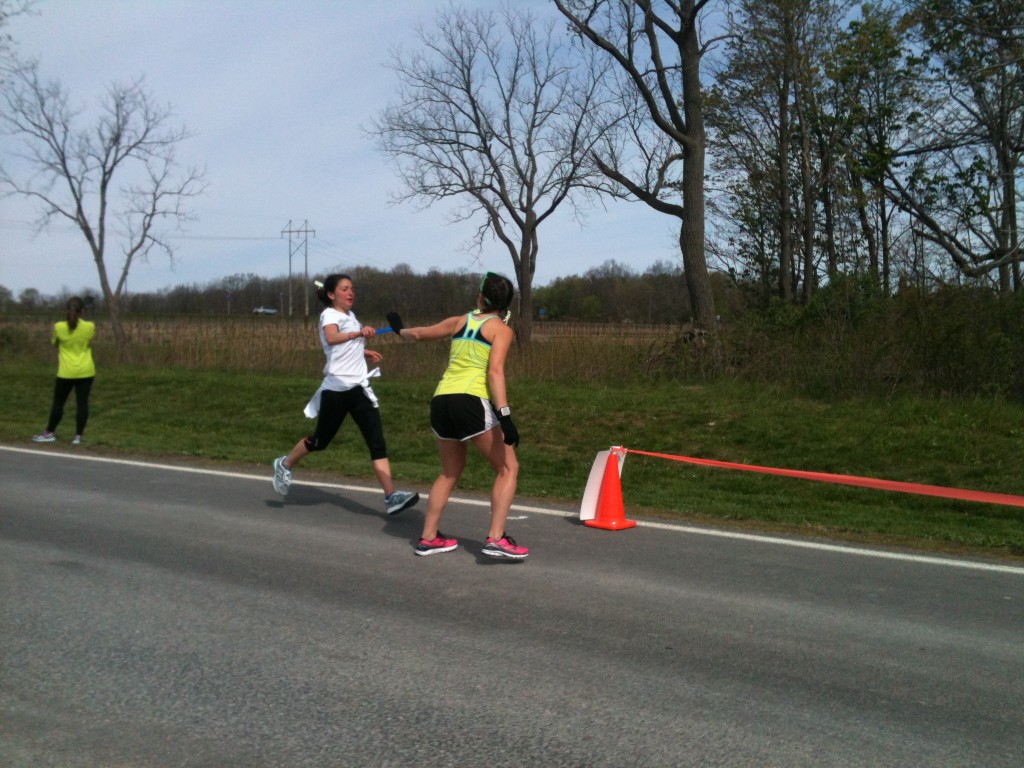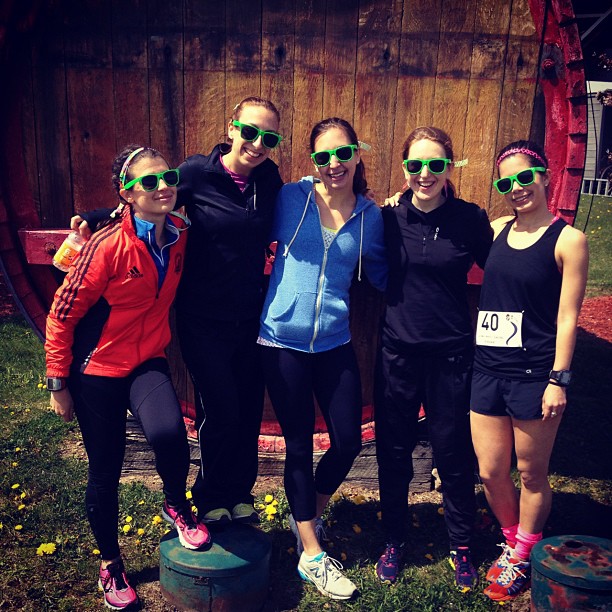 So, How's running been besides the relay? Pretty non-existent! I ran 20 minutes on Tuesday and felt exhausted, so I haven't been pushing it. I've been really busy with work and honestly, just haven't had the desire to run. I'm confident I'll be ready to tear up the streets soon, but for now I am enjoying the break. That being said, I did find myself missing running later in the week. I craved the stress relief, moving my body, that feeling of sweaty accomplishment. I was in Vermont for work and so I did something very unusual for me: I woke up at 6am to go for a run. If you know me, you know that I LOATHE waking up early, but for whatever reason I was really itching to get in a few miles. And it felt pretty good! But don't ask me how much coffee I had to drink later that morning…
I'm going to play the next month or so by ear, but I've got some exciting running plans in the queue for the remainder of 2012.
Something I already have planned for the fall is the Runner's World Half-Marathon in Bethlehem, PA (close to where my family lives, yay). It should be a fun race and if you're interested in signing up, here's a code for $5 off entry of either the half-marathon or all three events (5K, 10K and half) RWHALF12 (type it in manually, it won't work if you copy and paste). Don't wait too long though – the coupon code expires June 15. There's also have a coupon code for Runner's World training plans: RWblog423 (again, must be typed in manually) for $5 amount off any of the Runner's World 15 half-marathon training plans.
And before I forget – Congrats to the winner of the tart cherries give-away. Email me your mailing info (runnerskitchen at gmail dot com).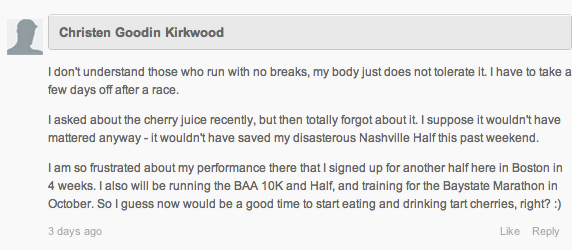 Do you know what Fall races you'll be running this year? Any relays??