The other day I found myself deep in the trenches of old blog posts, Spring & Summer 2009 to be exact. And oh goodness. If I was still writing crap like that, I hope to God someone would go call me out on GOMI (get off my internets for the uninitiated). We all make mistakes, but if I were to give my former self some advice it would be this:
Dearest Megan circa 2009,
How the hell did you have time to write blog posts 6-7days a week?! And these were not just quick, off the cuff ramblings. Oh no. You documented your entire day, from the morning weather (it was raining!) to your 4pm Advil-tea-cookie combo to the post-dinner beer. Hey, Megan how's about you stop living your life on the interwebs and go make some friends?
True story – I had only made ONE non-college friend in the first 2 years that I lived in New York. I'm not saying this was the blog's fault, but it's hard to meet new people when you're busy documenting your zucchini intake. When I first started blogging I fell into the "more is better" trap. If other healthy living bloggers are posting every day, shouldn't I be doing that too?? Well, you might not agree, but in terms of quality and my own personal enjoyment, I think my once a week blog appearances are an improvement from the daily "here are some pics of my breakfast!" posts.
That brings me to point two – I'm a pretty healthy eater, but by no means am I a doctor or registered dietician. Posting recipes and special restaurant meals is fine, but why was I telling everybody about the four prunes that I had for a snack or the nutritional evils of white bread? Stick with what you know, sister. And that happens to be running, not nutritional advice. Also, taking pictures of EVERYTHING you eat is a pain in the ass. Family and friends, thanks for putting up with that.
Tidbit of advice #3 – If you can't imagine yourself saying something in real life, please don't publish it for the world to see. Example: usage of the word "brekkie". I assume this was a slang term for breakfast back in 2009, but reading it now makes me think "Was the blog hijacked? Who is this alien girl writing under the name Runner's Kitchen". Find your own voice, don't try to be like anyone else, blogger or otherwise.
On diet foods – I've never been a huge fan of things like 100 calorie packs or lean cuisines, but my food preferences have definitely evolved over the past 5 years. For the longest time, I drank skim milk, chose light ice cream, and replaced butter with applesauce in baked goods. Why? Because that's what my lady magazines, the media, and everyone else told me was "healthy". Again, I'm no doctor, but honestly I think that advice sucks. Sure, obesity is bad and a stick of butter a day probably isn't going to do your heart any favors, but if we're supposed to be eating natural/unprocessed foods, why are we altering our dairy products and eating smart balance instead of butter? In the summer of 2010 I read Real Food: What to Eat and Why and it changed the way I think about food dramatically. Still think fat free is better? Go get a whole milk latte (the horror!), read the book, and then come talk to me. Do I weigh a few pounds more now? Maybe (I haven't stepped on a scale in months), but at least I'm not eating Wasa crackers and rubbery low fat cheese.
Piece of advice #5 – I'll be brief, but Megan keep yo' man friends off the blog, because you know what? When you break up and readers start asking "whatever happened to so and so?!" it's going to get real awk, real fast. Instead, be elusive! Drop hints, but don't reveal too much. That way if you want, you can date multiple people at once. Hypothetically, of course.
And finally, you should talk about running some more. Why did your 2008 marathon not get more love? Splits pls. (And yes I'm aware that the photos are gone – there was an issue switching from blogger to wordpress). And can you tell me what went wrong in Boston '09? We got some nice photos of your turkey sandwich, but no mention of the cray cray hallucinations you had at mile 23. C'mon Megan that would have been a blog gold mine.
Alright that's about as much self deprecation as I can handle, let's skip forward to 2012. Older and wiser, eh? Well, I'm definitely older.
On Sunday, I ran my last "long run" with some of my teammates in Central Park. 10 chill miles on the bridle path followed by Easter brunch at Peacefood Cafe. Oh you want a sandwich photo, do you?
Here you go, circa early 2009 when I had time for stuff like that.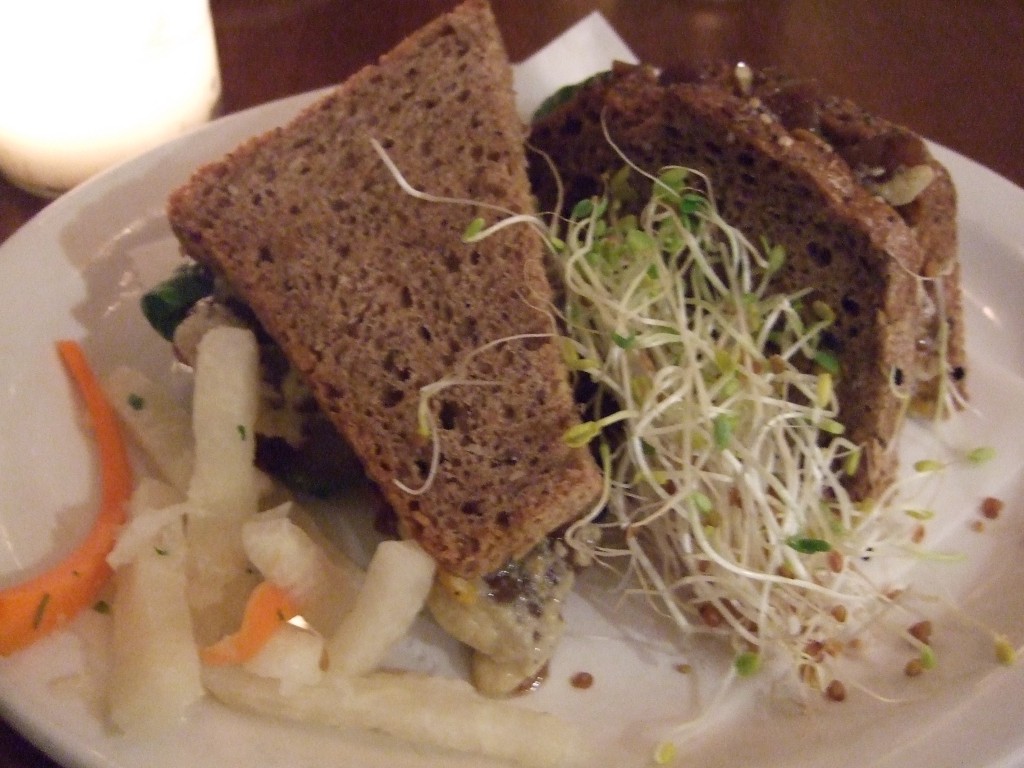 Japanese pumpkin sandwich with caramelized onions, greens, and vegan cheese. I think that was jicama on the side. I was kind of hoping for bacon.
This week has been all about getting as much sleep as I can (which is sigh, usually only 7 hours/night), CARBS (bagels, pizza, beer in moderation, bread, yum), and little extras like remembering to take my iron pill and drinking tart cherry juice (studies indicate it can reduce pain in athletes). Fingers crossed it works. If all else fails (or I DNF because of heat stroke – 84 degrees on Monday!), at least I get to hang out with AR and Shelby post race. <3
And now that I've typed away all my crazies, how about a give-away?? I don't know about you, but I love free stuff. My crafty New York lady friend Erica makes gorgeous necklaces for runners and she wants to give one away to one of you!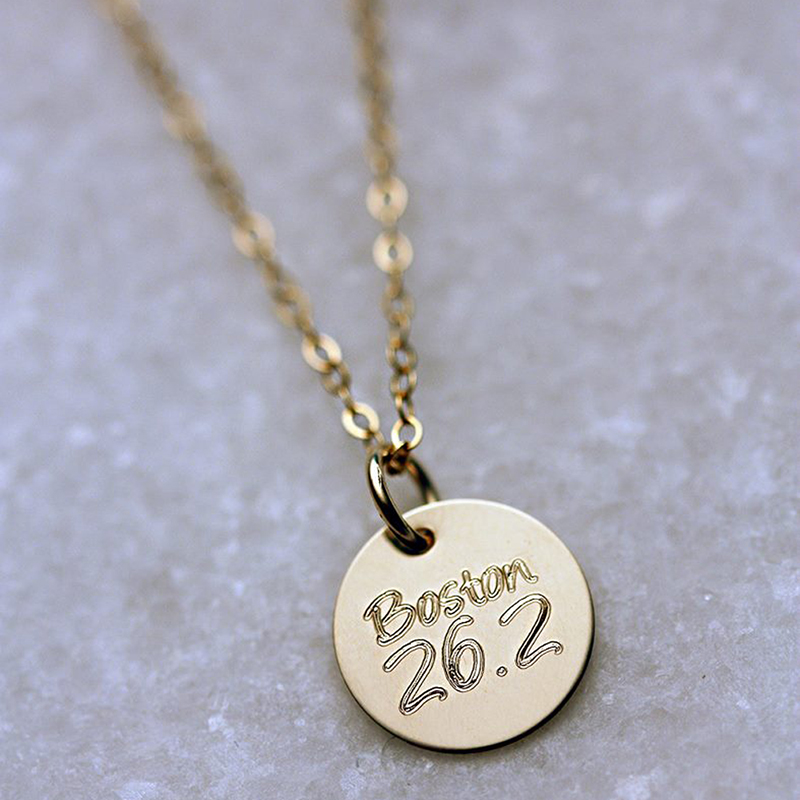 The winner can choose from a 1/2″ gold fill or sterling silver necklace and can select city or name of race, and distance. They can also have the back engraved with race details, a special message, etc…
– To enter, you must either 1)"Like" Erica Sara Design's facebook page or 2) Go to the website, find a product you like, and pin it on pinterest. 
Leave a comment telling me which you did. If you do both, you get two entries – so leave TWO comments.
Aight readers, I'm Boston bound on Sunday morning. If you see me during the race on Monday, scream something motivational such as "hey girl, I've got some Easter candy for you". If you're NOT going to be in Boston, I suggest you spend the first 3:xx hours of your work day tracking me online. Bib #8635, likely moving back to the 2nd wave (10:20am start), so I can run with my CPTC training buddies.
See you kids on the other side of 26.2!