Hellooo blog readers. Things have been a little crazy this week…if you follow me on twitter, you probably already know that in the span of the last week I interviewed for a job, received an offer, and will be starting on Monday. Holy crap. I'm really excited about the position and although I'm not going to post many details on the blog, I will say that it's exactly what I want to do (online community management/social media). What a whirlwind month March has been….Posting might become a little more infrequent as I try to manage a new full time job, some freelance work that I just picked up, marathon training, and trying to hold together a social life, so please bear with me!
Okay first up, give-away winners! If you're the lucky person, please email me your shipping address (runnerskitchen at gmail dot com):
Kate's Stash Bar Winner:
Rebecca: i don't necessarily remember my *first* run, i used to run for soccer in high school…but i started running recreationally in 2008 when i decided to run a 5K (my first race!)…i ran on the treadmill a lot and i remember i was super happy when i could run the whole 3.1 without walking : )
Lara Bar Winner:
Maria @ Chasing the Now: The PB cookie Larabars are awesome. Just bought a box two weeks ago and I love them.
If I won $100, I'd probably buy a new pair of running shoes. I started running in Vibrams at the beginning of the year and LOVE barefoot running, but the actual Vibrams (with the toes) aren't my favorite. I'm wanting a pair of Merrel barefoot shoes so I can wear whatever socks I want.
Congrats ladies!
In terms of running, last week's training shook out pretty much as expected. I ended up with 74 miles, which was a little less than planned, but that was mostly because I reduced my long run from 20 to 15 miles. I'm racing the NYC half this upcoming weekend and my coach strongly advised that I take a shorter long run to avoid depleting my legs. I think that was a smart move, especially considering how tired my legs felt throughout the week. At first I was a little freaked out…"What's wrong with me? Why are my legs so heavy? Why does 8:30 pace feel so hard?"
But then, I realized that I had run 3 hard workouts within a 5 day period, which is a lot more fast stuff than I've been doing on a regular basis. WELL DUH MEGAN, racing a 5k on Sunday, running 8 x 400m @ 5k pace on Tuesday, and then a 8 mile tempo on Thursday, might not leave you with the freshest legs. It was good for me to get in these hard efforts (remember, just running easy miles does not equal workouts!!), but I sure noticed it in terms of leg fatigue. Luckily, this week will be more low-key. I don't have any workouts planned and I'm reducing mileage a bit in preparation for Sunday's race. Do I expect a half-marathon PR? No, not really, but I think at the very least I should be able to run 1:35 or 1:34. I hope so anyway…
In between running a lot, getting stuff in order for my new job (ahhh!!), and enjoying the last few days of funemployment, I've also managed to cook some good stuff. Last week, two of my lady friends, Leslie & Sofia, came over for a cooking date.
One the menu: Food & Wine Magazines Fettuccine with Grated Beets, Parmesan, and Poppy Seeds. Interesting ingredients and delicious. Make this – you won't be disappointed. Mmm, also it contains a lot of butter. You can't go wrong.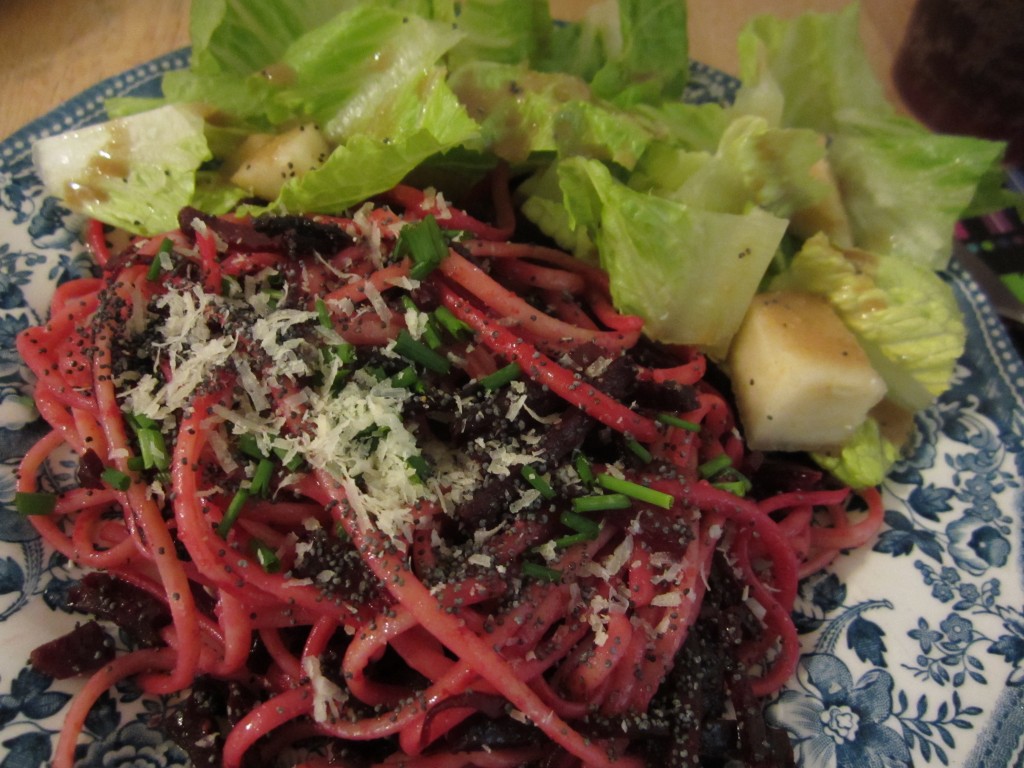 Later in the week, I made a variation of the world's best macaroni and cheese. With a little bit of greenery on the side.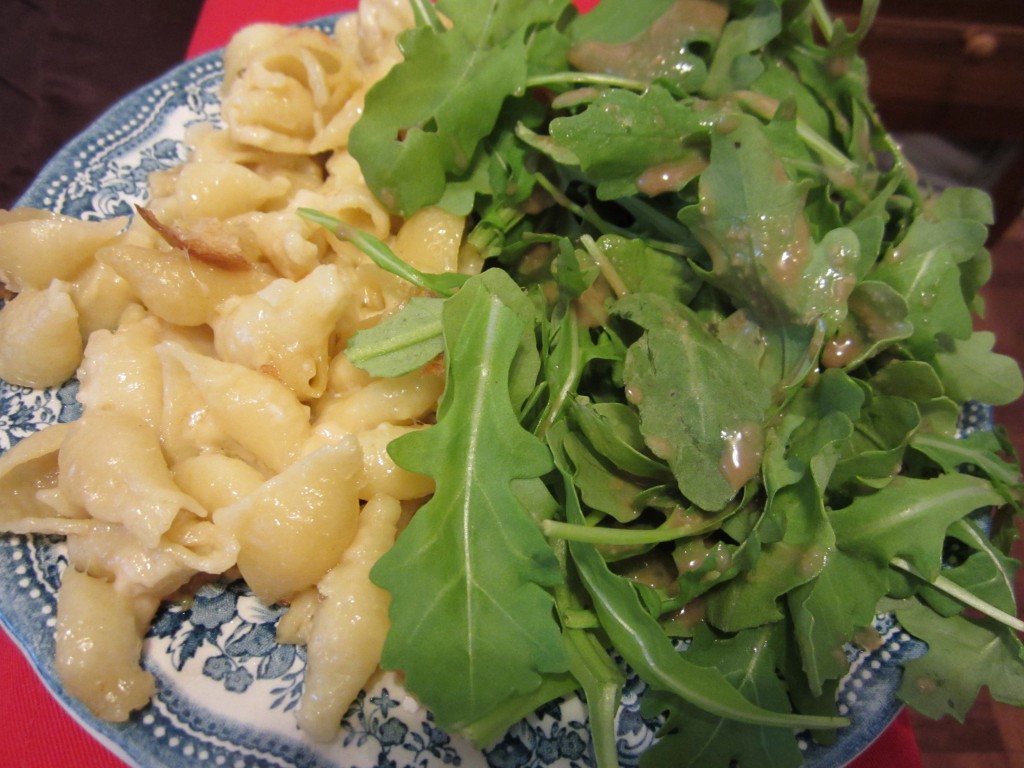 Of course I'm excited to start a new job, but funemployment has been an awesome opportunity to take care of myself in the best ways possible. I've been able to cook, sleep a lot, run mega miles, and do all of the little things that I never seem to have time for (foam rolling, planks, etc). Recently, I also picked up a bottle of iron pills. Apologies if this is TMI, but I get my period regularly (three times since January!), I run high mileage (probably contributing to foot strike hemolysis), and I don't eat a ton of red meat. I also have a history of low iron levels, so getting my hands on some iron supplements seemed like a smart move. I only wish I hadn't waited until I was already months into marathon training…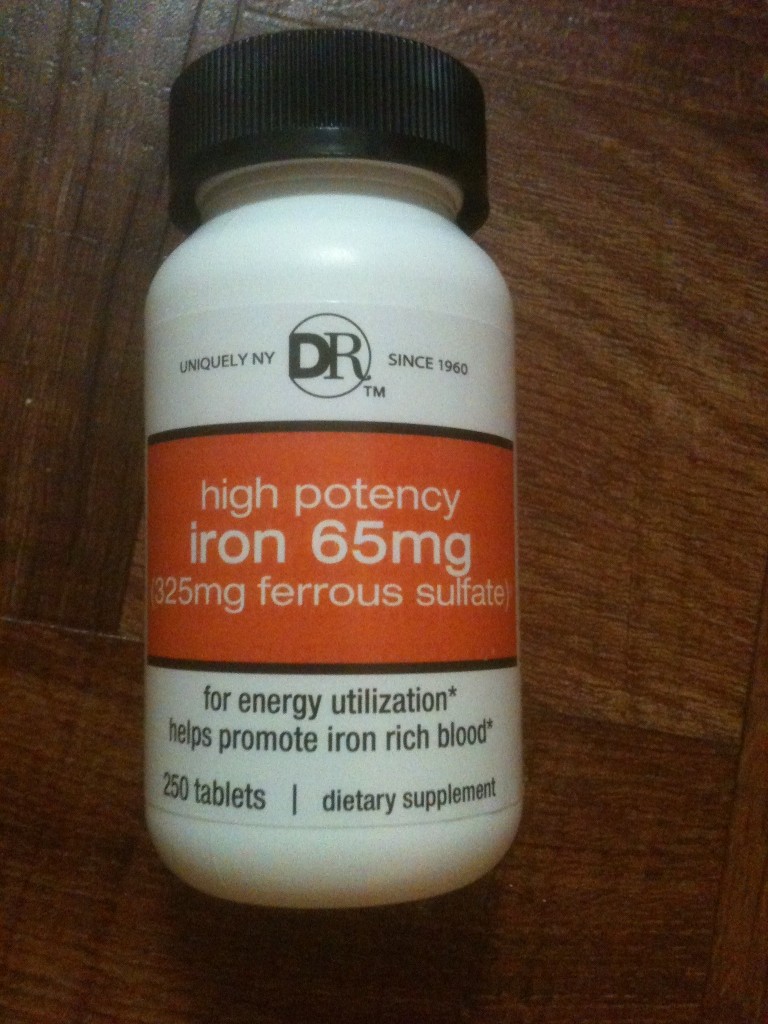 Okay, that's all I've got time for today, but tell me –
1) Are you running the NYC half this weekend? Maybe I'll see you there!
2) Any first day of a new job tips? I AM SO NERVOUS. EEEE.