So, yesterday's half-marathon went a little better than expected. After looking at my recent workout stats and considering how my legs have been feeling, I knew it would be stupid to aim for a PR. I think that with any race, you need to have a hope deep in the back of your mind that you'll have an amazing race, but you also need to be realistic. There's nothing worse than racing a long race and realizing a few miles in that your time goal is out of reach. Maybe this isn't the best approach, but I've noticed that I perform better when I low ball my race goal. Usually I find myself ahead of pace a few miles in and this gives me the confidence to stay strong and even pick it up. Anyway, I finished the 13.1 miles in 1:32:50, about 90 seconds off my PR, but still a good effort for the day. My plan was to start conservatively in the park (helloooo hills) and then start to drop the pace once I hit the flat West Side Highway. I didn't wear my Garmin, but my timing chip recorded my splits every 5k:
5k: 22:02 (7:05)
10k: 22:21 (7:11) <—not sure what happened here…hills on west side of park?
15k: 22:02 (7:05)
20k: 21:47 (7:00)
Last .7 miles: 4:38 (6:37 pace)
And just for fun, I figured out my pace for miles 10-13.1:
Final 5k (miles 10-13.1): 21:35 (6:56 pace)
How did I feel? Well, I never felt AWESOME and to be honest 7:0x pace felt harder than I would like, but my time was better than the 1:34/1:35 I was shooting for.
The Good: yesterday's time was faster than both my 2010 and 2011 NYC Half Marathons, I didn't fall and gash my knee OR miss the finish line, I posted some solid negative splits.
The Bad: I didn't confer with my teammates on our race plans. Three of us ended up with finish times within ~5 seconds of each other, but because we started at different places in the corral we didn't race together. Next time: try to find someone to run with/work with. Also, lolz at my last 5k only being 25 seconds slower than my 5k race from a few weeks ago. You would think that running 10 miles beforehand would slow me down OR MAYBE I just should have been able to run faster for the Coogan's 5k. I'm glad I can run that pace late in a half-marathon, but wtf! Why is my short distance race pace so slow? Anyway, yesterday was a solid workout and a good (realistic!) predictor of my current fitness level. No PR this time around, but as Jay-Z says "On to the next one!"
Rather than stuffing myself with pasta the night before the race, I tried to increase my carbohydrate intake throughout the week.
Since I wasn't working last week, I was able to sleep late and head over to the local bagel shop for my most favorite breakfast: whole wheat everything bagel with egg, cheese, spinach, and tomato. I could eat this every single day.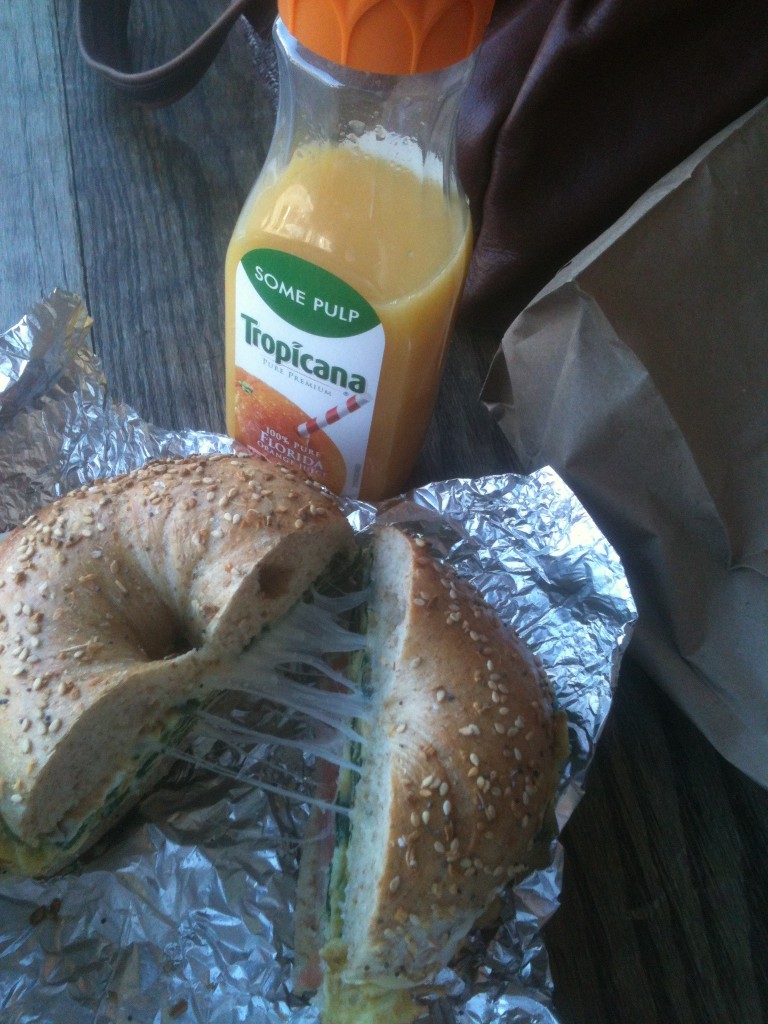 Beer also has carbs (yay!), but I tried to eat something while at happy hour. Thursday's pick: a flatbread that was supposedly shaped like the arches of the Brooklyn Bridge. It took a lot of imagination to see it, but I still felt the Brooklyn love. The flatbread was from a new vegetarian restaurant and it was pretty good. The crust was sort of like a puff pastry-pizza dough hybrid and it was loaded up with roasted shitake mushrooms, sauteed kale, parsley, and horseradish aioli. I'm not sure I would make a special trip to go back, but if I was in the 'hood, I'd hit this place up again.
I post only the most attractive photos of myself on the blog, obviously.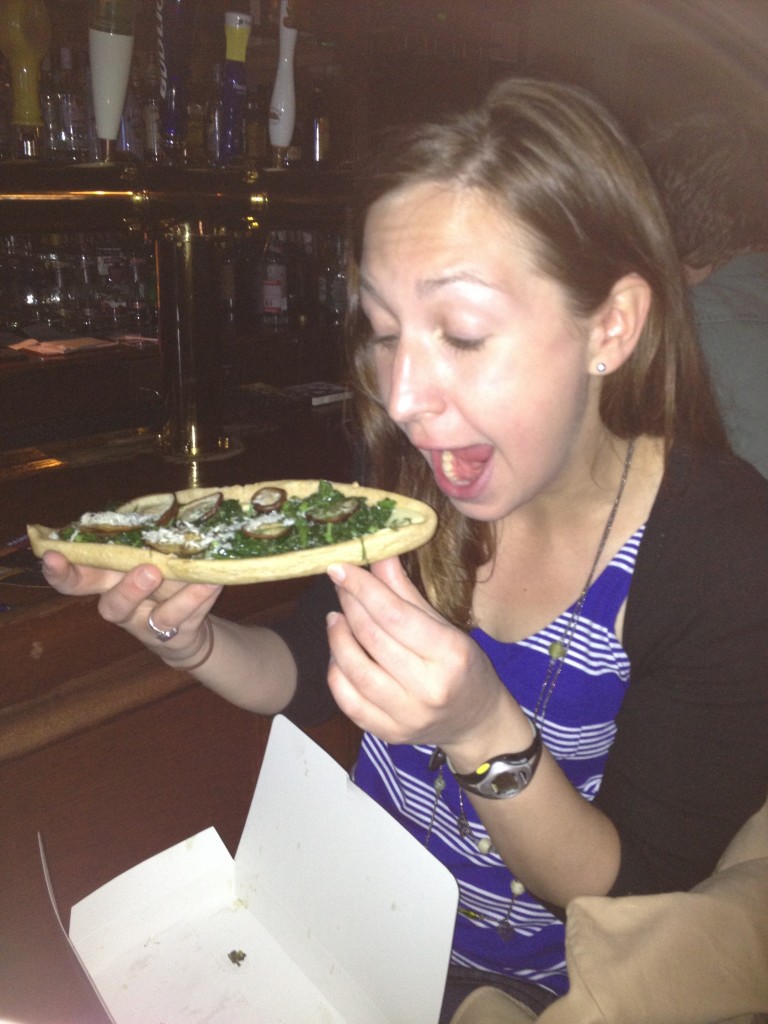 Since things are going to get pretty busy this week (omg new job/marathon training/trip to San Fran omg), I took some time on Saturday and made a big batch of turkey and teff burgers. The burgers are based on a Runner's World recipe, but I made a few changes. Adding cooked grains and spinach to the meat boosts up the fiber and nutrition content. Instead of using cooked bulgur or cous cous, I cooked about 1/2 cup dry teff. This little grain is popular in Eastern Africa and full of protein, iron, and other vitamins.
Turkey and Teff burgers (makes 8 patties)
Ingredients:
1 -2 cups of cooked grains (I started with 1/2 cup dry teff, added 2 cups of water, and let it simmer for about 20 minutes or until water was absorbed).
10 oz package of frozen spinach, defrosted and drained (use your hands or a dish towel to remove the excess water)
1 lb lean ground turkey
2 garlic cloves, minced
1 egg
cayenne, cumin, salt, and pepper to taste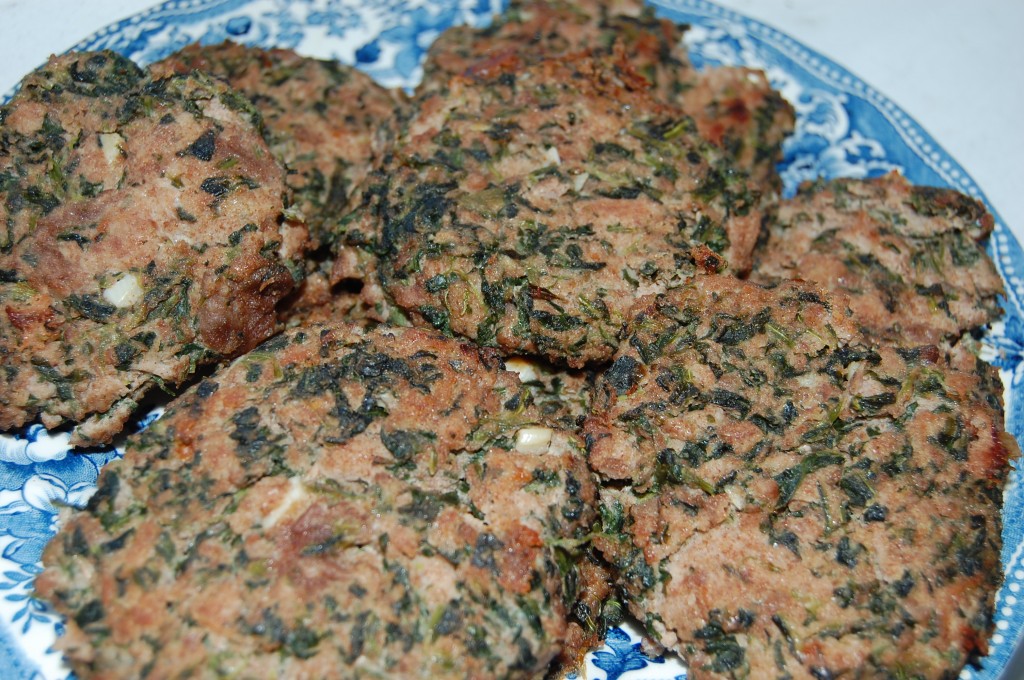 Directions: Preheat oven to 400 degrees. Lightly grease a rimmed baking sheet and set aside. In a large bowl combine all of the ingredients (don't over mix though) and then use your hands to form 8 patties. Place the patties on the baking sheet and flatten slightly. Bake for 25-30 minutes, turning at least twice. Note: until the burgers are completely finished cooking, they're going to be very loose. I had to be veryyyy careful when I flipped them over with a spatula. Once the burgers are cool, you can eat right away or wrap in parchment paper and tupperware and freeze for later. I topped my burger with cheddar and ketchup and ate it alongside a big salad. It was a nice, light pre-race meal.
I know some of you might be skeptical of the unusual ingredients (teff? spinach? in a burger?!), but these are actually one of the best things I've made recently. I even contemplate eating a second burger even though I was already pretty full….
Okay, time for my first day of work!
Tell me: Did you race this weekend? How did it go? Favorite carbohydrate? Mmm, bagels.