This hasn't been a banner week in Megan-land. Nothing terrible has happened, but a series of little things have just left me worn out and down, you know? I worked a little late on Friday night and by 7pm I was in a pretty foul mood. Everything was grating on my nerves, I was tired, and instead of going for my planned run, I felt like having a good cry. I have a penchant for the dramatic sometimes. Runners are often told to "listen to their bodies", but this rarely seems to work for me. You know what my body wanted yesterday? To go home, wallow in my funk, and eat ice cream for dinner. But you know what my body needed? A good, long head-clearing run commute home. Sometimes it's hard to know the difference between the two, I admit. Occasionally it feels great to skip some miles in favor of happy hour or some extra sleep, but other times (like Friday night) the best thing for me to do is push forward knowing that I'll feel better on the other side of my run.
Over the next 9 1/2 miles, I sorted through all of the things that were bothering me, prompting anxiety, and causing frustration. With each step I felt like I left a bit of that toxic stuff behind. When I finished the run, I was hungry for dinner, ready for a shower, and my bad mood had been replaced by a calm tiredness. I will tell you from experience, running works better than xanax. Is it a good thing to depend so much on running to fix my mood? Maybe not, I don't know, but it's healthier than many other options people use to get through life. Sometimes I run because I'm training for a race or I want to spend QT with a friend, but other times it provides something much more vital to my well-being. I feel so incredibly lucky to be healthy enough to run as long and as often as I need to. Apologies if this post is a little sentimental, but I suppose I just needed an outlet for reflection and gratitude.
Anyway, this week did have some lovely moments. As I mentioned in my last post, I had a awesome ladies night on Tuesday and then later in the week, THIS was delivered: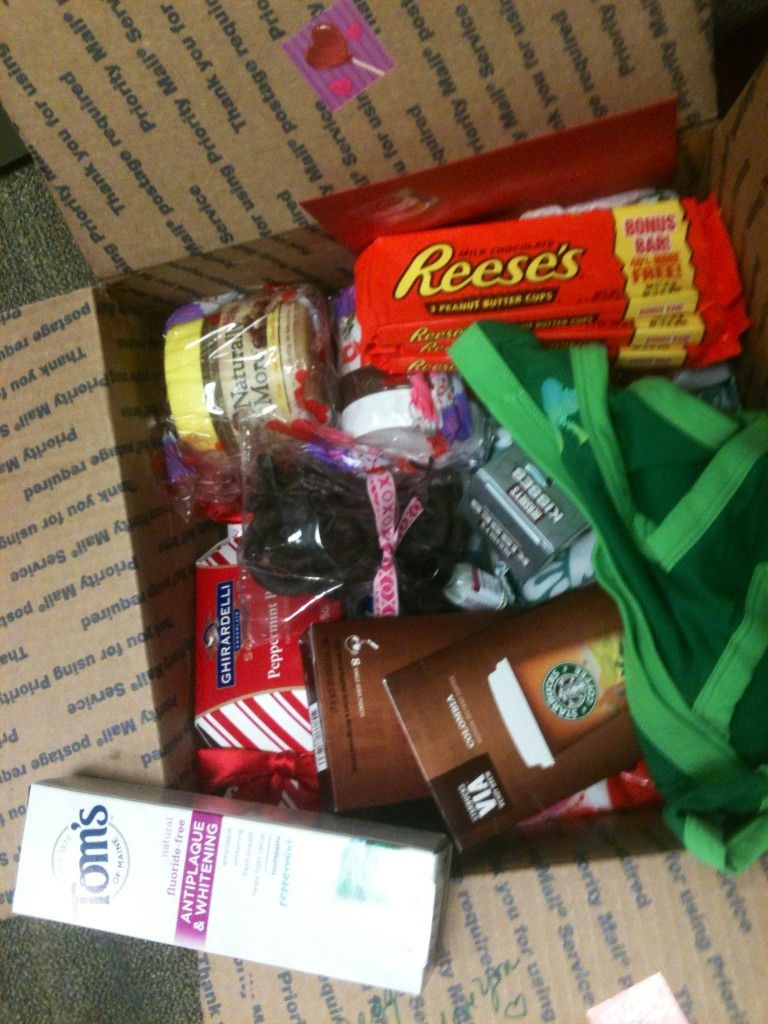 For as long as I can remember (okay, actually since Freshman year of college), my mom has been sending my Valentine's Day care packages. Chocolate, jars of peanut butter & Nutella, Starbucks Via packets, my favorite brand of toothpaste, St. Patrick's Day underwear (!!!) – she knows me well. Even though I'm well past the age when I should be expecting care packages from my mom, these little reminders from home always make me smile.
This week hasn't been perfect (Tuesday = Tequila, apparently), but I've done a pretty good job playing the role of a responsible marathoner. I've aimed for 7+ hours of sleep per night and I've logged most of the miles that I planned to run. It's Saturday night as I write this and I have my 20-miler planned for the morning. Rather than stressing out over the miles like I did last week, I'm feeling fairly confident. It helps mentally that the run will be broken up into parts: 3.5 mile warm-up to the start of a race in Prospect Park, a 10 mile progression run (I'm not actually racing), and then 6.5 miles cool-down back home. My Garmin is charged and I have my route all mapped out. I'm ready to go.
There's no escaping holiday candy this week, but I did make an effort to create something fairly healthy, quick, and economical. I'm a huge fan of Morningstar Farms Spicy Black Bean burgers, but each box is upwards of $4-5. I decided to try my making my own from scratch. The verdict? Not exactly the same, but very economical and they freeze just as well. Plus I know exactly what went in to the veggie burgers, no weird preservatives or processed soy products.
Spicy Black Bean Veggie Burgers, makes 6
Ingredients:
15 oz can of black beans, rinsed and drained
15 oz can of corn
big handful of Sunchips, crushed (you could also sub in ~1/3 cup breadcrumbs)
1 egg
salt, pepper, cayenne, and cumin to taste (about tsp of each, except only 1/4 tsp of the cayenne)
Directions:
Lightly oil a baking sheet and pre-heat oven to 350 F.
Add the beans and corn to a food processor or blender and process until mostly mashed (it's okay if some beans remain whole).
Transfer bean mixture to a bowl and stir in spices, crushed chips (or breadcrumbs), and egg until combined.
Use your hands to form 6 patties. Place on sheet pan and bake for about 12 minutes. Flip burgers and bake for another 5 minutes or so, until slightly browned and crispy.
Veggie burgers can be stored between layers of parchment paper in tupperware in the freezer. Microwave for about 45 seconds on each side to reheat!
Anyone else have a little difficulty deciding what they need vs want?
Happy President's Day weekend! I'll be back on Tuesday with a special cookie recipe!