Sometimes I make questionable decisions. I stay out too late, don't hydrate properly, and break every rule that Runner's World has ever published. However, last weekend I was actually sort of responsible. I can do that sometimes, I promise! I logged my miles, said no to late nights out (okay, well maybe not on Friday…), and tried to drink a lot of water.
On Saturday evening, I had tentative plans to meet friends for cocktails in the East Village. Howeverrr, my throat was feeling a little scratchy, my bank account was a little empty, and I thought to myself – "How will drinking and staying out 'till 1am make you feel during tomorrow's nearly THREE hour run?" The answer was…"probably not so awesome", so I gave my regrets and spent a quiet night at home watching Gossip Girl, finishing a library book, and baking cookies. And you know what? It was lovely.
I don't really like pasta all that much, but I had some leftover baked ziti in the freezer and figured the night before a long run was a good time to use it up.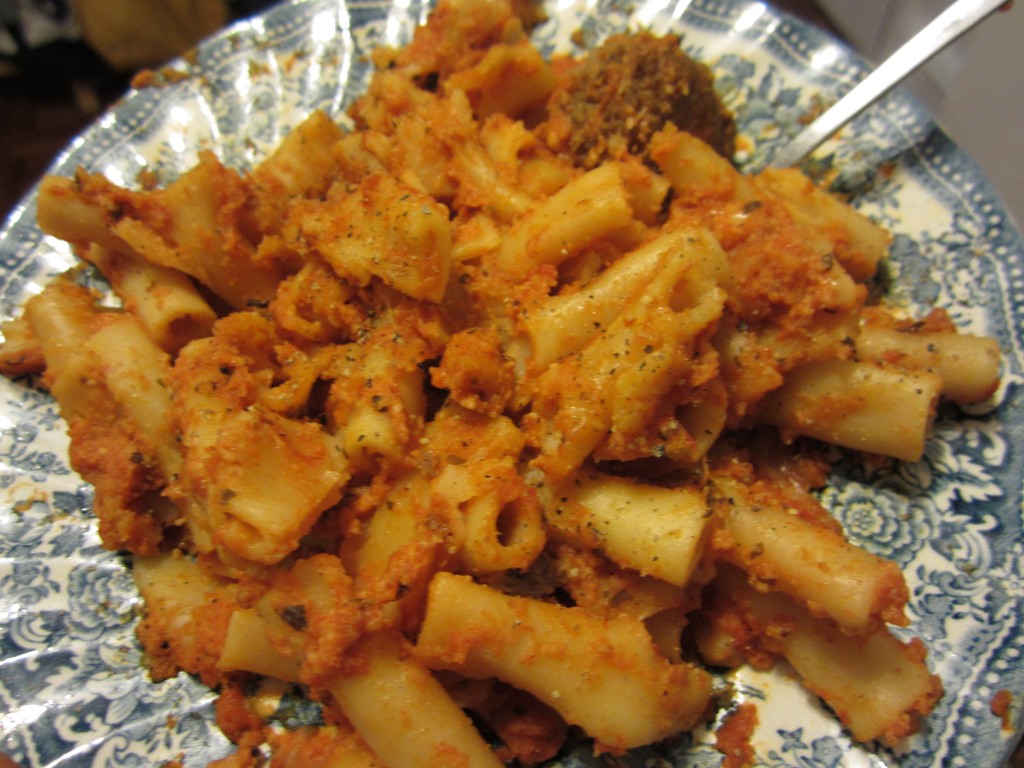 A runner eating pasta! Hooray for cliches.
After dinner, I got to work on a recipe inspired by The Brown-Eyed Baker. They were really good. I sort of regret sharing them because now I have zero left!! I should probably just bake another batch, right?
Oreo Cheesecake Cookies (makes about 15 cookies a.k.a. not enough!)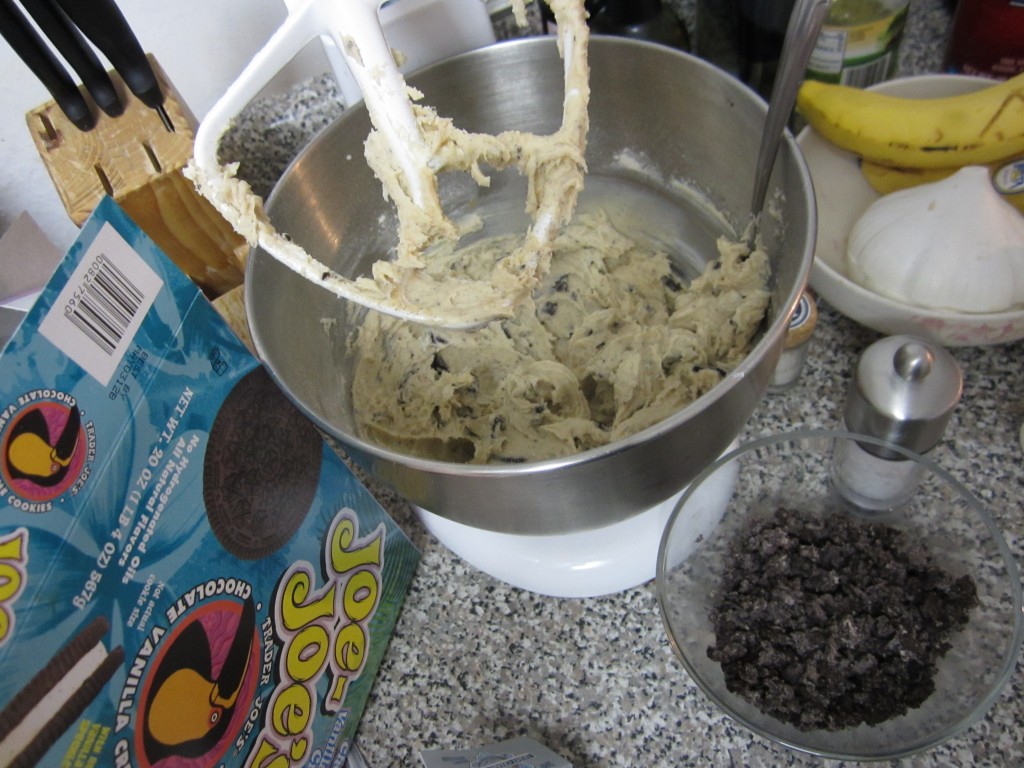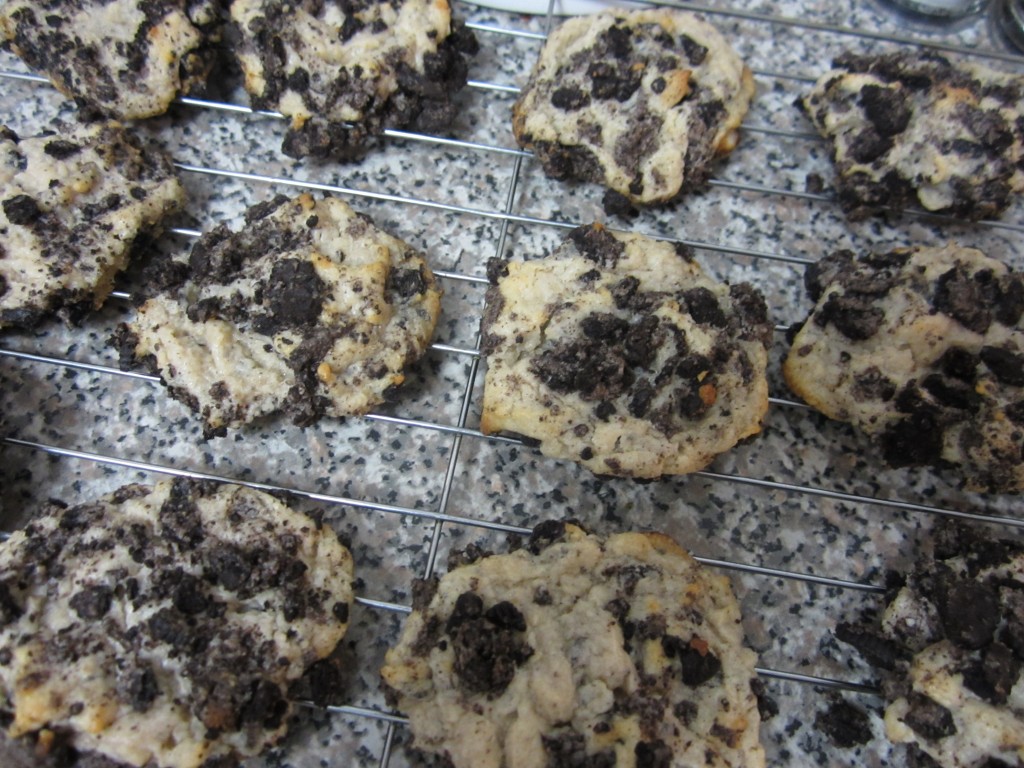 Ingredients:
1 stick of salted butter, at room temperature
4 ounces cream cheese, at room temperature
3/4 cup granulated sugar
1 teaspoon vanilla extract
1 cup white whole wheat flour
12 Oreos or Joe-Joes (crumble up 8 of them, reserve 4 whole)
Instructions:
1. Preheat oven to 375 degrees F. Line a baking sheet with parchment paper (this is important – cookies may run if you put them on just a greased sheet pan).
2. With a stand mixer or hand mixer, cream together the butter and cream cheese on medium speed until smooth.
3. Add the sugar and vanilla extract and mix until the ingredients are well-combined. Add the flour and 4 whole cookies and mix on low until  incorporated.
4. Place the cookie crumbs in a small bowl. Form the cookies into ping-pong size balls and roll in the cookie crumbs. Place the cookie balls on the baking sheet. Bake for 12 minutes, until the edges are golden brown.
5. Cool on the pan for 2 minutes before transferring to a wire rack to cool completely.
I went to bed at a decent time, woke up around 8am, and ate my go-to pre-long run breakfast:
The plan for Sunday was to warm-up about 3.5 miles to the start of the Cherry Blossom 10-miler in Prospect Park, run the race as a progession run (meaning each lap would get faster), and then finish up with a longggg cool-down back home. However, with in the first few miles, I could tell that if I wanted to finish 20 miles feeling strong, a progression run was out of the question. At this point, being able to complete my long runs is the most important thing, so that's the decision I made. I ended up running the 10 miles at an easy, conversational pace with a former Manhattan running buddy (hi Elise!). It was a great way to catch up and make the miles go by quickly. After running three loops of Prospect Park (10 miles) I continued on for another 6.5 miles. It was fine I suppose, but my goodness….running 20 miles take a long time! I finished the 20 miler in 2:55 or ~8:45 pace. Nothing super spectacular or fast about this run, but I logged the time on my feet and so that's important. I sipped water throughout the miles 6-12 in Prospect Park and consumed about 150 calories (Gatorade + 1/2 luna bar) around mile 13 , but don't think it was enough because I started feeling woozy after about 2 hours of running. I know I say it every week, but I've gotta nail down this nutrition on the run thing. Low blood sugar and dehydration (aren't marathons FUN?) caused me to hit the wall in Boston in 2009 and I do NOT want to repeat that situation.
Nothing too exciting about my post-run oatmeal, but at least it was healthy. And I drank a lot of coconut water and regular water! Small victories.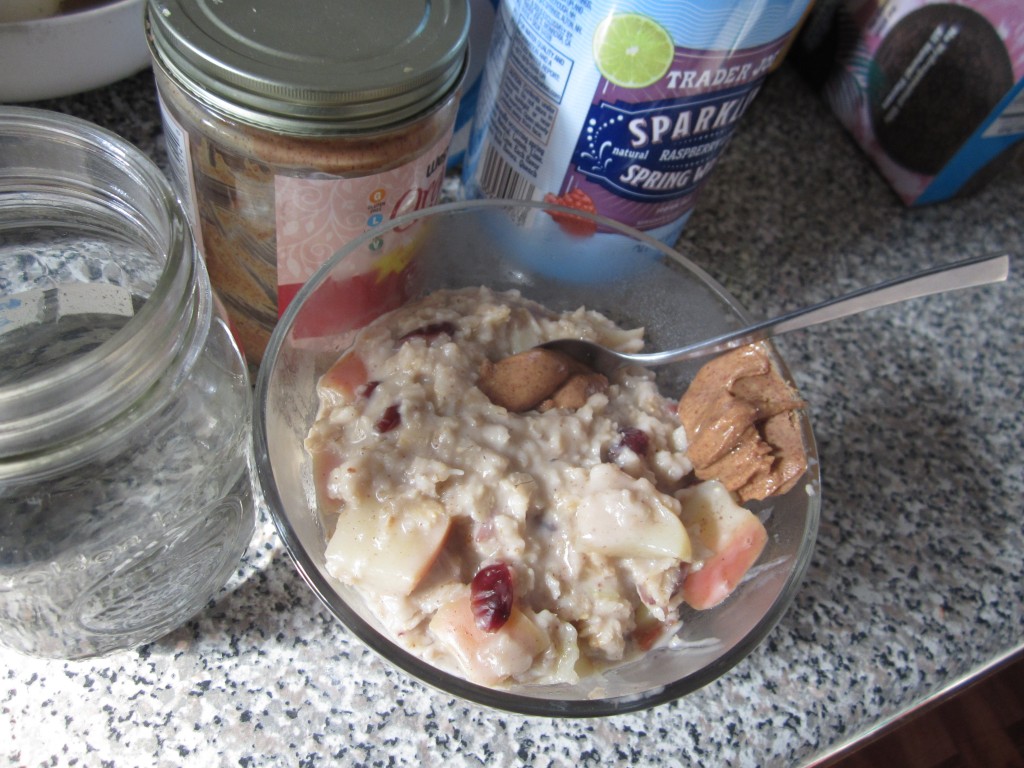 Last week I ran about 72 miles, which is kind of cool because it means I've strung together two 70+ weeks in a row and I've never done that before. I probably should have done some sort of tempo run or interval workout, but eh, I'm not superwoman.
Mon, Feb 13 – 9.5 miles, run commute home from work
Tues, Feb 14 – 7.5 miles, run commute to work
Wed, Feb 15 – 11 miles, run commute home from work
Thurs, Feb 16 – 5 miles during lunch break
Fri, Feb 17 – 9.5 miles, run commute home from work
Sat, Feb 18 – 10 miles
Sun, Feb 19 – 20 miles
Monday and Tuesday of this week were complete rest days – no yoga, no lifting, nada. Did I plan on taking two rest days this week? No, but the combination of a head cold and feeling a little burnt out indicated some time off was necessary. Even if I'm not feeling well or I have a rest day planned or I'm really busy, it's still hard to ignore the voice in my head that says "You should be running!". But you know what? There is nothing virtuous or admirable about forcing a run when you really need a day off. It's taken me awhile to realize that, but I think I'm finally at the point where I can tell if I need a rest day or if I'm just being lazy. That's one of the reasons why I don't plan a lot of them in my training schedule – I'd rather take a rest day when I feel like I need it vs. scheduling to take some random Wednesday off months in advance. This approach might not work for everyone, but it works for me!
Anyway, this week will be a little lighter on the mileage (maybe 50 mpw?), but assuming I feel okay on Saturday, this weekend's long run will go on as planned. 7 weeks until Boston and it's time to get down to business.
Okay, tell me – how do you take care of yourself when you know you need a more sleep or healthier meals or less stress? What do you say no to?