From an objective point of view, this week's 20 miler should have felt tougher than last week's. The wind gusts were about 50 mph along the Hudson (no exaggeration), I'm still getting over a head cold, and given that I ran 16 miles on Thursday, my legs weren't exactly feeling fresh.
But that's the funny thing about running – you can do everything right and still feel terrible. And occasionally you're rewarded with a good run despite adverse weather conditions, poor nutritional decisions, or minimal sleep. Sometimes it really feels like each run is equivalent to rolling the dice, you know? Anyway, I hit the road a little before 8am this morning and after 5 solo miles I met up with some running buddies (hi Megan M. and Jane!). We logged about 10 miles along the West Side Highway before I headed due East over the Williamsburg Bridge. My end point was the Brooklyn Brewery for a special brunch featuring Mary's maple porter beer, waffles with fancy toppings, bacon, and coffee. The brunch itself was a bit of mess (I did not enjoy standing in line for an hour+ for ONE waffle), but the idea was fun and it gave me something to look forward to during the run. So how were those 20 miles? Well, running for nearly 3 hours is never the bestest thing, but the miles seemed to tick by much faster this week. Maybe my head was just more in the game, maybe my running buddies were magical, I'm not sure. All I know is that this week's long run >>> last week's long run. (It's possible the post-run hydration had something to do with it…)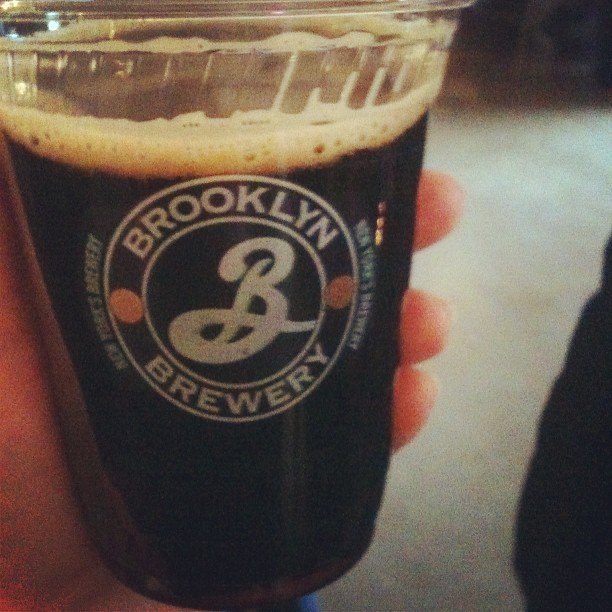 Last night I played the well-behaved marathoner and skipped a night out in favor of a quiet night at home. I ended up reading through some old running logs and took a trip down memory lane.
Fact: I have logged every single run for the past 9 years, 8 months, and 8 days (I had been running for about 2 1/2 years before I started recording runs). Those early runs were logged in a plain blue notebook. Later on I bought an "official running log" from Barnes and Noble and used that until 2007 when I made the switch to an online log. "Well that's great, Megan. But why do we care?" Well…I realize my old running logs might not be the most captivating subject, but I think they do show some interesting changes and trends throughout my running career. If this doesn't interest you, I understand. You can always skip this blog post and go start your own running log!
Still with me? As I was saying, nearly 10 years of data tells a pretty good story of Megan + running.
There was my very first entry from June 2002. I ran 8.1 miles at the end of the week which was a HUGE deal for me at the time. I don't think I ran more than 7 miles more than 1/2 dozen times before college.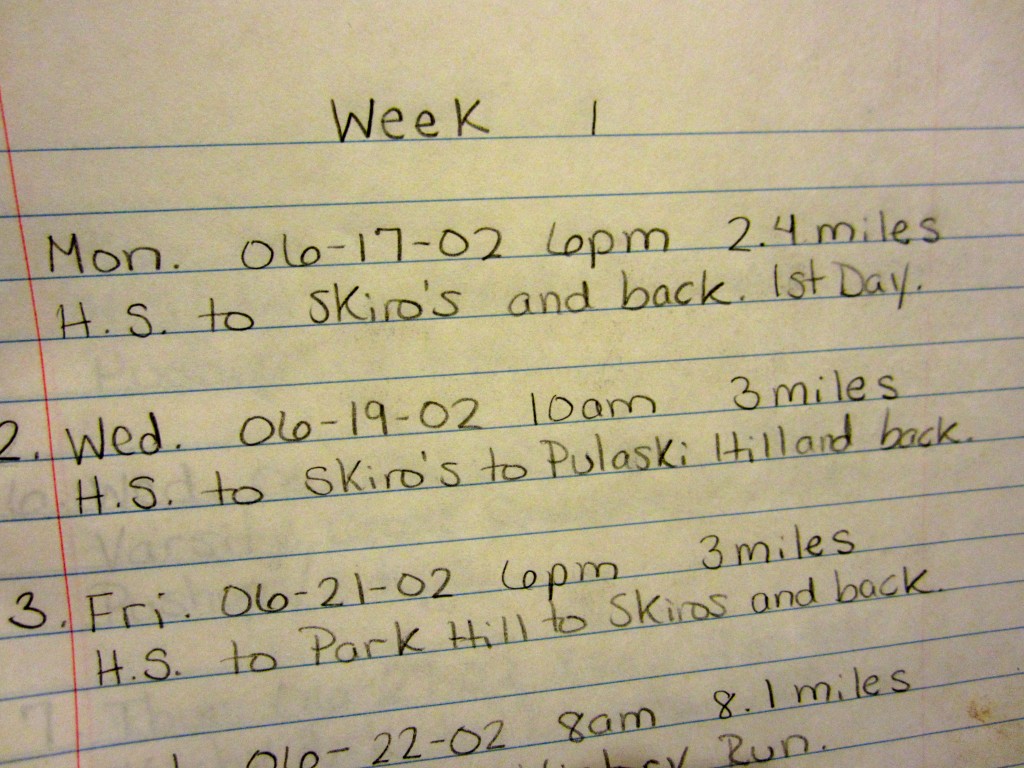 Speaking of college running….this is definitely NOT how you want to prepare for joining a varsity cross-country team.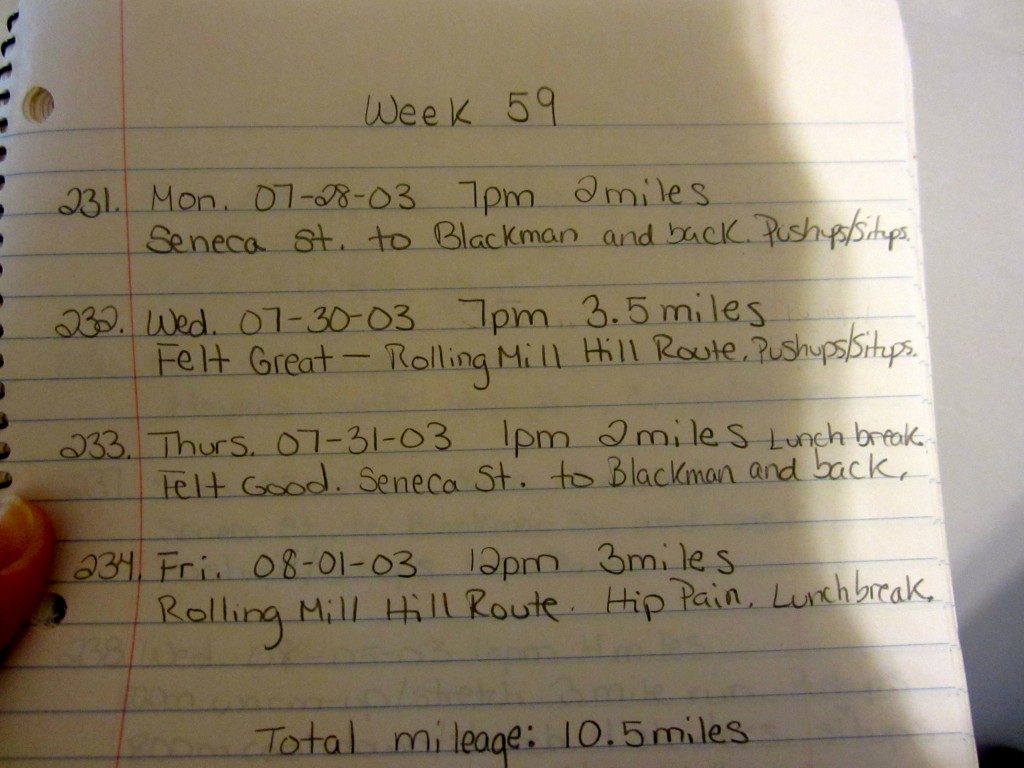 Our coach had given us schedules to follow over the summer – nothing crazy, just easy mileage. The problem was, I had never run more than 5 days a week or 25 miles MAX in my whole life. The prospect of running nearly every day of the summer, capping out at 40 miles a week was just unfathomable to me. I mean, I liked running, but it was more of a social thing. I ran cross-country and track in high school because it gave me something to do and all my friends had joined. I struggled a lot during the Summer of 2003. None of my high school friends were planning on running in college, so I had zero mileage buddies. And to be a successful runner, you have to really want it. Running because you want to look good in a bathing suit or your friends are on the track team will only get you so far. There needs to be a deeper desire for the activity…that's the only thing that's going to get you out the door each and every day.
Needless to say, running 10 miles a week when I was supposed to be logging 40 did not make for a great first week on the team, evidenced by this little gem: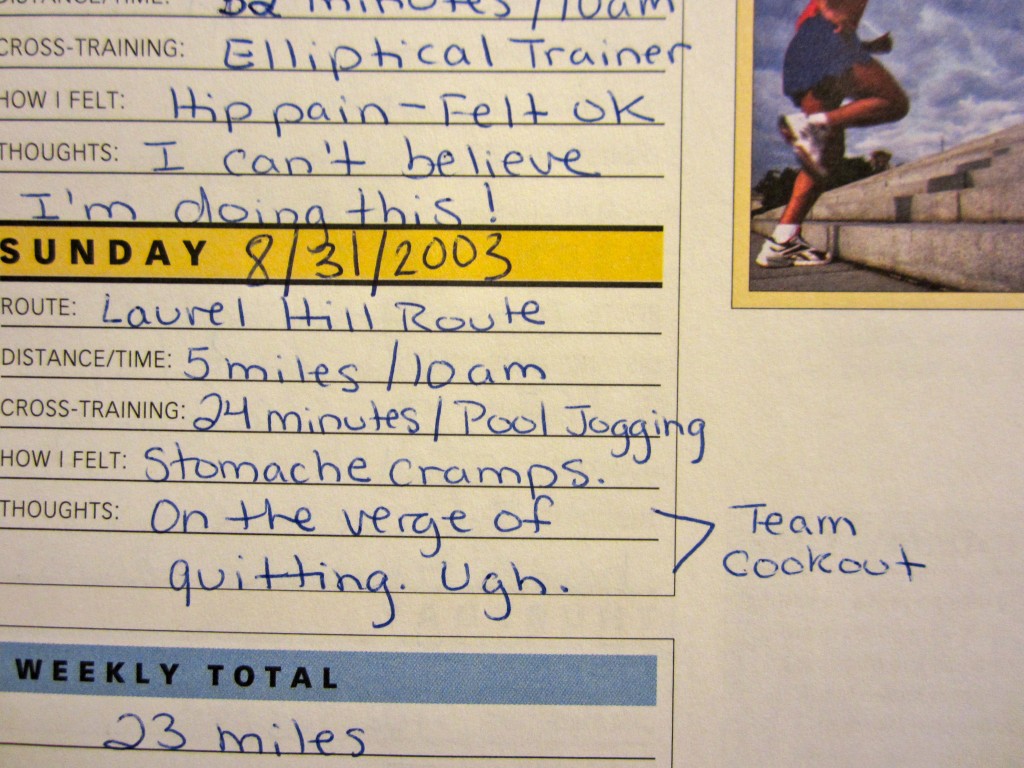 Guys, I was serious about quitting the team. I mean, I wrote it down in my log and everything! Did I do it? I had a little speech all prepared for the coach "This just isn't for me. I'm not cut out to be a serious runner, okay? I'm going to focus on my school work instead." Alas, the moment for quitting came and went and by mid-October I was still on the team. Things had were a little better by then, I had gotten to know my teammates, and was in better shape.
Megan the runner from 2003-2007 was still pretty different from the runner I am today. For example, I took a lot more rest days. Even when I technically wasn't supposed to…Let me tell you – running 9 miles/week over your 2 week Spring Break will not make for good track workouts when you return. It's going to hurt. A lot.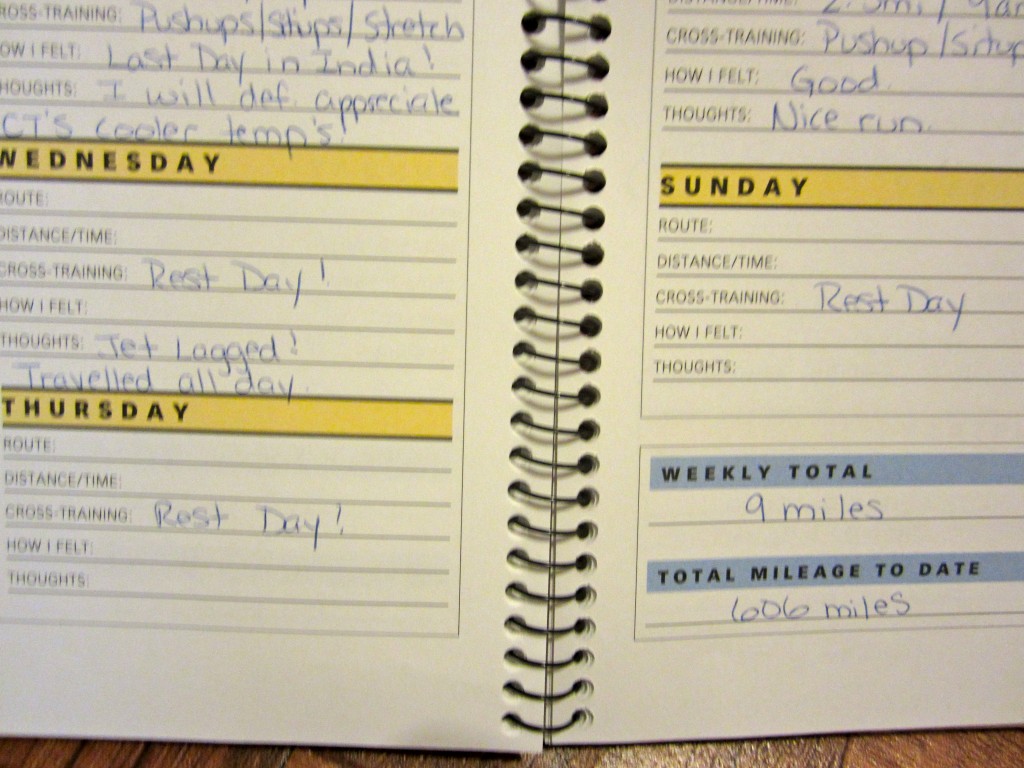 Running isn't always fun or enjoyable and it's helpful to remind myself of that whenever I have a crappy day. The good thing about keeping a running log is that you can look back at the ups and downs over time and be comforted in the fact that no run, no matter how bad is going to last forever.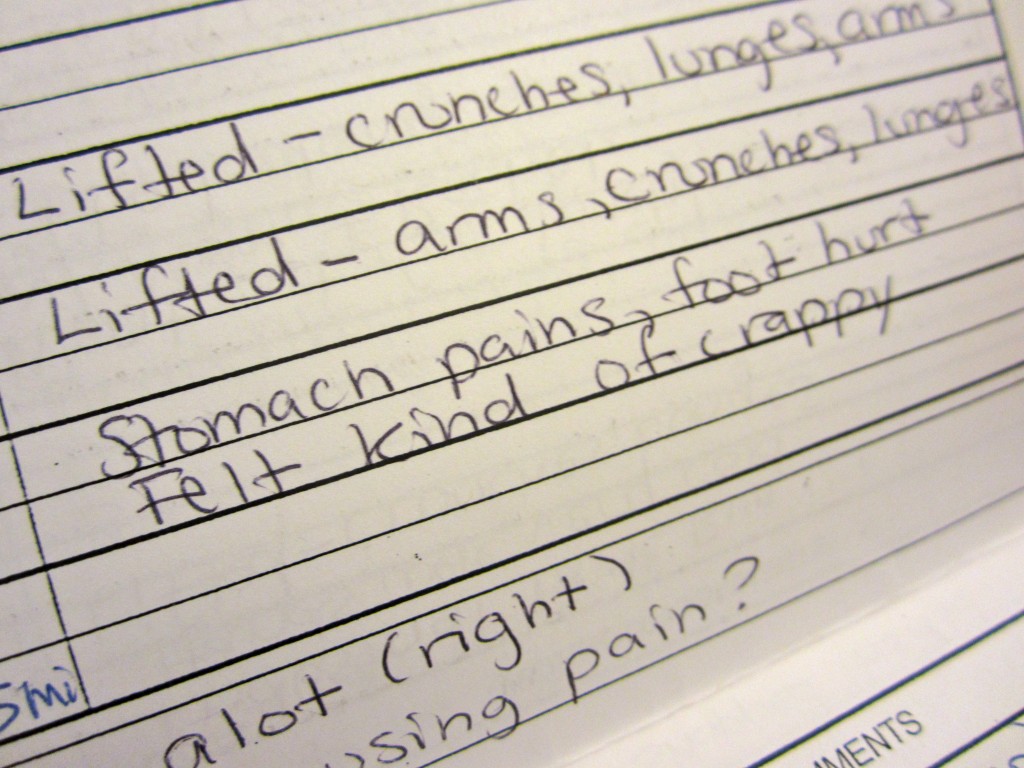 And for every 5, 10, or maybe 50 mediocre/crappy runs that you have, you'll probably have one run that is so good that it will keep you coming back for more. I've had plenty of good miles, but the one run that was absolutely perfect? A 5k track race that I ran in 2007. It was my first time breaking 19 minutes and it felt nearly effortless, almost an out of body experience. I hope someday to have another race that good, it's elusive, but I'm still chasing it.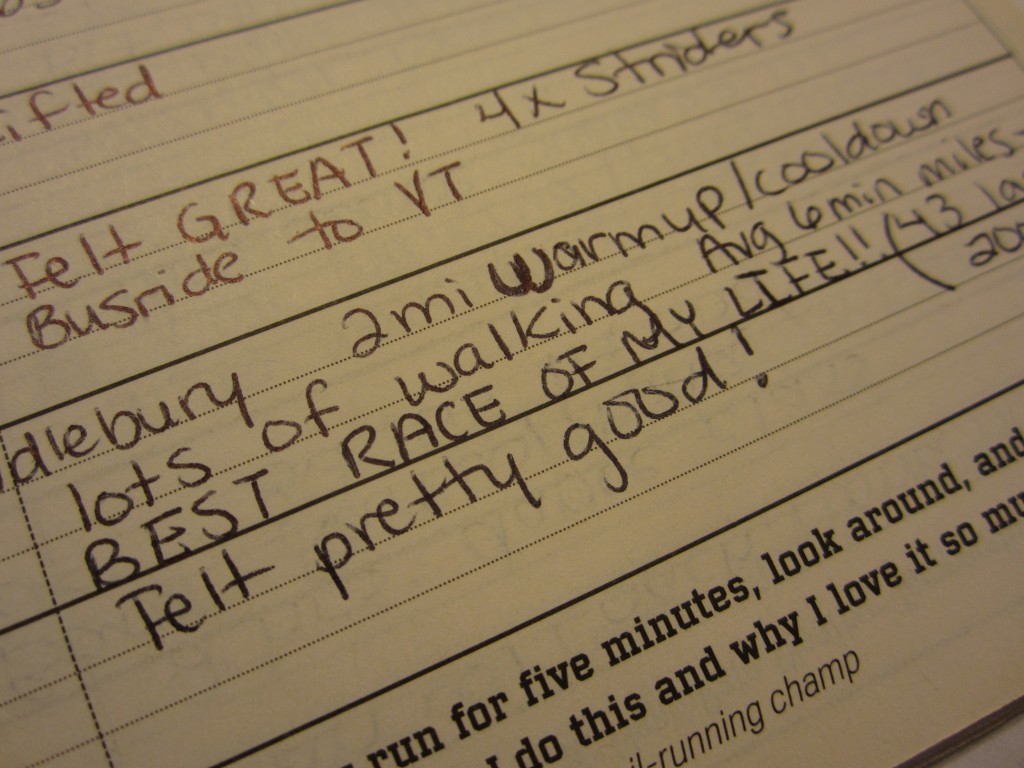 My running has evolved over the past 12 years and if I'm still running 10 or 15 years from now, I'm sure it will change some more. There are some things that have improved – my purpose for running and love of the sport have solidified. I no longer do this as an "extracurricular activity" or because my friends are runners. I run because I love it (well, most of the time). I also run a lot more miles these days and I'm more experienced when it comes to racing strategies, nutrition, rest, etc. But on the flip side….my workouts are a lot less consistent. It's not hard for me to do a 10 mile run, but a super speedy track workout? The demands of a job, a commute, and a social life get in the way of that more often than I'd like. Reading through these old logs also reminded me of how much better I used to be at strength training. Even if it was just some crunches and push-ups, they were a regular part of my routine. So while I'm looking to the future (Boston, I'm comin' at ya), I'm also going to look back and try to re-establish those good habits.
If you're still with me, congratulations. You deserve a gold star. And if you haven't already, go start a running log! If nothing else, it will make for good blog fodder 10 years down the road…