TGIF! The work week is over and without further ado, I present you with its hits and misses:
Misses:
1) LUNGES – Omfg. I had some time to kill before meeting my friend for a run on Monday night, so I decided to do some core work, bicep curls, and lunges. I have not done lunges in about a year and after the 3rd set, I knew things weren't going to be pretty. The run went alright, but I spent the remainder of the week feeling like my quads had just run a marathon. The jury is still out on whether I'll be doing these ever again.
2) Cranky Runners/Meddling Tourists – On Tuesday, a German tourist resembling Ahhhnold Schwarzenegger told me that I shouldn't be wearing shorts because it was too cold (it was 50 degrees). On Wednesday morning, a fellow Prospect Park runner called me a "stupid b*tch" because my arm lightly brushed her elbow as I passed by. And GOOD MORNING to you.
3) No Sleep in Brooklyn – I haven't been sleeping much lately, I'm talking 5-6 (interrupted) hours of sleep. I've also been drinking a lot of caffeine to compensate. I had a frappuccino and some mini kit kats yesterday afternoon and sort of felt like I was on speed. It wasn't entirely unpleasant. (Parents – don't freak out, it really was just coffee + sugar. I am not actually taking drugs <3)
Hits:
1) Running buddies who motivate – 
Last night around 5:30pm, I sent the following email to my workout buddy…
"ummm any chance you want to run easy in prospect park? hehe"
Luckily, she did not let me off the hook so easily. We both went to the workout and as usual, I'm glad I did. I can't explain it, but I get serious workout anxiety. The thought of running so hard and so far after work (in the dark) is really daunting sometimes. AND THAT IS WHY I HAVE FRIENDS TO KEEP ME ACCOUNTABLE. So, thank you.
2) Homemade hot toddies – I got home late last night. By the time I unlocked the door to my apartment, it was 9:30pm and I was un-showered and un-fed. I was a little cranky. After a quick shower and some leftovers for dinner, I made THIS: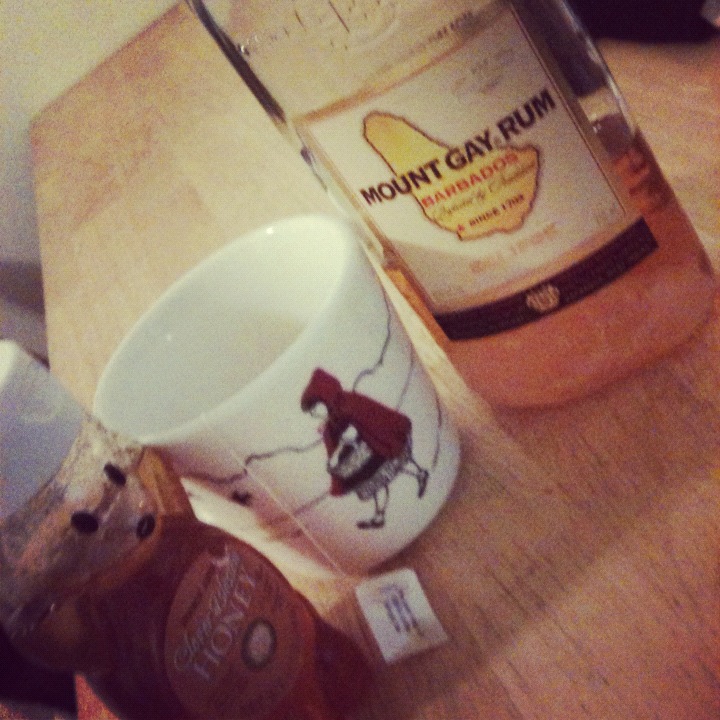 Okay, I realize that this might not be an official hot toddy recipe, but I had to work with what I had. I mixed one mug of hot tea (ironically Yogi's liver detox tea lolz) with a shot of rum and some honey. Lemon would have worked nicely as well. I will probably be making this again. Every night until April, actually.
3) Buying my lunch –
Bringing lunch from home saves so much money, right? Yeah, whatever. It's also a huge pain in the ass. I have to buy ingredients, prep them, wash dishes/tupperware, and figure out something filling enough to last me through the afternoon. I brought my lunch twice this week and hated it. It was boring and I ended up spending too much money at starbucks later in the day anyway. So the new plan is to buy my lunch, but  make my coffee at home (sorry indie coffee shop near the subway) and skip the afternoon frappuccinos.
Today's Just Salad: Kale, broccoli, asparagus, scallions, roasted butternut squash, quinoa, and egg all chopped up with chipotle vinaigrette. Happy Megan.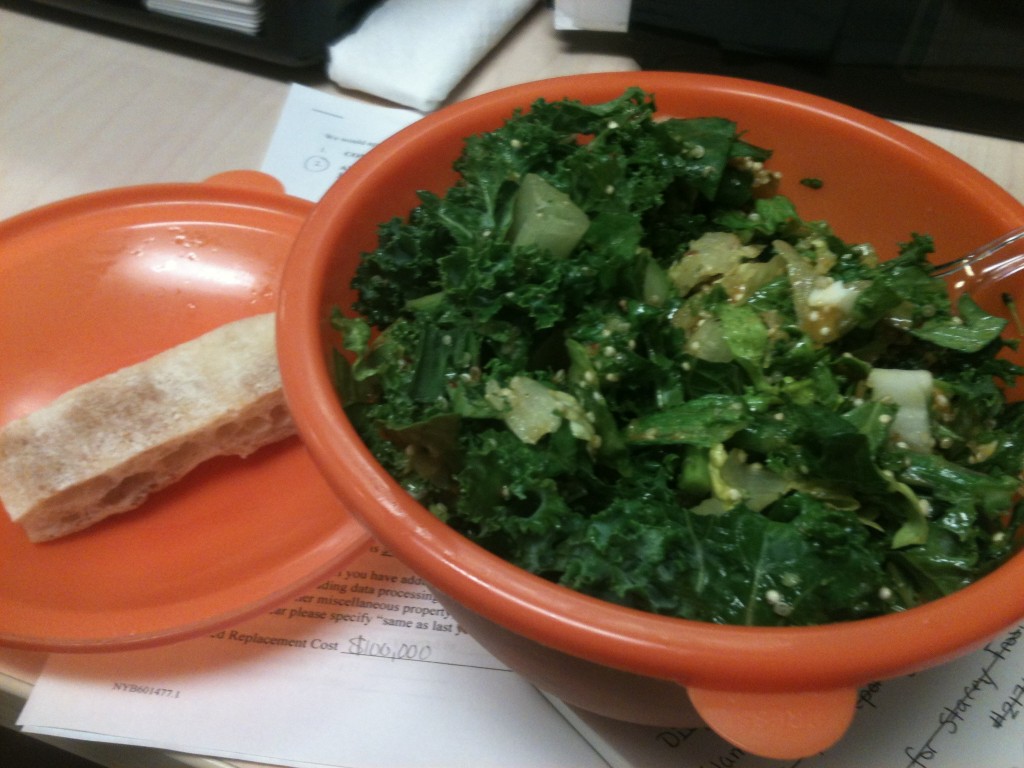 Half 'n Half: I made it to the weekly CPTC tempo workout (a victory in itself!), but my legs did not feel awesome. I still can't decide how I feel about this week's workout, so I'm calling it a draw.
1.75 miles warm-up
1 mile at 10k pace (beginning at W. 64th St, ending at E. 72nd St): 6:53, ehhhh slower than I would have liked
.25 mile recovery
5k tempo at half-marathon pace (beginning at W. 72nd St, up through the Harlem Hills, through the transverse, ending at W. 102nd St):
22:15 for the 5k with splits of 7:10, 7:10, 7:07, :48 for the last .1, again not as fast as I would have liked, but it was a hilly route and my legs felt very heavy.
.75 mile recovery
Final mile at 10k pace (from W. 88th St to W 70th St, approximately): 6:45, ok this was better. Still felt tough though.
2.25 cool-down
This isn't a traditional tempo and as I was discussing the workout with one of my teammates on the cool-down (holla Jacqui) she made a very good point – workouts like this are meant to mentally prepare half-marathoners and marathoners for the mind games necessary to excel in those races. 5ks and 10ks require strength and speed, but I feel like they're over before you know it…with longer races the race seems almost as much mental as it is physical. You can't let the distance overwhelm you, you have to play mind games, and talk yourself out of the inevitable bad spots that will crop up. Workouts that change gears like this will be beneficial on race day when you've got to finish fast, even on tired legs. Or at least I hope…
The route!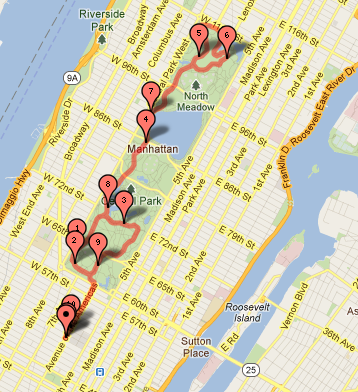 Okay, that's all I've got. I need to go eat some carbs in preparation for my 16-miler tomorrow (oh man). So tell me – what were your week's hits and misses?