Although nutritionists and other experts may try to tell me otherwise, I am pretty sure that cupcakes make excellent running fuel. I mean, they're basically the same thing as a muffin, right? Or a GU? Just agree with me here.
Anyway, I've taken a few cupcake baking classes at Butterlane Bakery and loved them, so I was super pumped to be named their "Blogger of the Week"! What does this mean? My blog got a shout out on their chalkboard AND I scored a free dozen cupcakes. Butterlane uses less sugar than other cupcake bakeries, so while still delicious, their cupcakes aren't so sweet that they make my teeth hurt. The banana cupcake with peanut butter frosting is A++. I might have eaten it for breakfast.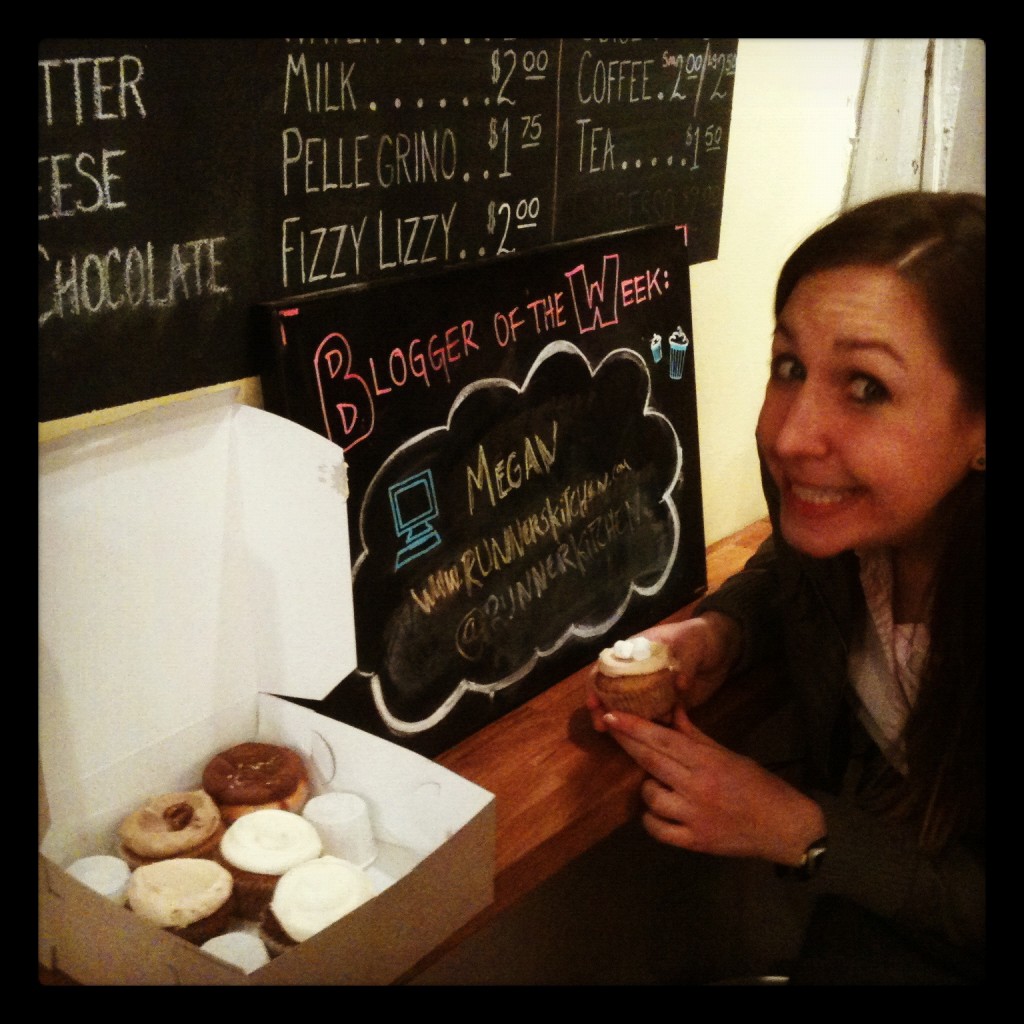 I am a serious lover of baked goods and candy and luckily it doesn't seem to be affecting my running (yet).  I know I should probably cut back on the sugar a bit, but sometimes it's hard to do everything I'm supposed to, you know? I've been really good this week about getting a decent amount of sleep and saying no to happy hour, so that will have to be good enough for now.
Last week I struggled to hit 60 miles (I think I managed about 57 miles + a rest day), but this week has seemed almost effortless. I think part of the reason is that I've been rockin' the run commute. I know I've said this before – but being able to run to or from work a few times a week has completely changed my routine for the better. The most direct route is a bit over 7 miles, but if I run over the Brooklyn Bridge instead of the Manhattan Bridge, it's more like 9 miles. Getting in some miles + not having to spend 45 minutes on a subway car during rush hour = wonderful. Sure, it can be a little hectic (I sometimes feel like I'm in a game of Frogger in midtown) and it takes some advance planning when it comes to showering and work clothes, but it is 1,000% worth it.
The week, so far:
Monday, February 6- 8 mile run commute from the office to Trader Joe's in BK
Tuesday, February 7- 7.5 mile run commute to work in the morning, 7 miles in the evening (including 6 x Cat Hill repeats @ 5k pace)
Wednesday, February 8- 9.5 mile run commute from the office
Thursday, February 9- 11.5 miles, CPTC tempo workout. 3 mile warm-up, 4 x 1.57 mi reservoir loops, 2.25 mile cooldown.
This week's CPTC workout had us running 4 reservoir loops progressively faster for a total of 10k (1.57 x 4 = ~10k). We began the workout at marathon pace, progressed to half-marathon pace, and ran the last two loops a bit faster. The idea behind this workout was to practice keeping energy in reserves and finish strong. Just like in a race, if you go out to fast in the first loop (or first mile), you're going to pay for it later on. I had a good group to run with and am pretty happy with this workout. After the second loop, a gap of about 100m opened up and I was running by myself for awhile. I knew I would have a better workout if I could catch the group, so over the next mile I just kept telling myself to "maintain contact" i.e. not get any farther behind and if possible, close the distance. It took me almost the whole 3rd loop, but I finally closed the gap. This is something that I think it really important in races – if someone passes you, it can be so easy to give up a little bit and slow down. If you can find a mantra like "maintain contact" or "close the gap", it can really help you stay in the game. I am so grateful to have running buddies with similar goals – my workouts are definitely better and faster than if I attempted them on my own!
Loop 1: 11:51 (7:32/mile
Loop 2: 11:21 (7:13/mile)
Loop 3: 11:07 (7:04/mile)
Loop 4: 10:52 (6:55/mile)
Would I have liked loops 2 and 3 to have been a little bit closer to my goal half marathon pace (6:5x)? Of course, but I think our group did a really good job progressively getting faster. Those last 1.57 miles were very challenging – I didn't have much (if anything) left in reserves. That's all I can ask of myself.
So while I can't explain it, this week has been incredibly good so far in terms of running. My legs have felt fresh and mentally I've been in the game. Of course, it's not always like this. Just a few weeks ago, I was complaining about my lack of motivation and the winter blahs. That's the thing with running – sometimes it sucks, but sometimes it feels better than anything else. The key is being able to get through those down times and make it to the other side.
My best running moment of the week occurred during my run commute home on Wednesday evening. It was snowing lightly, but there wasn't any wind and it was actually sort of pleasant. I was feeling sort of sad by the end of the workday, but by the time I was a few miles into my run, my mood had turned around. As I turned up Fulton Street, I saw this and couldn't resist pausing to snap a photo: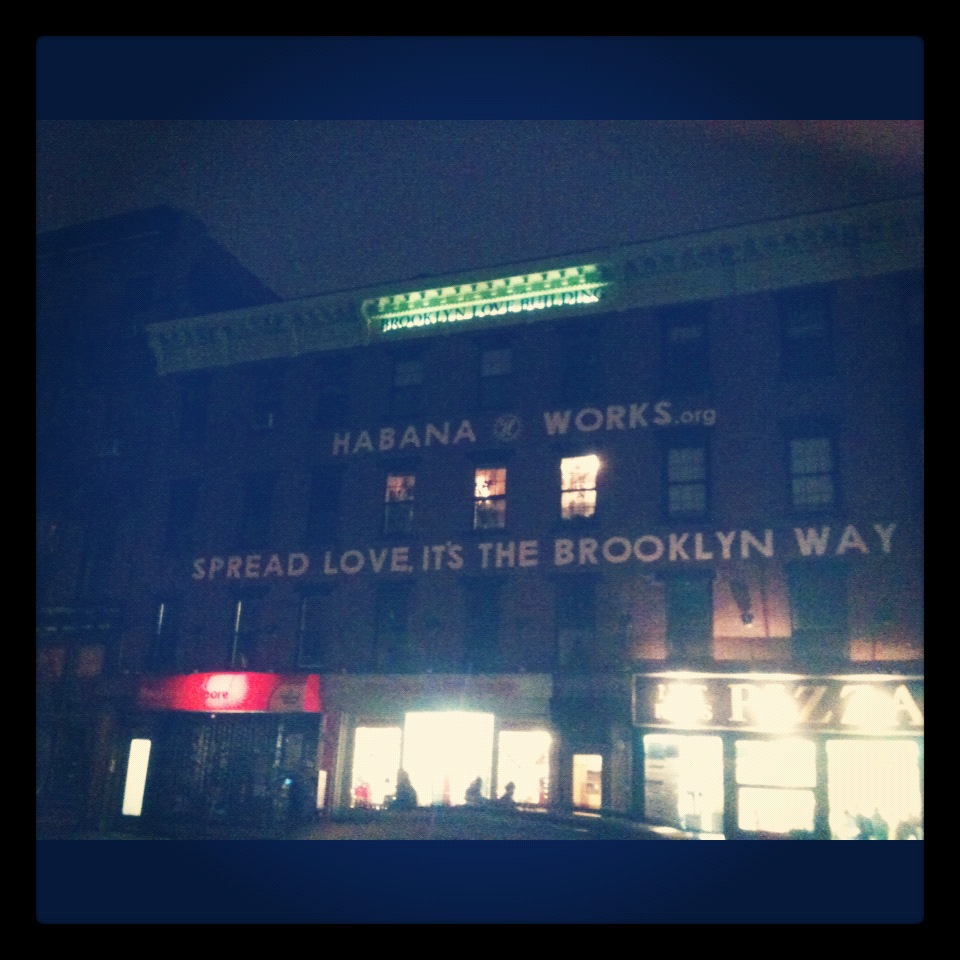 I'm a huge Biggie fan and seeing the lyrics to Juicy on this building put me in such a good mood. And how can you not love the message?
Remember in my last post when I talked about improving my post-run recovery routine? Well, I'm trying! I downed a chocolate Zico coconut water after tonight's workout (yay potassium) and I've also started drinking sparkling water + tart cherry juice before bed. It's almost like a cocktail, right? A few weeks ago, I mentioned the connection between tart cherries and their benefits for runners.
"In the investigation, 20 marathon runners drank either a tart cherry blend juice or a placebo drink twice a day for five days before taking part in the London Marathon and for two days afterwards.
The findings indicated that the group who drank the cherry juice recovered their strength more rapidly than the control group over the 48-hour period following the marathon. Inflammation was also reduced in the cherry juice group, as was oxidative stress, a potentially damaging response that can be caused by strenuous physical activity, particularly long distance endurance exercise." 
Hey, it's worth a shot, right? You can read more about the science behind tart cherries in the Red Recovery Report. Now for the real question: Do you think this will balance out my love of candy and cupcakes?
Do you have any motivational tricks tips or mantras for staying focused during a tough workout or race? Try the "maintain contact" tactic – I think it works!