Thanks to Ice Cube and his 1993 gem of a song for today's blog inspiration.
I like to think that I can do it all, but this weekend made me realize that maybe I need to check myself a little bit (at least until the Boston Marathon is over). If you wanted a poster child for how NOT to prepare or recover from your long, I would be a great example. On Friday night, I ate like a python and devoured a big salad, an even bigger meatball hero, and ice cream for dessert. It was delicious, but by 9am the next morning I was still full. "NBD", I thought. "I can do my long run with just some coffee in the tank". Ehh, that is not the greatest idea. I mean, I guess in retrospect the run was fine – 16 miles in about 2 hours 18 minutes, but I was feeling pretty woozy by the end. What I should have done: eaten a little bit less for dinner and fueled up with at least a banana and Gatorade in the a.m. I know what I need to do better, it's just a matter of putting it into practice. Luckily, I had great company throughout the run and that kept me from thinking too much about how thirsty I was. I ran the 3 1/2 miles from my apartment to the Manhattan side of the Brooklyn Bridge where I met up with my friend Nicole. From there, she escorted me up the West Side Highway to 72nd Street. I continued cross-town until I met up with the NYC runner army. New York Rogue Runners has been organizing a lot of fun runs lately (remember the NYE trip to Doughnut Plant?!) and Saturday was no exception. Once we grouped up, we headed from Central Park to the West Side highway and ran the 5 or so miles South to City Bakery. Having people to keep me company for the last few miles really made the time fly by. As soon as the Garmin hit 16.00, I hit up a coconut water (the Zico chocolate flavor is the best!) and headed into City Bakery to get some goodies.
Ali, Lindsay, and I staked out a table and got down to business a.k.a. drinking hot chocolate.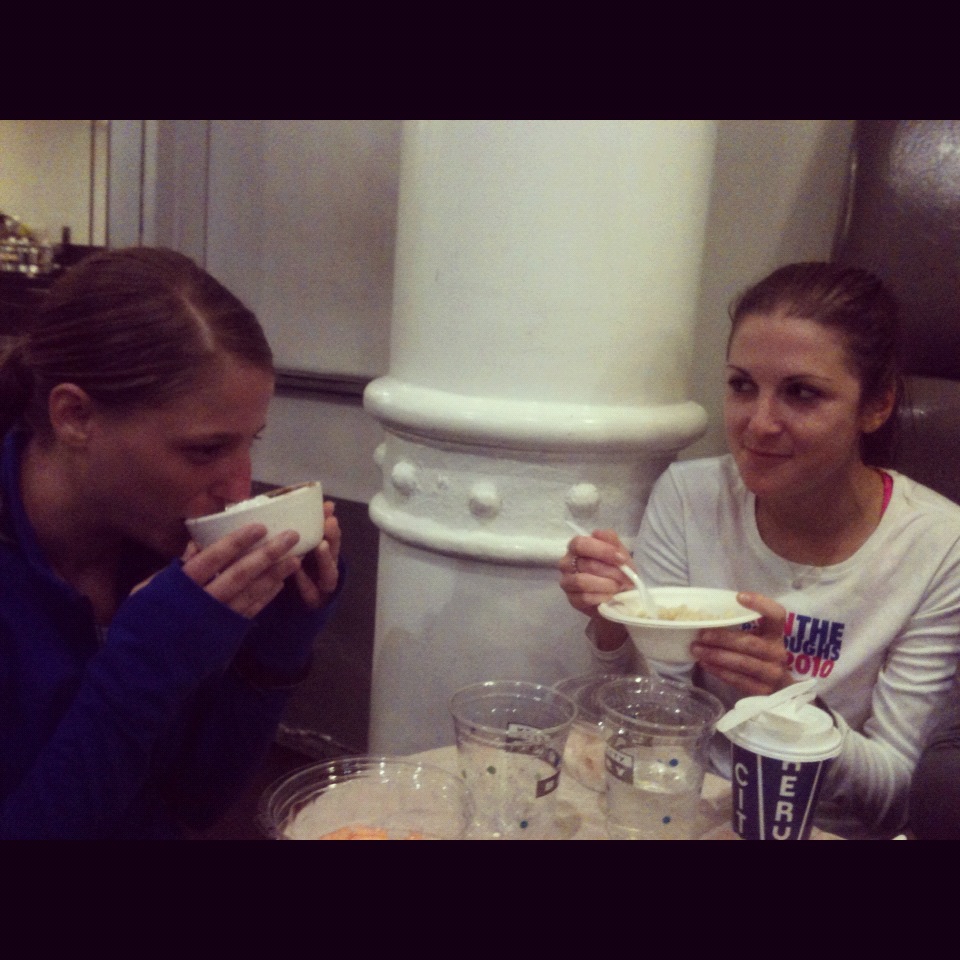 The hot chocolate at City Bakery is no ordinary hot cocoa….it's actually a cup of melted chocolate. Throughout the month of February, they have special flavors each day. I sampled the banana peel flavor, but ended up ordering a mini cup of the regular milk chocolate flavor. Confession: I ordered the mini cup, but almost immediately regretted not ordering the big cup. Next time, next time. I also grabbed some fruit and yogurt and a pretzel croissant. And I've decided that I want a pretzel croissant after every long run – salty, flaky, and buttery. Mmmm.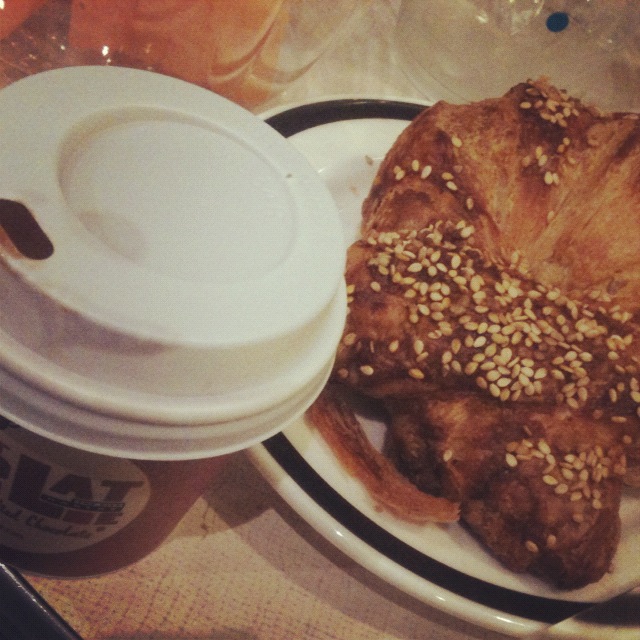 So what did I do for the rest of the day? Drink water like a boss? Wear compression socks? Eat a nutrient-rich dinner? Ehhhh, not so much. I tried to take a nap (fail), chugged a diet coke, microwaved a veggie burger, got ready for the much-anticipated Darkness concert.
Who are The Darkness, you ask? Ever heard of "I Believe in a Thing Called Love"? It was really popular around 2003 and according to wikipedia the song was named the 94th best hard rock song of all time by VH1 (based on fan voting). But I maintain that they are not a one-hit wonder. I was really into them in college, so I couldn't turn down the chance to see them live with some former cross-country teammates.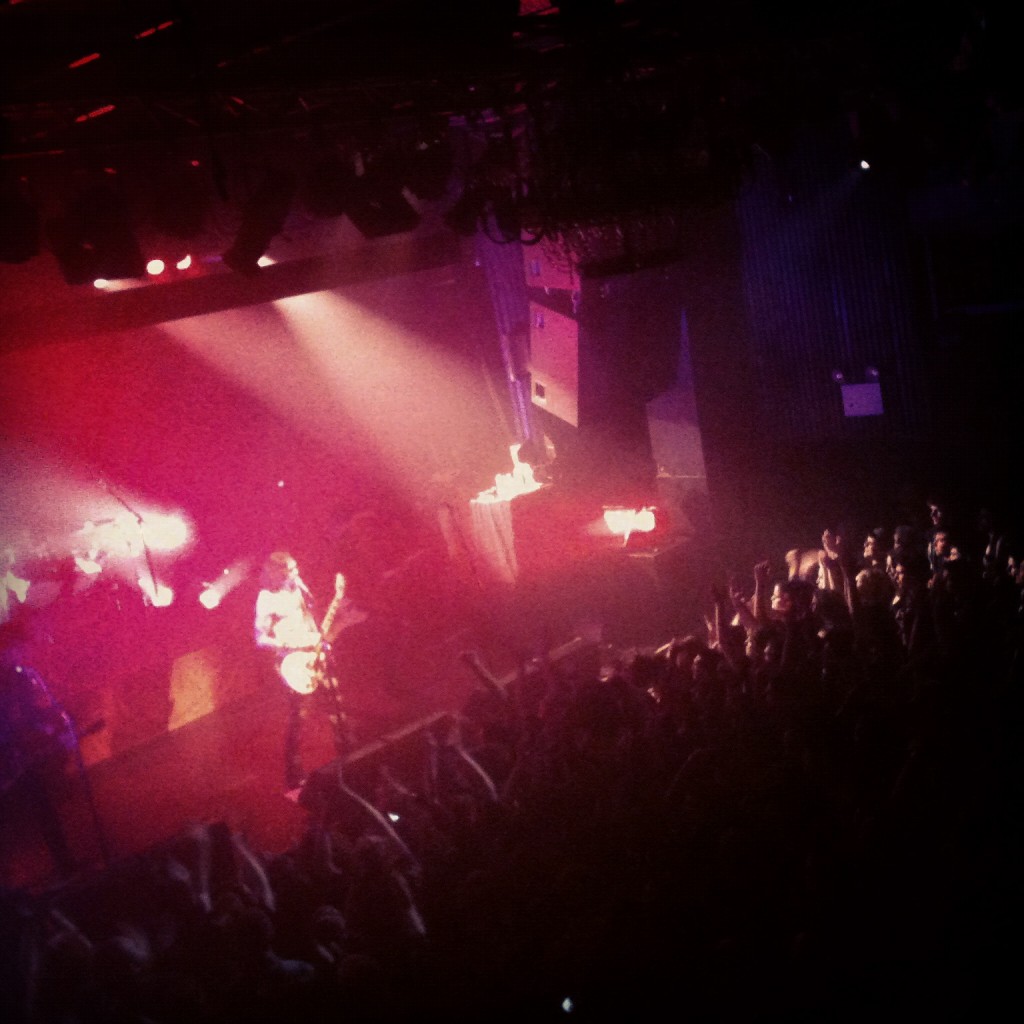 The concert was fun! I think I might have damaged my ear drums. And then I went back to Brooklyn, drank a lot of beer, and danced until Union Hall closed at 4am. On Sunday morning, I felt okay and convinced myself that I was pretty much invincible. "Oh yeah! I can totally meet my friend for a 10am run, sans coffee, water, or sleep. Who needs sleep? I feel Great!"
I got through 6 miles and almost as soon as I walked through the door to my apartment…my body rebelled. I developed these weird back spasms and stomach ache. I crawled in bed and stayed there for about 2 hours. I'm still not sure what they were, but I have a hunch it was my body's way of saying "Hey girl, how about you cool it on the bad nutritional/hydration decisions and maybe get some rest?" Okay, body, okay. You win. So I went to bed at 8pm (totally missed the superbowl, but goooo Yankees!) and slept for a solid 12 hours.  It's hard for me to accept, but I'm starting to realize that I can't do everything. And I especially can't do everything if I'm only getting 3 hours of sleep (really, that's been happening). Starting this week, I'm going to cut back a little bit on the extracurriculars and be more responsible about fueling and hydrating. While delicious, pepperoni pizza and some tall boys  just don't cut it.
You might be thinking…"WTF Runner's Kitchen, we thought you were here to give us sound nutritional and running advice!" Well, sometimes that is the case. Other times I am just a 27-year old trying my best to balance work, running, and a social life. Lately, I haven't been so good about it, but I still have time. In fact, I have an 18-miler coming up this weekend and just you wait – I'm going to fuel up like a champ and recover like I should. And I might even blog about it.
In case you're here for the recipes and not the running, I baked something this weekend that I think is blog worthy. Once I realized my weirdo back/stomach spasms weren't fatal, I got myself out the door to a Sunday afternoon clothing swap hosted by my friend Shayne. And I brought her THESE: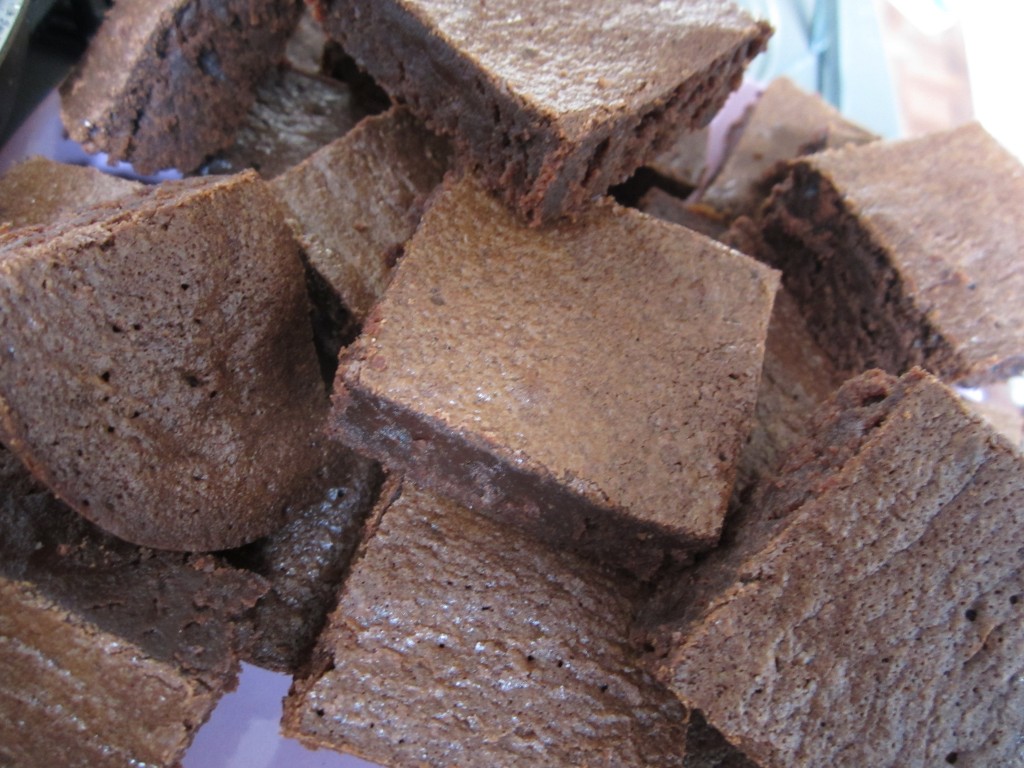 Apparently Baked in Red Hook makes the world's best brownie (Oprah says so) and a few years ago Smitten Kitchen made a version: The Baked Brownie, All Spiced Up. I made a few changes and was pretty pleased with the result. Was it the world's best brownie? I don't know, but it did have a nice texture – not too cake-y or too fudge-y. So thumbs up for that!
Slightly Spicy Brownies (makes 24 small-ish brownies)
Ingredients:
1 1/4 cups white whole-wheat flour
1/2 teaspoon salt
2 tablespoons dark unsweetened cocoa powder
3/4 teaspoon cinnamon
1/4 teaspoon cayenne pepper
11 ounces dark chocolate chips
1 cup (2 sticks) salted butter
1 teaspoon instant coffee (or espresso powder)
1 cups granulated sugar
1/2 cup firmly packed light brown sugar
5 large eggs, at room temperature
1 teaspoon pure vanilla extract
Directions:
Preheat the oven to 350 degrees F and lightly grease the sides and bottom of a 9 x 13 glass baking dish (I use PAM or Crisco spray).
In a medium bowl, whisk the flour, salt, cocoa powder and spices.
Put the chocolate, butter, and instant espresso powder in a large bowl and microwave at 50% strength for 45 seconds. Stir and microwave for another 45 seconds. Keep doing this until the butter and chocolate are melted. Add the brown and white sugar and whisk until combined.
Add 3 eggs to the chocolate mixture and whisk until incorporated into the batter. Add the remaining eggs and whisk until combined. Stir in the vanilla.
Slowly fold the flour mixture into the chocolate-butter-egg mixture, but try not to overmix. You don't want the brownies to be too tough or cake-y.
Pour batter into the baking dish and smooth down the top with a spatula. Bake on the center rack of the oven for 27-29 minutes (depending on your oven), rotating the pan halfway through the baking time. Wait until completely cool and then cut into squares.
What do you do in the hours immediately following a long run? Tell me your secret recovery rituals! Anddd go.