Happy 2012! And thank you for your Chocolate Milk Refuel Grant votes (you can keep voting till January 15th btw!). The winner of the baked goods give-away is:

Congrats Tasha! Email me what you'd like and your shipping address and good things will happen.
I have so many things that I want to write about, so you may want to grab a snack and get comfortable. First things first, how did that whole Runner's World holiday running streak work out? Surprisingly well! My shins are feeling a little sore which means I'm due for a rest day, but other than that, the streak was pretty easy. Keeping the streak helped me to get out the door on days when I would have otherwise bailed on a run. Case in point: Last Tuesday, it was 5pm, dark, raining, and 34 degrees. Not ideal running conditions, but I got out the door for 2 miles nonetheless. For the month of December 2011, I ended up with 200 miles, exactly. I didn't even realize it was a nice even number until after I tallied up the miles, post run. How weird is that?!?
Mostly for my own amusement, here's the mileage breakdown:
December 2011
Dec 1- 4 miles
Dec 2- 5 miles
Dec 3- 4 miles
Dec 4- 11 miles
Dec 5- 7 miles
Dec 6- 7 miles
Dec 7- 7 miles
Dec 8- 6 miles
Dec 9- 3 miles
Dec 10- 11 miles
Dec 11- 8 miles
Dec 12- 7 miles
Dec 13- 7.5 miles
Dec 14- 5 miles
Dec 15- 7.5 miles
Dec 16- 3 miles
Dec 17- 12 miles
Dec 18- 6 miles
Dec 19- 3 miles
Dec 20- 5 miles
Dec 21- 4 miles
Dec 22- 7.5 miles
Dec 23- 4 miles
Dec 24- 4 miles, 2.5 miles
Dec 25- 8 miles
Dec 26- 6.2 miles
Dec 27- 2 miles
Dec 28- 2 miles, 8 miles
Dec 29- 4 miles
Dec 30- 10 miles
Dec 31- 9 miles
____________
Total: 200.2 miles
Since I didn't use a Garmin for 99% of these runs, I can't really be sure of the mileage, but close enough! 200 miles divided by 31 days = 6.45 miles a day. Remember when I was going to chill out during the month of December and not run very much? Yeah, that worked out well. But on the bright side – I have a nice base for Boston training. I'll have more on that plan later this week…
My final run in 2011 took me from my apartment, across the Brooklyn Bridge (twice), along the waterfront, across the Williamsburg Bridge, and into the Lower East Side. The group I ran with was making it's second annual NYE trek to the Doughnut Plant. Thanks for organizing Elyssa! If you want to read an awesome recap, check out Susan's blog. My sweaty self somehow ended up in nearly all the photos.
It was sunny, 50+ degrees, and I finished with a doughnut and coffee. I can't imagine a better way to end a run (or the year).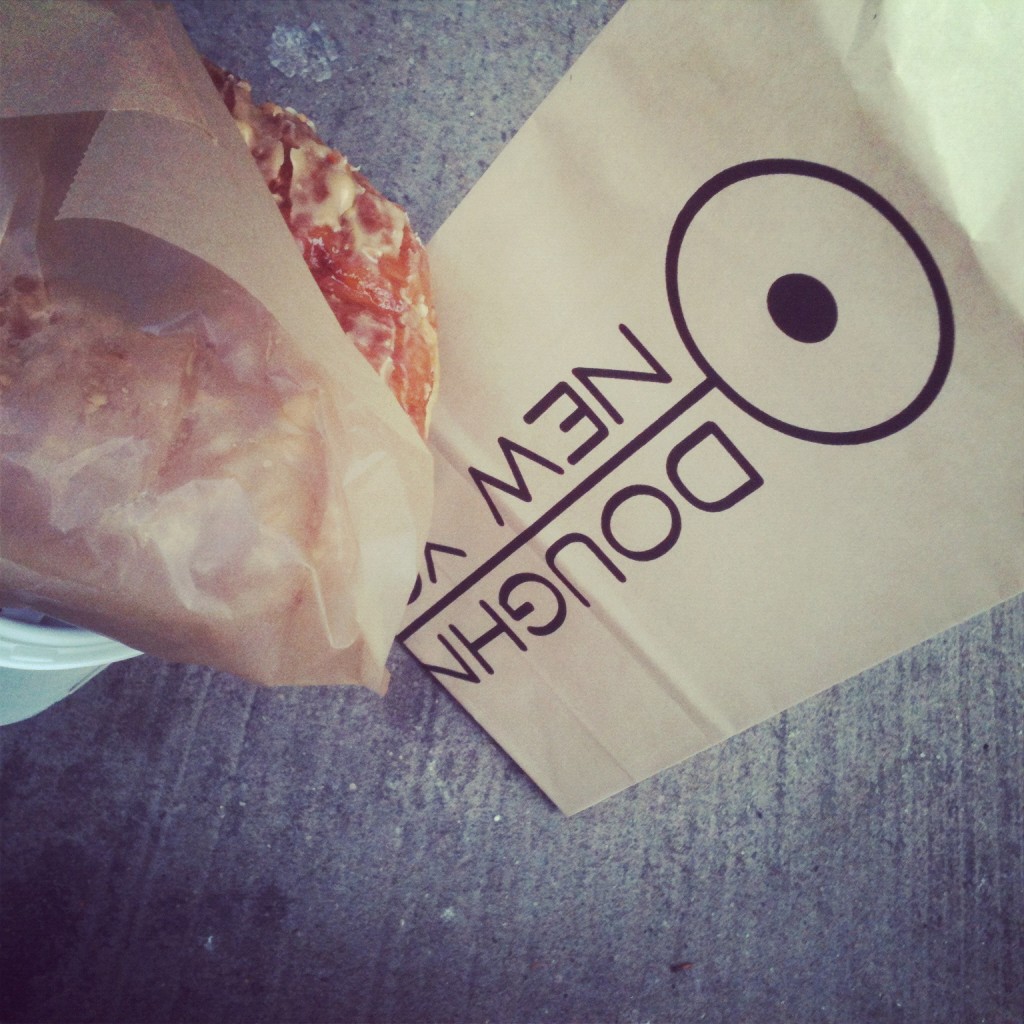 I spent the remainder of my day scrambling around, preparing for my little New Year's eve partay. I definitely want to count all the cleaning and prep that I did as exercise. I'm not a huge fan of big holidays (don't even get me started on Valentine's Day…), so I thought that having a few friends over would take off some of the pressure of having the.best.night.ever. I didn't have to leave my apartment, I spent time with some of my closest friends, and I didn't drop a Benjamin on cover charges and cab fares. We shall call New Year's Eve 2011/2012 a success.
Before the guests arrived, a friend and I made homemade pizza. I have also decided that from here on out, I'm only posting photos of myself making bizarre faces.
I call this one "the stinkeye".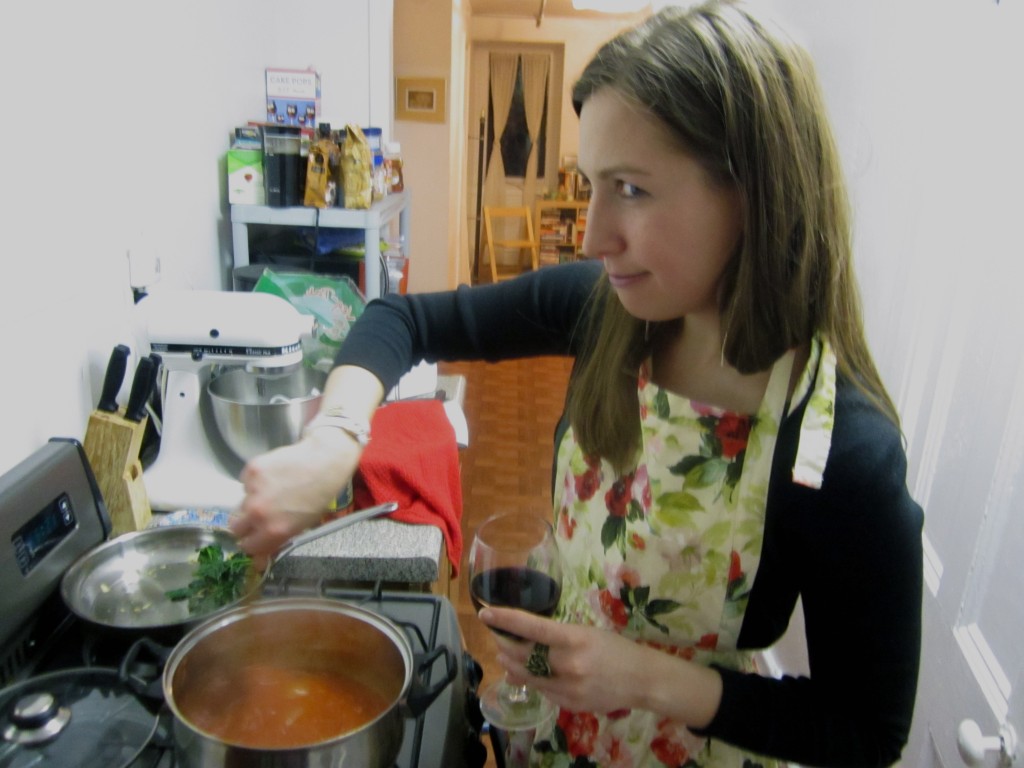 The whole wheat dough was homemade, the sauce was homemade (from CSA tomatoes stashed in the freezer), and I used my fancy pizza stone to get a crispy crust. Unfortunately making the dough into a circle was sort of a fail. Does anyone have tips on how to do that correctly?? The center of the dough kept tearing while the outer edges remained thick. I need a tutorial!
Perfect circle or not, it was (very) edible and provided a good carby base for all the wine and champagne that I ultimately imbibed in.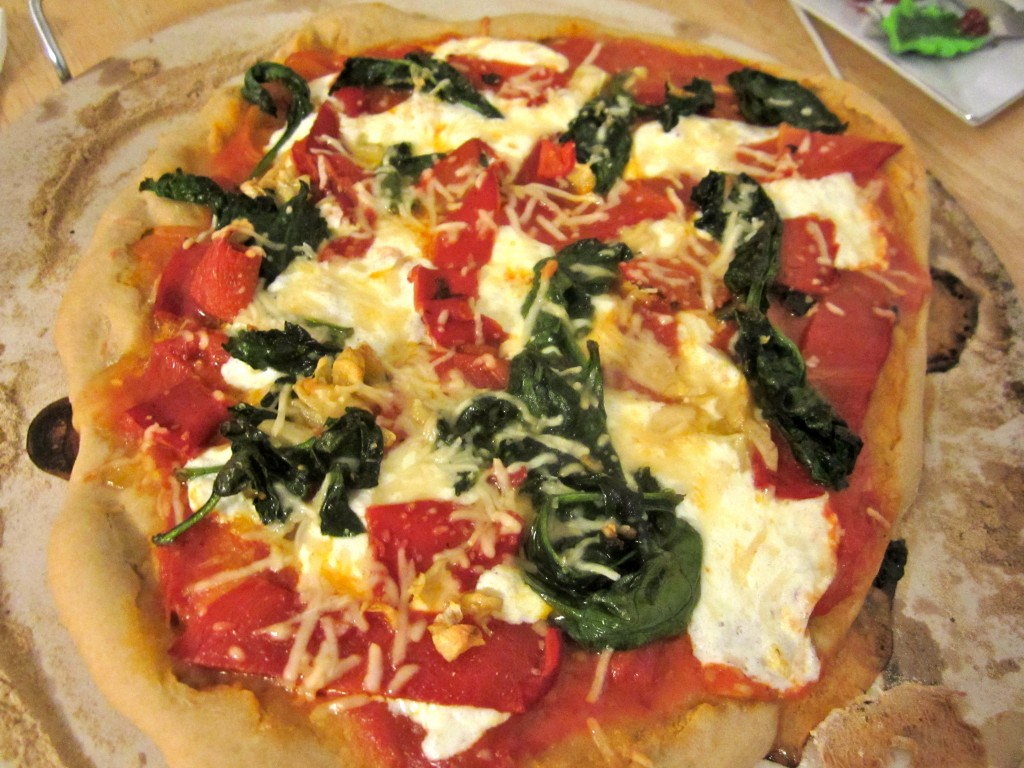 And since you know how much I love vegetables, I just needed to make some of Emeril's spinach artichoke dip for the night. Even if a recipe contains a pound of cheese, if it's green, it's healthy.
That's some sound nutritional advice right there. You're welcome.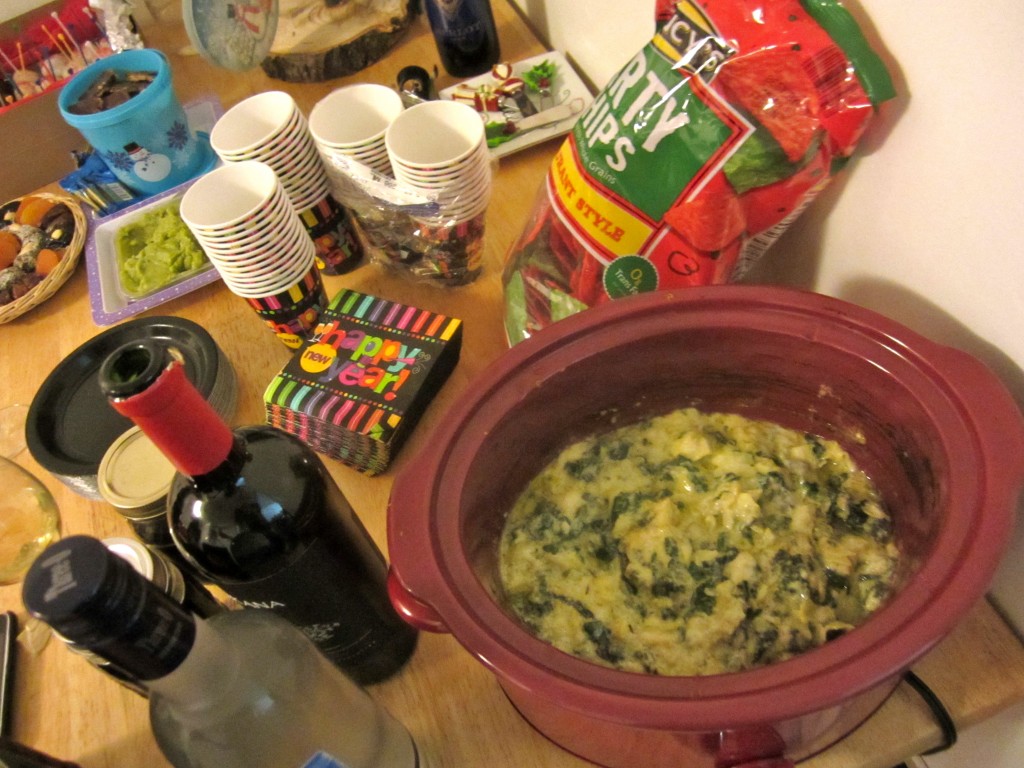 This post is already getting long enough, so I'm not going to bore you with an extraneous recap of 2011, but this time of year does provide a good excuse for reviewing the past and making goals for the future.
This year has had its ups and downs. Oh hey running motivation, where were you from January through June?? I took a few falls, made some mistakes, but I'm still in one piece and (most of the time) loving running. I realized how fun relay races can be and although 1:29:xx eluded me, I still managed to PR in the half-marathon. I traveled to the West Coast, the East Coast, the Midwest, Appalachia, and an island. I made some awesome new friends (thanks blog-world/twitter/sweat squad!) and made the leap to my own apartment in Brooklyn.
I just re-read my New Year's post from last January 1 and upon reflection, I feel like I stayed true to my goal to "just be happy". Do I have my career all figured out? A boyfriend/fiance/ husband, 2.5 kids, and a cute little house? A bank account that is over-flowing? No, No, and Definitely not. Let's be honest – if I can make it to work on time and pay the rent, it's a successful day in Megan-land. To many people, my life might not be the definition of success, but you know what? I end my nights happy and wake up most days excited about what lies ahead. I'm healthy, I'm young, I'm in love with my city, and I have friends who will drink too much champagne with me and collapse on the floor, laughing at 1am.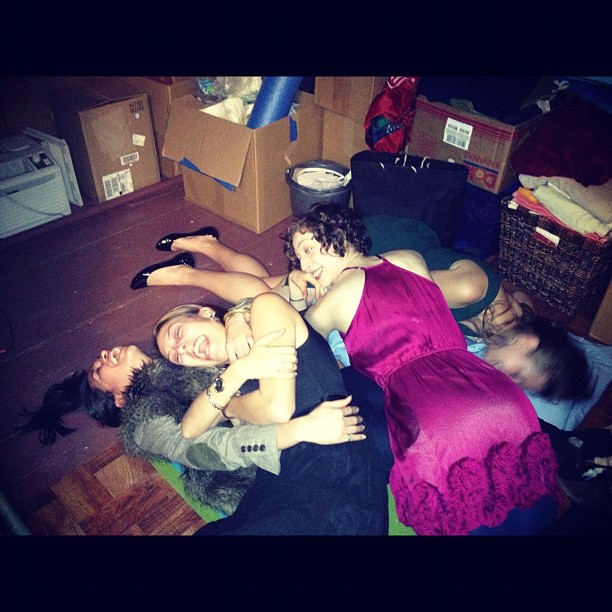 Of course, I have some things that I'd like to change, some goals for the new year, but there's time for that. At this point in my life, paying the bills, enjoying running, and being happy is all I can ask for.  And I can say with 100% certainty, that I am happy.
In the next week or so, I'm going to figure out my Boston training planned, so stay tuned. Until then, Welcome 2012!
And I want to know – do you have any running resolutions or goals for the New Year? We could all use a little inspiration and motivation.