So, after about a year hiatus, I got myself back to the indoor track last night. I usually have no problem running tempos. I'm pretty good at grinding out a steady 4-8 mile run, but fast intervals? Ugh. Cue the anxiety.  Track workouts usually mean I'm flirting with anaerobic pace and the burning lungs, jelly legs, and nauseous stomach that goes along with it. Sounds like fun, huh? Well, the good news is – I survived the workout! And it actually wasn't that bad. I'm currently training with the road distance crew (as opposed to the 1500m-5k runners), so the workouts are more about aerobic volume rather than pure speed. That's not to say the workout wasn't hard, but it's a lot easier for me to run 5k pace at this point than say, mile race pace. I had an awesome workout buddy last night (hi Grace!) and our times were right on target. We were conservative for sure, but it's been a long time since I've run anything this quick, so I wanted to make sure I didn't blow up.
2 mile warm-up (indoors, around the edge of the track)
4 x 800m @ 5k pace w/ 400m recovery: 3:10, 3:09, 3:10, 3:08
4 x 400m @3k pace w/ 200m recovery: 88, 89, 87, 85 <– I'm glad my legs remembered how to do this!
2.5 ish mile cool-down (outside, 50 degrees!)
9 miles total for the night. (And I really mean "night"…we didn't start the workout till 8pm)
Most of the time I love the autonomy that comes from being a post-collegiate runner. As an undergrad, our coach told us what times we needed to run for every workout, how many miles we had to run each week, and as for rest days? Complete rest days only happened twice a year – 2 weeks off after the cross-country season ended and another 2 weeks after the outdoor track season was finished. At all other times throughout the year, "rest days" = 40 minutes in the pool. If you were tired or hungover or cranky, too bad. Basically, unless you were on death's door, there was no excuse for missing practice.
So yeah, I definitely appreciate being in charge of my own training nowadays. I decide on my goal races, I determine my mileage and rest days. And while the CPTC coach assigns workouts, it's up to me to figure out what kind of paces I need to run. It's nice to have flexibility, but sometimes I miss the accountability and advisement that having a full-time coach provided. I hit the times I wanted to in my workout last night, but were the fast enough? Should I have been pushing harder? Back in college, I remember my coach assigning workouts that I thought were outside my realm of possibility, telling me to run races at times I didn't think I was capable of. And you know what? I usually met or came close the what he asked of me. I guess that's the goal of a coach…to push your limits, to help you realize your own potential. Does this mean I'm looking for a full-time running coach? I don't know. I'm not in college or high school anymore. My life is a lot different now and I no longer have the luxury a flexible schedule. And let's be honest – now that I've been given a taste of autonomy, I'm not sure I'm ready to give it up. I like running how much and when I feel like it and I can be a little stubborn when it comes to others telling me what to do. For right now, I think I've got a good thing going on, self-direction when it comes to miles and rest days, but some guidance from the CPTC coach when it comes to workouts. I want to become a better, faster, stronger runner and sometimes it's hard to know what's enough (or too much). Stay tuned.
When I'm not in serious training mode, I feel like I can skate by with a little less sleep, more questionable nutritional decisions, and less planning overall. But now that I've ramped up my miles and workouts (omg Boston is only 81 days away omg), I need to schedule things down to the minute. I always feel like I'm thinking 3 steps ahead: What should I pack for tonight's post-work tempo run? Do I have any clean sports bras? How will I run 8 miles tomorrow morning AND get enough sleep? What will I have for dinner when I get home at 10:30pm? Should I bring clothes to work for a run commute this week? I enjoy training, but damn it's a lot of work. For the next 12 weeks, I'm foreseeing a little less weeknight fun and a lot more miles, food, and laundry. It's taken me awhile to get pumped, but I'm finally feeling excited about the hard work I'm going to put in over these next few months. I realize how lucky I am to 1) be healthy 2) have the motivation, desire, and time to train well. It's not an opportunity I'm going to waste.
With my returned focus on marathon training, I've been trying to make healthy, quick, and fairly economical meals. Sometimes I fail and eat 8 homemade peanut butter chocolate chip cookies for dinner (yup, that happened), but I'm trying!
I'm not a vegetarian (we all know I love a good burger), but I rarely cook meat at home. There are a lot of reasons for this – it sort of grosses me out sometimes, quality meat can be expensive, and it's a pain to cook for just one person. So usually I gravitate towards vegetarian dishes when I cook for myself. One of my favorite things to make is a frittata. On Sunday I caramelized an onion in a bit of oil, added some leftover roasted  kabocha squash, 3 eggs (lightly whisked), a grating of cheese, and salt & pepper. I let it cook in a large frying pan over medium heat until just about set in the middle, and then popped it into a 350 F oven for about 5 minutes until it puffed up. I had a little trouble getting it out of the pan, so it looks more like an egg scramble here, but it still tasted good. I used a little of my favorite butternut squash salsa (yes, really!) to top it off. The best thing about frittatas and scrambles is that you can pretty much add anything – it's a great way to use up leftovers.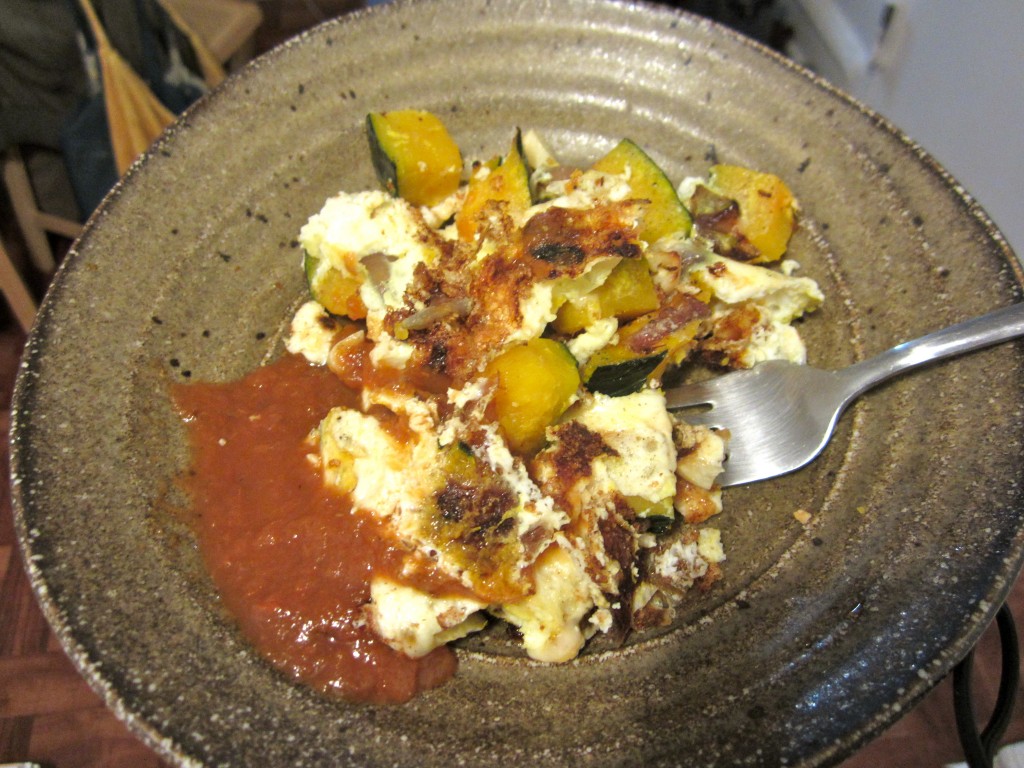 There's been a lot of football talk lately (apparently there's some big game next weekend?? hah!) and it got me thinking about buffalo wings. During my last Whole Foods visit, I picked up some tempeh (fermented soy beans, easier to digest than tofu), a bottle of buffalo wing sauce, and some blue cheese.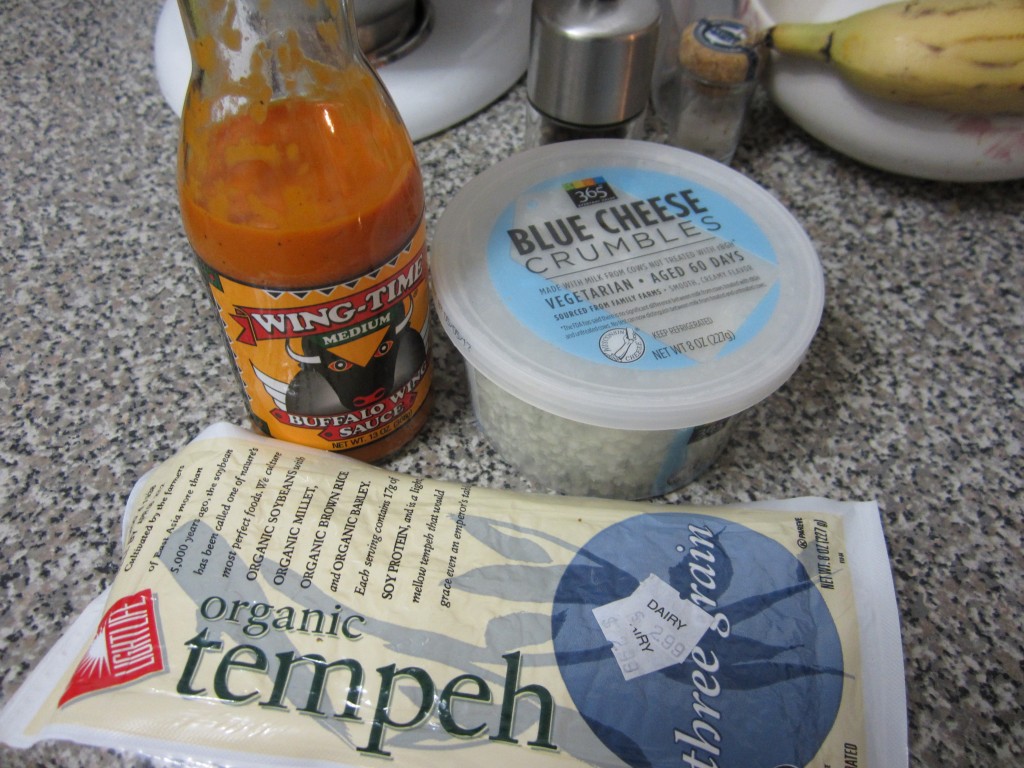 I wouldn't really call this a recipe, but in case you want to re-create:
Buffalo Wing Tempeh (makes about 3 servings)
Ingredients: 
1 large yellow onion, diced
1 Tbs canola oil
8 oz tempeh, cut into 1/4″ slices
1/3 cup buffalo wing sauce (more or less depending on how spicy your sauce is)
1 head of romaine lettuce, washed and chopped
blue cheese crumbles for topping
optional: chopped celery <—I didn't have this, but it would be a nice addition!
Directions:
Heat the oil in a large saute pan and add the onion. Cook over medium heat until softened, about 5 minutes
Add the sliced tempeh and allow to brown a bit on each side. Stir in the buffalo wing sauce.
Fill a bowl with romaine lettuce (and celery) and top with some of the tempeh mixture. Top with blue cheese crumbles.
I ate my salad with a few cornbread muffins and butter. Runners need carbohydrates, yo.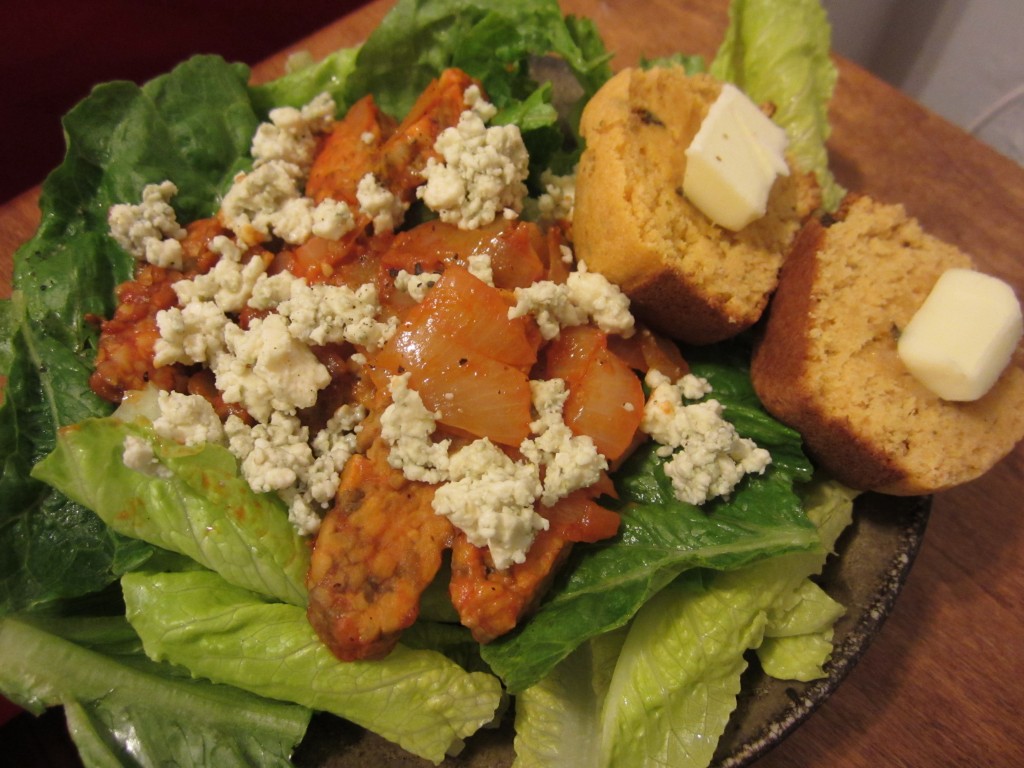 Do you cook meat at home? Only eat it when you go out to restaurants? Are you 100% vegetarian? Mark Bittman recently reported on why as a country we're eating less meat in general (a 12% drop in 5 years to be exact)…..food for thought.