Allow me to begin my latest curmudgeonly guest post with a digression – or, as we call it in journalism, a heavily anecdotal lede.
Between the ages of 12 and 19, I was paralyzingly in love with Stephen Sondheim musicals. In 60 years I will have forgotten the names of all my friends and family, but will still be able to recite the lyrics to A Little Night Music in toto. So, it is perhaps unsurprising that I can approach almost any situation in life with a lyric from a Sondheim musical. In this case, the one I promise I will get to in like just a hot second, the musical is Assassins (it's about successful and unsuccessful presidential assassins). The character is Samuel Byck, some lunatic who tried to assassinate Richard Nixon. And the lyric is this: I want my prize!
Samuel Byck, meet hobby joggers. Hobby joggers, Sam Byck.
There are plenty of things that piss me off about running culture: $150 stability shoes, white compression shorts, overemphasis on marathons, Gatorade stops in a 5K, and so on. But there may be nothing – nothing! – more maddening than the impression among recreational runners that the completion of a race merits a medal.
Examples of people who should receive medals:
1. Incredibly brave soldiers. They receive National Medals of Honor.
2. Brilliant mathematicians. They receive the Fields Medal.
3. Olympic athletes. If they are top three, they receive Olympic Medals.
(Megan says: The medals might be the only appropriate thing about this photo)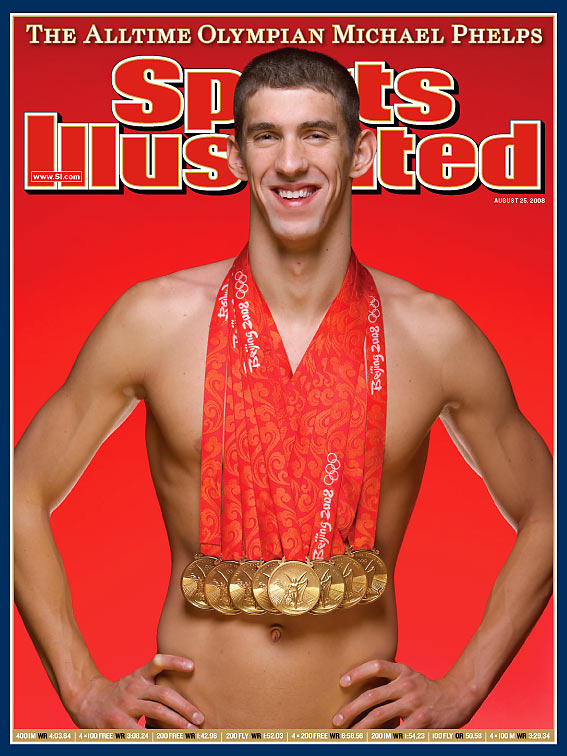 Examples of people who probably don't deserve medals:
1. You, finishing a 1:45 half marathon. Or a 3:15 marathon. Or, hell, a 2:45 marathon that you didn't win.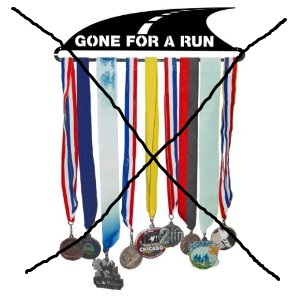 In the interest of full disclosure (or as full disclosure as you can get in an anonymous guest blog post), I have a number of medals, both ones I've earned through winning or placing in races, and ones I got because I finished. And do you know where I keep them? …really? You do? Because I haven't seen them since I got home from the races, dumped my clothes and half-eaten granola bars in the corner, and hopped in the shower. I'm decidedly not a "stuff" person, but even if I were, I'd like to believe that I still wouldn't demand a symbol of victory for doing something in which I was not victorious. Or, should I say, I wouldn't be a whiny bitch about not getting a medal if I didn't win.
This topic arose recently after I read a few reports about the  missing-medal kerfuffle at the Rock 'n Roll Las Vegas Marathon. In addition to the logistical clusterfuck (if Megan edits that last word, know that I did not self-censor) of the race, a number of half marathoners were irate because they did not get medals at the end.
I find such an attitude of entitlement repugnant, and said so on Twitter. One woman responded, saying something along the lines of, "Disagree! If you finish a marathon, you are a winner!"
No. No you are not. That guy who won is a winner. You – and this is the global you – are an also-ran. You're John McCain. Howard Dean, if you will.
To be clear, I think the democratization of distance running is a good thing. The more people who run, get healthy, and promote road running, the better for the sport. You want to spend $150 on marathon registration as a New Year's resolution? Mazel tov! Good for you! But, honestly, why on earth should the mere action of crossing the finish line result in anything other than a hearty pat on the back and three to four hours of brilliant, if painful, memories? I mean, is there any other activity we do, as adult human beings, in which prizes are compulsory?
Answer: no. And if you answered yes, let's be clear, it's just someone blowing smoke up your ass. And if there's anything more irritating than smoke up my ass, it's a bush league medal around my neck.
(Megan says: Leave a comment if you think Sarah should guest post more often. <3)