When I signed up for the Brrrooklyn Hot Chocolate 10k about a month ago, I knew I wasn't going to be in peak shape, but I figured it would 1) get me out of bed on a cold winter morning 2) give me a good workout/fitness predictor. And let's be honest, if I always waited to be completely in shape, for the perfect weather, for a flat course…I'm pretty sure I would never race. I think that sometimes you just have to see where you are and give everything you've got on that particular day. Anyway, the race has sort of been on the back burner this week, so the realization that I was going to be racing a 10k didn't really set in until I picked up by bib number on Friday night. My legs were feeling pretty good and I was able to get in bed by 11pm ish, but unfortunately this week hasn't been the greatest for sleeping. I guess I have a lot on my mind and so insomnia has made an appearance. 5-6 hours of sleep just isn't cutting it for a girl who needs 8.
I finally dragged myself out of bed a little before 7am this morning giving me less than an hour to drink coffee, eat a few bites of luna bar, get dressed, and warm-up 2.1 miles to the race. Thankfully I wasn't checking a bag because I was cutting things pretty close. I definitely could have used some more time in the bathroom, ahem. But I got myself to the starting line and all was going according to plan until they announced the timing mats weren't working and there wouldn't be any timing. Um, what?? I got myself out of bed before 7am on a Saturday and paid $20 for a "fun run"?? Meh. I was not pleased, but these things happen I guess. I must say though…it's a little difficult to stay in race mode, when you know you won't be timed. I decided to just see what happened and try to get in a good workout. I never, ever wear Garmins during races, but for some reason I made the last minute decision to bring mine to the park and in retrospect, I'm really glad I did. There was only one clock (at the finish line) and the mile markers were small and hand drawn (I think?), so it was nice to know what pace I was running. The first couple miles were okay and I ran with Susan for a bit (yay!), but the second time we ran the big hill I sort of thought I might puke. Things improved by miles 4 and 5 (which were mostly downhill) and I just tried to find a rhythm and pass some people in the final miles. My stomach started rebelling around mile 5.5 and instead of a countdown to the finish line, it became a countdown to the porta potties. TMI? You're welcome. The good news? I made it to the finish line with out embarrassing myself, either with bathroom issues OR a horrendously slow time.
According to my watch: 10k/6.21 miles in 42:30 (6:50 pace)
The good news? That's only 2 seconds off my PR, not too shabby considering I probably raced at about 90% effort. The fact that it wasn't an "official race" was sort of demoralizing and it definitely messed with my motivation a bit.
The bad news? Umm…6:50 pace should be my half-marathon pace, NOT my 10k pace. Yeahhh. Either I have one "race pace" or I need to start doing more workouts. Probably the latter.
But in any case, it was a good effort. I give myself a B+. I made friends with the nearest porta-potty, sipped on some hot chocolate, and then powered on for another 6.7 miles. The weather was beautiful and I have plans to go out tonight, so adding on miles to make it a long run seemed like the best option. The remaining miles were sort of uneventful. The three cool-down miles immediately after the race were super slow (and awesome!!) and then I resumed regular long run pace.
Ta-da! My first 15-miler of Boston training. Blue highlighted ares = race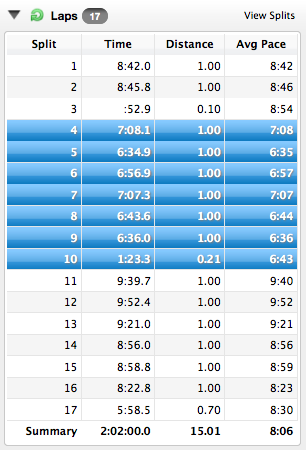 I'm at about 51 miles for the week right now, so if I can run 8 or 9 tomorrow, I'll come close to 60 miles. I guess this whole marathon training thing has begun, huh?
In case anyone is curious about what I ate post-race/15-miler, it's not that exciting. I do have plans to celebrate with ample hills ice cream + beer tonight though.
Hot chocolate in my race mug. Fact: I drink so much hot chocolate that I just bought a costco size can of whipped cream. The container has 66 servings…I predict it will last 10 days. Maybe.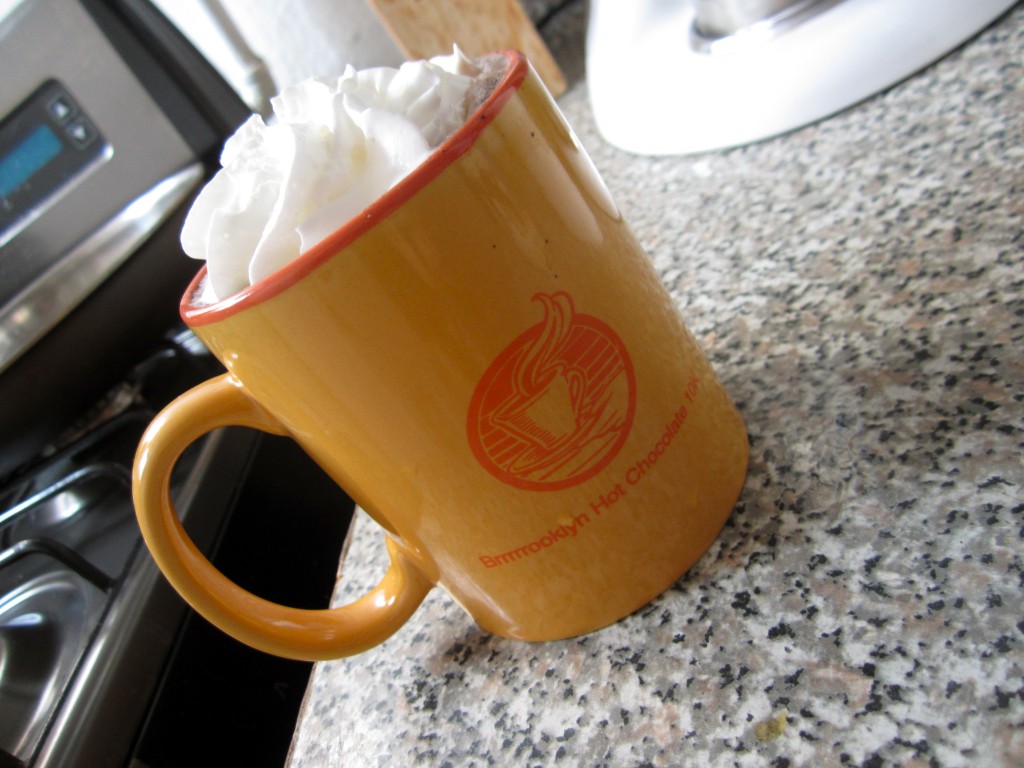 Sometimes I eat healthy things like oatmeal with blueberries, apple, and peanut butter. I like oatmeal, but since I can barely get myself to work on time as it is, it's more of a weekend thing.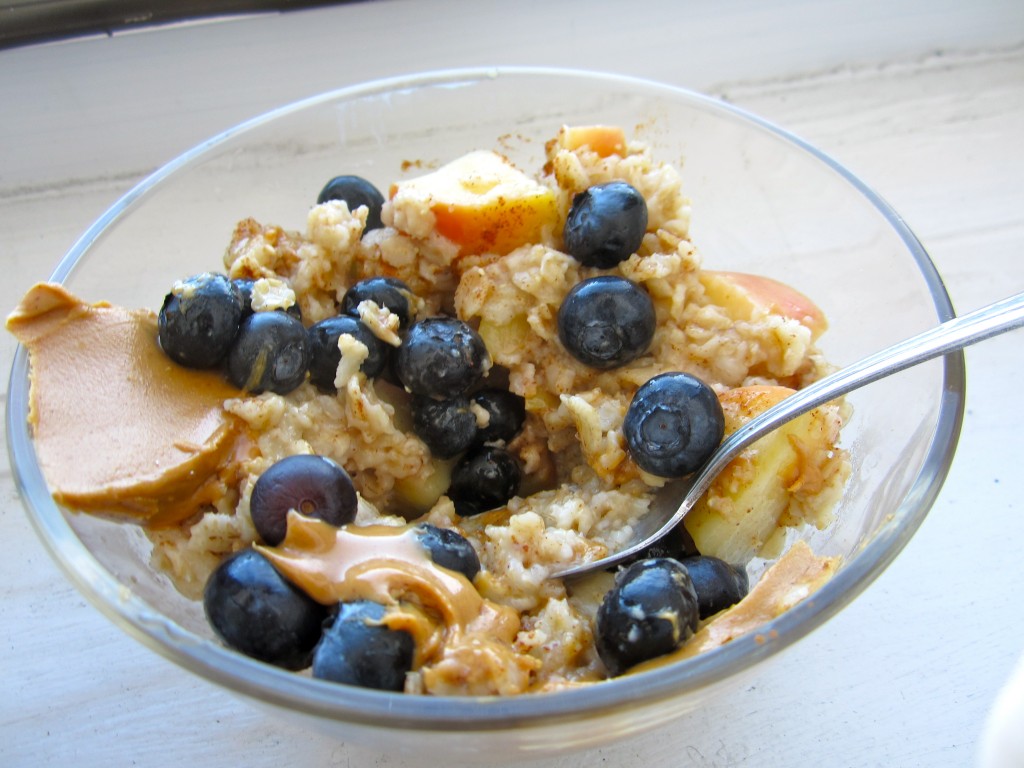 Some things I am loving this week:
1) The running shoe pile by my front door. It keeps multiplying. I'm testing some shoes for Women's Running Magazine (Newton Motion Stable Performance and NB Minimus) and I the shoes are bright neon colors. I like this.  Still not sure how they'll do on the road though…..stay tuned.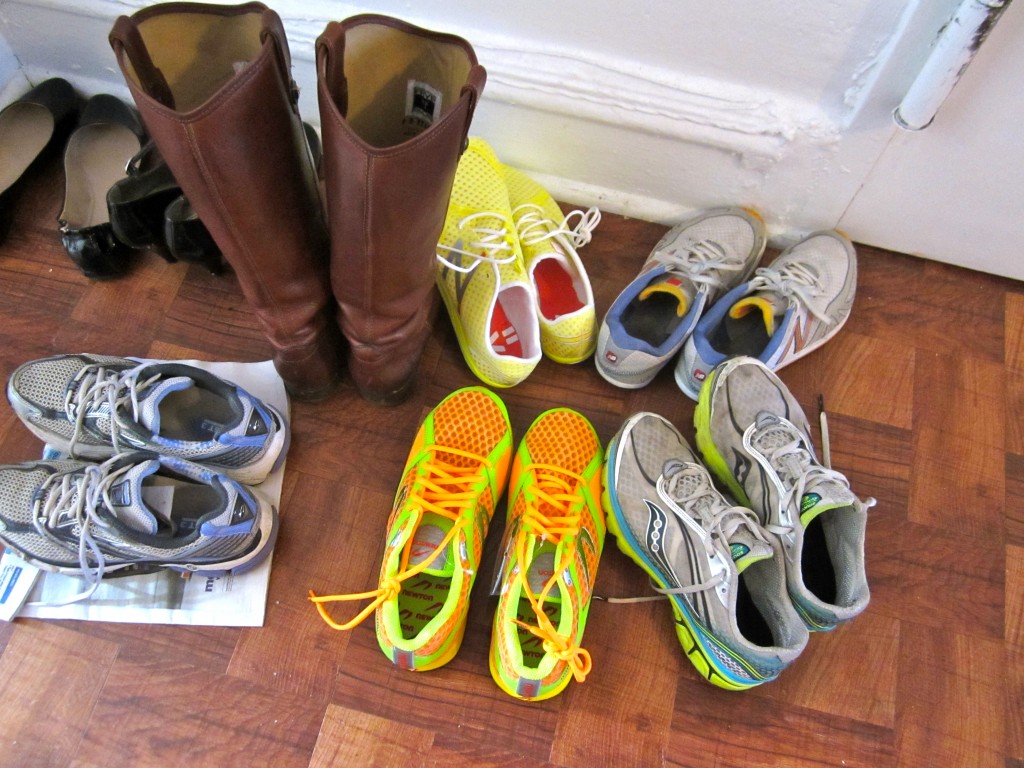 2) My new Target sports bra. Confession: I bought this out of desperation. I really need to do laundry. However, it's an awesome sports bra – it reminds me of my Nike compression sports bra that I probably paid twice as much for.
3) The Girl Scout Council of Nassau County offered to give me a sneak peak at this year's new cookie flavor: Savannah Smiles. Free cookies? Yes, please! I was a girl scout from age 4 through 18 (yes, you can be a girl scout all the way through senior year of high school!), so the organization has a special place in my heart. I also really love cookies. Have I mentioned that?
Are these the healthiest thing on the planet? No, but duh, were you expecting them to be? They are cookies. However, they don't have any hydrogenated oils or high fructose corn syrup, so points for that. And how do they taste? Lemony, crispy, and dusted with powdered sugar. I liked them! I don't think the lemon flavor would mix very well with coffee, but they made a nice accompaniment to an afternoon cup of green tea.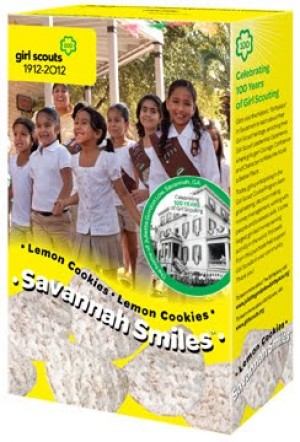 Have you ever had a race turned into a "fun run"? Did you race it anyway? Tempo it? Go home and go back to bed (I really wanted to do that)….