I usually have pretty strong opinion on whether I like something or not (just ask me how I feel about sushi…). I also like to make lists, so the topic of today's post is "things I like, things I don't". Also known as – "My running is boring and I'm hitting the bottom of the barrel for blog post topics". Kidding. Maybe.
Things I like – good coffee, brunch with lady friends, and wearing minimal running clothing in December
Lately I've been having a lot of good (read: fancy and overpriced) coffee. The amount of dolla dolla bills that I drop on coffee, beer, and wine is frightening. You'd think I was on an all liquid diet or something. I met some of my lady friends for brunch on Saturday at Five Leaves on the Williamsburg/Greenpoint border. The restaurant was envisioned by the late Heath Ledger and opened by his family after his death. Apparently this place is pretty popular and so we waited amongst the hipsters for about an hour before a table opened up. I think it was worth it though – the heart on my cappuccino was one of the prettiest I've seen!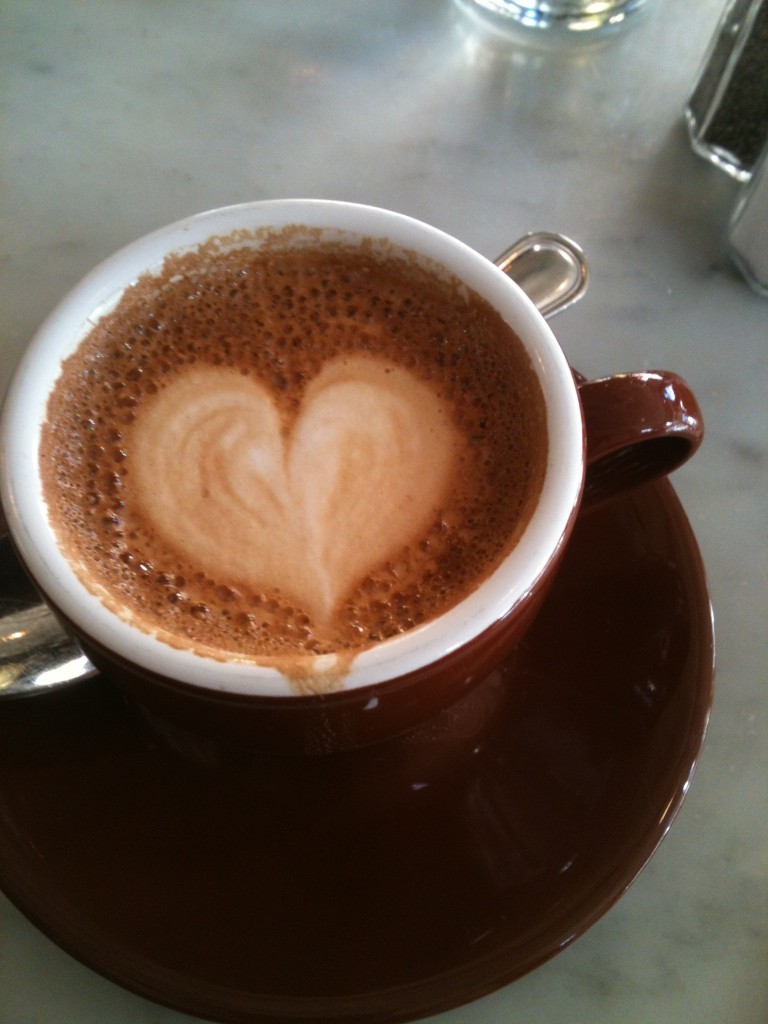 My friends just love when I take candid iphone photos and post them on the blog! Kidding. I hope you're cool with this ladies. <3 The atmosphere was just so sunny and chill that I couldn't resist trying to capture the moment.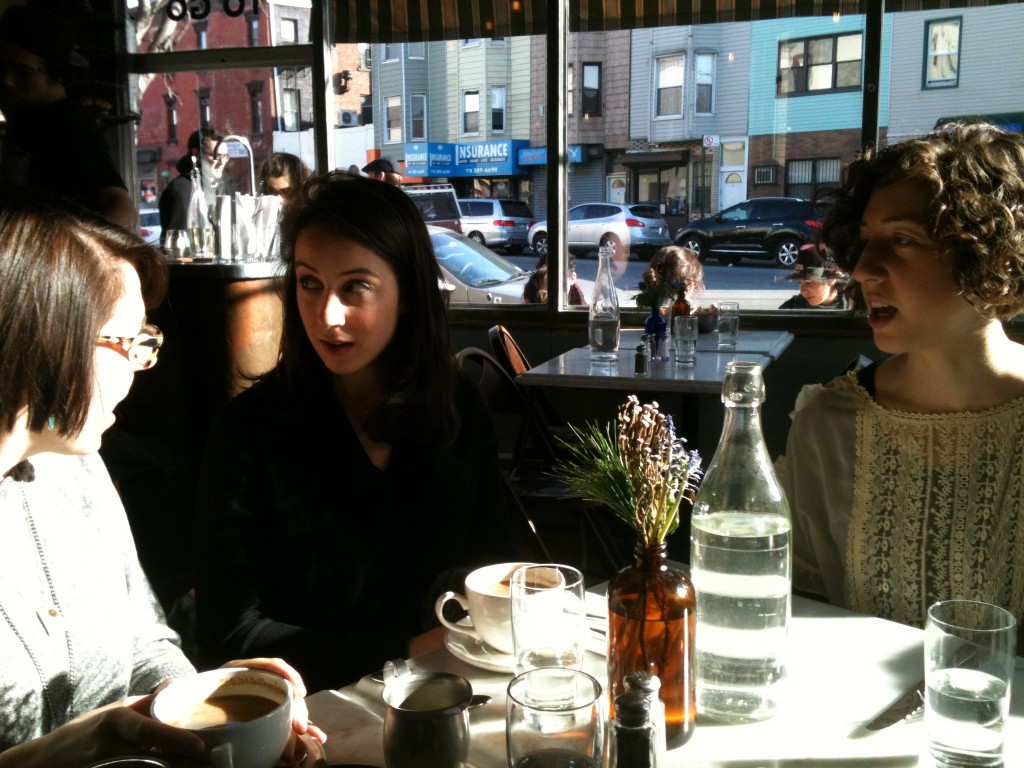 My brunch choice was a B-L-A-T (bacon, lettuce, avocado, and tomato) on country bread with a salad on the side. It was a good mix of hearty and no bite was left behind.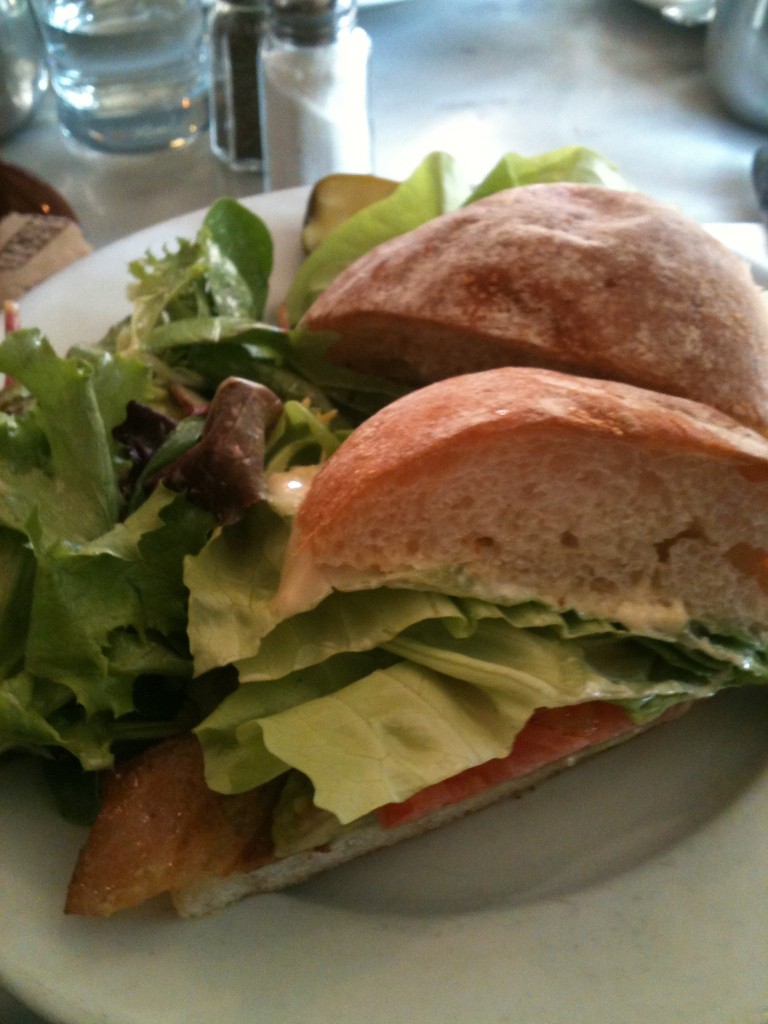 Since I was already in Williamsburg, I couldn't resist a stop by Blue Bottle coffee for a cup of the Bella Donovan blend. I love how each cup is hand-poured! I'm not sure if you can see from this photo, but basically the barista pours hot water over grounds and then the coffee drips through a hole in the white cup, down into the to-go cup.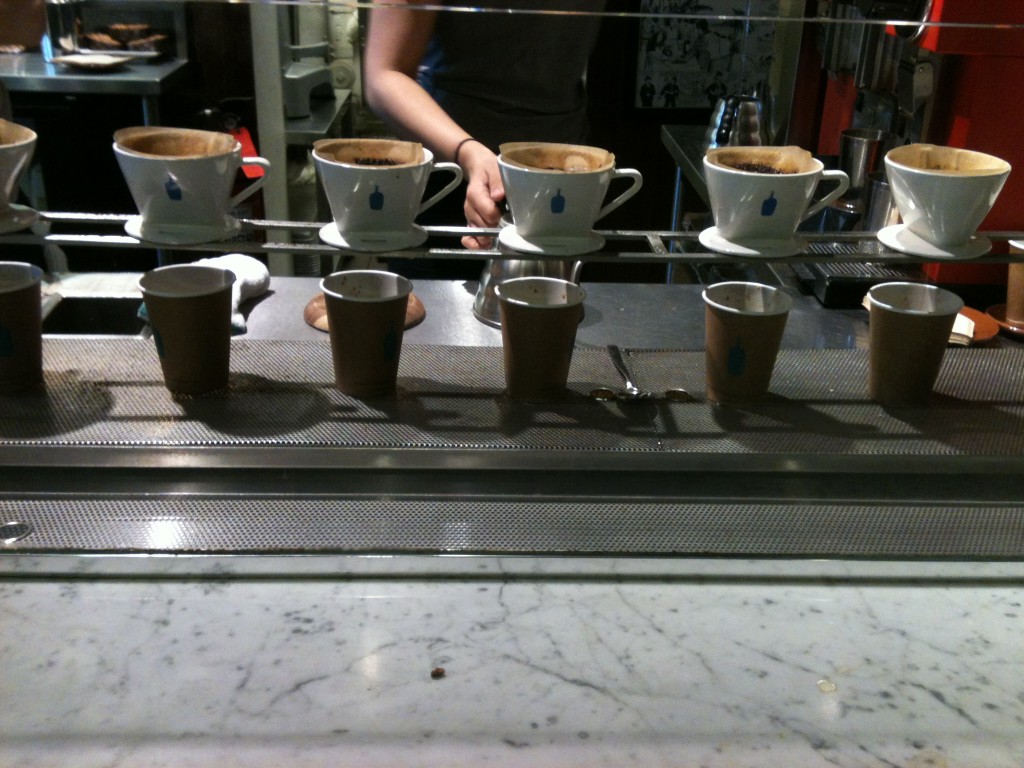 Even though this weird, humid weather is making me sound like a lumberjack (hellooo sinus congestion!), I like that I can wear shorts for runs. My go-to running ensemble has been shorts, a tank top (or maybe just a sports bra!), and gloves if the weather falls below 50 degrees. My hands are always terribly cold, even when the rest of me is toasty.
A fun thing to do before work in the morning is take iphone camera self-portraits while you listen to Selena Gomez. And then admit this on the internet. Everyone will think you're super cool and mature! Is it working? I ran about 7 miles on both Monday and Tuesday and am hoping I can keep up some of this mileage momentum for the remainder of the week.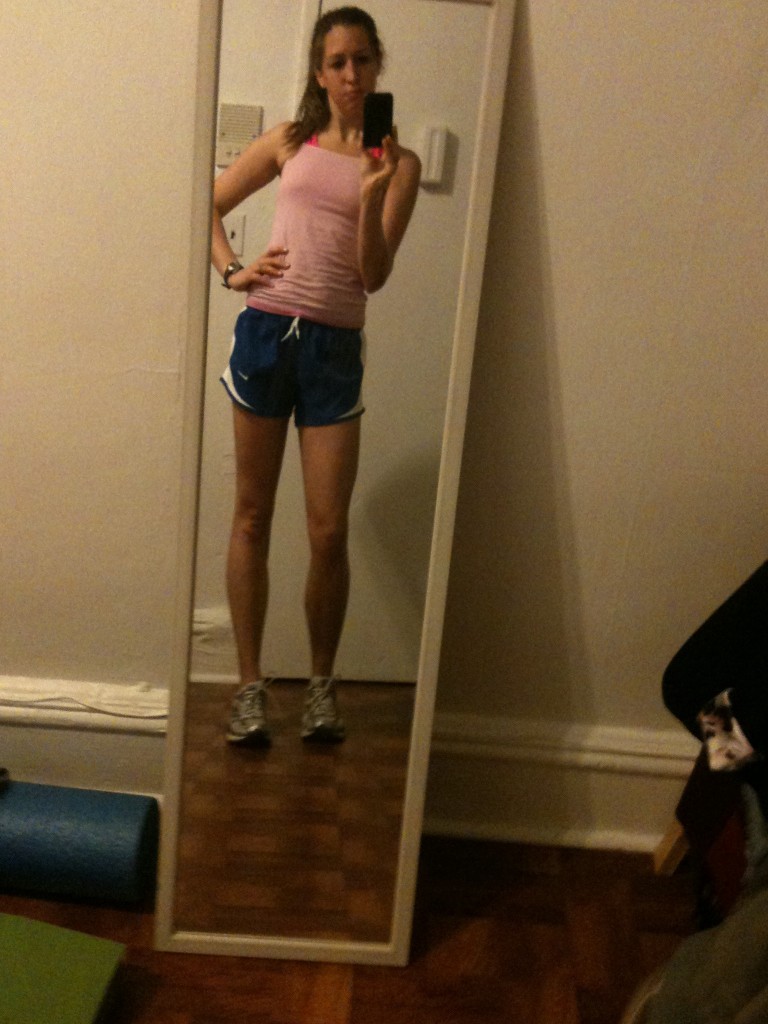 Things I don't like – the site where I log runs is being shut down December 30, Ryan Hall's diet
I've been logging my training on fitness.strands.com since 2010 and have nearly 2 years worth of data on the site. It's not my favorite for a lot of reasons, but my entire running club uses it, so it was a good way to stay connected to them. Howeverrrr, strands is shutting down on December 30 and now I either have to switch back to www.running2win.com (used this in college) or figure out something else. Mostly I am pissed that they are shutting down ONE DAY shy of year end. I like having complete data sets and now 2011 will only contain 364 days of training. And yes, it matters. I'm a stickler for even numbers which is why it kills me to log a run that is not a whole number or an increment of .25, .5, or .75 Am I the only one that is bothered by runs such as 3.78 miles or 10.43 miles ?!
Anyway, I exported all of my data through November and if you want to peep the numbers, here they are! If you don't care, you can scroll to the bottom of the post where there's a picture of cake. What can we learn from these numbers? 2011 was a pretty consistent year. August and October were my highest mileage months (half marathon training), but average pace and days trained/month did not vary much.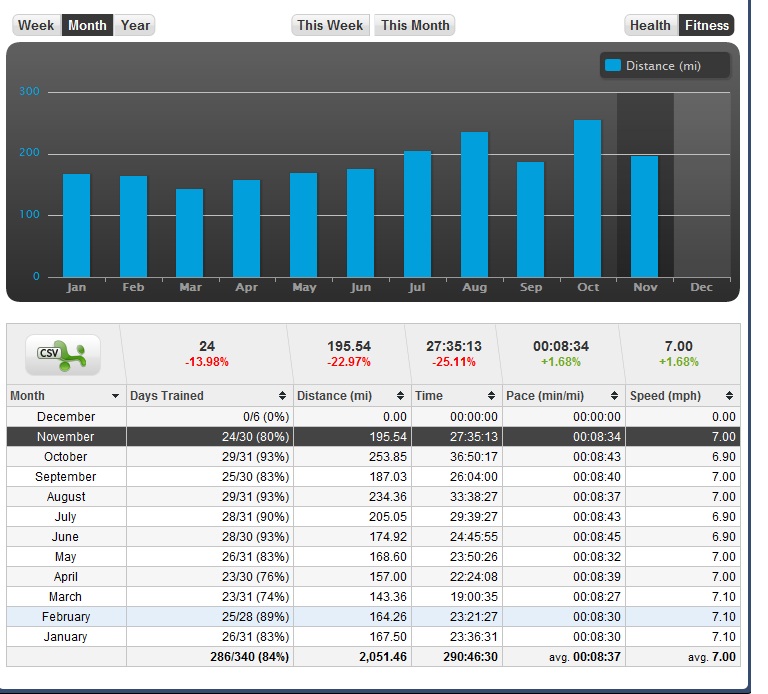 Another thing that irritated me this week? Ryan Hall's breakfast tweet.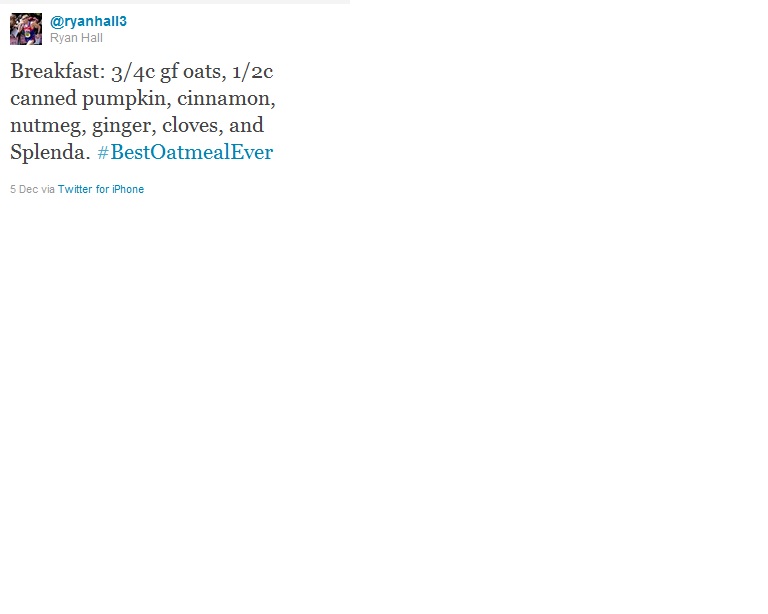 I'm not saying gluten-free oats, pumpkin, and spices isn't a healthy or tasty breakfast, but this tweet reminded me all too much of the calorie-focused (obsessed) healthy living blogs I used to read. If you're trying to lose weight or experiment with healthier alternatives, then I certainly can see why one might try splenda. Full disclosure – I've used it in the past in coffee and stuff. But you know what? Real sugar only has like 11 more calories per teaspoon (15 cals in regular sugar vs. 4 cals in splenda) and it's not made of weird chemicals. I think that someone running 100+ miles per week in preparation for the OLYMPIC MARATHON TRIALS could afford those extra calories. I understand that elite athletes need to maintain a racing weight, but a life of running 100 miles a week and eating 3/4 cup of oats and splenda for breakfast just doesn't seem worth it. Ok, rant over.
Things that are a draw – Homemade Apple Cake
This cake had promise, it really did. However, the end result was only so-so. As part of the Foodbuzz Tastemaker's program, I received coupons for free Duncan Hines cake mix and Comstock fruit filling and was challenged to think up a dessert that combined the two. I decided to make an apple-upside down cake. Big  pro – this dessert was really easy to assemble! I pre-heated the oven, and sprayed a 9″ x 13″ baking pan with cooking spray. Then I spread the can of apple filing on the bottom of the pan, smoothing it until evenly distributed. I prepared the cake mix according to package directions and poured this on top of the apples. I baked everything for about 30 minutes and done! Eaten warm out of the oven with some vanilla ice cream, this was actually pretty tasty. I guess I was mostly disappointed in the apples – there were a bit too goopy and were rather flavor-less. I think some lemon juice or additional spices could have brightened up the flavor.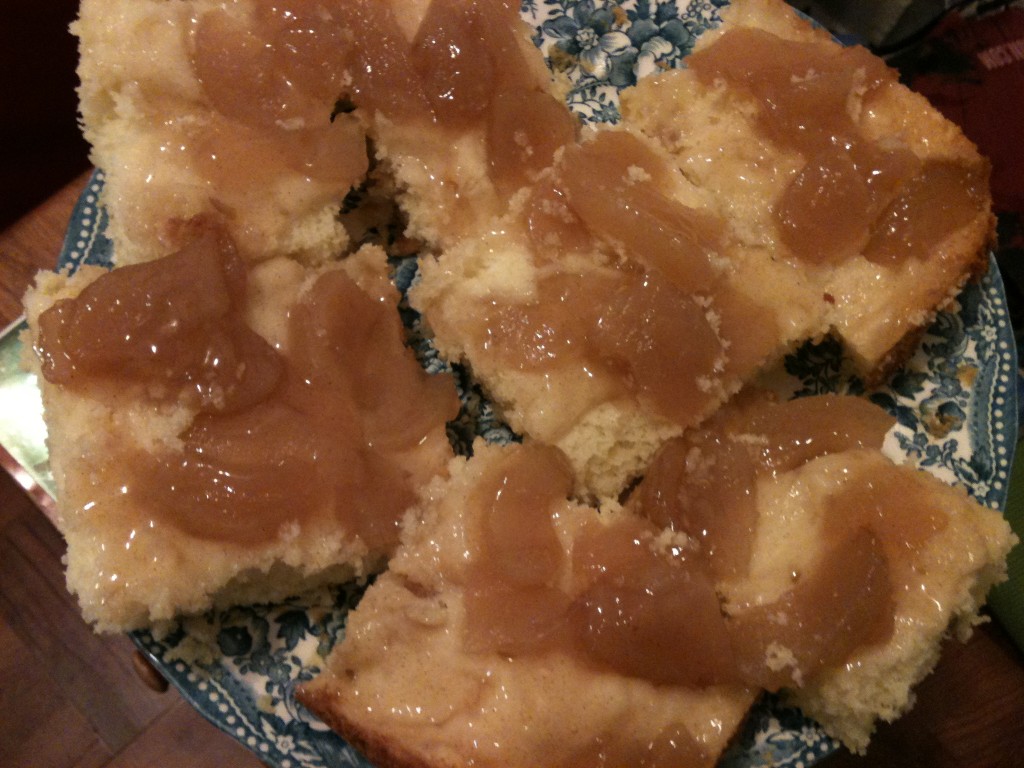 How do you feel about fruit in desserts?  I am a huge fruit pie fan, but a lot of people I know don't like the texture.