Huzzah! The Christmas week festivities continue. This means more dinners out, cocktails, and parties…and fewer miles than usual. But 'tis the season, right? Anyway, last night I crossed Franny's off my to do list. This pizza spot is one of the highest rated restaurants in Brooklyn and I've been wanting to go for awhile. They source local ingredients (organic when possible) and the good quality was apparent. The pizzas were Neopolitan-style (think: small pie vs. slices, fluffy dough, coal-fired oven) which isn't my absolute favorite type, but it was still very tasty. So what's my favorite style of pizza, you ask? Super thin crust a la Star Tavern or Sabatinis.
But, was Franny's good? Yes, definitely.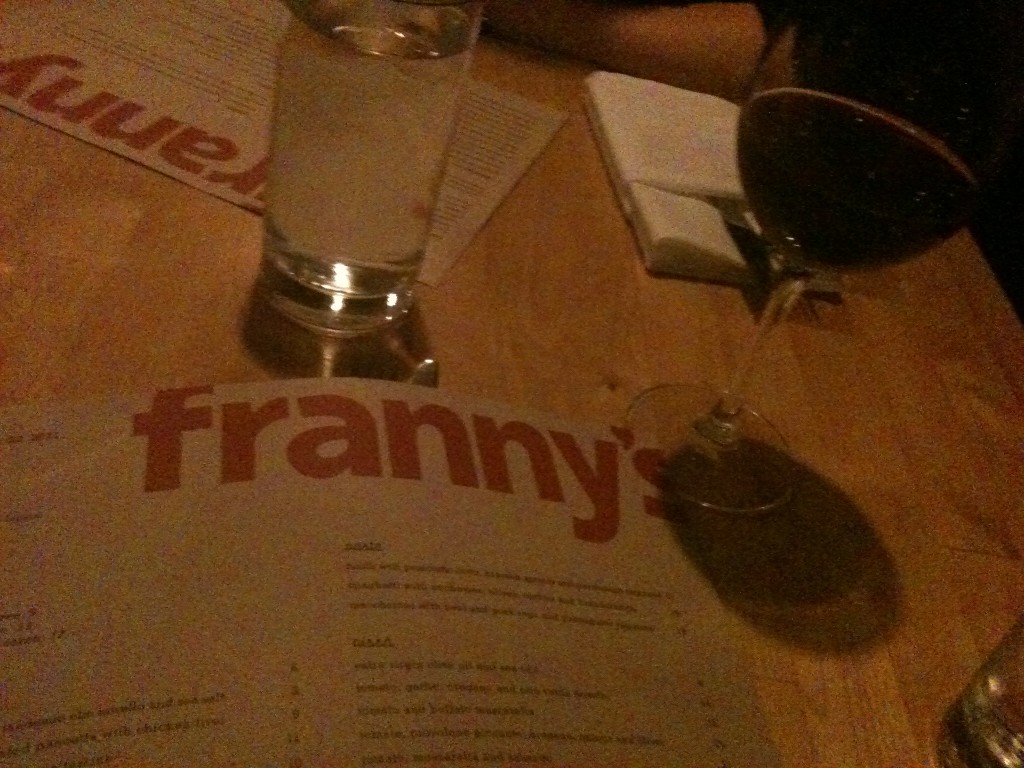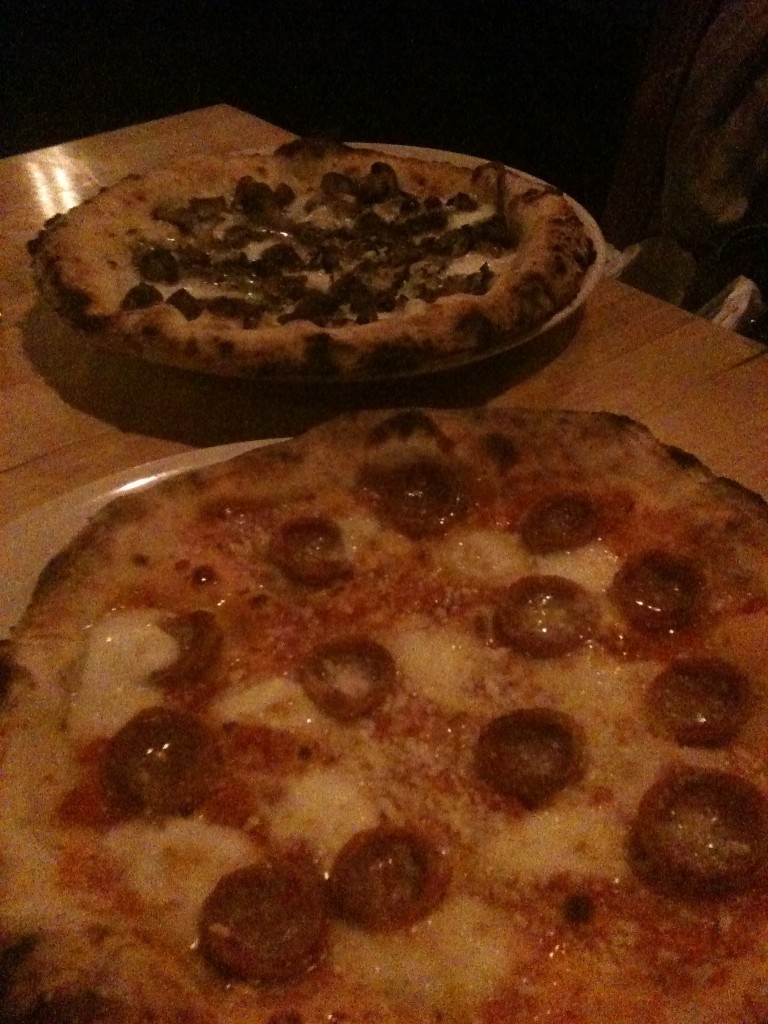 If you find yourself on Flatbush Avenue, you should pull up alongside the bar, order a glass of wine and put your name on the list. There's usually a bit of a wait, but with wine in hand, that shouldn't matter.
And now for some deep thoughts for Christmas Eve Eve….
This is something I've been pondering lately – I've been running for just about 12 years and I'm pretty sure I haven't gone more than 2 weeks (maybe 3?) without a run. I can probably count the number of times I've taken a complete break from running on two hands.  Putting in miles is as ingrained in my daily routine as eating or sleeping. Every day I think – When will I run today? At 6am? During lunch? Before happy hour? How many miles will I run? If I eat now, will I have enough time to digest before I hit the road? Will my foot/knee/IT band cooperate for this workout?
I think I've got a good handle on a balanced life. I'm not afraid to cut a run short in order to spend time with friends or take a rest day when I'm feeling beat up, but still…when and how far I'm going to run determines much of my schedule. Sometimes I wonder what it would be like to live my life as a non-runner. How does it feel to not run (or exercise) at all? Is it freeing? Do you just get used to it after awhile? Sometimes it feels awesome to play hooky on a run and sleep in or meet friends for dinner, but I think after awhile I would miss the routine and direction that running gives me.
Do you remember life before you became a runner/exerciser? Does anyone else feel this way about running affecting their schedule? Or am I totally crazy? That is entirely possible. 
Anyway, speaking of running – some blogger friends are hosting a "virtual 10k" and since I need all the motivation I can get while I'm home for the holidays (oh how the baked goods and couch tempt me..), I'm going to participate!
What exactly is a "virtual race", you ask? Ashley recently gave the run down on her blog: If you have never done a Virtual Race before and have no idea what we are talking about, don't worry it is simple and easy to catch on!  The idea behind the race is that you register (here) and instead of actually going to a designated area to race you get to do it on your own time (within a certain deadline) and at your own place.  We organize it all and then you just have to run and report back – tell us how it went, send us funny stories, pictures whatever.  You can get friends to do it with you in person or just rock it on your treadmill. Whatever works, anything goes!  Holidays are stressful and crazy.  This is supposed to be fun, healthy, and enjoyable!!!  
I just signed up online and plan on running my 10k on Christmas morning. Stay tuned!
In other news, I was emailed this pretty neat infographic earlier in the week. A marketing company pulled together some data about runners and this is what they found:
Kinda cool, huh?
And now finally…..
A Merry Christmas Give-Away!!

Recently, Chobani sent me some samples of their new 32oz containers which are 1) more economical 2) better for the environment and 3) have recipes printed on them! I'm already brainstorming what kind of goodies I'm going to make with the yogurt (besides eating it for breakfast, of course), but in the meantime I want to share the Chobani love with all of you. To win three 32 ounce containers (0% plain, 2% plain, and 0% vanilla) leave a comment telling me your favorite recipe that uses yogurt. I will choose a winner (U.S. residents only) on Christmas morning, December 25.
Happy Holidays!