This has been a very odd week. I haven't slept more than about 5 hours each night, so if this blog post seems a little off-the-wall, you'll know why. In an ideal world, I would get 8 hours of sleep and wake up at the same time every day to knock out my planned mileage. You know how often that happens? About once a month.
My running is in a constant battle with work to-do lists, atrocious subway commutes, happy hours, dinner dates, hangovers, the snooze button, and sudden urges to bake cookies. Usually I can find a way to make running happen, but it's not always what I had planned. Take this week's runs for example –
Monday, December 5 – probably the most normal run of the week. After work, 60 minutes (7 miles-ish) with Jacqui in Central Park. It's December and I wore shorts + tank top (?!?)
Tuesday, December 6 – 60 minutes in Prospect Park, left my apartment at 5:48am, it was completely dark for the entire run. I took a 12 minute nap when I got home. And then coffee. So much coffee.
Wednesday, December 7 – Another 60 minute post-work run with Jacqui. This time it was cold and raining. I hadn't planned on running outside and all I had to put on over my tank top and shorts was a flash dance-esque cut-off sweatshirt. I don't need your fancy wicking, dri fit material!!
Hah, kidding. Soggy sweatshirts are not very comfortable.
Thursday, December 8 – Plan #1: run 6 miles before work, Plan #2: run 6 miles immediately after work. Both attempts were failures. By the time I actually got myself out the door, it was 9pm. But you know what? It was an AWESOME run. Night time runs can be tough to execute, but they're usually the most enjoyable. It was dark and crisp, but I was running pretty fast so I warmed up nicely. 6 miles in about 47:00
Friday, December 9 – somewhat rushed 3 miles before work. Had planned on 4 miles, but didn't leave my apartment until 8am and I needed to be showered, dressed, and walking to the subway by 8:48am. Thus, flexibility was required.
As of Friday, I've got 30 miles in the bag. If I can manage a 10-mile ish long run tomorrow (Saturday) and a few miles on Sunday, this week won't be half-bad. The plan until mid-January is to just maintain 40 ish mile weeks. And then I suppose I'll start training for that marathon I signed up for…
A few people asked me to post a photo of my Frye boots. I'm going to assume that you are actually interested in my winter fashion choices and not some creepy internet dudes with shoe fetishes.
Anyway. Here they are! The Melissa Button boots by Frye were way too expensive for my crappy salary, but I love them and wear them nearly every day. And if I ever get stranded in the wilderness (like, you know Staten Island or Flushing) at least I will have warm footwear. I'd rather not get frostbite.
So what do I eat after night time runs? Usually something that takes 5 minutes to put together. I really like buying groceries, but then I often forget about my purchases. In an effort to clean out the fridge and freezer, I made homemade pita pizza last night.
De-frosted pita bread (hey! look! it's the same pita bread that's been in the freezer since August) + roasted red peppers from the jar + roasted butternut squash + smoked mozzarella cheese. Baked at 400 F until pita is crisp and cheese is melted.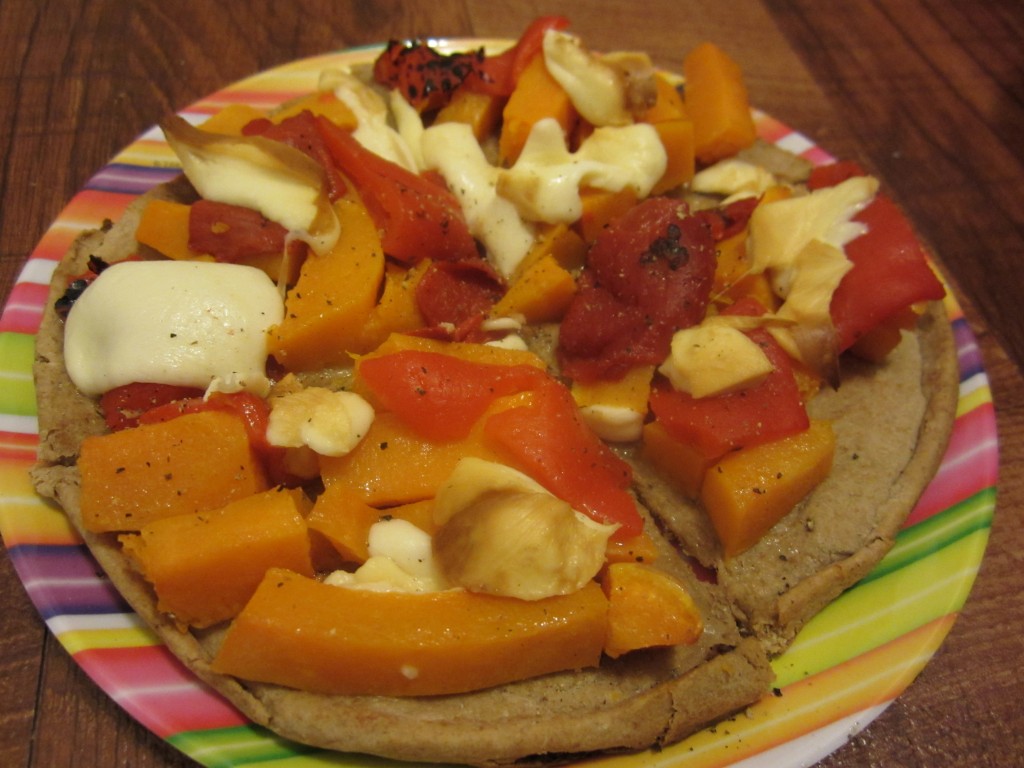 And then I made the (delicious) mistake of baking espresso chocolate shortbread cookies. Perhaps eating spoonfuls of espresso-laden dough at 11pm was a poor life choice.
The texture of these cookies is very light and they almost melt in your mouth. If you like coffee-flavored things (like coffee ice cream!!), you will like these. I followed the Smitten Kitchen recipe and per her suggestion used a toffee chocolate bar in place of chocolate chips. If for example, your week involved dancing to Rihanna until 1am on Tuesday, over-booking your weeknights, and attempting to hold down a full-time job, these cookies might be a good energy booster. All hypothetical of course. I certainly don't know anyone who would do those things.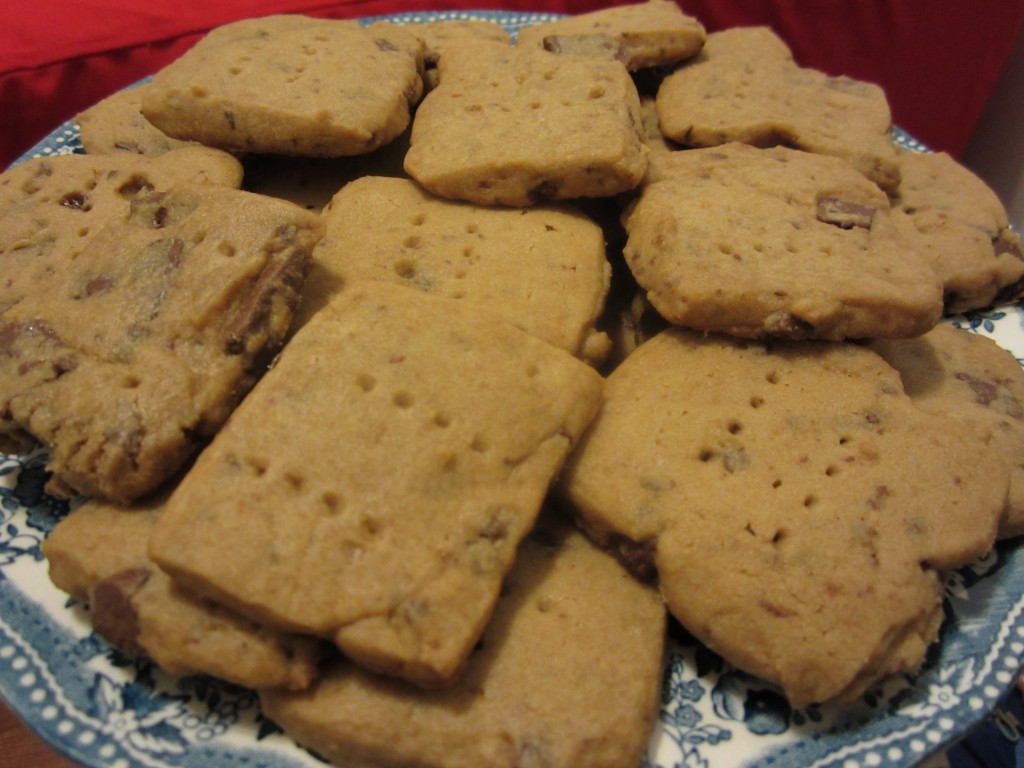 Happy weekends to all! You can find me in my bed. Sleeping. Hopefully.