Since the Philly half two weeks ago, I've run less miles than I have all year. I had planned on this and was actually looking forward to some downtime, but since the race didn't exactly pan out as expected, I feel like I didn't get much closure on my training cycle. I had hoped to cross the finish line with a big PR and then rest on my laurels for a few weeks. Instead, I found myself contemplating a redemption half marathon sometime in December (for the record – that would have been an awful plan) and just generally feeling dissatisfied. Here's the the thing – I know I need to chill out these next few weeks. I need the break both mentally and physically if I'm going to have a successful training cycle for the Boston Marathon in April. However, that doesn't mean it's an easy pill to swallow. After months of running 50-80 miles per week and doing long runs and workouts with a goal in mind…I feel a little directionless. There were a few days this week when I set out on my run and thought…4 miles? Why even bother? When I don't have a running goal (or a running buddy to chat with!), I often find myself asking "Why am I doing this again??" I mean, sure, I do enjoy running most of the time and I love how I feel once I'm done, but that can be difficult to remember in the moment. Especially if that "moment" is after a long day of work and it's already dark and cold outside…
I'm trying to not freak out about this (temporary?) lapse in mojo. No one (and I mean no one) can stay motivated to train year-round, year after year. That's a one-way ticket to burn out city, so whenever I start feeling blah about my low mileage and attitude towards running, I've been repeating the following phrase to myself: "If not now, then when?" If giving myself a break after months of hard training, during the busiest time of the year (holiday parties, yay!) isn't going to happen now, it's never going to happen. Dear self – It's perfect timing. Don't be dumb. That dissatisfied voice in my head is just going to have to deal with it until Boston training starts in January.
So Megan, are you just going to sit on your butt and eat Christmas cookies until New Year's?
As much fun as that sounds…the answer is no. I know myself well and not running at all this month would probably make me really unhappy. Running (even if it's just a few miles) provides routine. Let's be honest, if I didn't make a running date with my friend Sari this morning, I probably would have stayed in bed watching Gossip Girl and eating ice cream for lunch. No one wants to see that. Running also improves my mood, which is essential during one of the darkest and coldest months of the year. I also like to eat delicious food and drink good beer. I don't think in the mindset of "I ran X miles and burned X calories, so now I can eat!" That's messed up and I don't run with the goal of "burning calories", but that being said, it does give me a little leeway when it comes to holiday goodies. If I wasn't a runner, I probably wouldn't enjoy food as much or sleep as well at night.
So where am I going with this? Well, I've decided to participate in the Runner's World holiday running streak. Basically, I'm going to run at least one mile, every day for the month of December (the streak started around Thanksgiving, but I joined late…). Stay tuned. Here's a recap of this week's running:
Monday, November 28 – 6 miles (in the morning in Central Park with Nicole, Jacqui, and Lindsay. My legs felt like wooden sticks, but the company was great!)
Tuesday, November 29 – 8 miles (it was dark until mile 5 and I did not love that)
Wednesday, November 30 – Rest Day.
Thursday, December 1 – 4 miles (on the treadmill because the crowds in midtown Manhattan are soul-crushing this time of year and I couldn't face the 10 block run to Central Park)
Friday, December 2 – 5 miles (listened to some awesome pitbull songs on this run, the highlight for sure)
Saturday, December 3 – 4 miles (was really cranky during this run, the promise of beer once I finished got me through)
Sunday, December 4- 11 miles (Thought about stopping after 8 miles, but then I needed to get my butt to Williamsburg and it was most convenient to run. Can you believe that running 3 miles is faster than taking the MTA? Yeah.)
Total: 38 miles
While running has been a little boring, my evenings have been not. I think I've had about 10 minutes of free time since last Sunday and I'm embracing it. Bring on the parties and holiday festivities! Some friends of mine had a "rare beer tasting party" on Friday and it was genius. Why didn't I think of that? It was a great ice breaker because everyone was interested in what beer you brought and why. I brought some delirium tremens beer and while it's not exactly rare, it's good and I think it gives me some cred. Also, semi-related, I think I'm becoming a beer snob. There must have been at least 30 beers total at the party, so it's a good thing we only had small samples of each. Hahaha. Right.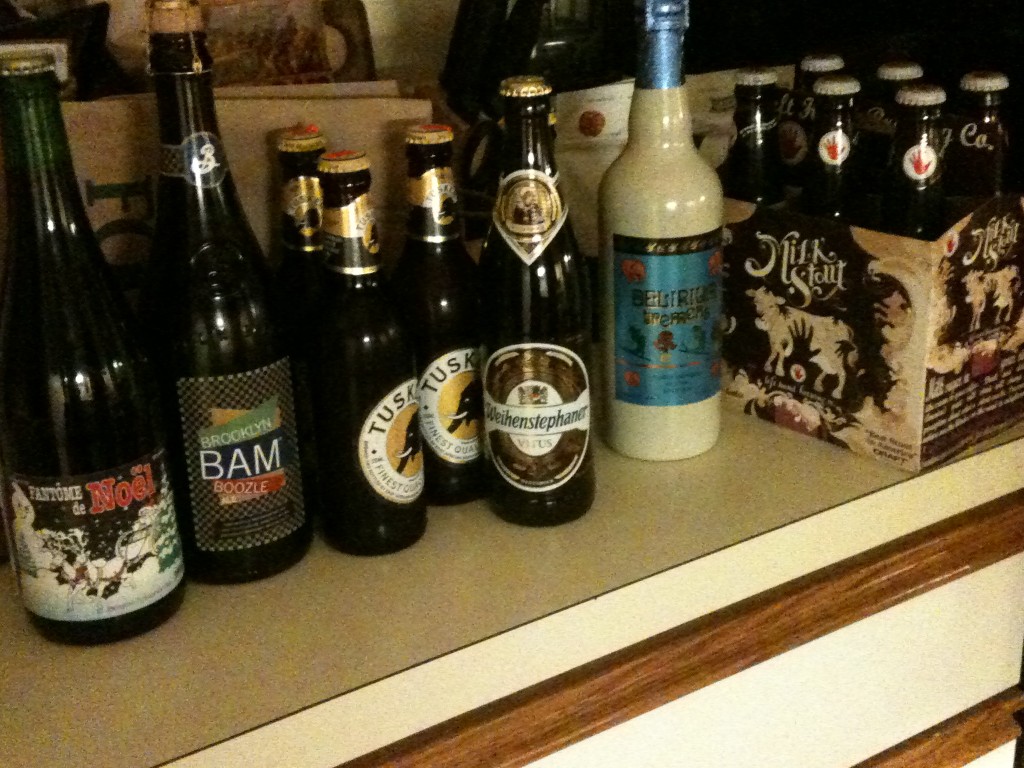 Since my evenings have been so busy, I try to do some cooking on Sunday nights. The other day I made mini lasagnas in the Rachel Ray casserole dishes that I received for my birthday. Thanks Nana! They were perfect for this recipe.
Butternut Squash, Kale, and Caramelized Onion Lasagna (makes 4 individual servings)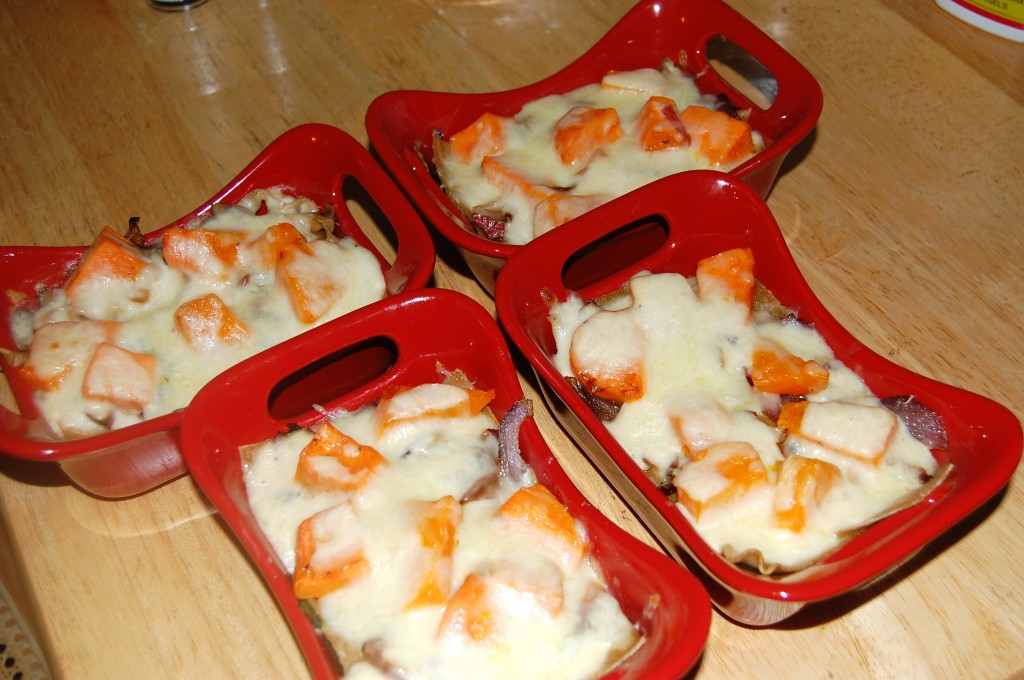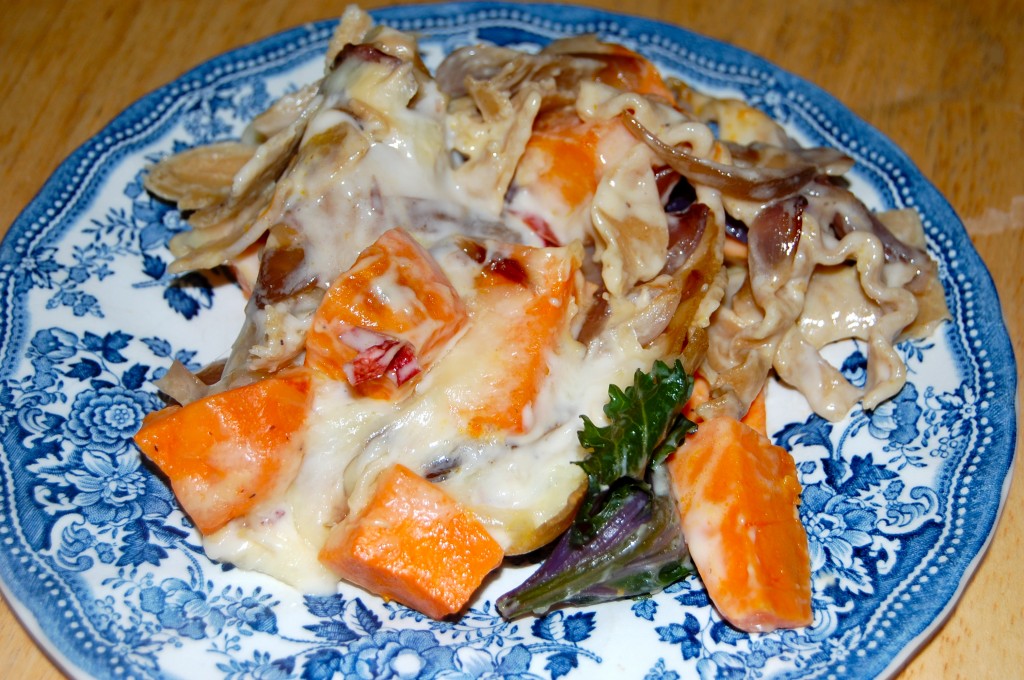 I didn't really follow a recipe for the lasagna, so there's a lot of room for creativity and substitution. Basically, you just want to cook your lasagne noodles (I used 1/2 box), drain them, and set them aside. Meanwhile roast some butternut squash with a Tbs of canola oil until tender, caramelize some onions on the stove top, and steam a bunch of kale. And then go crazy with layering! I alternated layers of noodles with veggies, Classico light creamy alfredo sauce, and shredded mozzarella cheese. Once everything is all nestled nicely in the dish (or individual dishes), bake at 400 F until cheese is melted and bubbly. Maybe 20 minutes? Alfredo isn't really my go-to sauce, but I received a sample jar as part of the Foodbuzz tastemakers program, so I thought I'd give it a go. For being "light", it tasted really good. I couldn't tell the difference and making white lasagna was a nice change from the usual.
That same night, I also whipped up some Buckeye Candies. The recipe makes about 30, depending on how much pb dough you eat…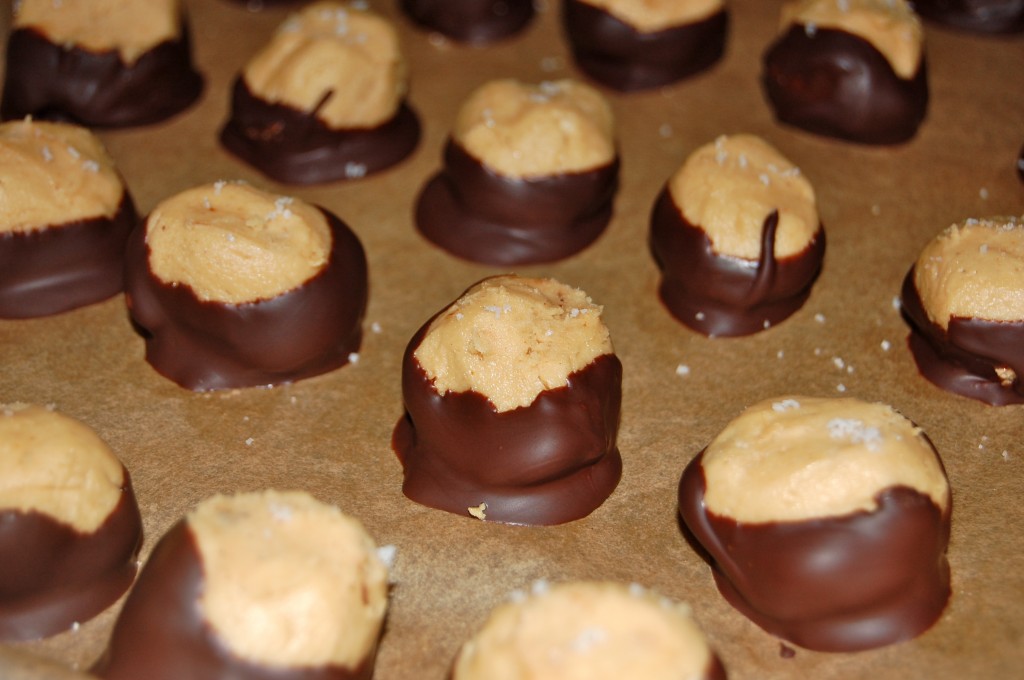 Ingredients:
1 stick of butter, softened
2/3 cup of peanut butter
2 cups of powdered sugar
1 tsp vanilla
1/2 tsp salt plus fleur de sel or sea salt for sprinkling on top
1 cup semi sweet chocolate chips
1 tsp canola oil or coconut oil
Directions:
In a stand mixer (or with a hand mixer), combine the butter, peanut butter, vanilla, and salt until cohesive. Slowly add in powdered sugar. Keep your mixer on LOW when you do this, otherwise sugar will fly everywhere. Believe me. Dough will be crumbly, but that's ok.
Roll the pb dough into balls about the size of ping pongs and place on a cookie sheet covered with wax paper. Freeze for 15 minutes or until firm. Meanwhile, in a small-medium bowl, combine the chocolate chips and oil. (The oil will help the chocolate coating set.) Microwave for 45 seconds, stir, and then microwave for another 15-30 seconds, until smooth.
Carefully use two forks to dip the pb balls into the melted chocolate, they should be about 2/3 covered. Set them on the wax paper, sprinkle with fleur de sel, and pop them back into the fridge until firm. These will keep about 2-3 weeks refrigerated. They never last that long in my house though!
Alright, that's all I've got. Time to go organize my google calendar for the week. I don't play around when it comes to December commitments.