Before I dazzle you with 12 different dessert recipes, I'm going to talk about running. Has anything super interesting or spectacular taken place on my runs this week? No, not really. I've more or less been running easy for about an hour each day (~7 miles). I included 3 miles at half-marathon-ish pace (6:55) on Tuesday, but haven't done any formal speed or tempo workouts because my legs have been a little ache-y. I'm on day 15 of the Runner's World Holiday Running Streak and I'm starting to feel it. Very soon I'm going to take advantage of the "1-mile minimum" rule i.e. I'm going to run 1 mile for the day and no more. Last night my gal pal Sofia invited me to a Ki Power Vinyasa class at Pure Yoga (a fancy-pants yoga studio on the Upper West Side). If you've been reading the blog for awhile, you might remember when I went to yoga once a week, like clock work. Yeah…I fell off that band wagon somewhere around February 2010. But! Last night's 60 minute heated (omg!!) class reminded me how good it feels to stretch and work on my core. Consider this a plea to all my yoga-loving friends, make me go more often! I arrived home a bit after 9:30pm, sweaty and tired, but feeling less ache-y and sore than I have all week.
In other news, I've been baking. A lot. Some of the recipes are tried and true, like these healthy everythingtarian-inspired pumpkin molasses cookies from October 2009: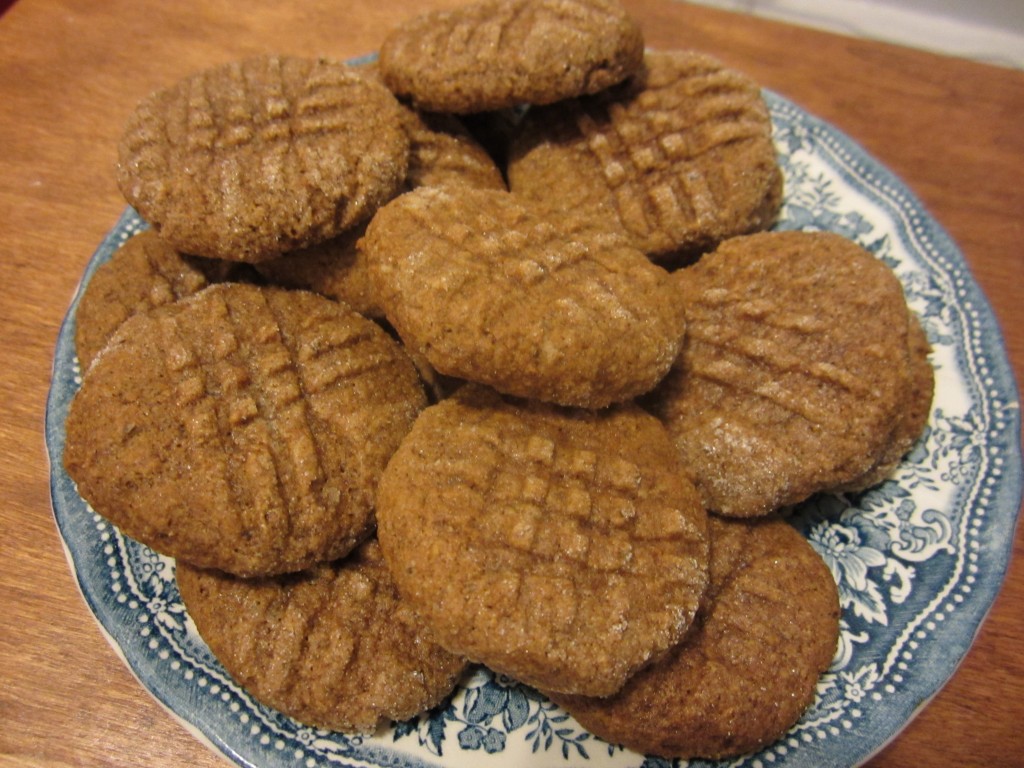 Other recipes are new creations such as these Toblerone Cookies. Confession: Sometimes I make cookies just so that I can eat the raw dough. Huzzah, salmonella.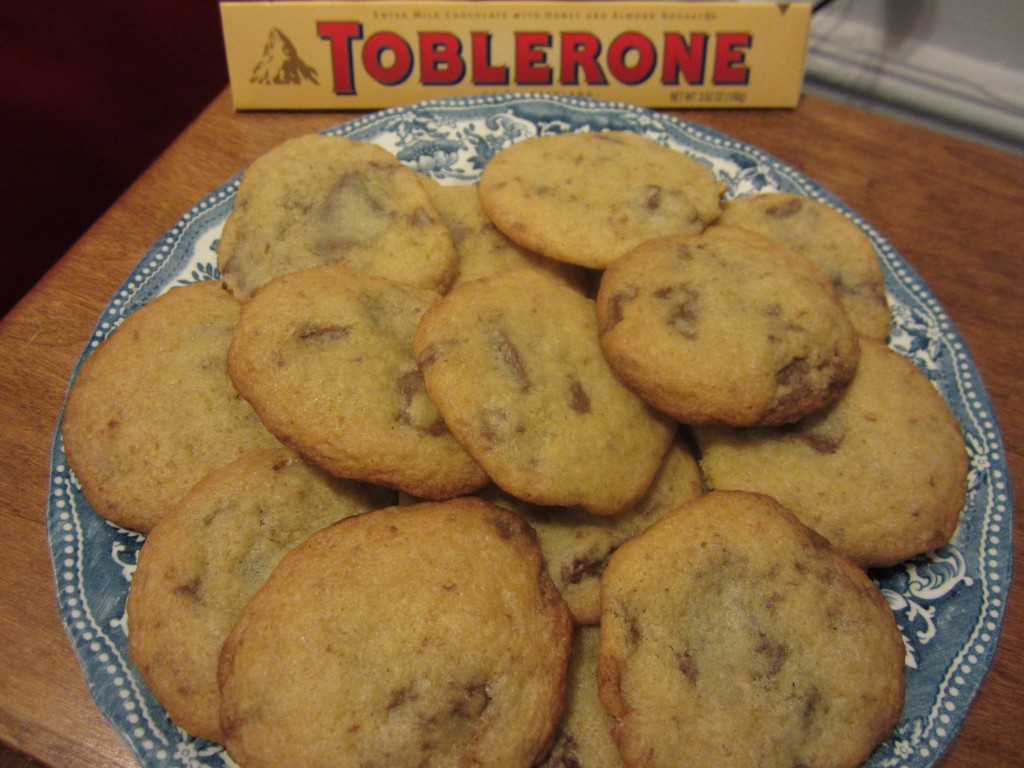 Toblerone Cookies (makes 15-20)
Ingredients:
1 cup of flour
1-1/2 tsp. baking powder
1/2 tsp. of salt
1/3 cup unsalted butter, softened
1/3 cup of granulated sugar
1/3 cup of packed light brown sugar
1 egg
1 bar (3.52 oz) Toblerone Swiss Milk Chocolate with Honey and Almond Nougat, chopped
Instructions:
Heat oven to 350 degrees and line a baking sheet with parchment paper.
Beat butter and sugars in a large bowl until light and fluffy. Add the egg.
In a separate bowl, combine remaining dry ingredients, except the chocolate.
Gently stir in flour mixture and toblerone pieces.
Drop by heaping tablespoons, 2 inches apart onto the cookie sheet.
Bake 12 to 15 minutes or until lightly browned.
Cool on baking sheets 1 minute; remove to wire racks to cool completely.
However, I think the crowning glory of my weekend kitchen extravaganza was the oatmeal pecan pie that I baked. It was based on a Cooking Light recipe, but let's be honest – how "light" can you make a pie that contains brown sugar, corn syrup, maple syrup, butter, and pecans? The recipe called for cutting down on the pecans and subbing in some oats instead, but I ignored the part about reducing the nuts. The oatmeal did add some whole grain and fiber, but more importantly, a delicious chewy texture. I'd recommend adding oats to pecan pie, even if you're not trying to lighten it up.
Oatmeal Pecan Pie (one of the top 10 things I've ever baked! Make this.)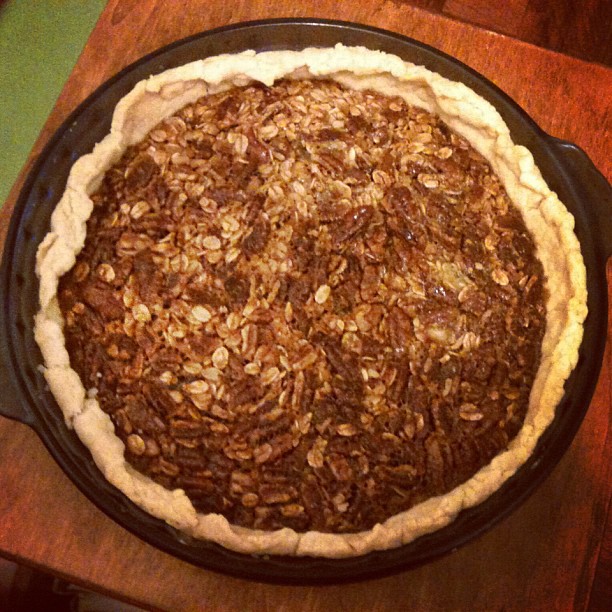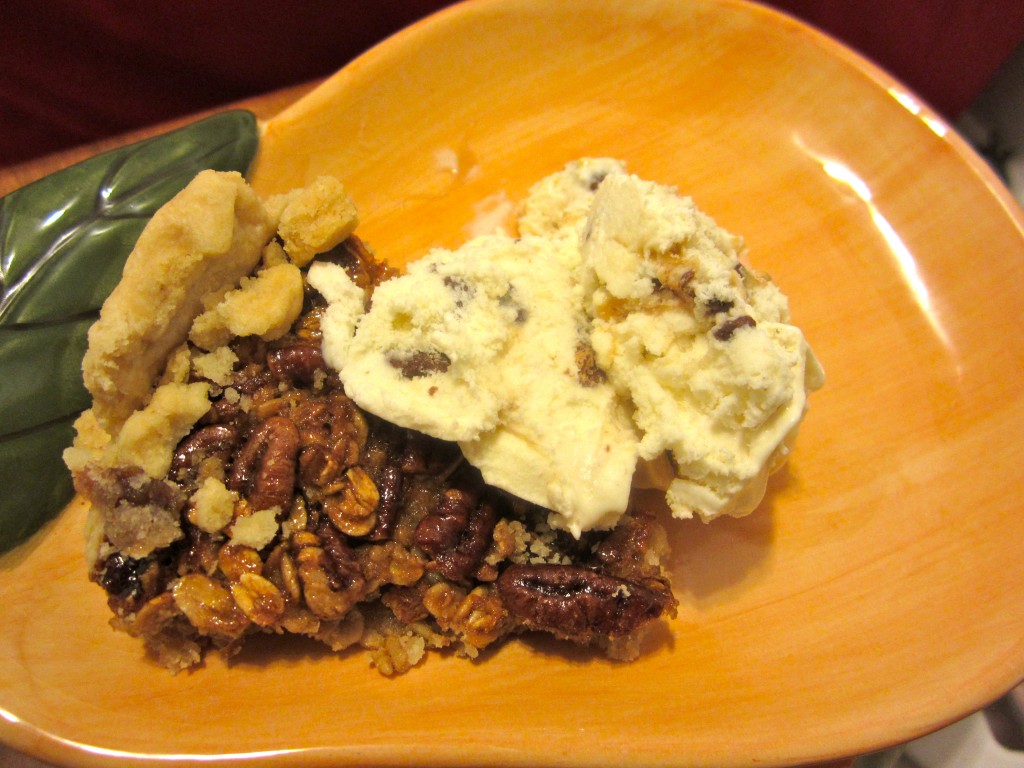 Ingredients:
1/2 recipe of Martha Stewart's basic pie crust (except I use vegetable shortening or lard instead of butter – so flaky!!)
1 cup packed brown sugar
1/4 cup light corn syrup
1/2 cup maple syrup
2/3 cup regular oats
1 cup chopped pecans
1 tablespoons butter, melted
1 teaspoon vanilla extract
1/4 teaspoon salt
3 large eggs, lightly beaten
Preparation:
Preheat oven to 325°.
Roll dough into an 11-inch circle. Fit into a 9-inch pie plate coated with cooking spray. Fold edges under; flute.
Combine brown sugar and remaining ingredients, stirring well with a whisk. Pour into prepared crust. Bake at 325° for 50 minutes or until center is set. Cool completely on a wire rack.
Top with your favorite ice cream (I used Ben & Jerry's Americone Dream). Ta-da!
If all these delicious baked good recipes get to be too much for you, I recommend you follow a favorite pro runner of mine. He just tweeted about a recipe that sounds oh so delicious.
lolz. oh Ryan Hall, you silly man.
Anyway, as you can see, my usual m.o. when it comes to my diet is everything (and anything) is fine in moderation. Gluten-free? Dairy-free? Vegan? Eh, no thanks. That being said, the company behind Vega sports nutrition makes a convincing argument for a plant-based diet. The company was founded by Brendan Brazier, a vegan pro-triathlete and he has some  interesting theories about nutrition, based mainly on the principle that foods should be alkalinizing (vs. acidic). The basic premise: fresh produce and plant foods are alkaline while animal products and grains are not. Has Brendan turned me into a vegan who eschews ice cream? No. However, it's definitely made me take a closer look at my diet, especially my post-run nutritional choices.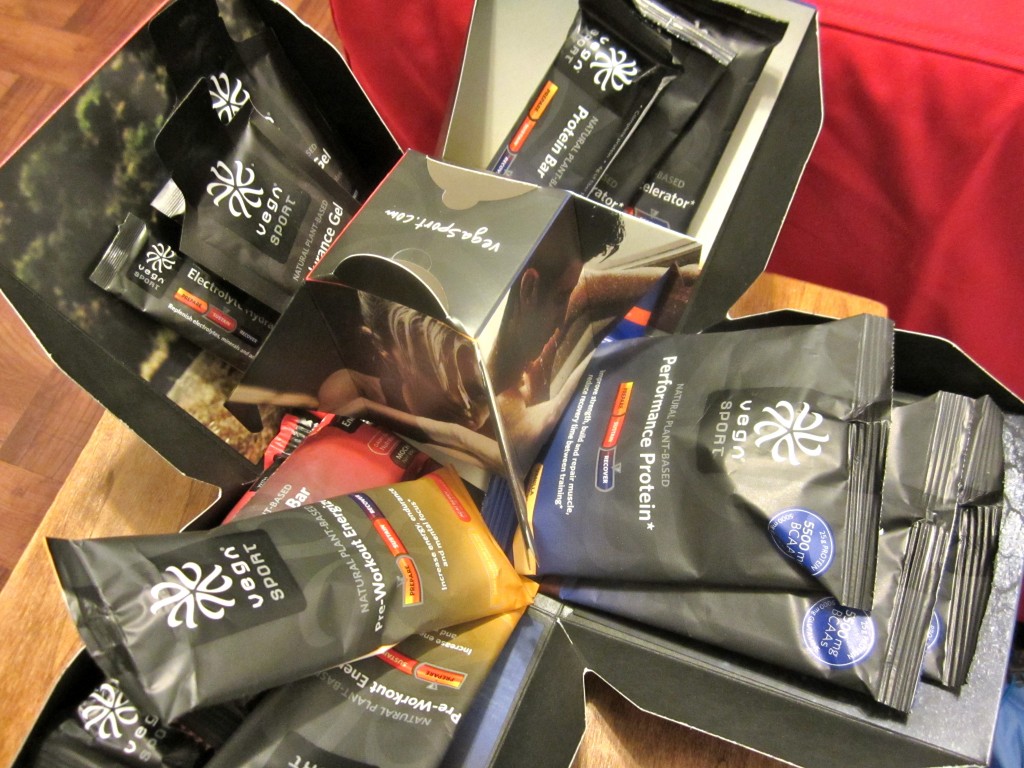 A few days ago, Vega sent me samples of their sports performance product line. The products are divided into three categories: prepare, sustain, and recover. For someone who doesn't usually fuel up before early morning runs, the pre-workout energizer (basically a Gatorade-type powdered drink) has been a good addition. I probably wouldn't drink this before every morning run, but I noticed a difference in my energy levels when I consumed it before a longer run (an hour +) the other morning. What I really liked, however, was the chocolate protein bar. It contains savi seeds (yeah, I had never heard of them either…) that are apparently the hip new thing in sports nutrition. I generally prefer whole foods vs. packaged stuff after workouts, but some days, it's either a protein bar or nothing. I ventured into Manhattan on Sunday and tucked a Vega protein bar into my jacket pocket and after my 8-miler I headed to the subway and refueled with my bar. I'm trying to be better about refueling immediately after running and the convenience factor of portable food is a big plus. I also like the ingredient list – nothing weird or chemically!
Protein Blend (Sprouted Whole Grain Brown Rice Protein, Pea Protein)
Dark Chocolate Coating (Sugar, Chocolate Liquor, Cocoa Butter, Sunflower Lecithin, Vanilla)
Dates
Sorghum Syrup
SaviSeed™ (Sacha Inchi Seeds) <—full of omega 3's
Pumpkin Seed Butter
Sorghum Crisps (Sorghum, Quinoa, Rice, Tapioca)
EnergySource®** (Grape Juice, Natural Rice Dextrins)
Natural Flavor
Vega Sport Sweepstakes: In a few weeks, Vega Sport is giving away some really cool stuff such as a 15 day adventure through Nicaragua, Costa Rica and Panama! The contest begins January 3, so check here for details: www.vegasport.com/sweepstakes
How do you get ready for your work outs (runs etc..), keep energy up during and recover after?