On Saturday, I ran the Ted Corbitt 15k in Central Park. I came thisclose to bailing on the race (it was early! cold! why did I sign up for this again?), but I got myself to the starting line in one piece. My whole m.o. for December running has been to maintain a good base (40-50 miles per week), but more importantly to enjoy the holiday season. Late January through April will be dedicated to Boston Marathon training, so I'm trying to let loose a little now. I want to make sure I'm fresh and ready to put in miles and hard work when the time comes.
Obviously, this 15k wasn't a goal race, but I was pleasantly surprised with how things shook out. Despite the 5 hours of sleep I got the night before, my legs felt springy on my warm-up. At the starting line, I decided to start on the slower side and see how I felt. My first 3 miles were around 7:15 pace and felt relaxed. I brought the middle miles down to about 7:00 pace, and then finished up with some 6:50 and 6:45 miles. Of course, all of these mile times are estimates since I don't race with a Garmin and let's be honest….my mid-run math skills are a little fuzzy. Anyway, I finished the 15k course in 1:05:10 (7:01 pace) which is quite a bit faster than my previous "PR" (1:06:51 in March 2010). The last few miles were quick, but I felt relaxed the whole time and didn't really "dig deep". Part of me wishes that I had started out faster and fully raced the entire event, but I wasn't sure how I was going to feel and didn't want to put too much pressure on myself. Talking about races on the blog and setting high expectations for myself can be a good way to hold myself accountable, but it's also a big risk. If I put myself out there and don't meet my goal (ahem Philadelphia Half-Marathon), it's a huge blow to my confidence and major bummer to explain what happened. Obviously, setting the bar low isn't always the best decision, but sometimes removing the pressure and just  racing by feel can be a lot of fun. And I did have a lot of fun on Saturday! Even though it took near Herculean efforts to drag myself out of bed, by the time I was running the first mile, I was reminded of how much I enjoy running fast, especially when my legs are feelin' good! The next day's run felt completely fine, not a bit of soreness, which is very encouraging! If I can run 7:01 pace for 15k and have it feel not so hard, I suppose I'm in okay shape.
I hit the high 40's last week in terms of mileage, which is exactly where I wanted to be.
Monday, December 12 – 7 miles p.m.
Tuesday, December 13 – 7.5 miles p.m. w/ 3 miles @ HM pace
Wednesday, December 14 – 5 miles a.m., 60 minutes yoga p.m.
Thursday, December 15 – 7.5 miles a.m. run commute
Friday, December 16 – 3 miles during lunch break
Saturday, December 17 – 12 miles total, including 15k at 7:01 pace
Sunday, December 18 – 6 miles a.m.
Total: 48 miles
Of course, Saturday's PR could have also been a result of my stellar race week preparation. I began hydrating early, with wine and fondue on Wednesday night. Well, actually it was more like "afternoon" than "night". I took a half-day of work and went to see the matinee of War Horse with my theater buddy, Joe. The show was excellent and if you're under 35, you can get pretty cheap tickets ($30!). Post-show, we popped in to Kashkaval, a cute wine and cheese bar in the West 50's. After fueling up on fondue and Sauvignon Blanc, I headed to a hot yoga class. Not my best decision, friends. You should really start questioning the advice I write on this blog.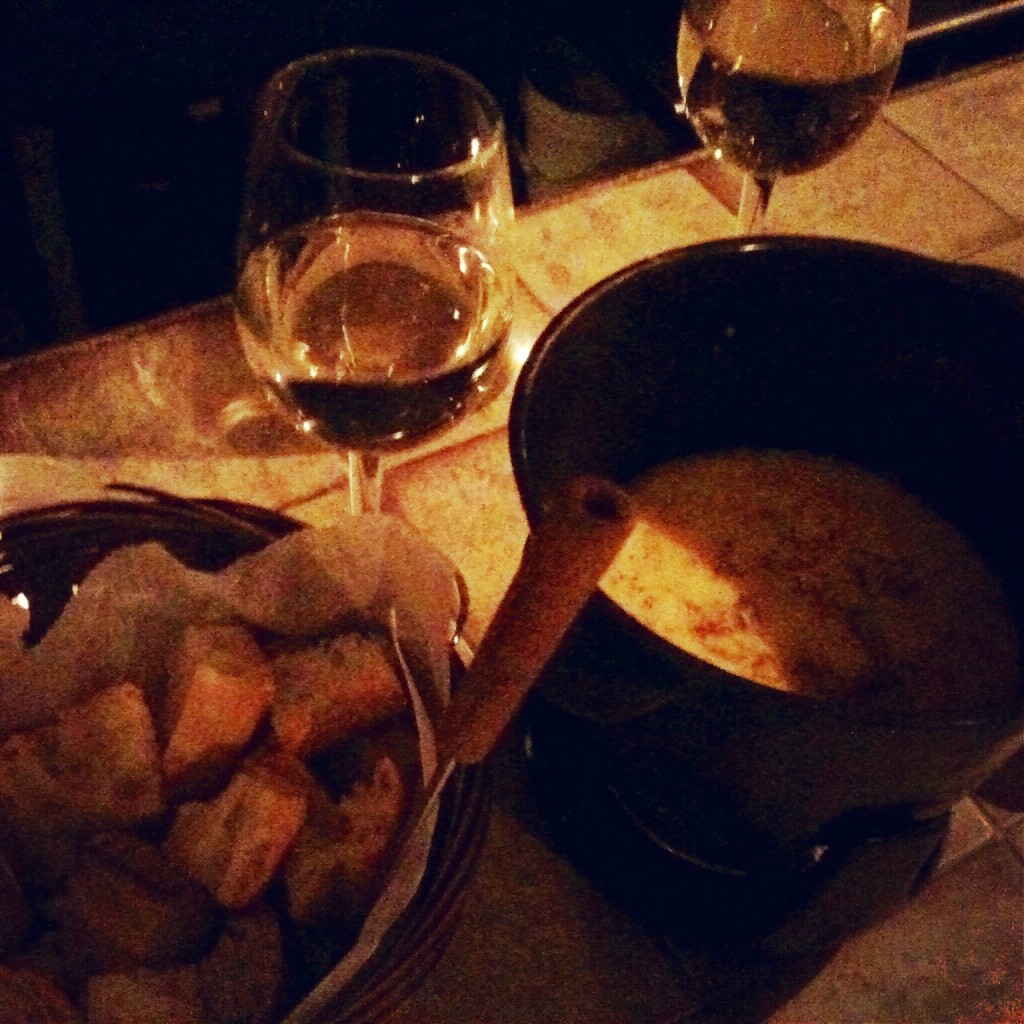 Preparations continued on Thursday with a steady supply of salt-rimmed margaritas (electrolytes!), mexican corn, &  grilled pork and cactus tacos from Chavella's. I love this place for so many reasons – it's less than a 10 min walk from my apartment, authentic Mexican fare, reasonable prices, and a veryyyy extensive drink menu.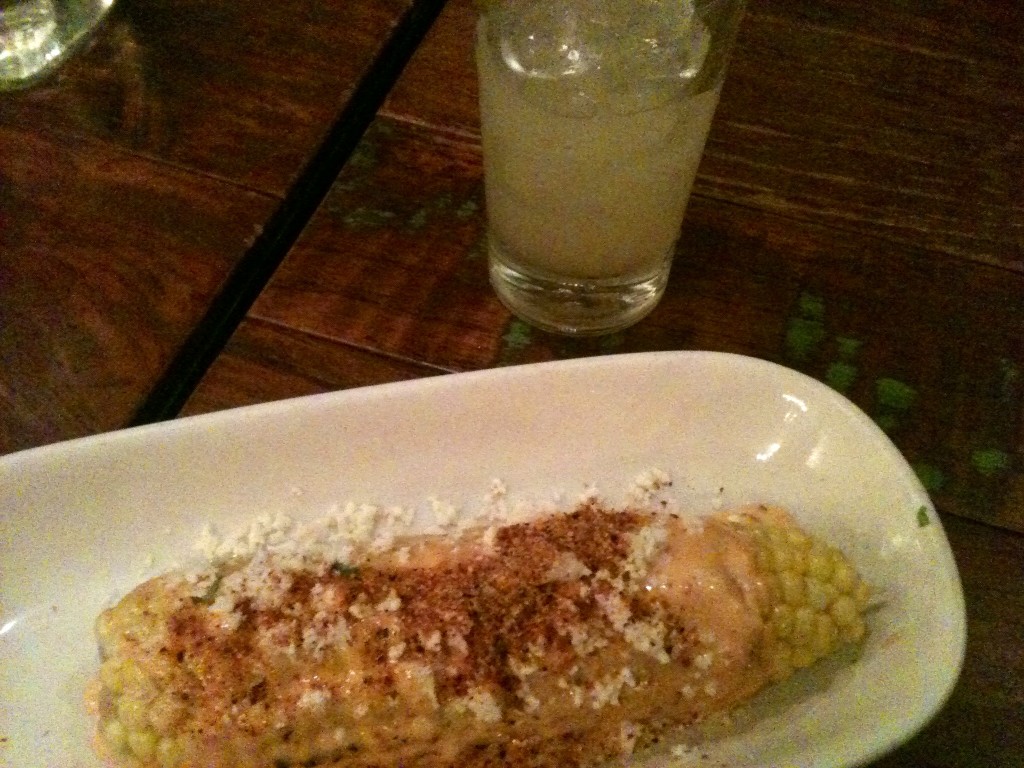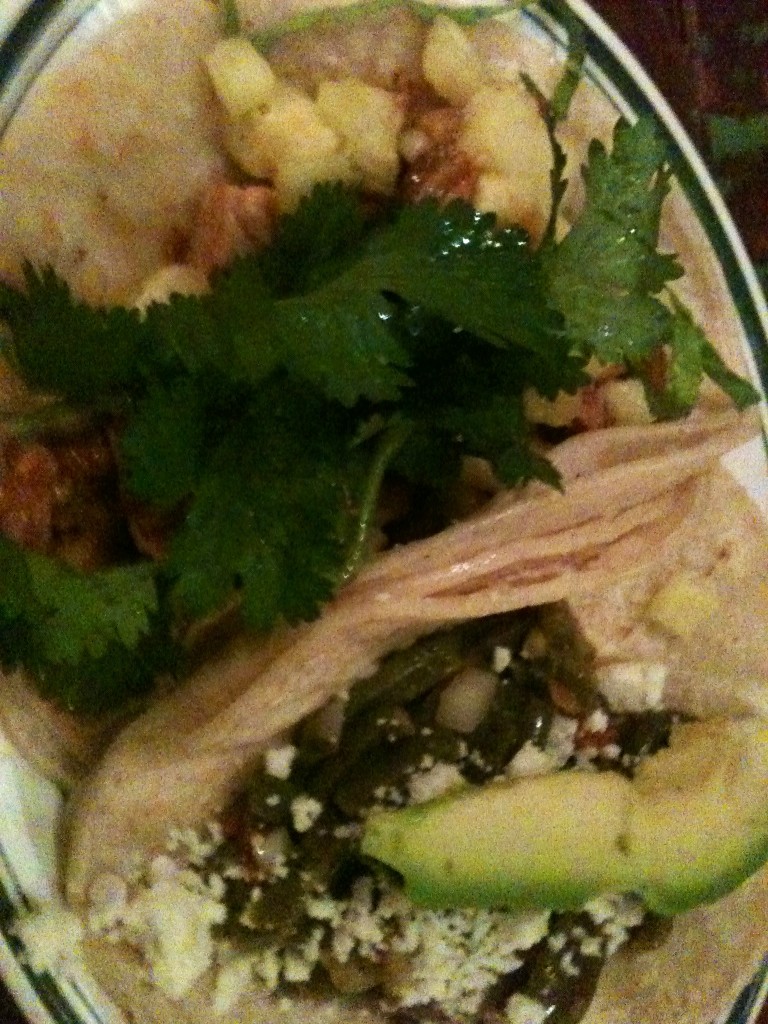 We all know that it's especially important to fuel well the night before a race. I followed through by eating a slice of pizza the size of my head.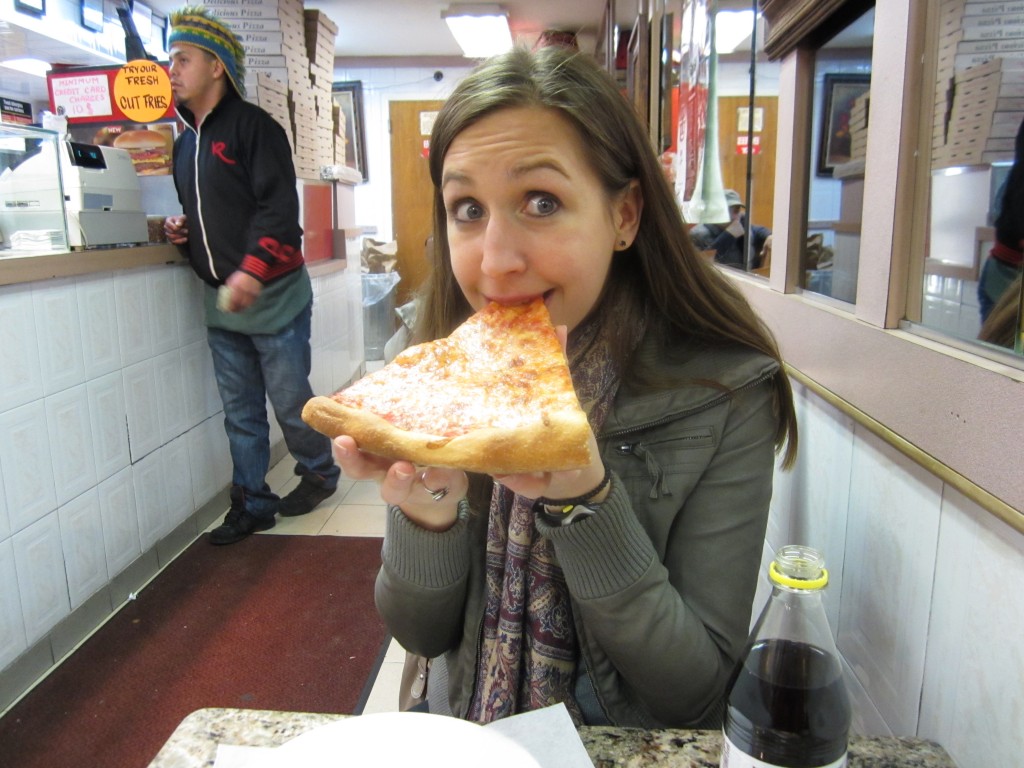 A diet that contains a wide variety of colors will ensure that you're getting all the vitamins you need. I think that rainbow sprinkles really cover all the bases.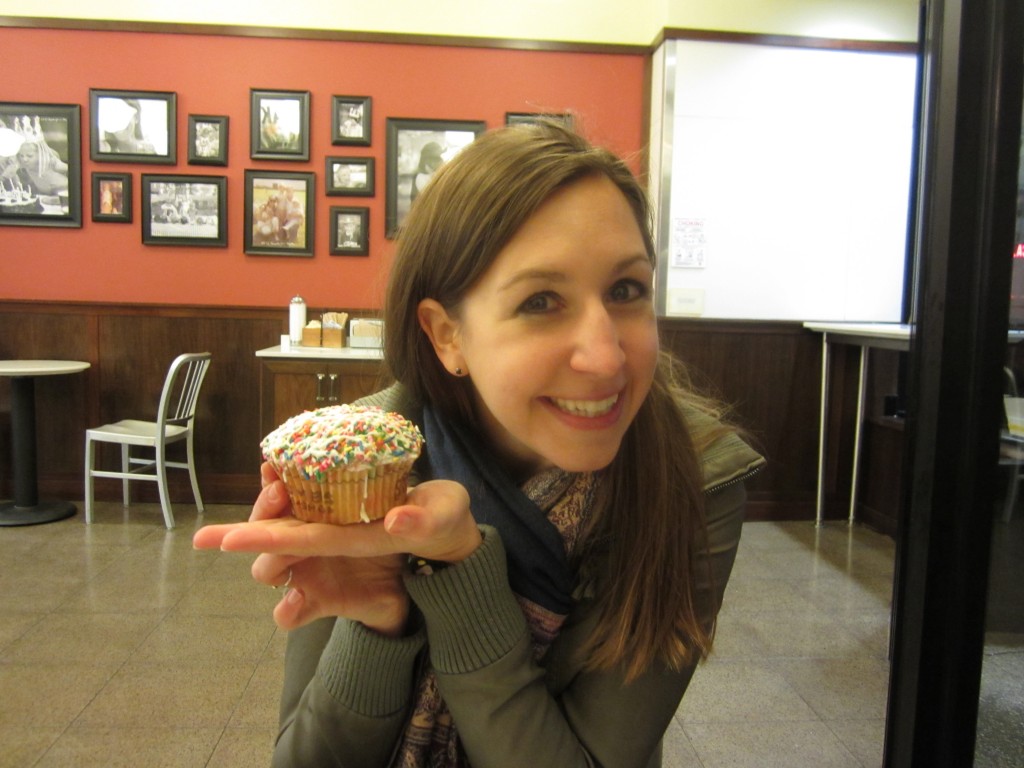 So in summary, all you need to do to PR is: eat pizza and cupcakes for dinner, sleep no more than 5 hours, and perhaps stop to tie your undone shoelaces around mile 6.
Remember when I used to give sound nutritional and running advice?
Yeah.
But we're not done yet! Your post-race fueling plan is very important. I recommend re-hydrating with beer. Bonus points if you begin this process at 2pm.
A friend and I headed to the Weyerbacher Brewery in Easton, PA on Saturday afternoon and I don't think I've ever been more excited. Ever since discovering the Imperial Pumpkin Ale last Fall, Weyerbacher has been one of my favorite breweries. (Side note: Weyerbacher, I really do love you. Please hire me and/or send free beer. xoxo) Taking the brewery tour and sampling nine (yes, nine!) of their offerings was the perfect way for this gal to spend an afternoon.
Of course, I couldn't leave without purchasing some beer to-go. No, I'm not really drunk in this photo. And Yes, I did share the growlers. Reluctantly. The Imperial Pumpkin Ale is my favorite, but since that wasn't on tap, we chose the Hops Infusion IPA and the Old Heathen Russian Imperial Stout.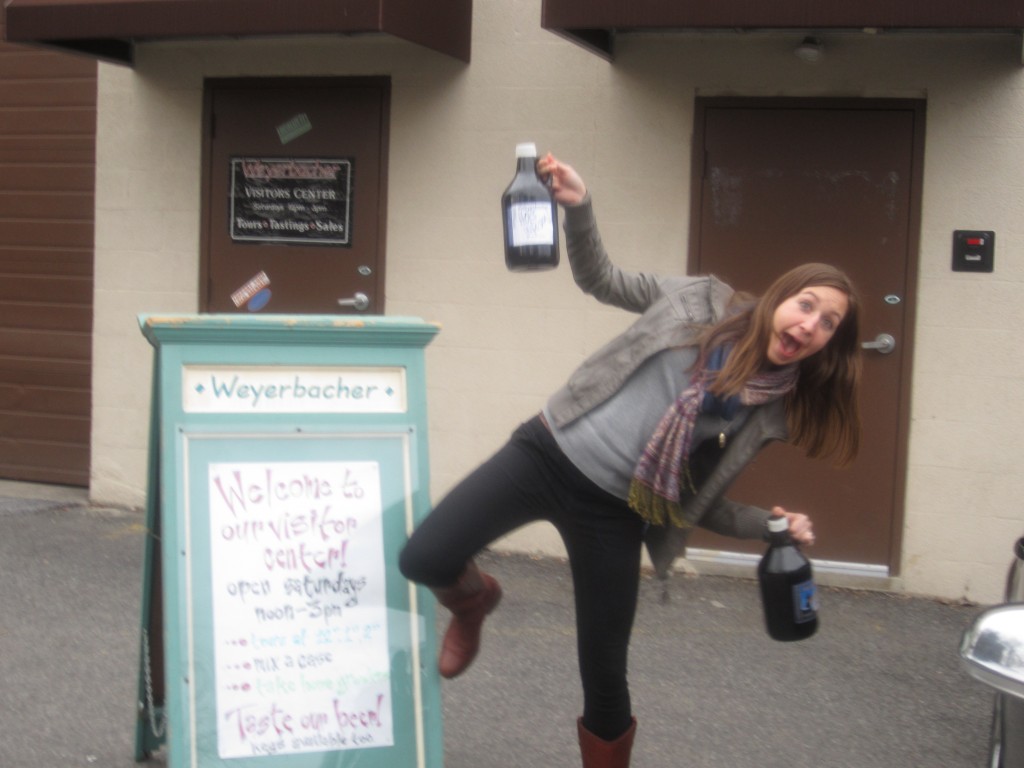 Lest you think all I do is eat cupcakes and drink beer, I will show you a sampling of the delicious food I ate at a holiday party on Saturday night. I wish I had the recipe for this homemade eggplant parm, but I do not. So instead, I just went back for thirds.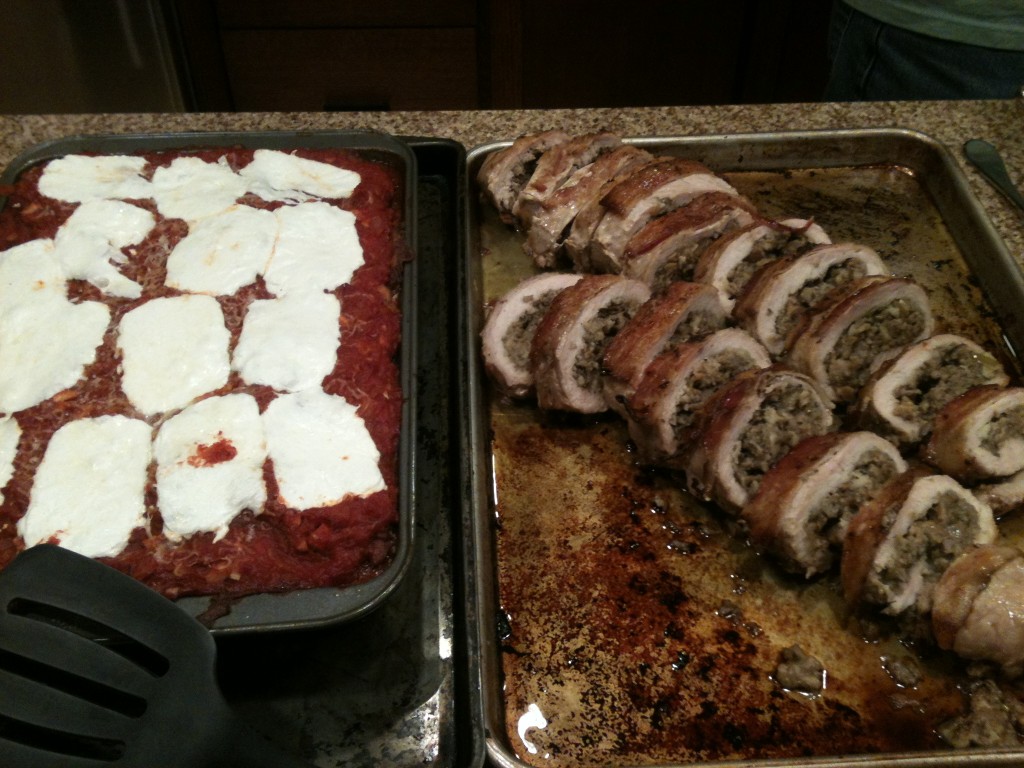 On Sunday morning, after a few hours of sleep and a chilly 6-mile jaunt around Prospect Park, it was time for another holiday soiree. I'm not complaining. Can I go to parties all year round?
Ali invited over the sweat squad regulars for a holiday brunch and secret santa exchange. Did you know that brunches can last until nearly 7pm? Yes, yes they can.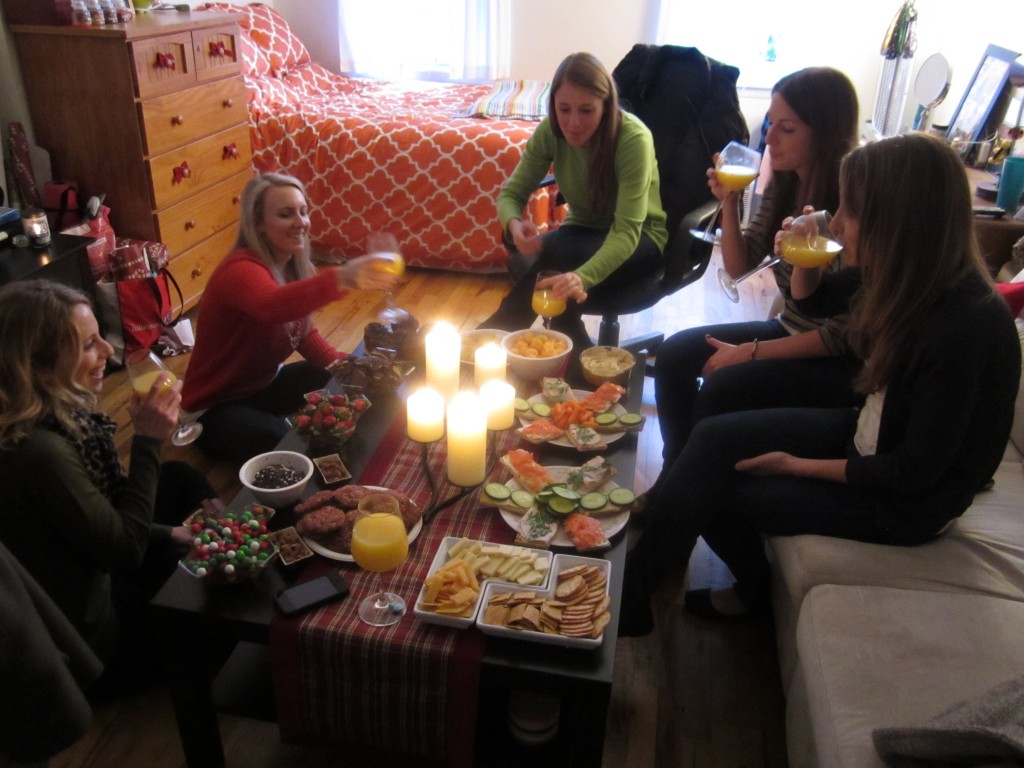 There were mimosas, smoked salmon, cucumber sandwiches, cheese & crackers, and desserts galore. I ate at least 3 of the ridiculously good nutella cookies that Kelly made. Ali might tell you she's not a good hostess, but that's a lie. You should see this girl's Gouda cutting skills.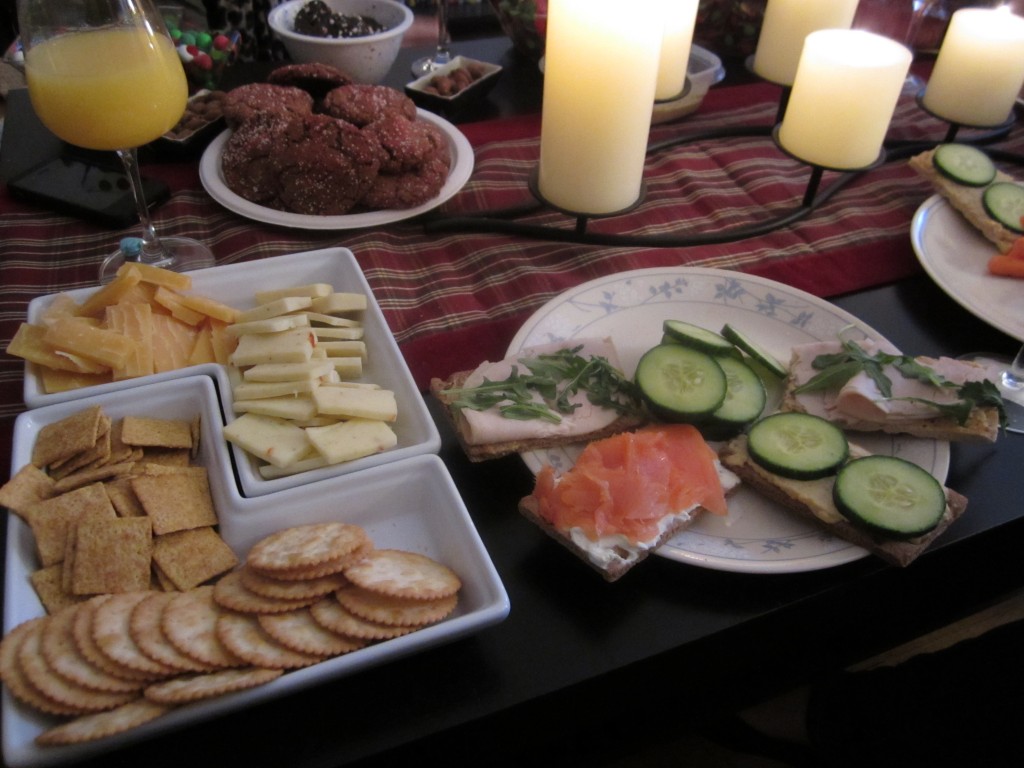 I somehow lost the photo I took, but the secret santa gift that I received was the best ever. And when I say best ever, it's not a hyperbole. It's the truth. Lindsay ventured into Brooklyn and picked me up 3 pints of my favorite ice cream (holla at you Ample Hills Creamery!). When she pulled my gift wrapped present out of the freezer, I knew I was in for something good.
Edited to add: Ali posted a photo of my reaction upon opening my gift. Priceless.
Susan's gift was all about hot guys and baby animals. Good work gift-giver Ali.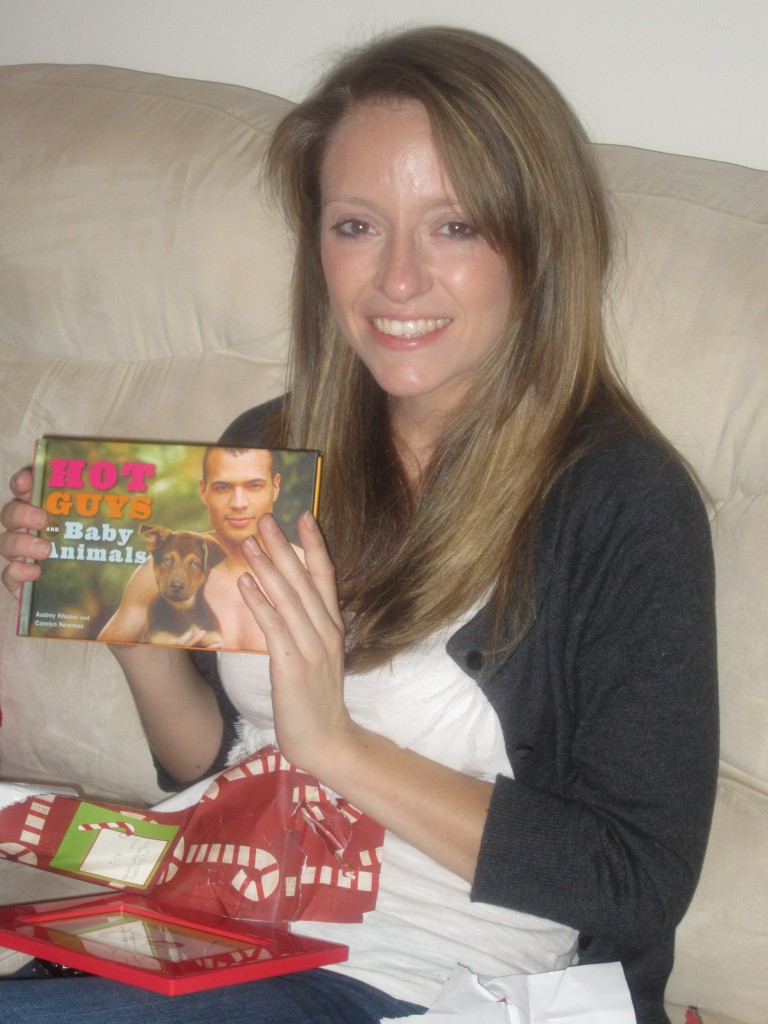 I believe Ali received a pair of Smart Wool high socks. I predict they will bring mad boys to her yard (Hi Brian!).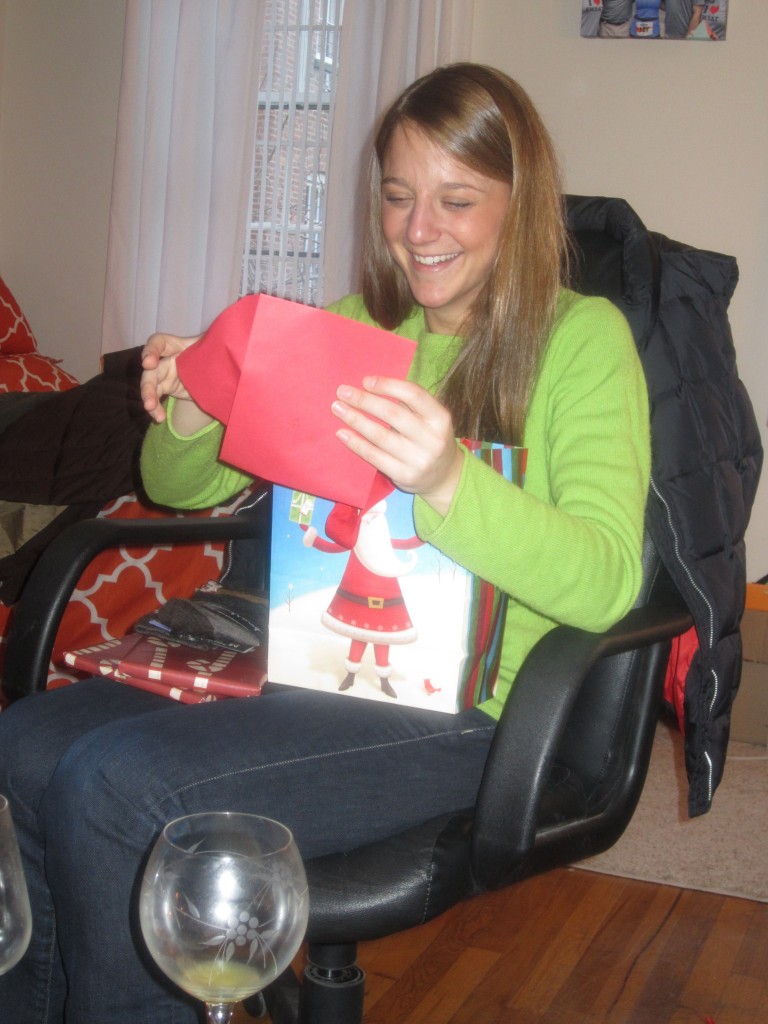 I tried to fix the red-eye in this photo, but decided that Meggie would prefer if her eyes matched her sweater. Luckily, I was her secret santa and perhaps the 16 Handles gift certificate will be a distraction from my bad photography skillz.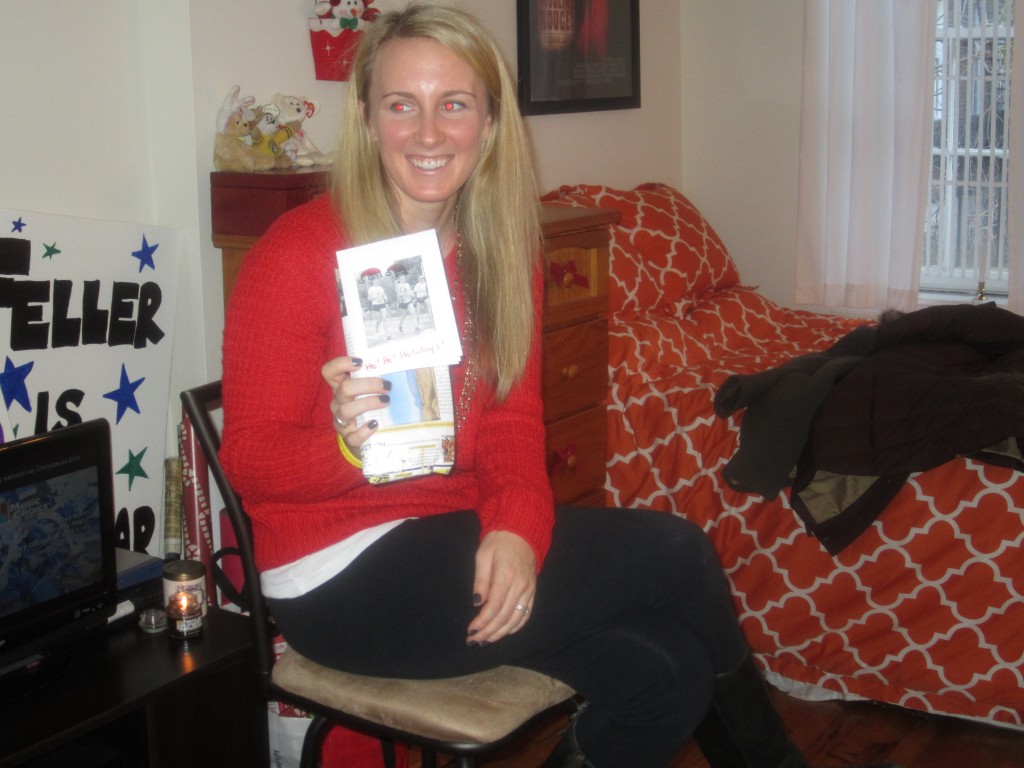 Is Kelly's hand glowing?! Yes! Because she now owns reflective glove-mittens from Brooks. Bring on the wind, sleet, and snow, Mother Nature.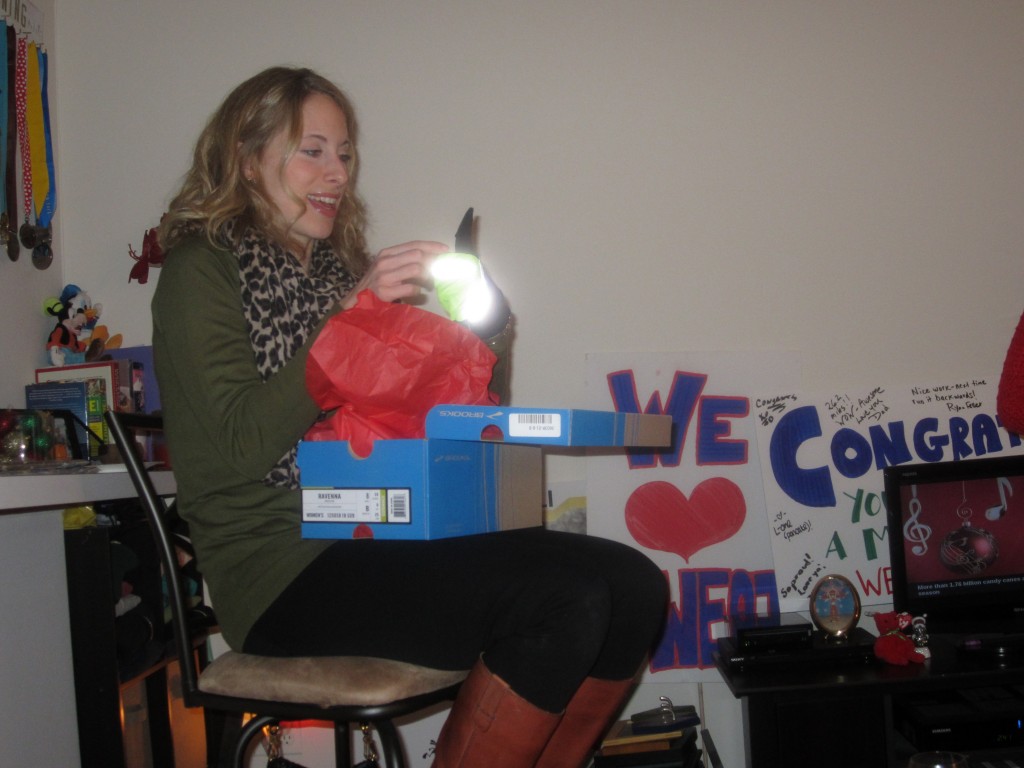 I'm pretty sure this was the best weekend of the year. Or at least one of the top 3. I left Ali's apartment all full of holiday cheer (I was like the Grinch – I'm pretty sure my heart grew three sizes yesterday). I even stopped to purchase a mini Charlie Brown Christmas tree after leaving. And I didn't even mind schlepping it home to Brooklyn on the subway.
What's the best holiday activity you've participated in this year? You get a gold star if it involved running, drinking, or BOTH.