Helloooo blog friends! And happy (almost) New Year. I've spent the last week doing a whole lot of this-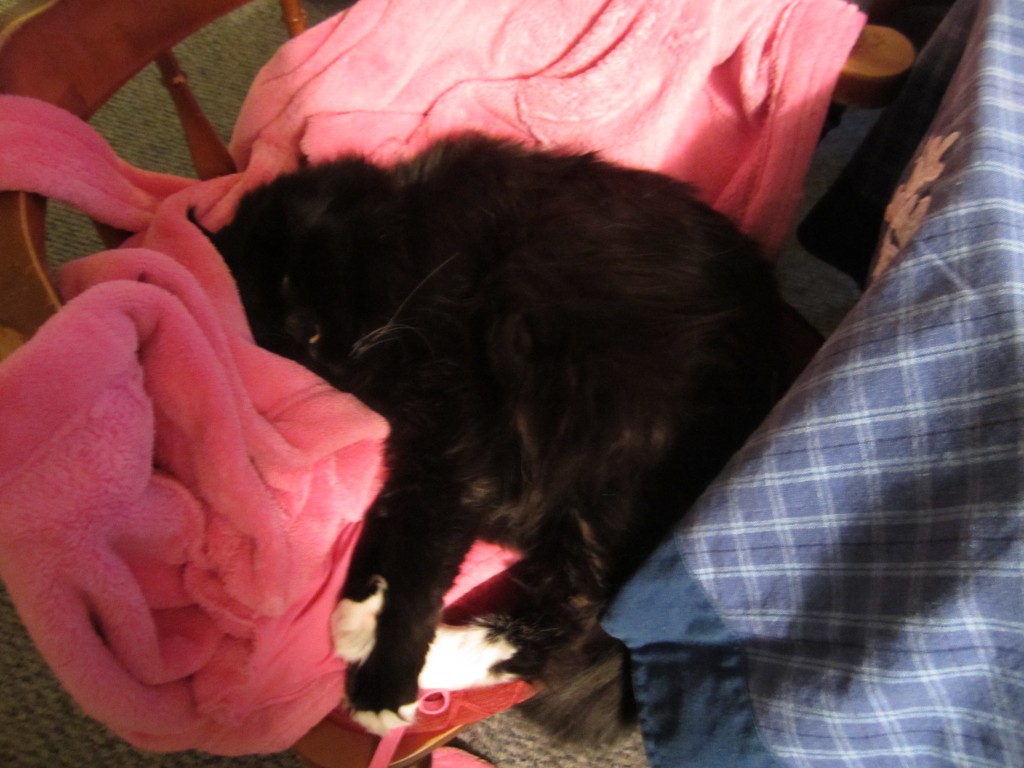 That's Kiwi the cat, snoozing of course. I spent six days visiting my family in Pennsylvania and I finally feel like I've caught up on sleep. I also may have given myself diabetes from all the sweets I ate. Kidding. Maybe. I've run decent mileage so far this week, so hopefully that cancels out some of the holiday goodies I've been indulging in. The stats so far:
Monday, December 26- Home for the Holidays 10k (6.2 miles)
Tuesday, December 27- 2 miles in the dark, cold, rain. So unpleasant, it was almost comical.
Wednesday, December 28- 2 mile shake out a.m., 8 miles p.m.
Thursday, December 29- 4 miles a.m. in PA
Friday, December 30- 10 miles a.m. in Brooklyn
Total so far: 32 miles
If I can log 10-12miles over the next two days, I will be a happy girl. That should bring me to the low-mid 40 mile range for the week – exactly where I want to be.
Before I left the 'burbs, I wanted to make a special snack for my little New Year's Eve shindig. Cake pops have been on my radar for some time, but they're a bit labor intensive, so it's taken me awhile to tackle them. The process isn't difficult, but I was a little skeptical of crumbling up my freshly baked cake. It just seemed wrong.
Sweet facial expression, eh?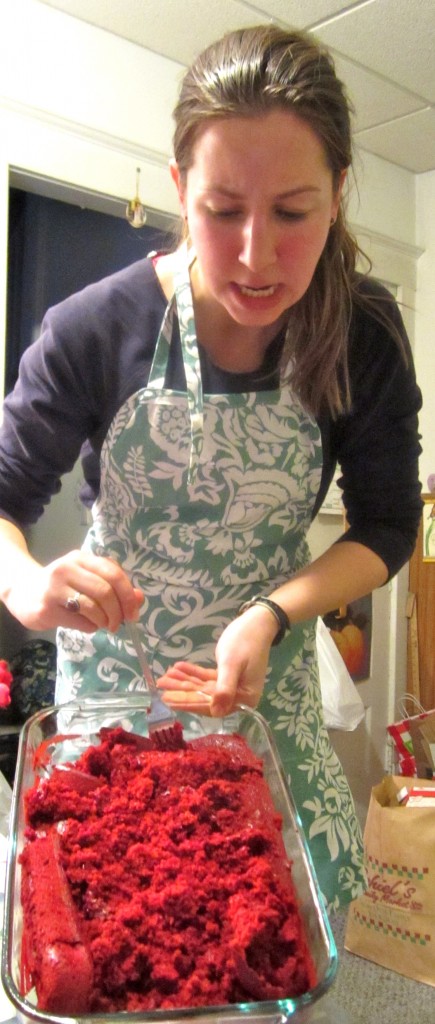 The "recipe" for these bad boys is quite simple. I used a boxed red velvet cake mix (don't judge, even the pros use boxed mixes sometimes…) and added water and eggs as called for. However, I subbed in some "about to expire" Chobani 2% yogurt for the oil and didn't notice a difference. After baking as directed, I crumbled up the cake with a fork and mixed it with 1 1/2 cups of chocolate frosting. I rolled the cake-frosting mixture into ping pong sized balls and placed them on a wax paper lined baking sheet. Then they went into the freezer for about 15 minutes to firm up. Once the cake balls were cold, I melted some chocolate (12 oz of white baking chocolate, 24 oz white chocolate chips, and 6 oz semi sweet chocolate chips to be exact), skewered the balls, and dipped them in the melted chocolate. I placed the chocolate covered balls back on the wax covered baking sheets and popped them in the fridge until the chocolate hardened. I used three different chocolates to see which one worked best and the blocks of white baker's chocolate melted smoother than the chips, FYI.
Ta-da! Waiting to be devoured tomorrow night…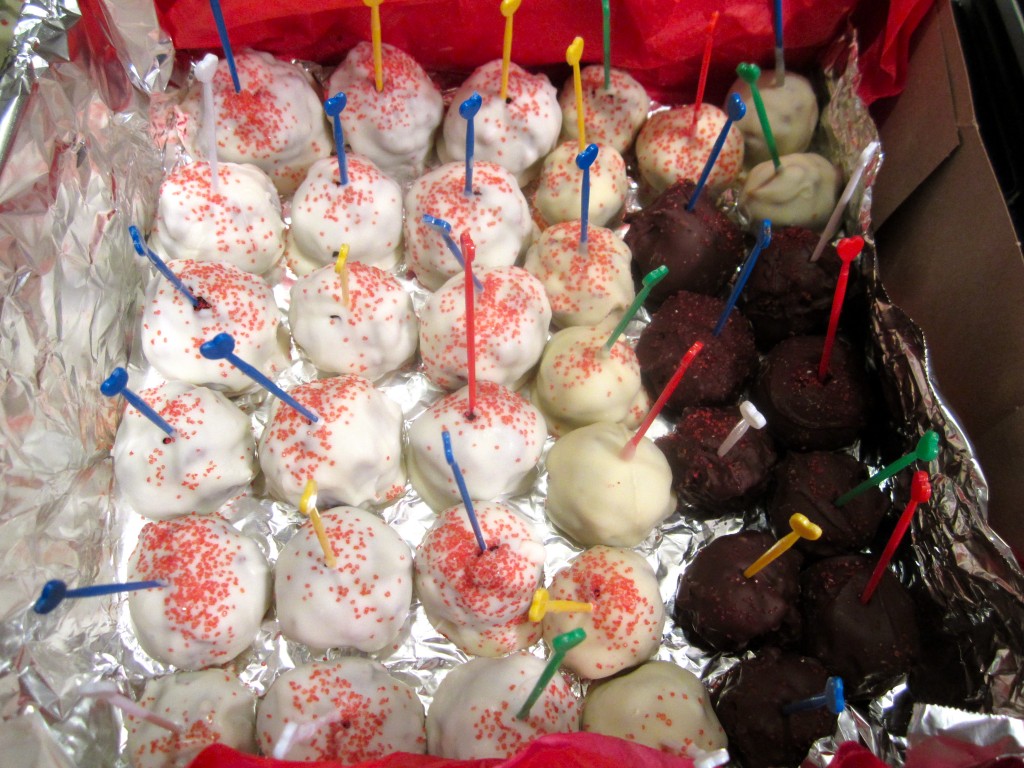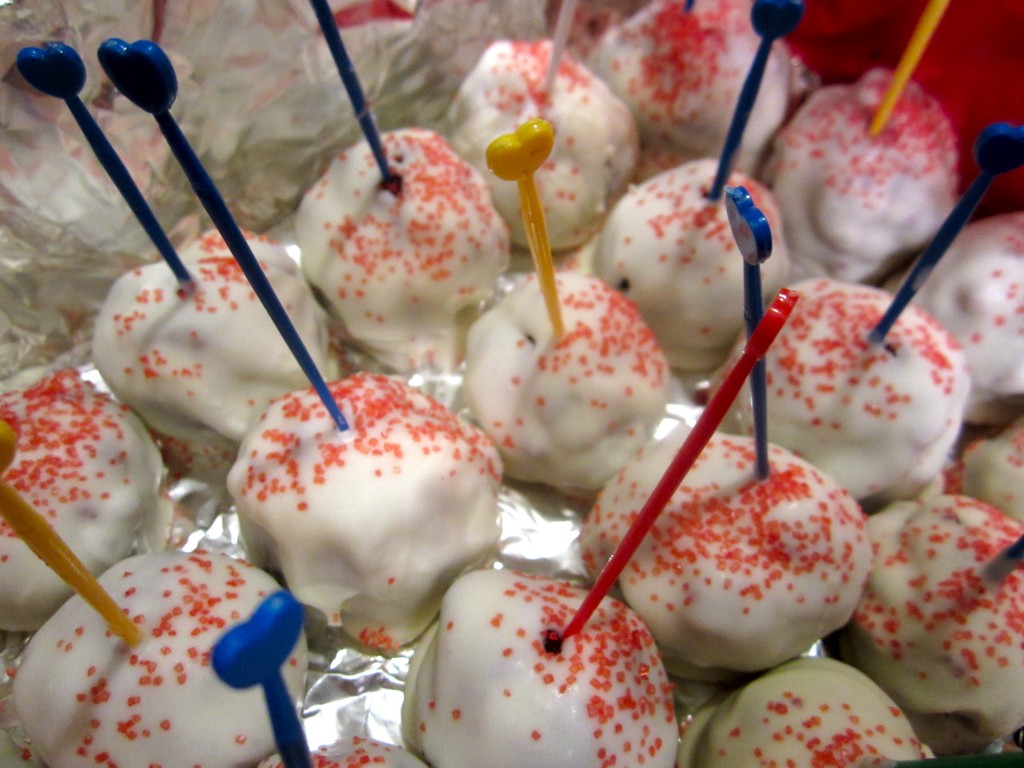 I was feeling inspired (and okay, a little high from all the sugar), so I decided to make one more goodie. I call these things salted caramel crack, but I'm not sure that's an official name. They're based on Smitten Kitchen's recipe. She's my guru, you can't go wrong.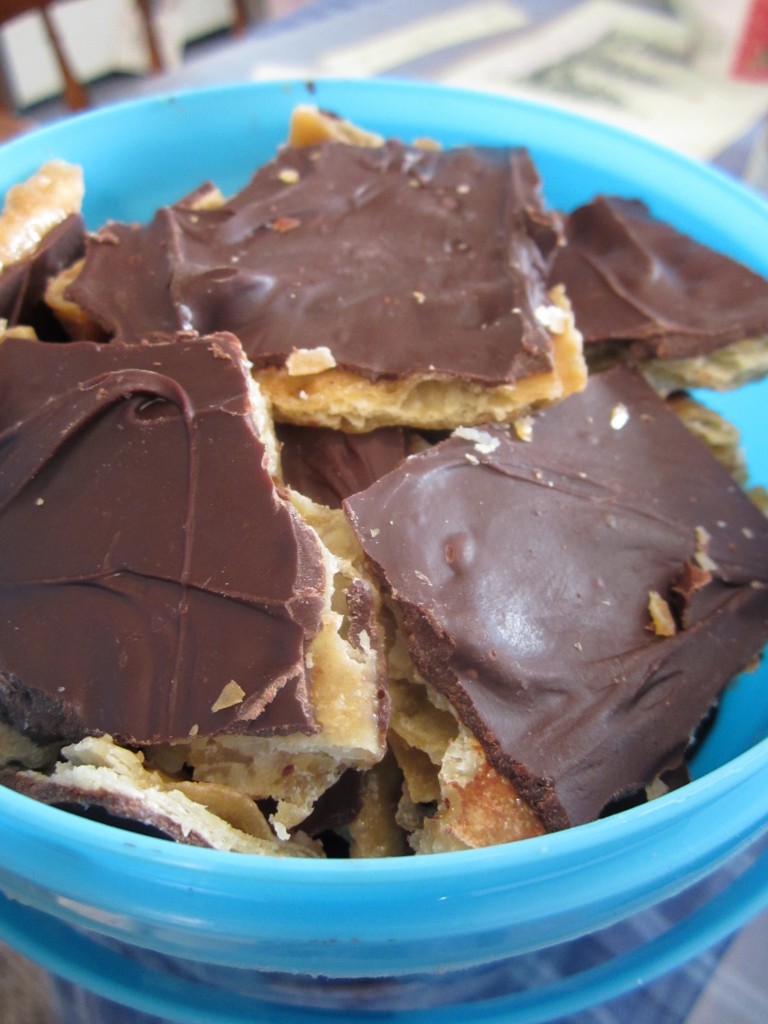 If you're coming to my place for New Year's, don't forget your insulin!
I've been back in the best borough (Brooklyn!) for a little over 24 hours now and it's good to be home. Today, I led my running buddy Jacqui on a tour of the neighborhood. We covered about 10 miles, nice and easy and it was fabulous. The legs felt good and it was warm enough to run in short sleeves (!!). The run ended with brunch and a pint of this –
Ample Hills Munchies flavor: Pretzel infused ice cream with clusters of potato chips, pretzels, ritz crackers, and mini m&ms!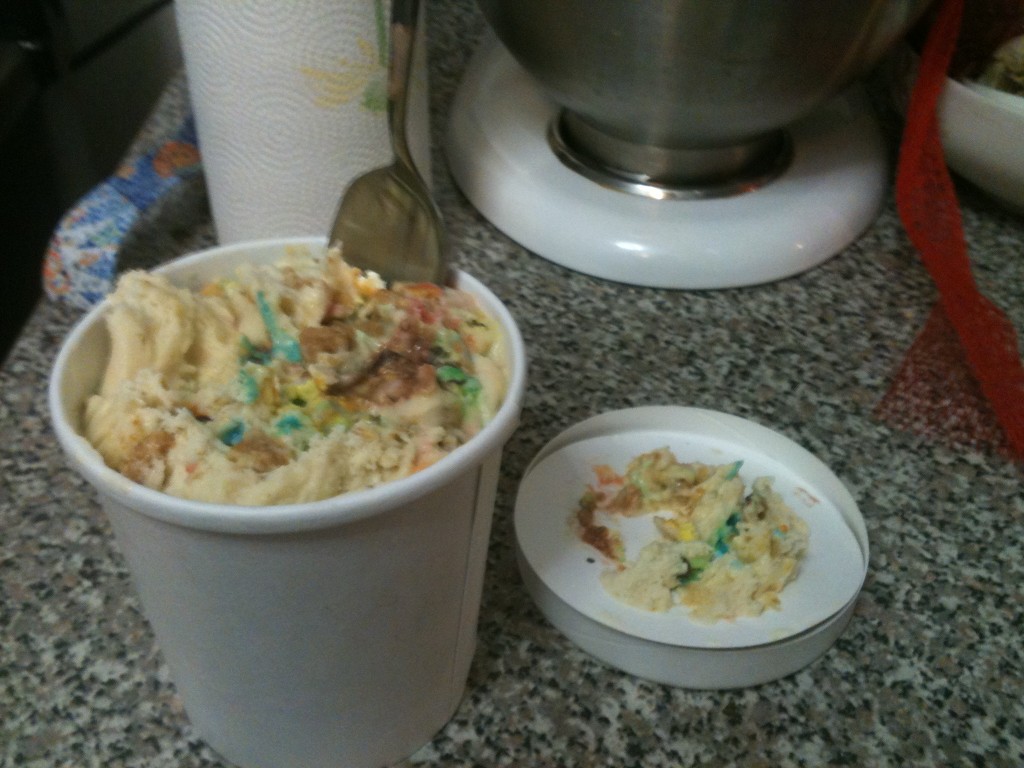 Tomorrow morning (New Year's Eve), I have a destination run planned with friends, ending at the Doughnut Plant. Now do you understand the title of this post?
A call for help and a give-away!
I really want to win the Chocolate Milk Refuel grant and I need your assistance. Until January 15, you can vote for me by clicking here. It really only takes 10 seconds. To make it worth your while, I've decided to have a little give-away. I love baking and I want to make something for YOU. If you vote for me, leave a comment (you can vote once a day, so if you vote on multiple days, you can leave multiple comments!). I will randomly choose a winner at noon on Monday, January 2. The winner can choose any Runner's Kitchen baked good recipe (within reason…I can't ship a layer cake) and I'll ship it out. Thanks for your help!!