As I began my long run on Saturday morning, I started thinking about the Philly half (2 weeks!) and how badly I want to run sub-1:30. I'm nervous about this race, but I'm also excited. For the first time this year I finally feel hungry to race. I'm really glad that's the case, because believe me – toeing the starting line when you don't 100% want to be there is a recipe for disaster. A lot of people were bewildered by my decision not to run the New York City marathon this year. I had paid the registration fee, had a spot, wasn't injured…why wouldn't I want to run the race? I loved running through the five boroughs last year, but afterward I was mentally (and physically) depleted for a good six months. Throughout much of last Summer and Spring I felt burnt out and not excited to race. I've finally got that spark back and I can't risk losing it before I race Boston in April. I need to avenge my awful Boston bonk from 2009. And after that? Will I run another marathon in Fall of 2012? Will I instead try focus on 5ks and 10ks? Will I take a break completely? I'm not sure…it's difficult to predict how I'll feel about running and racing six months or a year from now. But for the moment….running and I are in a good spot. For the first time all year, I feel I'm where I should be.
I've decided that the low-60's are my sweet spot when it comes to mileage. It's enough for me to fit in quality workouts and long runs, but not so much that I'm overly tired or sacrificing my social life. I'll probably scale back to 50 miles this week and then 30-40 miles in the days leading up to the race. Last week's training went pretty much as planned, although as expected I had to make a few changes and adjustments:
Monday, October 31- 5 miles, easy
Tuesday, November 1 – 8 miles w/ 4 strides at the end
Wednesday, November 2 – 11 miles, easy (and super early!)
Thursday, November 3 – 3 mile shake out in a.m., 9 miles p.m. including 6 mile tempo 9 miles p.m. including 3 miles @ marathon pace (~7:30) , 2 miles @ HM pace (~6:55)
Friday, November 4 – 7 miles, easy 9 miles, easy
Saturday, November 5 – 13 miles w/ 4 @ goal HM pace 3 @ goal HM pace (6:58, 6:53, 6:51)
Sunday, November 6 – Marathon Spectating! and 4 miles easy 6 miles at ~8:00 pace
Total: 61 miles
After my long run on Saturday, I met a friend for brunch in the West Village. I chose the scrambled eggs with salmon as my entree because I'm always looking for ways to get more Omega-3's in my diet. I'm convinced that omega-3's and vitamin D will help me ward off the seasonal blues. I've also heard that extra crispy french fries and mimosas can boost your mood….heh.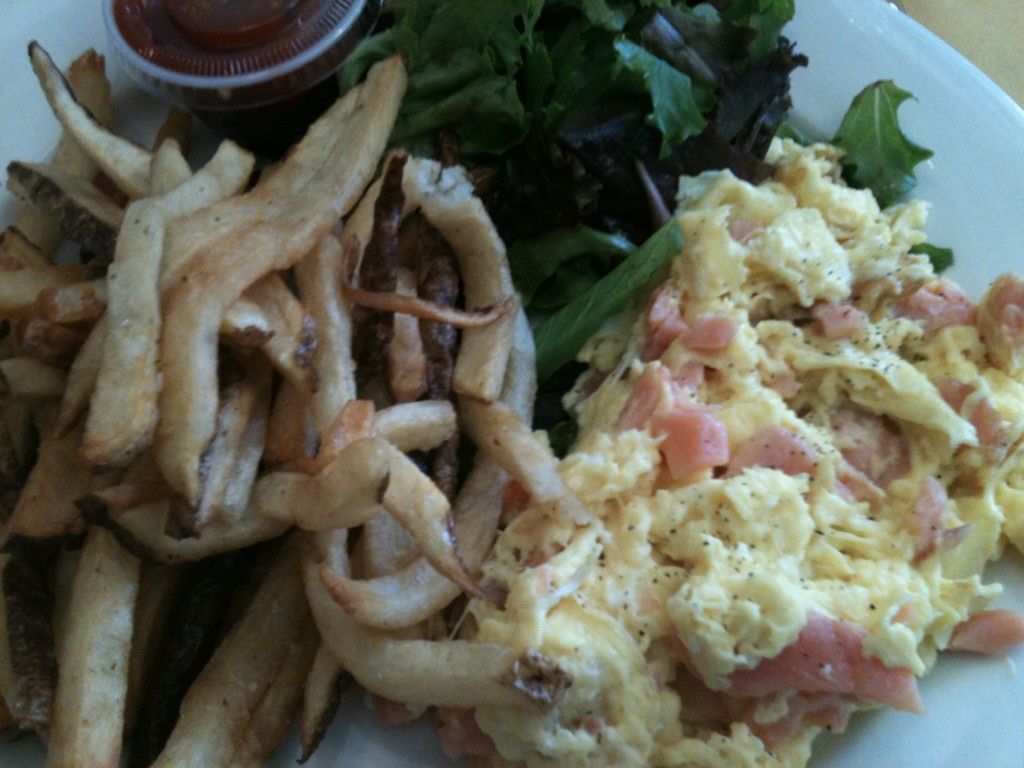 The rest of my day was spent hopping from one activity to the next, finally ending at a Guy Fawkes theme party in Brooklyn. The event itself was kind of lame (longggg wait at the bar + overpriced drinks), but I did score a veggie burger from the Urban Rustic cart on my way out the door. Now, there wasn't anything super-awesome-amazing about this veggie burger, but the fact that I was able to score local, vegetarian food at a bar scores it a blog mention. Plus, I was really hungry and it was 1am, so it hit the spot. The Urban Rustic cart was also serving up grass-fed beef burgers, maybe I'll get one of those next time!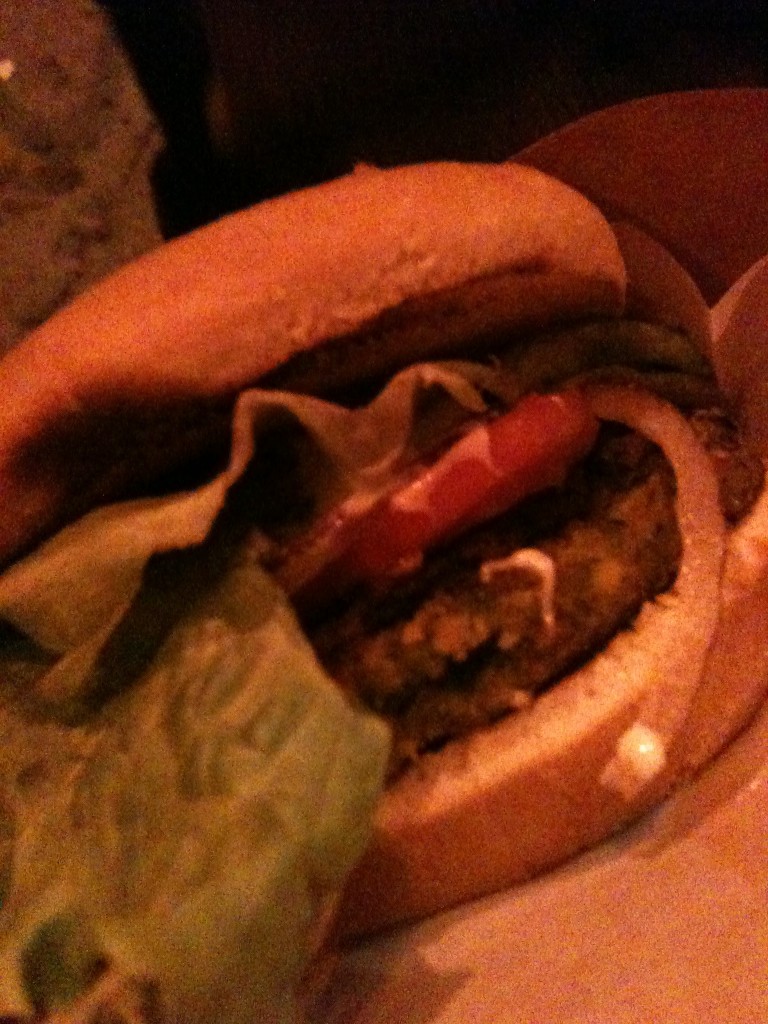 The next morning, Sarah and I gulped down some extra-strength Peet's coffee and headed out for an early a.m. run. I received the coffee as part of the Foodbuzz tastemaker program awhile ago, but I've been buying most of my coffee at shops lately, so this weekend was the first time I brewed it. I liked it a lot! I think I made it a little too strong on Sunday, but I finally nailed the correct ratio of grounds to water (2 Tbs for every 6-8 oz water) this morning.
The Cafe Domingo roast paired very well with my marathon-spectating breakfast of choice….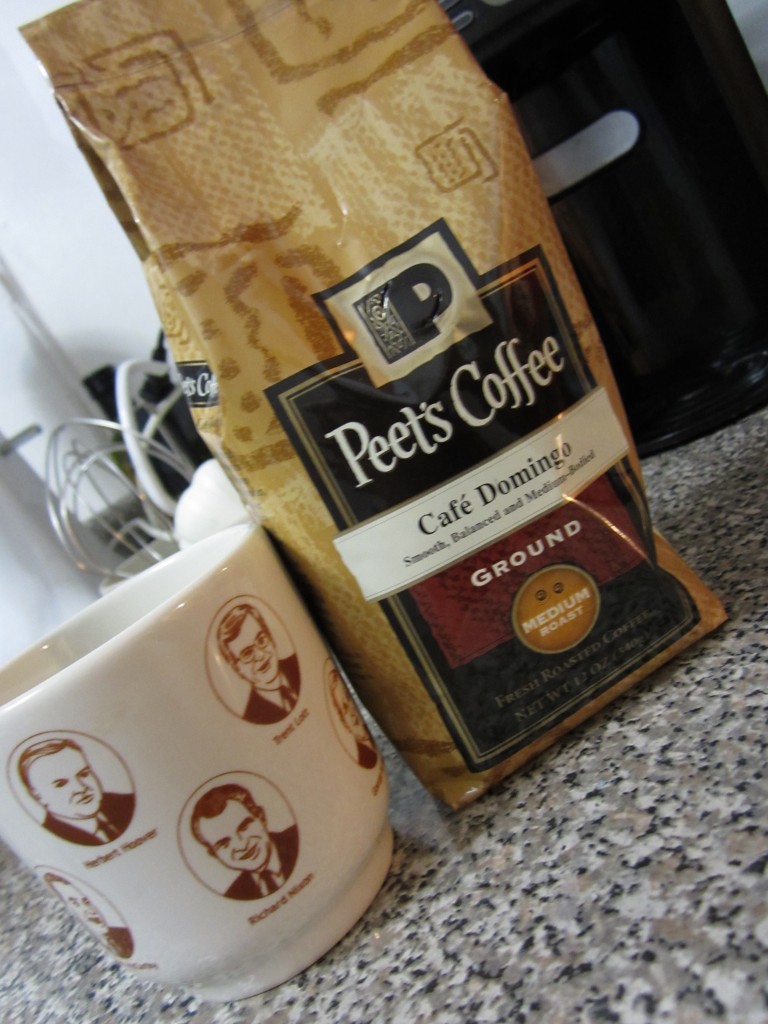 The dulce de leche donut from Dough in Brooklyn!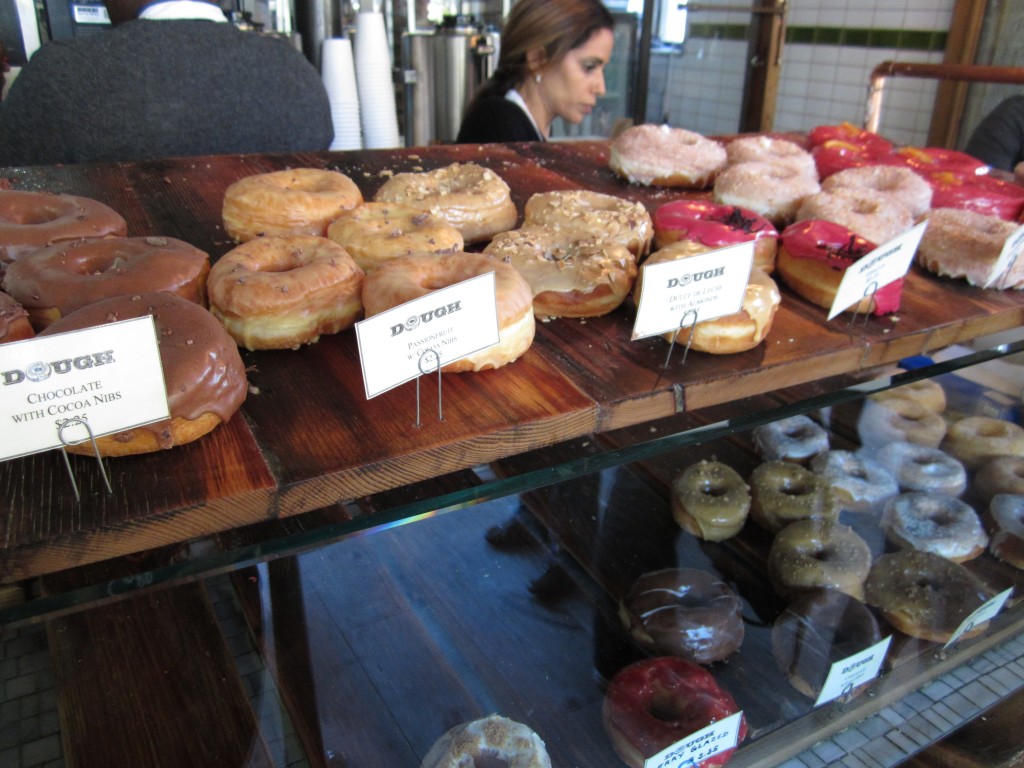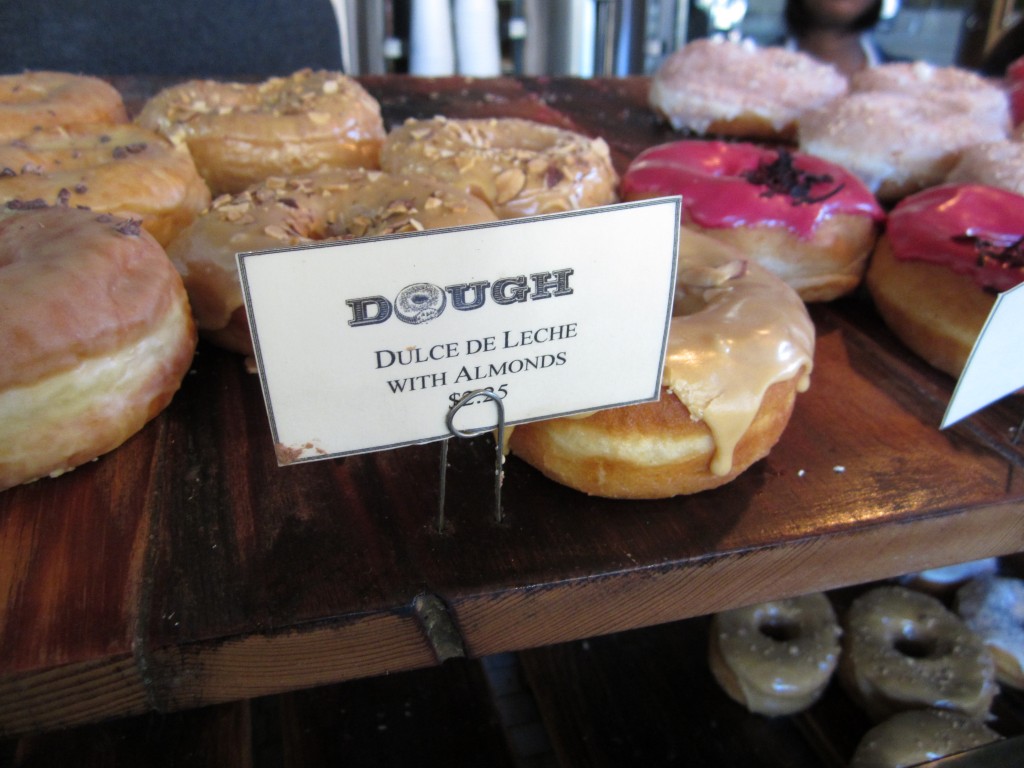 Oh my. I probably eat donuts once or twice per year, but when I eat them, I want them to be good. And this was good. The dough was stretchy and light and the dulce de leche and slivered almond topping was A+. This place is about a 10 minute walk from my apartment and I'm already plotting my next visit.
After a day of running, donut eating, and marathon spectating, I rallied myself for one final bit of Brooklyn fun: Salsa Slam 2011 at the Bell House!
My foodie friend Sofia, entered the salsa-making competition, so obviously I needed to be there to eat my weight in tortilla chips support her!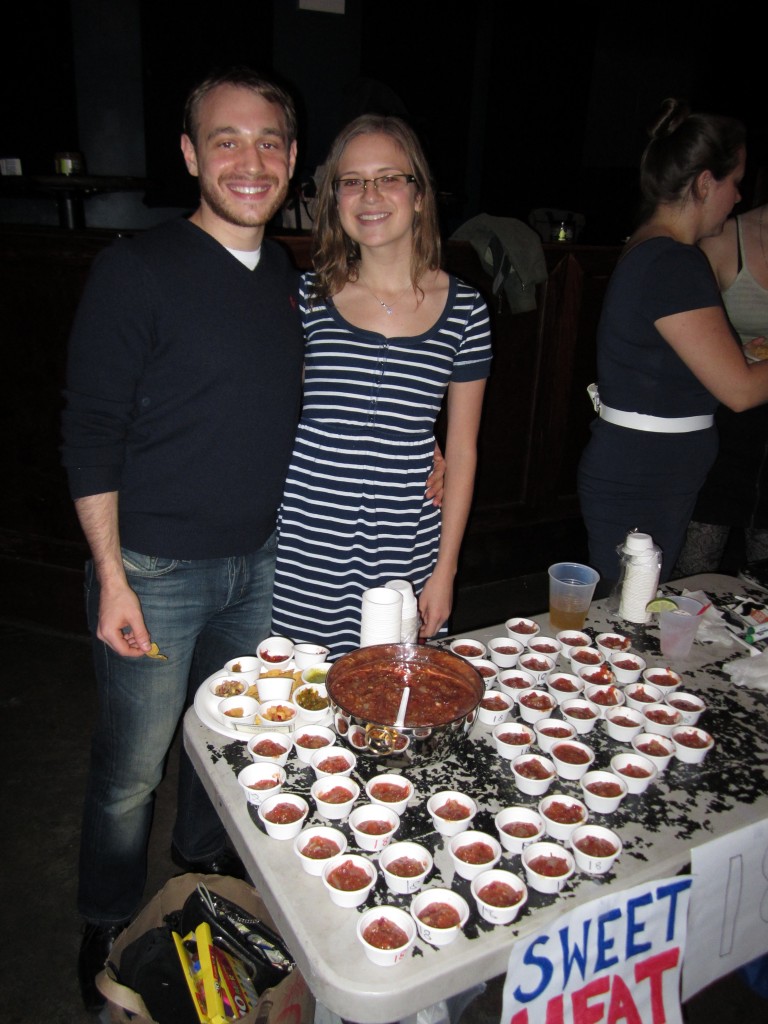 Sofia's recipe was called "sweet heat" and was exactly that. Bonus: the recipe's secret ingredient was inspired by a fun event the two of us had attended a few weeks ago…
I filled my plate with nearly 20 types of salsa and started dipping away. Salsa = vegetables = healthy dinner, right? Plus some Brooklyn lager to wash it all down, of course. We keep it local.
Big ups to Sofia and BT for winning the contest's People's Choice award. I had no doubt they'd pull it off! And if you're lucky, they might even share the recipe on InsightfulAppetite. Stay tuned.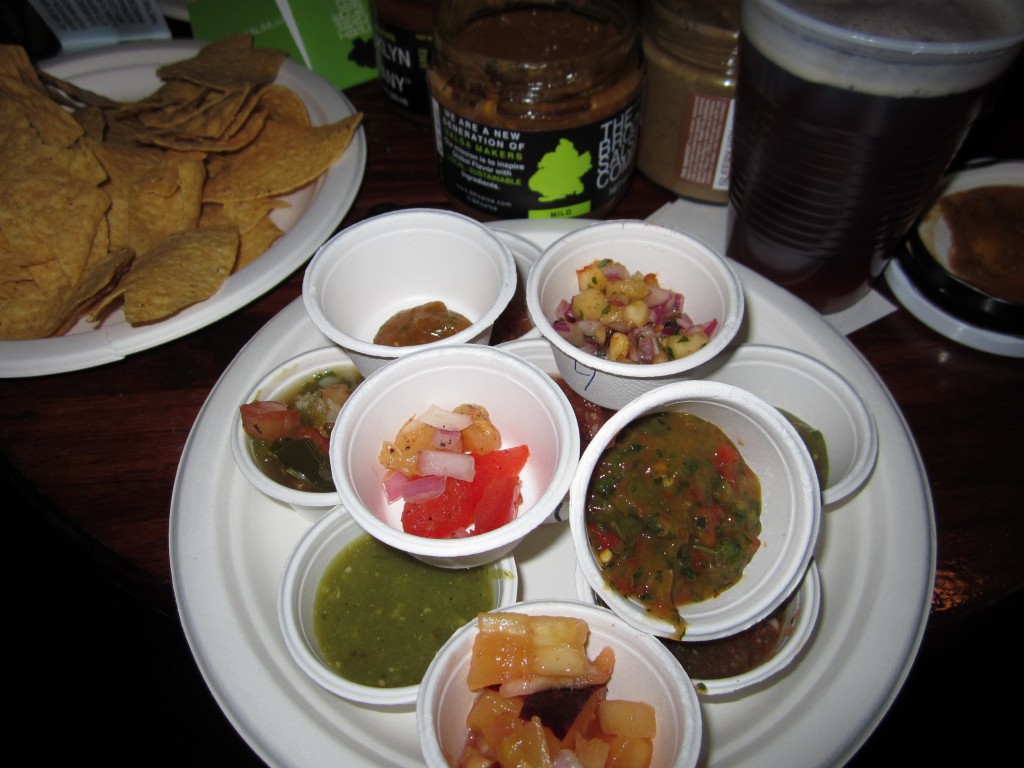 I had a really busy weekend, so now I'm looking forward to just focusing on work and running and sleep for a few days. I could use some quiet time.
What was the best part of your weekend? If you ran the New York City marathon, congrats!!! It was so much fun cheering you on.