Here's the truth – even though I love running, I only actually want to go running about 10% of the time. I hear there are people who pop out of bed at the crack of dawn, itching to run some miles. That is not me. Most of the time, it's a struggle between what I know is good for me in the long term and my desire for short term gratification. Morning runs are a little easier – I am usually half asleep as I push myself out the door, so there is little time for deliberation. Just put on shoes, grab keys, walk out the door. But after-work runs and speed workouts? Oy. Even if I'm looking forward to seeing my running buddies, even if I know the workout will make me faster…it's a struggle. I'm tired. I have to stay late in the office. I'd rather go home, drink beer, and watch Netflix. There are many, many hours in the day for me to talk myself out of the weekly 7pm workout with my running club.
Luckily a combination of good weather and friendly peer pressure helped get me to Central Park last night for one last workout before race day. And as always (you'd think it would sink in by now!!), I'm so glad I went. I'm usually motivated enough to do some kind of workout on my own, but I know that having other people push me is the key to getting faster.
The workout assigned last night was interesting – 4 miles at varying paces. 1st mile (uphill) at 10k pace, 2nd mile at 5k pace, followed by 2 miles at ~10 mile race pace (favorable terrain). Coach Tony explained that the aggressive early miles would produce lactic acid and get the legs used to feeling fatigued mid-race. I had a mini freak out about 2 miles in when I thought "Oh man, this is hard and my legs feel like crap. Next week, I'm going to feel like this and still have 7, 8, or 9 miles to go." But I tried to push those thoughts out of my mind and just focus on the mile at hand. When I start thinking about how fast the pace is and how much farther I have to run…that's dangerous territory. With longer races, I truly believe the key to running well is to be confident. However, that is easier said than done! I'm a work in progress in that regard.
Last night's workout was hard, but I ran with an awesome group (Jane, Sari, and Molly – hope you guys don't mind the blog shout out!) and we were relaxed enough to exchange short sentences throughout the run. The last mile was probably too fast, but it was also downhill and at the end of the workout, so I think that's okay.
mile 1 – 6:40
mile 2 – 6:25
mile 3 – 7:04
mile 4 – 6:38
final .04 – 19 seconds
Total: 4.04 in 27:06 (6:42 avg)
With warm-up and cool-down, I ended up running 7.25 miles total.
I didn't have my Garmin with me, so the times are based on mile marks and my running buddy's GPS. I think they're pretty accurate and I'm happy with the times. I think the paces realistically reflect my current fitness levels – 6:40 pace for a 10k would get me in around 41:30 and 6:25 pace for a 5k would be just under 20 minutes. I had also run 7+ miles in the morning, so my legs weren't exactly fresh. I'm not sure I'd recommend that, but it's an experiment I'm trying. My goal was to run the workout on slightly fatigued legs, further mimicking how they'll feel late in the race.
Something I want to try a few times with Boston training is to run 15-16 miles on Saturday, followed by 10-12 miles on Sunday (instead of the traditional 18-20 miler). It's a little unconventional, but I've heard some chatter about it in the running community. The goal is to build endurance and fatigue the legs, but avoid the excessive recovery that 20+ milers often demand. This is all experimentation! I have no idea if it will work or not. More about that later…
The PR rep for Annie Chun products sent me some goodies last week. So I decided to make homemade pad thai with the sauce and brown rice noodles that I received. I was a little bit skeptical of the noodles when I saw they were gluten-free and made from brown rice, but they tasted just like pad thai noodles! And bonus – 4 grams of fiber per serving.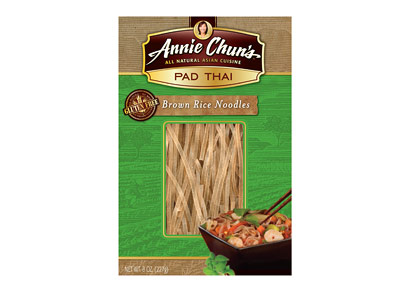 Homemade pad thai (made 3 hungry Megan-size servings, maybe 4-5 regular person size servings)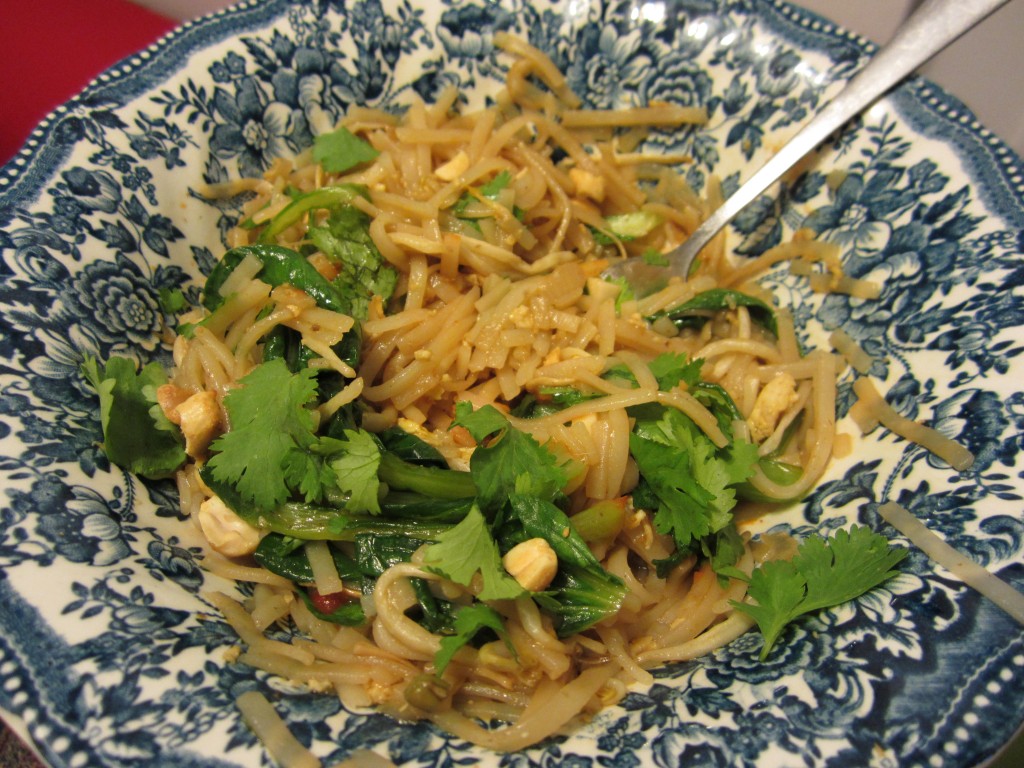 Ingredients:
1 box/8oz of Annie Chun's brown rice pad thai noodles
8 Tbs (about 1/2 bottle) of Annie Chun's pad thai sauce
3-4 cups of mung bean sprouts (I used the entire package that I bought from Whole Foods)
1.5 Tbs canola oil
1 onion, chopped
2 cloves garlic, minced
2 eggs, lightly beaten
optional garnishes: cilantro, peanuts, sriracha sauce, lime wedges
Directions: Prepare the noodles according to package directions, adding in the bean sprouts in the last minute or two of cooking, drain, and set aside in a colander. Meanwhile heat oil in a large wok or frying pan and saute onions and garlic for a few minutes. Add a bit more oil and cook the eggs until scrambled. Add the bean sprouts and noodles into the wok and mix in pad thai sauce. Garnish with chopped cilantro, crushed peanuts, sriracha sauce, and lime wedges. Looking for more protein? You could also add in shrimp, tofu, or chicken when you saute the onion and garlic.
What's your favorite confidence-boosting workout?
And does anyone know if you can freeze stuff like pad thai? This was good, but living alone means leftovers for many days…