Alternate titles for this post:
Pay more attention to the finish line.
On the bright side, I've got a new 14-mile PR!
Or my personal favorite – Phuck you, Philly.
If you follow me on Twitter or Facebook, you probably already know that yesterday's 1/2 marathon did not go as planned. In case you don't feel like reading through this entire post, in short – I missed the turn off for the 1/2 marathon finish, ran the marathon course until about mile 13.5 when I realized my mistake, and then had to double back. Umm, yeah, you don't have to tell me twice. It really sucks. I ended up finishing approximately 14 miles in 1:36:31, which is about 6:54/mile pace. A good effort, for sure, but not the result I was looking for. 
Here I am around mile 2.5 – hmm, me thinks the casual wave means I was too relaxed.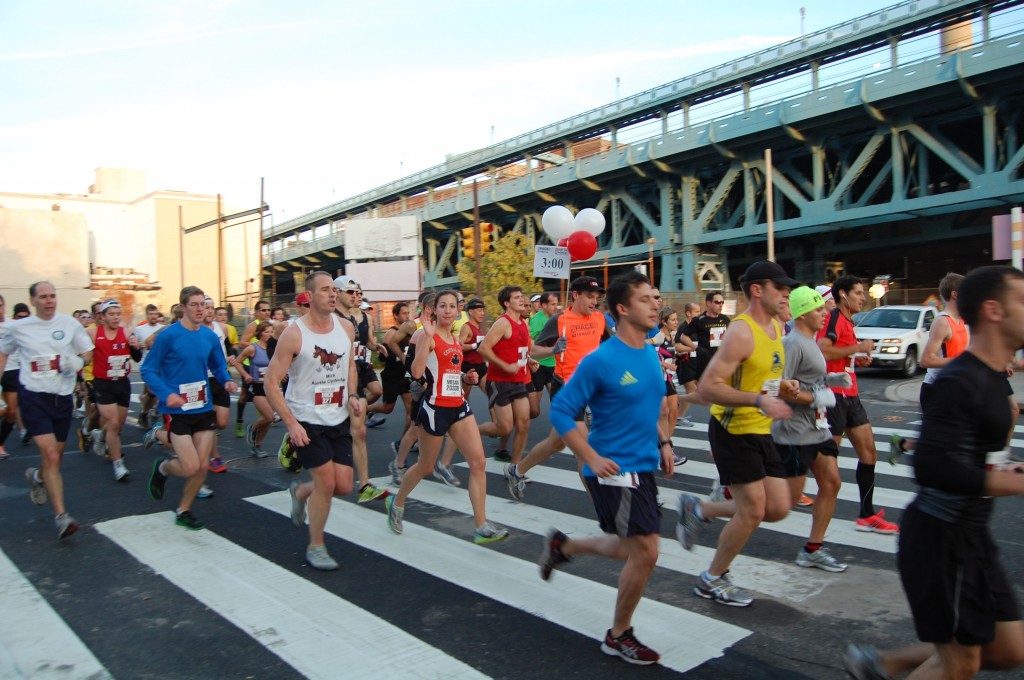 Things I did not love about this course – the hills at mile 7 and 9 and the many hair pin turns. Things I love about this photo – how jacked my quads look.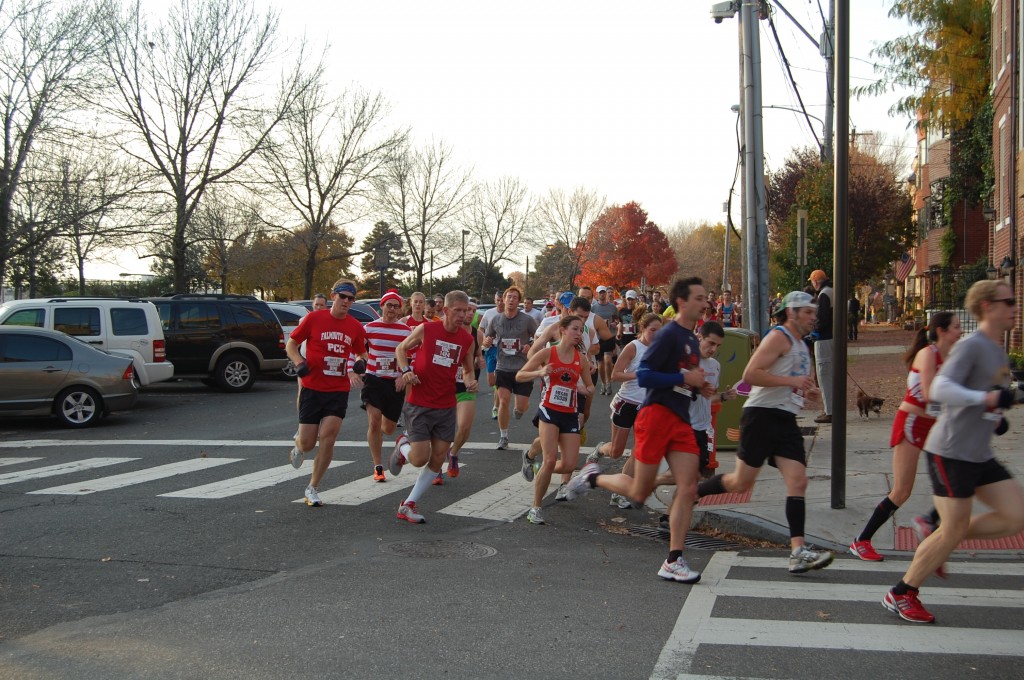 Thanks to Brian for spectating, cheering, and snapping these photos!
I suppose if there's one thing that makes me feel better (well, sort of), it's that I wasn't going to break 1:30 anyway. I followed my race plan exactly, coming through 3 miles in 20:50 and the 10k in 43:00, and then started picking up the pace. The issue wasn't with executing the plan, it was that the plan wasn't a very good one. I underestimated the hills in mile 7-10 and ended up running close to 6:55-7:00 pace for a few of those miles. This wouldn't have been as much of an issue if I had a bit more of a time cushion, but since I started off conservatively, I really didn't have any wiggle room. In retrospect, I should have been more aggressive in the early miles (running 6:50's instead of 7's). When I got to mile 10 in 1:09:40, I knew a sub-1:30 probably wasn't going to happen. In order to do that, I would have had to run a 20 minute final 5k. I can probably do that, but not when I've raced 10 miles immediately prior! Let me just say…when you're 3+ miles out from the finish and you can see your goal time slipping away, it's not easy to stay motivated. One thing that I'm really proud of is that I didn't give up. Realistically, I knew I wasn't going to run 1:29:xx, but I still continued to race. Miles 11, 12, and 13 were about: 6:37, 6:54, 6:50, and then a final sprint to what I thought would be the finish line.
So how did I miss the finish? Ugh, I wish I had a good explanation. The course had signs telling half-marathoners to "stay to the right", but the problem was – I was running near the front of my wave and there weren't too many people near me. As we were approaching mile 13, most (if not all) of the dudes I was running with continued on to the left. I had been running pretty fast for 90 minutes, so I guess I wasn't exactly thinking clearly and I just went with the people around me. I passed the 13th mile marker in 1:30 exactly. Shortly after, I noticed that it was eerily quiet. Shouldn't I be hearing cheering crowds? An announcer? Seeing the finish line? Something didn't feel right, but I guess all my energy was diverted to my legs and lungs, not my brain. Finally when my watch read 1:33, I knew something was wrong. I confirmed with a guy running next to me that I was running the marathon course. After loudly yelling F%$*! I turned around and doubled back to where the courses split, and then finally the finish.
I ran through the line and walked in a daze for a few minutes. I was angry, frustrated, and really really disappointed. A few minutes later, I found my Mom and proceeded to sulk on the curb for awhile. Then I yanked off my medal and threw it on the ground. (Hey, Mom – how'd you like the return of 4 year old Megan? Heh) I eventually got my bag and walked back to the hotel. I was trying not to be a brat – my Mom had traveled to Philly to support me – but I really just wanted to stew in my misery. Fortunately, I was able to pull myself together, shower, and get myself to our 11am brunch reservation. I thought I might be too upset to eat, but let's be real – I don't think I've ever been too upset, nervous, or tired to eat. In fact, I devoured my turkey & grain burger and fries with such ferocity that my plate was clean before my Mom was even half way through with her eggs. Being that hungry reminded me that while I didn't run the race I wanted, I still asked a lot of my body.
Post-race brunch was a turkey & grain burger w/ lettuce, tomato, pickled onions, and spicy aioli on a whole grain roll from Marathon Grill. Almost positive that yesterday was the most hungry I've ever been after a race.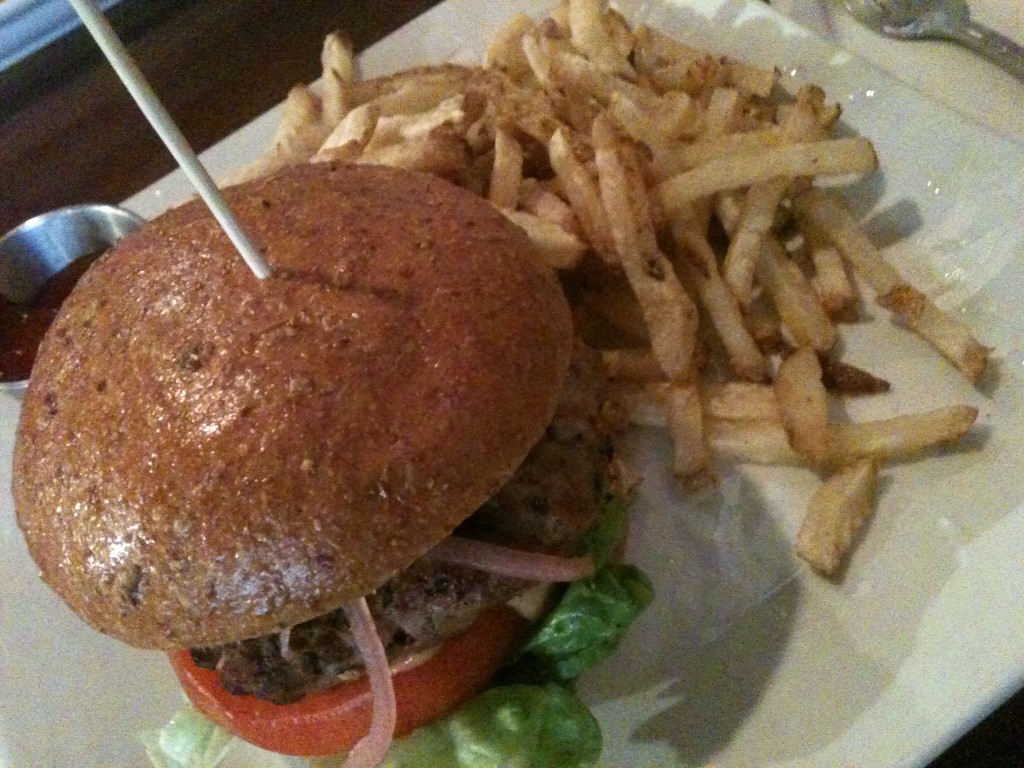 Brunch was followed up by multiple beers and some bacon grease popcorn (yes, really and yes, it was delicious) at Khyber Pass pub. I was able to commiserate/catch up/drown my sorrows with Brian, Kate, and her husband Joe. And it was probably the best part of the entire day. Also Kate brought me a cupcake. Beer + cupcakes + friends + Spice Girls on my ipod = the cure for most bad moods.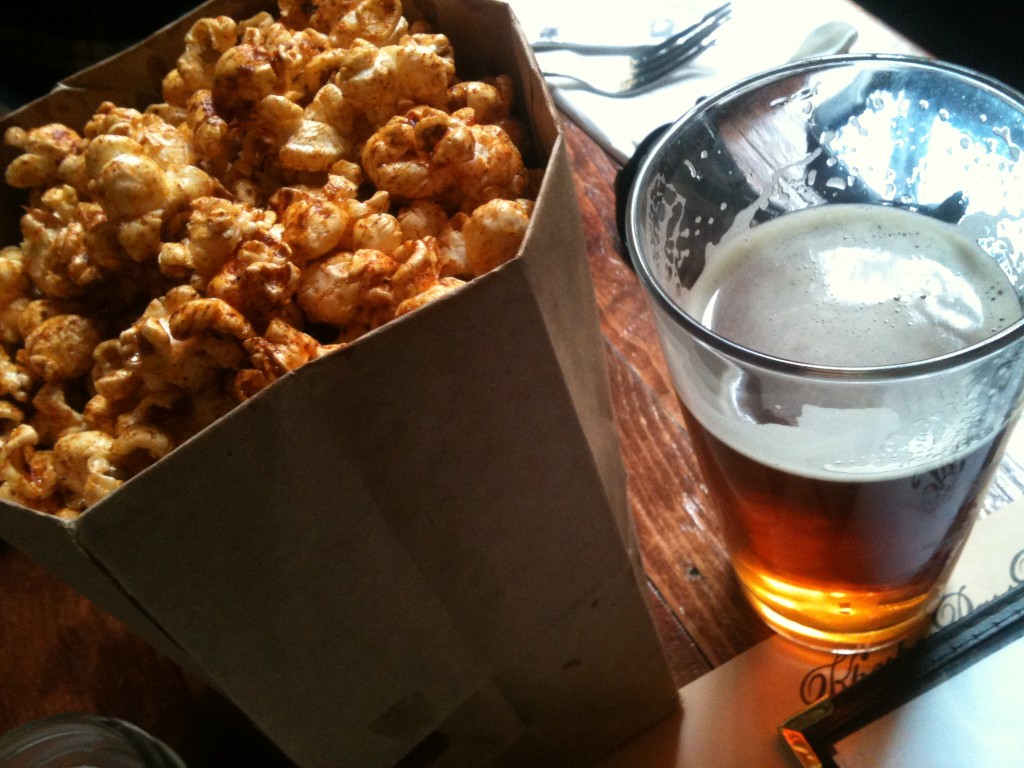 I have a lot going through my head right now. One of my first thoughts was to immediately sign up for another 1/2 marathon sometime in December.  But after 24 hours reflection, I realize that's not the answer. Spending $500-600 on a flight, hotel, and race registration to maybe claim redemption is not a wise idea. Sure, it would feel great if I could run 1:29:xx in Miami or Dallas or Tucson, but it's a big risk and I can't justify spending that much money and emotional energy. It sounds a little cliche, but as I drifted off to sleep last night, I realized that one race or my best time for a specific distance does not define me as a runner. I can't let chasing this time goal affect my feeling of self-worth. By putting so much emphasis on one race, that is exactly what I'd be doing.
I know that someday I will run a very fast half-marathon, but for the time being, I need to re-adjust my focus as a runner. As I was speeding down Chestnut Street yesterday morning, I spotted my Mom at mile 6 and gave her a big thumbs up. I was running fast, 6:5x pace felt nearly effortless, and it was the most fun I had in weeks. That feeling is why I run day after day, why I spend my paycheck on new running shoes and entry fees, why I keep coming back for more, even if sometimes I feel a little lost (bother literally and figuratively).
The plan for now is to take a few days off from running and more importantly, forgive myself for screwing up. I've spent the better portion of the past 24 hours berating myself for that stupid mistake at mile 13 and I need to move on. In all seriousness, deep down, I know how lucky I am. I'm grateful for a healthy body that allows me to run, for legs and lungs that can carry me through 14 miles at sub-7:00 pace, and for the dozens of text messages, tweets, Facebook posts, and phone calls that made me feel cared for on race day.
When I'm ready, I'll get on the starting line again. And hopefully follow directions this time.
Have you ever gone the wrong way in a race? Screwed up in some other way? Now would be the time to share…I could use a laugh!