It's marathon weekend! The energy in NYC is amazing right now – so much runner love. I can honestly say that the times I ran the NYC Marathon were two of the best days of my life. Although my goals are a little different this year (a sub-1:30 half and then a slow build up for the Boston Marathon in April), I love this race and plan on running it again someday. And the weather forecast is looking perfect for Sunday – 50 degrees, sunny, and a high chance of PRs! If you're a first time NYC marathoner (or just interested in the race), I've compiled my 2008 & 2010 race recaps along with my favorite tips and trips.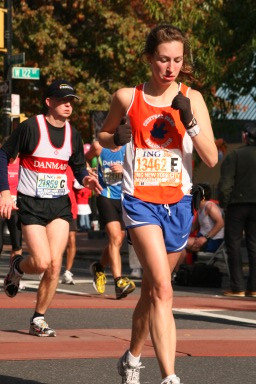 2010 NYC Marathon Recap – 3:18:17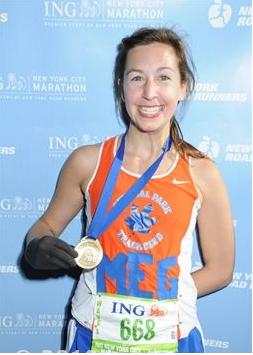 Megan's Insider Tips:
1.   Dress very, very warmly for the start. If you have an old space blanket from a previous 1/2 or full marathon, bring it. You can sit on it or use it to block the wind. Also consider bringing some hand warmers (you can buy them for $1 at CVS/Duane Read) and a fleece blanket that you can toss at the last minute.
2.  Prepare for the bathroom situation to be less than ideal. Bring extra toilet paper, get in line before you think you need to, and remember that there are no porta-potties once you line up in your corral. It's very common for dudes to pee in Gatorade bottles as they're lining up on the bridge. For the ladies, it's a bit more difficult. True story – last year I popped a squat on the starting line. No shame. I did what it took to feel comfortable during my race and give myself a shot at a PR. If you start the race needing to pee, try to wait it out until after mile 10 – that's when the porta potties become less crowded
3.  Do not, I repeat, do not go out to fast. When you come off the Verrazano Bridge (it's a downhill) at mile 2 and enter the crowds of Brooklyn, it's an amazing experience. You're going to be hyped up on adrenaline and running faster than your goal pace is going to feel like a breeze. But if you go out too fast, I promise you, you'll pay for it on First Avenue. In 2008 I was running around 8:00 pace for the first 10 miles and felt AWESOME, but when I got to mile 17/18, my legs turned to lead. I think my last few miles of the race were in the 9:00-10:00 range. Learn from my mistake!
4.  Start drinking before you're thirsty. Eat a gel before you think you need it. By the time you start feeling woozy or tired from lack of water/electrolytes/carbs it's almost always too late. Hitting the wall means your body's muscles are depleted of glycogen (energy). Everyone's fueling needs are different, but my personal plan is to eat a banana + pb &j on a bagel a few hours before the start (~600 calories) and then take gels/Gu's at miles 8, 16, and 21 (if I need it). I'm also going to carry a little mini bottle of Gatorade with me on the bridge. I'll toss it after the first mile or so and then start alternating sips of water and Gatorade every few miles.
5.  Instead of dreading the solitude of the Queensboro Bridge (miles 15/16), embrace it! The quietness of this mile was actually one of my favorite parts of the marathon. I was able to calmly collect myself and prepare for the hardest miles of the race. Plus, you know that a screaming wall of adoring fans wait on the other side!
6.  Don't go crazy during mile 17. Yes, the crowds on 1st Ave are awesome, but if you don't pay attention, you'll pick up the pace too much. Case in point: In 2008, I dropped a 6:59 mile on 1st Ave and at mile 18 thought "HOLY SH*T, I still have 8 more miles to go". Not fun.
7.  Fifth Avenue is probably going to suck. There's no way around it. There's a gradual hill from 110th to where you enter the park at 90th street. You're going to be at mile 23 and you're going to be hurting. Think of a mantra to get you through these final miles. Play your favorite "pump up song" on your ipod. Ask your family and friends to cheer for you here instead of at the finish (they probably aren't going to be able to see you cross the line anyway). Do whatever you can to prepare yourself mentally.
8.  The finish. Congrats! You made it! And your reward? A mile walk in the cold to get your baggage. Woo. Wrap that space blanket around you and drink some Gatorade. Eat some pretzels and nibble on an energy bar. I don't care of you're nauseous, euphoric, or completely out of it. EAT AND DRINK SOMETHING ASAP. If you're meeting your friends and family, try to choose a meeting spot away from the W. 60′s (it's going to be crazy crowded). Try something like – the Northwest corner of 82nd and Columbus Avenue. Be as specific as possible!
If you're spectating the NYC marathon on Sunday:
1.  Look at the course map, plot out your transportation, and tell your racer EXACTLY where you're going to be. Race day gets crazy and with 45,000+ people participating in the marathon, it's very easy to miss your runner. Tell your runner specifically where you'll be – i.e. on the west side of the street, on the corner of Flatbush and Lafayette Avenues in Brooklyn (mile 8). Get there a few minutes before you expect them to pass by – you don't want to be late!
2.  Spectating is almost a marathon in itself. Prepare accordingly. Dress warmly, wear comfortable shoes, don't carry a lot of crap with you, and bring along some snacks.
3.  For the love of God, do not tell us we're "almost finished" when we're only at mile 20. The only time you should be yelling anything about the finish is when it's clearly in sight.
4.  Be enthusiastic! Seeing a smiling face on the course is one of the best parts of the marathon experience. Clap loudly, hoot, holler, etc. And specific cheers are always appreciated – for example, yell "look straight ahead, relax your shoulders" or "keep focused on the guy in blue, catch up to him!". I always appreciate these types of motivation rather than a general "good job". Although ANY sort of cheering is always a good thing!
5.  Your marathoner is going to be tired and probably feelin' a little out of it at the finish. Encourage them to drink some Gatorade. Help them put on sweat pants. Don't insist on a 3-course dinner or bar crawl right away.
6.  Make a post-marathon eating and transportation plan. If you're headed to a restaurant on the Upper West Side, try to make a reservation – places are going to be crowded! Some of my favorite spots are Kefi, Popover cafe, and Fred's Restaurant. There are a ton of places in the neighborhood – check out Yelp for more ideas. And keep in mind that traffic is going to be a pain. Last year I spent nearly an hour trying to hail a cab to take me to the East side. I ended up taking a pedi cab (bicycle cab) – not exactly cheap or comfortable after running 26+ miles. The subway is definitely the best option for Sunday!
Good luck to everyone running this weekend!! I'll be cheering on the Southeast Corner of Lafeyette and Franklin Avenues in Brooklyn (about a block past mile 9) beginning at 10:30 am ish.
If you're running the marathon, what part of the course are you most excited for? For veteran marathoners, what are your tips for this year's runners?