Greetings readers! I've been a little MIA due to a laptop snafu (I had to take it to the Apple genius bar over the weekend for emergency surgery), but now the trusty laptop and I are back in action. I needed to use up some PTO (paid time off) days before the end of the quarter, so I took Monday and Tuesday off from work and surprised my mom with a visit to Pennsylvania. Before I left on Sunday morning, I fit in an 8 mile run. Damn, it was treacherous. The entrance to Prospect Park was a sheet of ice and slush and the park itself was full of fallen (or cracking/bending) trees. I've decided it's a victory that I didn't fall and break anything. I am not a winter runner AT ALL, so Boston training is going to be interesting, to say the least.
Last week I hit 60 miles which was within my planned range. However, the week's mileage was far from effortless. I've realized that even if my body and mind are ready and willing to run, sometimes a late night in the office, an evening with friends, or a freak October snowstorm get in the way. Ideally, I'd have run closer to 70 miles last week, but my life isn't all about running. If less mileage means that I have a more full and balanced lifestyle, then that's what I will choose. Boston training is still a few months away (I'll likely begin in January), but I'm already mulling over the type of training plan I'll follow. Running 80 miles was a fun experiment, but I likely won't run that amount more than a few times this coming Winter/Spring. I know that for me, personally, I have a harder time running in the Winter (ice, cold, dark), so I want to be realistic with my goals rather than over-reach. Anyway, that's still a few months out! Right now I'm T-minus 19 days until the Philly Half and am in the midst of an important training week. The plan for now:
Monday, October 31- 5 miles, easy
Tuesday, November 1 – 8 miles w/ 4 strides at the end
Wednesday, November 2 – 11 miles, easy (and super early!)
Thursday, November 3 – 3 mile shake out in a.m., 9 miles p.m. including 6 mile tempo
Friday, November 4 – 7 miles, easy
Saturday, November 5 – 13 miles w/ 4 @ goal HM pace (this needs to be finished by 8:45am AWESOME)
Sunday, November 6 – Marathon Spectating! and 4 miles easy
Total: 60 miles (although subject to change)
One of the great things about visiting the fam is that I have people to cook for. A single girl can only eat leftovers for so many days. On Sunday night I made a butternut squash and caramelized onion pasta dish that even Grandma liked. When she asked what kind of cheese I was using, I said it was a French variety called chevre. I'm pretty sure if I told her it was goat cheese, that would have been a deal breaker. Grandma likes her Kraft! But anyway, the dish came together pretty quickly, was healthy, and there were zero leftovers. Even my picky sister cleaned her plate.
Autumn Pasta (makes about 6 servings)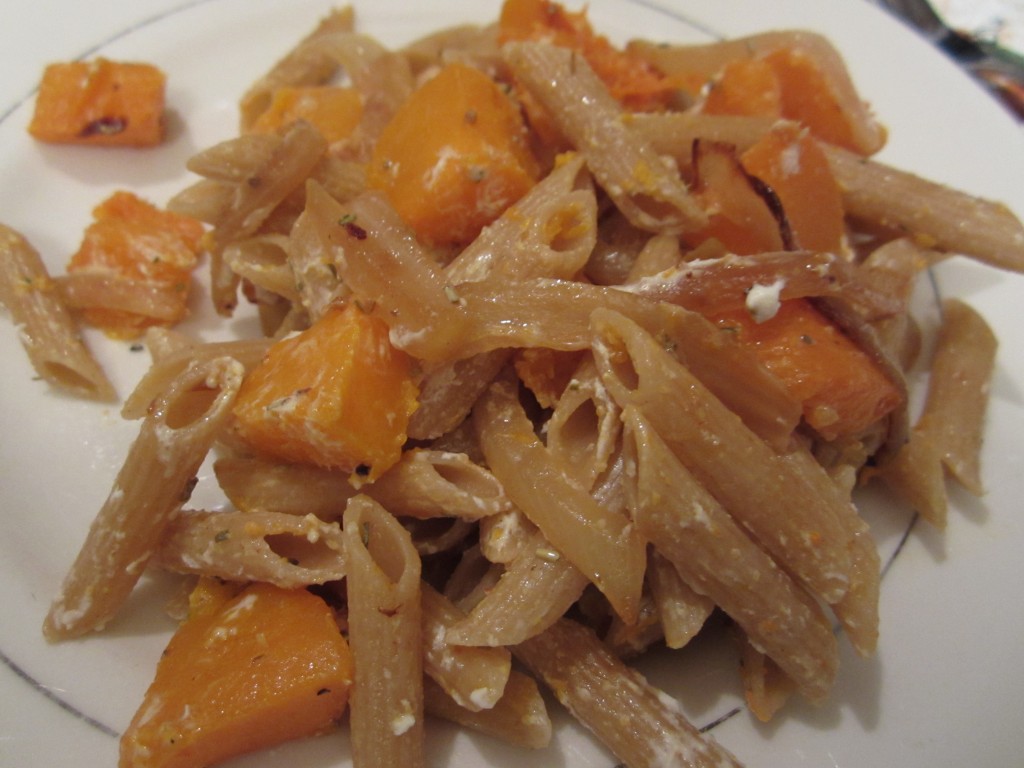 Ingredients:
1 butternut squash, peeled and cubed
2 Tbs canola oil
1/2 sprig rosemary
1 large onion, sliced
1 lb chicken breast, cubed
1 lb whole wheat penne pasta
4 oz goat cheese
salt and pepper, to taste
Directions: Preheat oven to 400 degrees. Toss squash, 1 Tbs oil, fresh rosemary, and salt and pepper on a baking sheet and cook for about 30 minutes or until squash is soft and slightly browned. Meanwhile, heat remaining oil in a large saute pan and cook onion until soft and lightly browned, about 10 minutes. Add chicken breast and cook thoroughly (in same pan as the onion). Cook pasta according to box instructions, drain, and return to pot. Add the squash, onions, chicken, and goat cheese and toss lightly until combined. Salt and pepper to taste. I also added some red pepper flakes to my dish because I like things spicy!
Later on that day, I baked some banana cupcakes with peanut butter frosting. I definitely didn't share these with the trick-or-treaters, heh.
The recipe is based on Karen Demasco's The Craft of Baking (a lovely cookbook, btw), but next time I would swap butter for the oil and make sure my banana was extra extra ripe. I felt that the banana cupcake flavor profile could have used some work.
Banana Cupcakes with Peanut Butter Frosting (makes 12 cupcakes)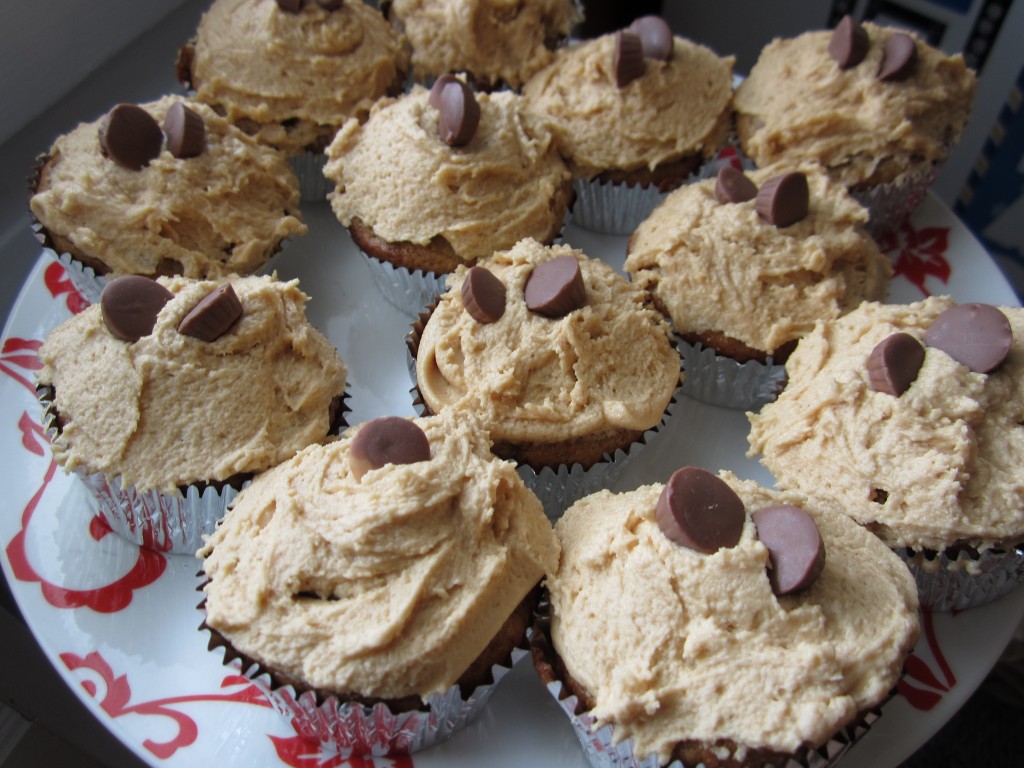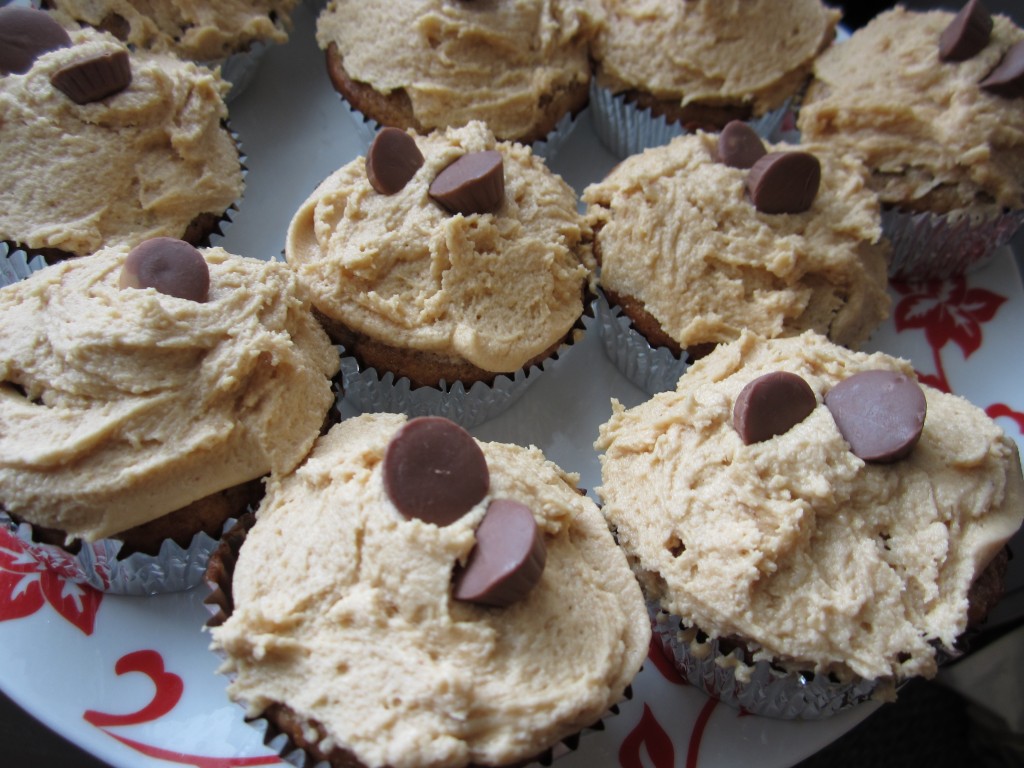 Ingredients:
1/3 cup canola oil (next time I would try 5 Tbs butter)
3/4 cup sugar
2 bananas, mashed
1 egg + 1 egg yolk
1/3 cup + 2 Tbs buttermilk
1 tsp vanilla
1/2 tsp salt
3/4 tsp baking soda
1 cup + 2 Tbs white whole wheat flour
Directions: Preheat the oven to 350 degrees F and line a muffin tin with paper (or foil) liners. In a medium bowl, use a hand mixer to beat the sugar and oil together until light. Beat in the banana, egg, egg yolk, buttermilk, and vanilla. Set aside while you combine flour, baking soda, and salt in a separate bowl. Slowly add the flour mixture into the banana mixture until just combined. Don't over mix or you'll make the batter tough! Divide the batter evenly among the muffin cups, filling them 3/4 full. Bake the cupcakes for about 18 minutes, rotating pans halfway through. Remove from pan and allow to cool completely before frosting.
For the frosting –
Ingredients:
1 cup powdered sugar
3/4 cup peanut butter (I used Skippy)
2 Tb butter, softened
1/2 tsp vanilla
2-4 Tbs half 'n half
Directions: In a large bowl, combine the sugar, peanut butter, butter, and vanilla and use a hand mixer to beat together until creamy. Slowly stream in half 'n half (or milk) if you need to thin out the frosting.
Besides cooking, baking, and some running, I spent much of the last two days with this guy: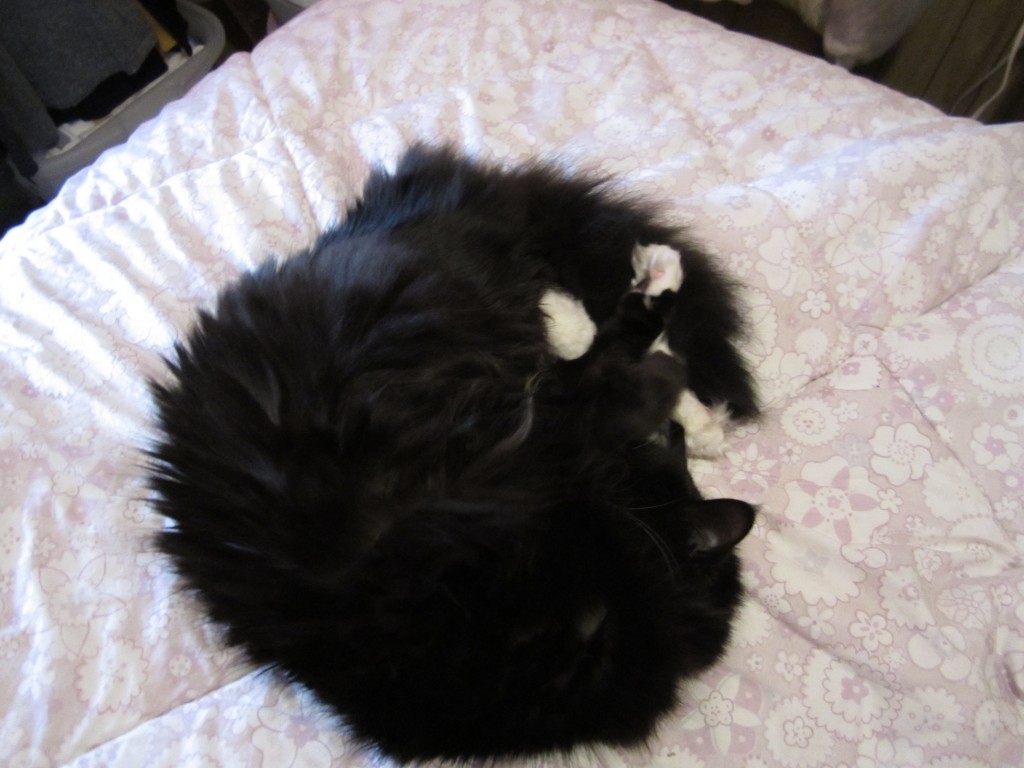 Kiwi the cat kept me company while I watched the entire first season of The Walking Dead (omg). It was dark and scary and luckily Kiwi made a good Zombie watching buddy.
Are you a winter runner? What are your tips? I've already bookmarked some gear that might make the season bearable – i.e. yaktrax and a knuckle lights. The cold doesn't scare me so much as the thought of falling…uneven sidewalks + ice + dark morning runs = recipe for a fractured ankle.
Links to look at:
Greatist, a nutrition, happiness, and fitness site, just created an A-Z Guide for all things healthy.
What's the deal with compression socks and running? Do they work? Check out the article for the scientific explanation.